Body
In an effort to highlight and promote faculty research at Saint Mary's College of California, the Office of Faculty Development will spotlight research and creative efforts undertaken by faculty. "SMC Scholar Spotlights" will be posted periodically on the faculty development website as well as the Academic Affairs Newsletter. Our website will highlight new or ongoing research initiatives that advance the Lasallian mission - especially projects that promote social justice; collaboration and community based inquiry; and/or centers the perspectives of the historically marginalized to advance academic knowledge.  
A Dialogue With Professor Ellen Veomett:The Intersections of Mathematics & Gerrymandering

This story was published Spring 2023
Image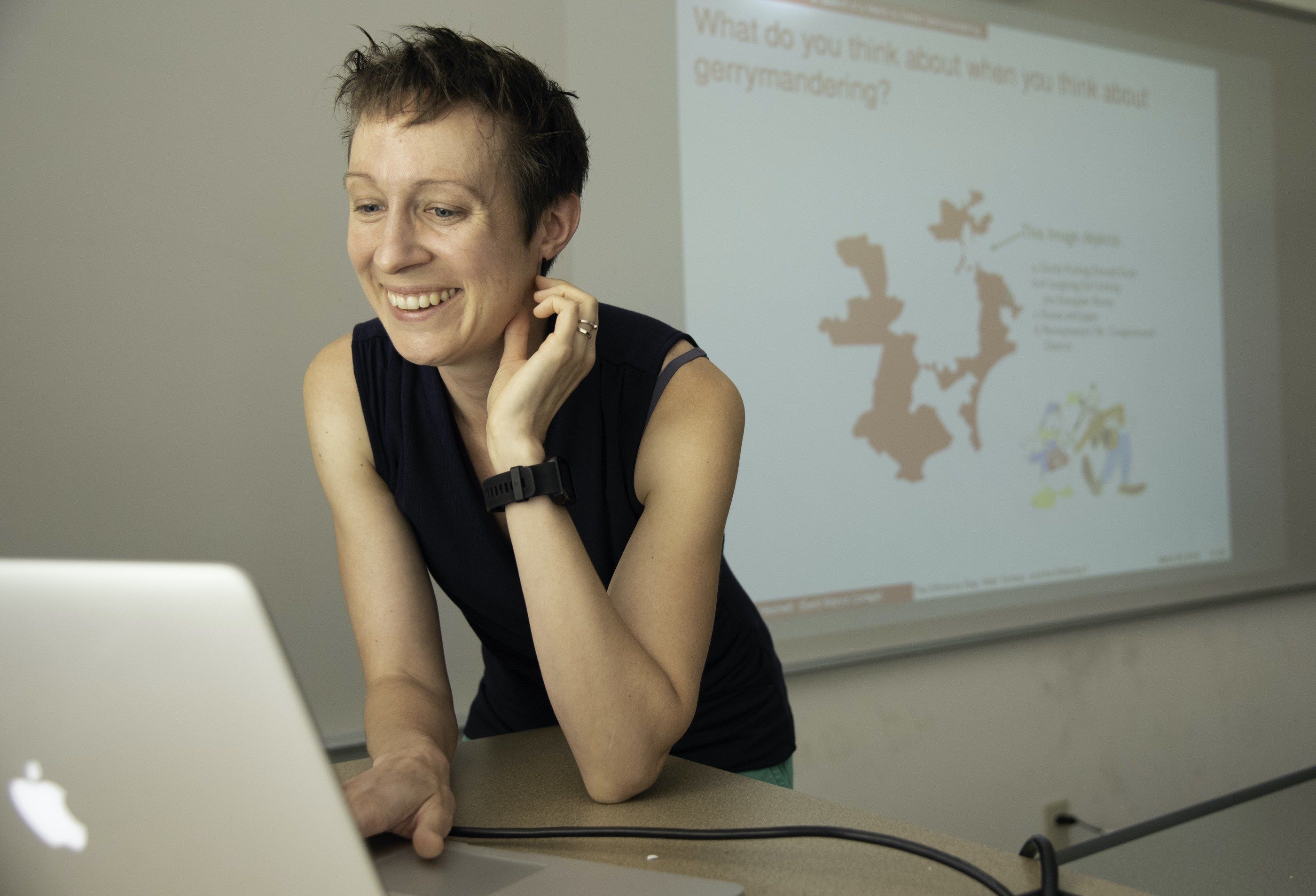 Michael Viola (MV): Can you share your story as to what sparked your research interest in gerrymandering and how your respective academic discipline contributes to that topic?
Ellen Veomett (EV): In the spring and summer of 2017, I learned that mathematician Moon Duchin was holding workshops to mathematicians and computer scientists to act as an "expert witness" in court cases involving gerrymandering.  I know Moon and have a lot of respect for her, and I decided to participate in one of the trainings.  To prepare myself, I started reading some articles in the field, and one on the Efficiency Gap caught my attention.  (The Efficiency Gap is a mathematical metric which is intended to detect gerrymandering).  I found a counterexample to a claim that was stated in the paper, and I became obsessed with understanding how uneven turnout in different districts could impact the Efficiency Gap.  I discovered a few interesting and unexpected results about how the Efficiency Gap acts as a mathematical function on the space of all districting maps, and that became my first paper in this field:  "The Efficiency Gap, Voter Turnout, and the Efficiency Principle."  That paper had a pretty big impact; at the time many experts in law policy and political science were hoping that the Efficiency Gap would "solve" the gerrymandering problem, and this article showed that it was in no way a panacea.  In my most recent work, my collaborators and I designed a metric to detect gerrymandering which works better than prior metrics (such as the Efficiency Gap).  We call our metric the Geography and Election Outcome (GEO) metric because it uses both Geography (through map data) and Election Outcomes (partisan data) to determine whether a map is biased toward one party or the other.  This metric is being used by mathematicians and policy makers to study the maps that were released after the 2020 census.
MV: What was the process of collaborating with a team of researchers in producing your research? What were the challenges and the benefits working across institutions and geographies?
EV: I started collaborating via zoom before the pandemic!  It's an easy and convenient way to work with others.  Honestly, I don't see that many challenges!  The benefits have been that I can work with more individuals and with individuals whose research interests closely align with mine.  There are lots of mathematicians and computer scientists working in this field, but it's much easier to find great collaborative partners when you're not restricted by geography.
---
"When I'm obsessed with something then I have to figure it out.  And knowing that the work is important, that it matters, that others are using it . . . that knowledge has fueled my obsessions." 
---
MV: How did the Geography and Election Outcome Metric come about? What questions is it positioned to address?
EV: Prior to designing the Geography and Election Outcome metric, my work mostly focused on evaluating metrics intended to detect gerrymandering.  So I definitely saw some common flaws.  Specifically, prior metrics used *either* geographic data *only* or partisan data *only*.  But if I'm trying to draw a map that is a gerrymander, I need to know both how people are voting AND where they live!  So using just one type of data didn't make sense to us.  We wanted to design a metric for detecting gerrymandering that was intuitive and could be easily understood by judges and the public.  It needed to be both effective and understandable if it was to work as needed, and also be useful/usable in court.  That was the impetus for designing the GEO metric.  
MV: What new questions have emerged from your scholarship that you think are important to explore further- either for your disciplinary field or more broadly for democratic processes in this country?

EV: There are so many!  Firstly, we'd like to adapt the GEO metric to address racial gerrymandering, which is still a big issue in this country.  We'd also like to adapt the GEO metric to the situation of more than two parties.  I'm working on a research project right now where we are analyzing a bisection protocol that's intended to draw more fair districting maps.  
MV: How have you been able to maintain an active research agenda at SMC? And do you have any tips or suggestions for others to learn from?
EV: I won't lie, it has been very challenging.  In particular, when the pandemic hit, I thought my research career was over.  I spent my days, nights, weekends preparing my own classes, caring for my children, and trying to teach my son (who was in Kindergarten and first grade the first year of the pandemic).  This was when the census data was coming out, so it was when I most needed to have time to analyze and study and refine our new metric, and I just did not have any time for that.  Then I got an email in January 2021 from a North Carolina state senator who was interested in our metric, and that made me realize that I needed to adjust my time so that I *could* work on research.  I made it happen by just making it happen.  I don't really know what suffered (what did I cut out to make time for research?).  But we picked up the project again, completed the research, and it was eventually published.  And people are using it!  I think that knowing how important and timely the work was gave me the motivation to just make it happen.  

I think it's worth adding that I do think that collaborating helps.  When I have weekly research meetings, I feel more accountable and also more energized.  So that's a tip I'd suggest.  I also did get a research award (although unfortunately I had to bank it b/c of how understaffed my department has been) and used available research funds from Faculty Development. I have gotten some student support, both through the SOS Summer Research Program and through small stipends for students through the Fletcher Jones money that the SOS Dean can allocate.
As far as tips/suggestions go:  for me, when I'm obsessed with something then I have to figure it out.  And knowing that the work is important, that it matters, that others are using it . . . that knowledge has fueled my obsessions.