'Legendary Teacher' and Poet Brenda Hillman Selected as Professor of the Year
On April 14, she delivers a talk drawing on decades of writing and teaching, with a reception and celebration to follow.
It's safe to assume that early-career artists scrutinize the faculty lineup when applying to master's in fine arts programs. It's only natural. Graduate students in every field want to know their instructors have the experience and passion to guide students toward personal growth and professional success.
Brenda Hillman, Professor Emerita, Poetry, checks all the boxes. Though now only teaching one graduate course and unlikely in the future to carry the kind of instruction workload she has maintained in the past, she still possesses precisely the attributes that students—in any field—are searching for in a faculty member. She has demonstrated for years the value she offers as an instructor and mentor and, for that and many other reasons, Professor Hillman has been named Professor of the Year at Saint Mary's College.
A lecture and reception on Friday, April 14, will honor Professor Hillman and recognize her achievements, influence, and impact on generations of Saint Mary's students and fellow faculty members. The celebration begins at 5 p.m. in the Claeys Lounge of the Soda Center on the SMC campus. Professor Hillman will deliver a talk titled "Teaching the Imagination: Some Confessions, Micro-tools and Party Favors." RSVPs are strongly encouraged for what is expected to be a strong turnout.
"No Better Example"
"Brenda has taught and mentored Saint Mary's students, and inspired them to be better writers, thinkers, citizens, and stewards of the earth," wrote a nominating team of 62 faculty members at Saint Mary's. "We can think of no better example of what it means to be a Lasallian educator and devoted member of the Saint Mary's community."
Professor Hillman has spent nearly four decades at Saint Mary's, beginning as an adjunct instructor teaching first-year writing courses before joining the English and Creative Writing program faculty in 1985 and eventually serving as Olivia Filippi Professor in Poetry. She has taught composition, Collegiate Seminar, January Term, and a variety of undergraduate courses. She's renowned for founding the Master of Fine Arts in Creative Writing at the College, and she remains a staunch supporter and the program's guiding spirit. She also cites Saint Mary's Collegiate Seminar as a significant influence on her teaching career.
"Brenda is spoken of widely as a legendary teacher," wrote the nominating team, which noted the "dizzying" number of students over the decades whose lives and careers have been positively impacted by her instruction. Among those students is  distinguished alumnus Mahershala Ali '96, Mass Communication, who has often singled out Professor Hillman—his undergraduate poetry instructor—as an important influence. Ali, of course, is today a two-time Academy Award winner and renowned as one of the top acting talents in the world.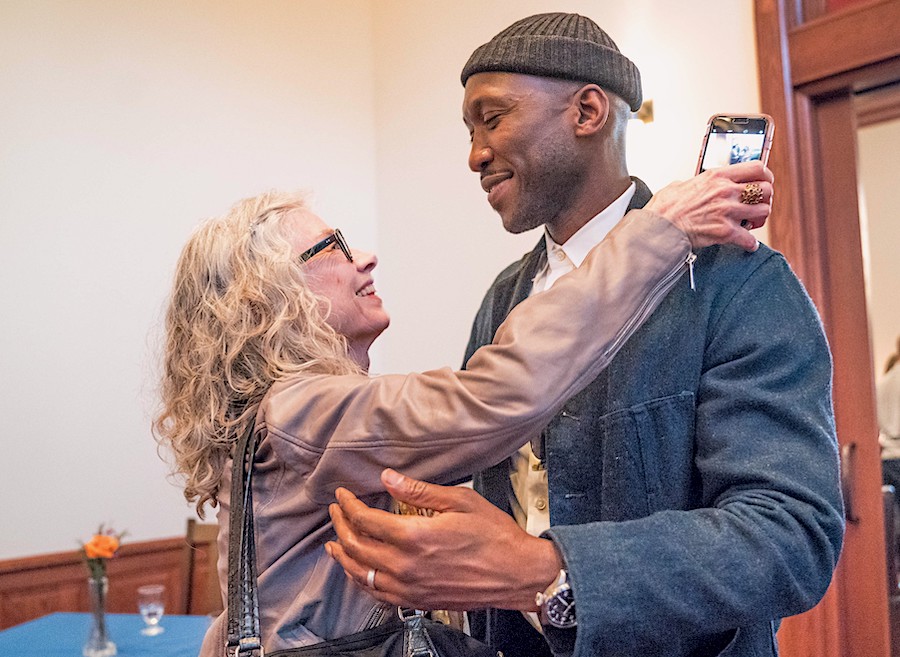 At each stop along the way, Professor Hillman developed a reputation for adhering to the core principles and values of Lasallian education, listening to and caring for her students, and developing creative approaches to teaching.
A Search for Spirit and Justice
Professor Hillman has written and  taught about a variety of themes;  reviewers of her work have noted that  she brings together explorations of the human soul, formal experiments in language, a fascination with nature, and a commitment to social and environmental justice and action. Her writing not only aligns with her own individual values but also with Saint Mary's core principles and heritage.
Over the course of her tenure at the College, thousands of Professor Hillman's students have benefited from her dynamic approaches to the spiritual and environmental values in poetry, leveraging the natural beauty of the Saint Mary's campus while learning about—and oftentimes protesting—the scarring of the environment.

With such degradation often occurring in disadvantaged communities that don't enjoy the same resources or political support as affluent regions, Professor Hillman's focus on eco-poetry goes hand-in-hand with her commitment to writing creatively about social justice themes. She credits her husband, poet Robert Hass '63, as one of her primary eco-poetry influences.
Professor Hillman describes her overall style as  "embodying a sort of 'French braid' tradition where new, fresh strands" are introduced and brought into existing forms.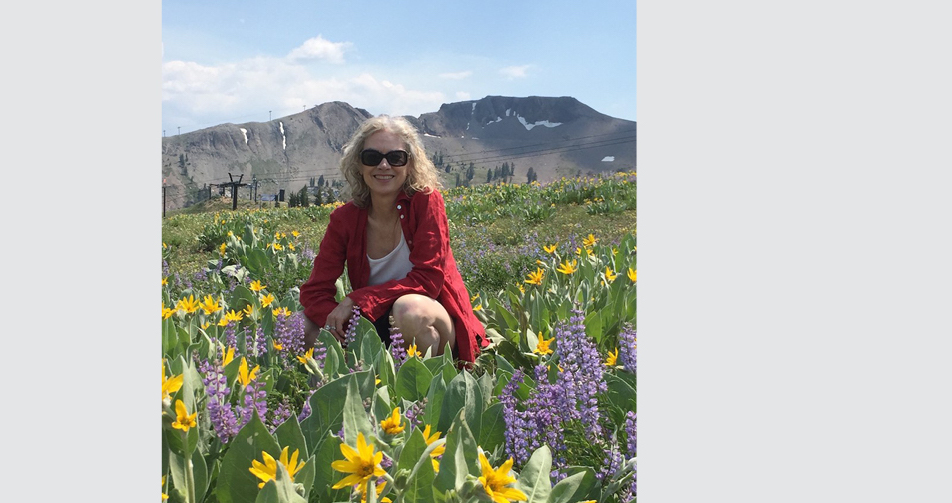 "Romantic poetry, Symbolist poetry—which is very dreamlike—and Modernist poetry, which emphasizes the centrality of art, are all part of my 'braid'," she explains. She calls her approach—particularly the environmental bent—"very West Coast," and she enjoys experimenting with formal techniques.
First Teaching Award Adds to "Small Constellation" of Accomplishments
When someone has been decorated with as many awards and accolades as Professor Hillman has over the course of a long and distinguished career, a "Professor of the Year" title could almost seem quaint. But not to Professor Hillman.
"While I'm certainly proud of the awards I've received over the years for writing and poetry, this is really my first award for teaching," she says. "My teaching career has been intense, rewarding, and something I've dearly loved, so I felt very happy and deeply honored when I learned my colleagues and peers had selected me."
Asked about her legacy and what she would like to be remembered for the most in her teaching career, Professor Hillman says it's "a small constellation" of accomplishments rather than one singular achievement of which she's most proud.
"I was able to do something that I think may be slightly ill-advised," she says with a wry smile. "I've managed to balance three things: an intense, interior life as a writer, a very public life as a teacher and community servant, and a communal life as a mother, grandmother, and stepmother." She says, as a feminist, she very much wanted to "do it all" when she set out on her career in the 1970s, but she quickly learned that doing so wouldn't be easy.
"I feel radically committed to doing things that seem difficult or impossible," Brenda Hillman says. "But I would hope that today's young people—and especially the emerging writers—recognize that there will often be gaps between what they want to do and what they reasonably can do."
"I'm proud of trying to juggle all of those things, but as much as we still like to hope that there's room for that, there's actually very little support for women who want to work, teach, create art, or find fulfillment in other ways," she says. "I feel radically committed to doing things that seem difficult or impossible, but I would hope that today's young people—and especially the emerging writers—recognize that there will often be gaps between what they want to do and what they reasonably can do."
Having dreams, aspirations, and ambitions is critical, she says, though being realistic on a day-to-day basis is also a necessary ingredient for personal and professional fulfillment.
"Some days, you might wake up with allergies, or maybe your car won't start, or the kids are acting up, and during those periods your life might feel like a complete nightmare," she says. "So I find it important, in those moments, to lower or readjust my expectations, if only temporarily. Maybe that day, I won't complete that poem I hoped to finish. Maybe I won't be able to meet with every one of my students during office hours. And that's okay, since perfectionism is neither useful nor realistic." She notes that "self-acceptance is important, even if one is a daily life struggler with a mystical bent."
A Family-Oriented Future
Despite the onset of her Emerita years and the winding down of her Saint Mary's teaching responsibilities, Professor Hillman has no plans to curtail her creative output. 
She hopes to teach and direct a program at the Community of Writers in California's Olympic Valley, and she is currently working on her twelfth book of poems. 
In addition, Professor Hillman says she and her husband are devoted to spending time with their large family; she recently returned from a literary and family trip to St. Louis and Pittsburgh, where she gave a poetry reading and enjoyed playing with her grandchildren.
Professor Hillman and her husband are also avid birders, and one of their ambitions is to see the colorful trogon in the Arizona mountains. But she also points out that her heart will always be in Moraga.
"I will always be in love with Saint Mary's, and I hope to continue spending time here."
---
RSVP to attend the talk and reception on April 14 as the Saint Mary's College community celebrates Brenda Hillman, Professor of the Year!
LEARN MORE about the MFA Program in Creative Writing at Saint Mary's.