Veterans Support Services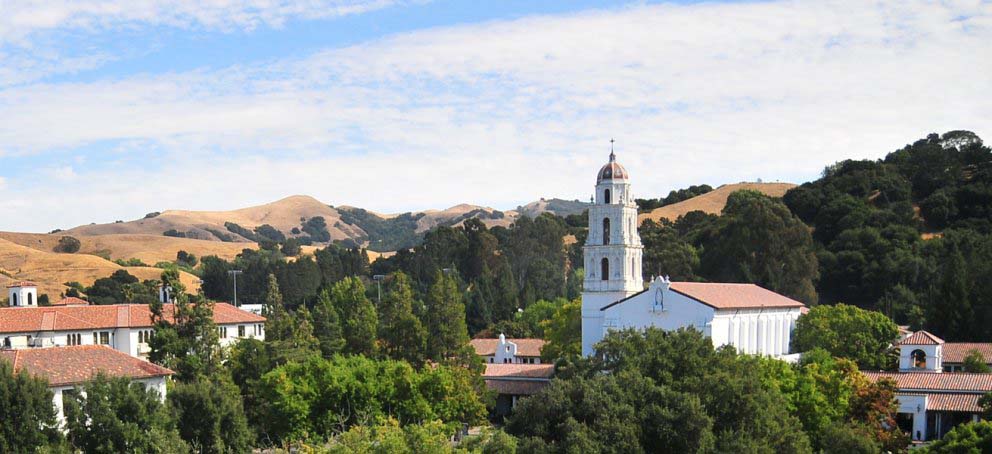 Body
Saint Mary's College of California is a Yellow Ribbon School and is approved for the training of Veterans and their eligible dependents under the Department of Veteran Affairs.
Mission Statement
Saint Mary's College of California recognizes the many men and women who have gallantly served our country. Our veterans and VA dependents are a valued and integral part of our community. Our mission is to ensure a smooth and enriching transition for our military-connected students.
Join our veterans club! Veteran and Military Affiliated Gaels (VMAG) is our on-campus club for veterans and VA dependents. Stop in at our Veteran Resource Center to mingle with  other veterans, enjoy a snack, or to unwind with video games and television. The VRC can be found at Filippi Academic Hall in room 125.
Saint Mary's College and the Department of Veteran Affairs
Saint Mary's College participates in the Veteran Affairs Yellow Ribbon Program. Education Benefit Program applications for members of the armed services should be sent to the Registrar's office on campus. Letters seeking advice or information concerning the program should be addressed to: Veterans, PMB Box 4748, Saint Mary's College, Moraga, CA 94575-4748.
Saint Mary's College of California is approved for the training of veterans and their eligible dependents under the various public laws that come under the direction of the Department of Veterans Affairs.
Details and procedures are available from the Department of Veterans Affairs, Regional Office, P.O. Box 8888, Muskogee, OK 74402-8888 or 1(800) 827-1000 or (888) 442-4551, or visit benefits.va.gov/gibill.
As part of the Forever GI Bill® - Harry W. Colmery Veterans Educational Assistance Act of 2017, Saint Mary's College offers priority registration for classes in the Fall and Spring (not Jan Term) to all veterans and veteran dependents. If you are currently a recipient of VA educational benefits, you will automatically be entered into the system to receive priority registration before the general student population. 
How to Apply
Step 1a.) In order to use your benefits at Saint Mary's College, you must apply with the Admissions Office of your school/program of interest:
Step 1b.) If you haven't yet, please visit the Veteran Affairs website Vets.gov to apply for benefits.  This step should be done simultaneously with step 1a, as VA processing is sometimes delayed.
Veterans/Dependents may be eligible for one of the following categories:
Chapter 31 (Vocational Rehabilitation)
Chapter 35 (Dependents of deceased or disabled Vets)
Chapter 1606 (Montgomery GI Bill® Selected Reserve)
Step 2.) The VA will mail you a Certificate of Eligibility, of which a copy must be sent to Attn: VA Certifying Official in the Registrar's Office.  Please turn in this form, even if you are still awaiting your acceptance decision from Saint Mary's.
Step 3.) Once we have your Certificate of Eligibility AND you are enrolled in classes at Saint Mary's, we will begin reporting your enrollment to the VA so you receive benefits.
Financial Aid
You can receive both VA educational benefits and financial aid by filling out the FAFSA (Free Application for Federal Student Aid).  You maybe be eligible for federal, state and/or institutional grants, loans, and scholarships in addition to your VA educational benefits.  In some cases, your financial aid can be affect by your VA educational benefits, but by filling out the FAFSA, you will maximize your funding for school. 
Request for Change of Program or Place of Training (22-1995)
If you have used your VA benefits before and you are changing your major and/or school, and/or you have been out of school for over one year, fill out the 22-1995 form on eBenefits.  If you are Chapter 35 you would fill out the 22-5495 form.  The form can be submitted online or download a copy and mail it in according to the instruction on the form.  St Mary's will need a copy of your completed form.
Change in Enrollment and Student Responsibilities
All changes made after your initial certification should be brought to the attention of the VA Certifying Official so the change can be reported.  The most common changes include:
Changes in credit hours (dropping or adding)
Changes in courses/enrollment/schedule
Changes in major
Change in previously reported or incomplete grade
Failure to report changes may result in termination of benefits, delays in future certification, delays in receiving benefit payments and debt/overpayment with the VA.  Changes may be report to the VA Certifying Official in person, by telephone, or email.  Audits are conducted and changes in units will be reported, but it is ultimately your responsibility to report these changes when they occur to reduce the possibility of an overpayment or possibly an underpayment.
Caution: "W's": The VA will not pay for educational benefits for courses from which you have withdrawn, unless the VA determines that there are mitigating circumstances.
Oakland Veteran's Regional Office:
To contact the local VA office, please call 1-800-827-1000. The address for this office is:
Veterans Administration Regional Office, Oakland Federal Building
1301 Clay Street, Room 1300 North
Oakland, CA 94612
Muskogee Main Office:
1-888-GI-BILL-1 (1-888-442-4551); Monthly Verification Enrollment: 1-877-823-2378 or, www.gibill.va.gov (follow link to "WAVE" program).
ROTC
UC Berkeley ROTC offers Saint Mary's College students the opportunity to participate in leadership training leading to a commission as an Army or Air Force officer upon graduation from college.  For more information  about the Army program, please visit http://army.berkeley.edu or call 510-643-7682.  For information about the Air Force, please visit http://airforcerotc.berkeley.edu/
VA Comparison Tool
http://department-of-veterans-affairs.github.io/gi-bill-comparison-tool/
GI Bill® is a registered trademark of the U.S. Department of Veterans Affairs (VA). More information about education benefits offered by VA is available at the official U.S. government Web site at https://www.benefits.va.gov/gibill
Kindra Stewart
Academic Resources Manager, Veterans and Graduate Support Services
Certifying Veterans Affairs Official
Email: kcs14@stmarys-ca.edu
Julie A. Scaff
Assistant Vice Provost, Student Support Services
Director, Student Disability Services
Section 504 Coordinator
Email: jas37@stmarys-ca.edu