Colleges That Change Lives
Body
Forty Schools That Will Change the Way You Think About Colleges
Saint Mary's College of California earns a special place in the prestigious guidebook Colleges That Change Lives: 40 Schools That Will Change the Way You Think About Colleges. The publication is widely recognized as essential reading for college-bound students—and valued by discerning parents—for the way it identifies colleges that offer life-transforming educational experiences. Saint Mary's is the only Catholic college and the only California college in the history of the 40-school list. Here's what Colleges That Changes Lives has to say about SMC: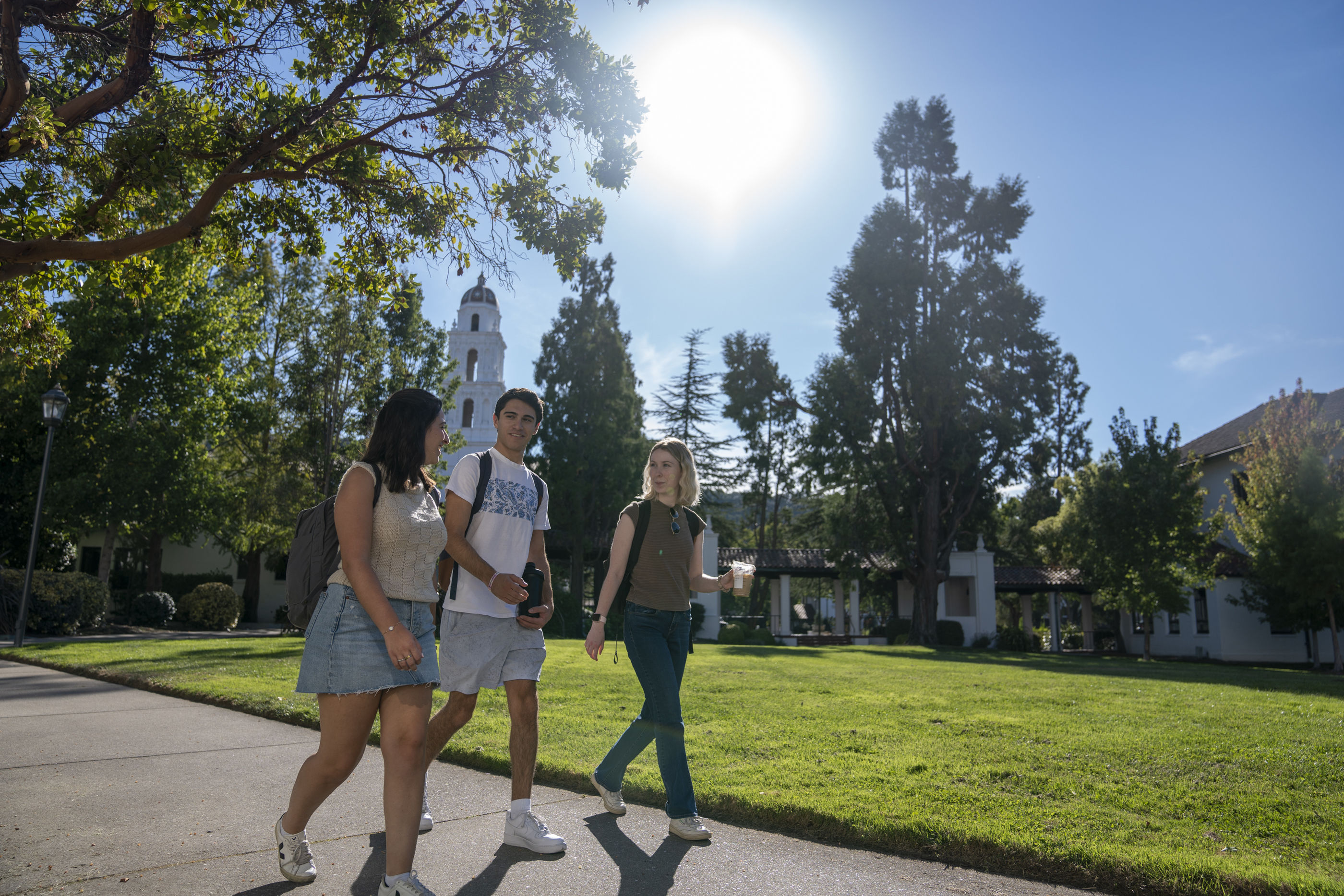 Saint Mary's College of California, Moraga, California
Tucked against a hill twenty miles from San Francisco, Saint Mary's College is a beautiful place: White Mission/Renaissance–style buildings with terra-cotta roofs stand out against the lush green hillside. Covered outdoor walkways connect well-maintained academic buildings. It looks like a place of privilege, but it's actually a down-to-earth college where 2,600 undergrads and 1,300 graduate students make the connection between learning and life.
Saint Mary's is a Catholic college run by the Christian Brothers, a lay teaching order that has its roots in seventeenth-century France. The college's educational principles grow from the writings and teachings of St. John Baptist de La Salle, who worked doggedly to establish schools for poor and working-class children.
The Lasallian tradition fuels the college's perspective on teaching and learning: Education is powerful, and it comes with a deep responsibility to improve the world. It's a mechanism of change. "You come with a desire to get something out of it. You get everything you can from the school because it's a privilege to go to a school like this," says a senior majoring in music and business. "You leave with the skills to examine and solve the world's problems." When asked if that description seems lofty, a bit pie-in-the-sky, he answers, "Of course. Why would you get a college education if you weren't hoping to do something good in the world?"
Like many of the colleges in this book, Saint Mary's doesn't have the typical private-college crowd. One-third of students are Pell eligible. About half are ethnic minorities. The vast majority—87 percent—come from California, but it's important to remember that California is a large and varied place, so if you're an out-of-state student, you won't feel out of place. Slightly more than half of students are Catholic, but the college welcomes students of any (or no) religious background.
Everyone takes the Collegiate Seminar, a four-semester series of intimate classes that covers major works of Western civilization, starting with Homer and Aristotle and passing through about 2,700 years of philosophy, history, literature, art, and science. The course asks big questions: What is goodness? What is death? Does evil have to exist? Students learn to read carefully, draw sharp conclusions, listen to other people, and disagree civilly.
One early spring morning, a group of freshmen reading St. Augustine's Confessions struggles with questions about the nature of God and sin. Prompted by the author's analysis of his spiritual journey, some students reveal their own religious histories as a way of relating to St. Augustine; others are eager to ask bigger questions about how and whether God reveals himself to people. They don't agree on answers, but they are diligent about listening to one another and referring to the text. They answer one another's questions to the best of their abilities, and even when the conversation flags, they stick with it. After class, a student says, "This is the first time in my life someone else hasn't told me exactly what to learn. It's hard. I get frustrated, but when I finally understand something, I feel like I've accomplished something. I can feel my brain growing."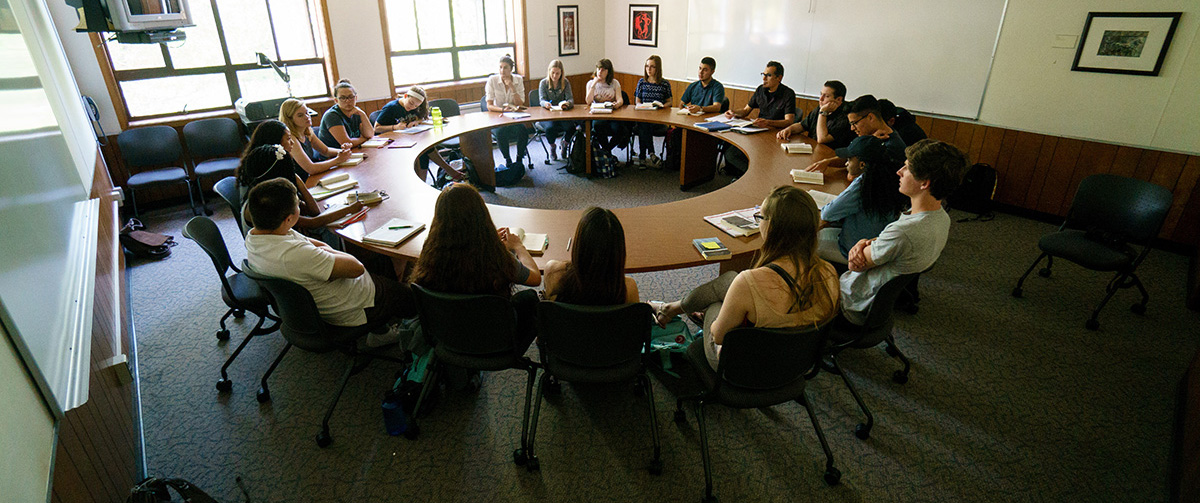 Professors rave about what the seminar does for their students. "Many students have gotten this far because they're good at 'duck and cover,'" says Dr. Myrna Santiago, chair of the history department. "They give all authority to the teacher. They can't in the seminar program. We're co-learners. We look them in the eye and say, 'What do you think?' Eventually, they learn to negotiate and discuss and own their ideas. They realize they're no longer doing well by staying silent." The content matters, professors argue, but the process of learning matters more: "[During grad school) at Purdue, I taught a class of 450 students. The content was great, but there wasn't a way for students to sort it out with their peers or me," says Dr. Shawny Anderson, associate dean and professor of communications. "I find a lot of joy in seeing our students engage honestly with difficult texts and each other." 
The other unifying experience is January Term, an intensive four-week session when each student takes only one class. The offerings each year are new, as faculty design courses based on a broad theme. "My first Jan Term opened my eyes to what's happening here," says Dr. Robert Bulman, a sociologist. "It's an opportunity to explore topics outside our particular realms of expertise. When I realized the professors got to be learners too, and that the college wants us to model intellectual exploration for our students, I decided I never wanted to leave."
About 55 percent of St. Mary's students travel abroad, many of them during Jan Term as participants in courses led by professors. In 2011 courses traveled to Yosemite National Park to study the effects of altitude on physiology; to Haiti to perform direct earthquake relief work and produce multimedia projects; to South Africa to examine its culture and nature; to Israel, Palestine, and Jordan to examine the history, religion, and politics of the Holy Land; and to other spots in the United States, South America, Europe, India, and Southeast Asia.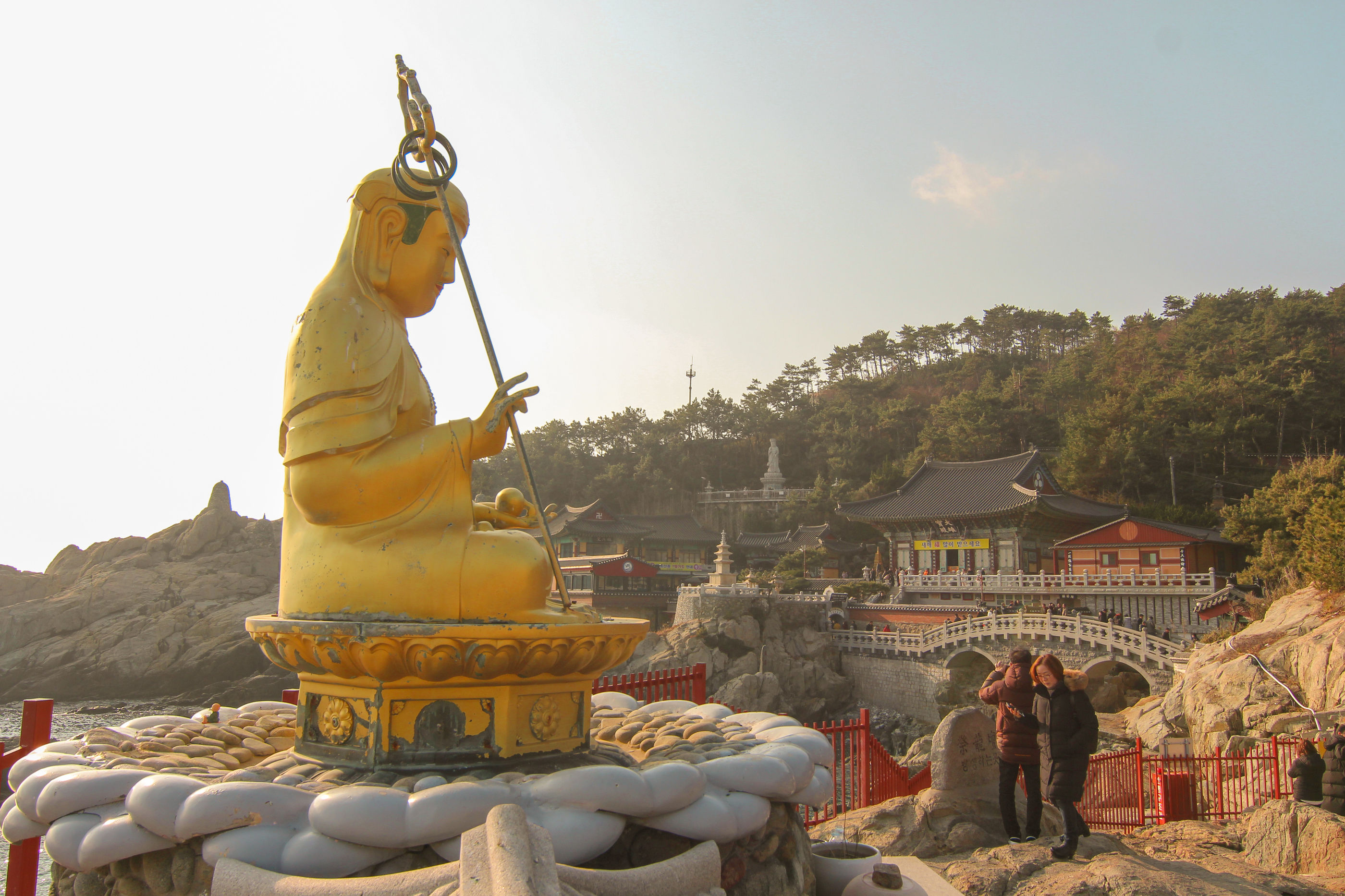 Professors willing to trek around the world with students are rare, and Saint Mary's attracts the precious few whose ideas about education align with the college's mission. Of these, 95 percent have terminal degrees in their fields, many of them earned at some of the country's most renowned graduate schools: Princeton, Stanford, Brown, Harvard, and Berkeley. And professors here enjoy working with students who arrive with a breadth of skills and preparation. "Teaching is an exercise in a kind of prospective friendship," says Dr. Steve Cortright, a philosopher, speaking on behalf of many colleagues. "You can go anywhere and get your opinions challenged. What we do here is get to know students, get them to find out what they love, what sparks them. That is a kind of friendship."
Dr. Denise Witzig, a women's studies professor who earned her BA at the University of California at Berkeley, says, "As an undergraduate, I didn't see an adviser until my senior year. I wonder: What would have happened if someone had said to me, 'Here is what I see in you'? That's what we do here. I would never want to teach at Berkeley. The students are better prepared, on the whole, but there's no connection that compares to the bond between professors and students here." 
Unlike many of its neighbors, Saint Mary's isn't an exclusive place. It accepts 69 percent of its applicants. The middle 50 percent scored between 1010 and 1210 on the SAT (critical reading and math) and between 22 and 27 on the ACT; they earned high-school GPAs between 3.2 and 3.8. About three-fourths of students get financial aid.
The college has a robust academic advising staff and strong support services for all types of students. The college's free tutoring gets high praise both from students who identify themselves as quick learners and from those who admit they are struggling. Staff members at the Tutorial and Academic Skills Center also give small-group and one-on-one workshops to boost study and time management skills, teach note-taking strategies, and enhance reading comprehension.
For first-generation and low-income students, Saint Mary's offers an impressive High Potential Program (HPP) that smooths students' transition to college. For two weeks in the summer, about forty incoming students live on campus and sample collegiate courses so they understand what's expected of them. They learn about on-campus resources and get to know one another. In addition to a regular faculty adviser, each student has a specially trained HPP adviser. Upper-class peer mentors help with social adjustment.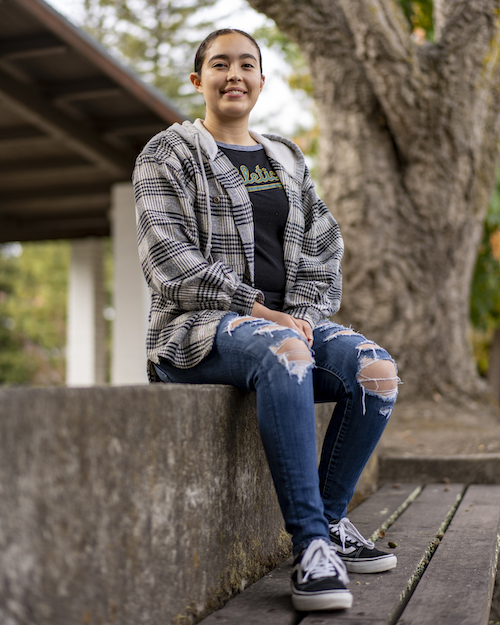 Without exception, students of all academic stripes say they feel well supported by the college and their professors. "I wasn't sure what I wanted to do when I got here, but there are steps in place to help us figure that out," says a senior political science major. "St. Mary's helped me find direction. I feel comfortable and prepared." A sophomore biochemistry major adds, "It's worth the money. Professors are super close with us. My calc professor is one of my best friends." A freshman nearing the end of his first year and planning to follow the college's 3-2 engineering program can't stop bragging about his teachers: "Professors are not drab. My classes are very interesting. Our English professor reads our essays five times before he grades them. He wants us to get better. My physics professor makes it easy to learn. My calc professor makes it fun. I never liked classes [in high school] like I do now, and I never worked as hard either, so it's not like I'm just kicking back and relaxing here."
Another thread running through the students' comments is love for their community and a fierce sense of school spirit, bolstered by little Saint Mary's Division I athletics and its basketball teams in particular. Nobody complains for want of friends, and everyone brags about being a little school with a reputation for frustrating big schools' sports teams. "It brings us all together," says a sophomore who describes herself as "allergic to playing sports." "There's a sense of community on campus anyway, a base of friendship among people just because we all attend Saint Mary's, but that's blown up and magnified when we start cheering for our teams." 
The college underscores the value of its community with weekly "Community Time," ninety minutes around the lunch hour when there are no classes, no meetings, and no service in the cafeteria. Instead, Saint Mary's hosts a barbecue on a terrace near the center of campus, and students, faculty, and staff gather for casual conversation.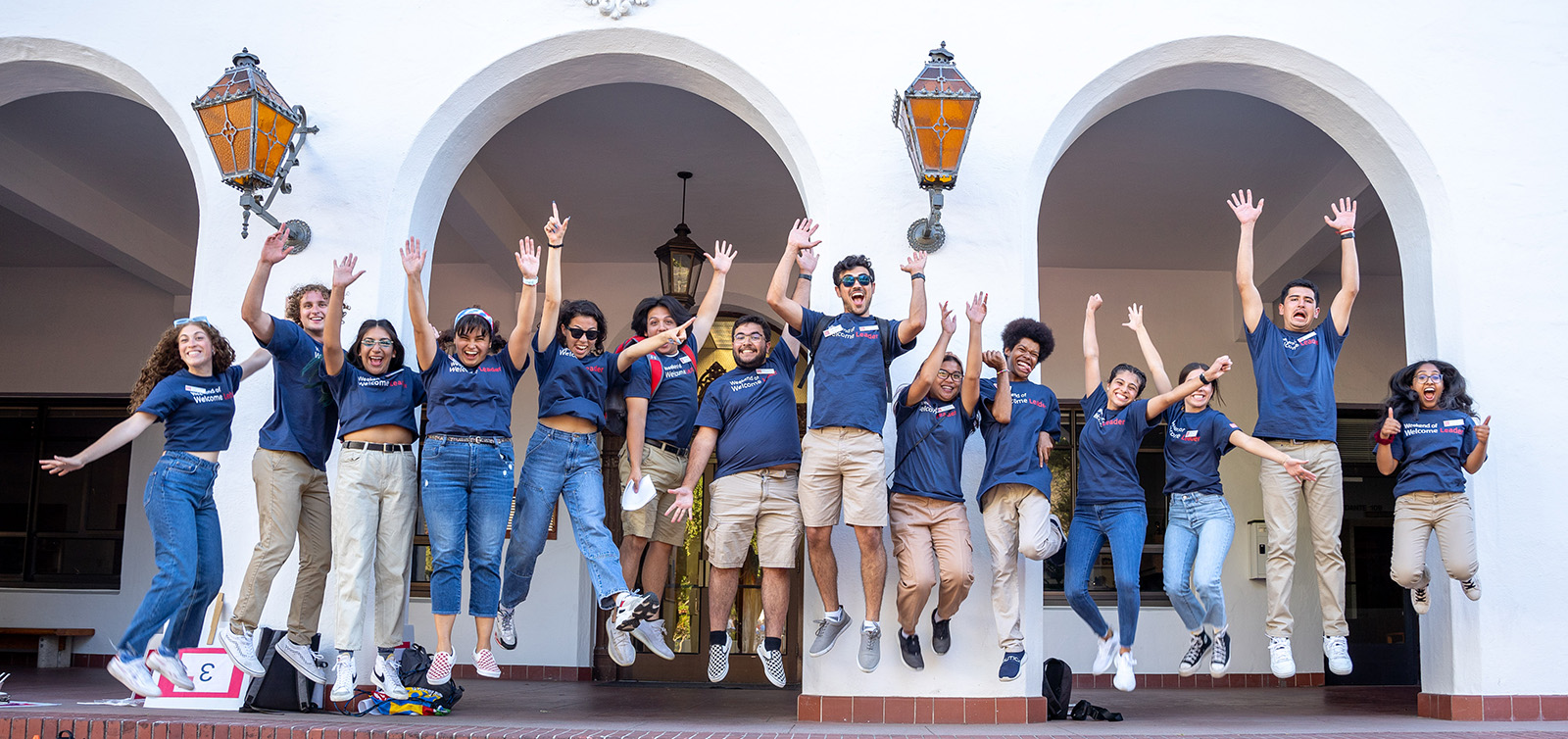 And when students need a little break from Saint Mary's—as all undergraduates want from their campuses occasionally—the Bay Area has something for just about everyone. Students are less effusive about the relative charms of Moraga. Some say the little town is too sleepy. Plus, "you need a car to get out of here," complains a freshman. A bus picks up students and takes them to BART, the public transit system, where they can get almost anywhere in the Bay Area. For a quick run to Target or an off-campus meal, students say they carpool. (The upside of car ownership, besides instant popularity, is that parking on campus is free.)
But this little inconvenience doesn't dull students' enthusiasm for Saint Mary's and the changes it has wrought in them: ''I've become hesitant to form opinions too quickly," says a junior majoring in biology. "If I'm going to have an opinion, I have to be able to support it." A sophomore muses, "A big change happens freshman year. Your priorities change. You can't ignore problems in the world anymore, and you start to understand your own power to do something about them."
The college gets high marks from seniors who complete the Cooperative Institutional Research Program (CIRP), an anonymous survey conducted by the Higher Education Research Institute at UCLA. The survey asks about specific learning outcomes, and Saint Mary's outscores its peers in several key areas; including:
More than 61 percent of seniors say their general knowledge is "much stronger" than it was when they arrived as freshmen, compared with 51 percent of students at other four-year private colleges.
 
About 56 percent say their critical-thinking skills are much stronger than when they were freshmen, compared with 47 percent of students at peer colleges.
 
More than 41 percent say they are much more able to get along with people of different races and cultures as graduating seniors than they were as freshmen. Only about 27 percent of seniors at similar schools report the same.
Alumni say these numbers tell only part of the story. "You can't quantify what Saint Mary's does," says a graduate from the late nineties who now runs his own business. "It makes you see the bigger picture and raises your expectations of what you can do and what a community can do—not just can do, but should do. It makes you accountable to yourself. I really miss it."
A 2001 graduate, now an industrial-organizational psychologist, says, ''Academically, it was phenomenal. I felt very prepared when I left for graduate school. I loved the community; I love my friends. We're still very close. Probably the biggest shift for me came from the women's studies program. I realized what was happening, these horrible things, to women around the world. It opened my eyes and forced me to contend with hard stuff, but not without people who helped me process it. Saint Mary's is like my family." 
Students and alumni like that Saint Mary's isn't a power-driven place. The college isn't sacrificing its history or mission for a whirl at the latest educational trends or a spot higher up the rankings. Its faculty and staff work diligently to do a few things well: uphold high expectations, challenge and support students, and guide them through these formative developmental years. It's no coincidence that the first thing a visitor sees when she drives up to Saint Mary's beautiful campus is the chapel and a statue of St. John Baptist de La Salle, where the college's motto is inscribed. "Enter to learn. Leave to serve." It's not terribly sexy, especially for the typical eighteen-year-old. But Saint Mary's sticks with it. It's a guiding principle important to twenty-first-century students and alumni—and to American culture.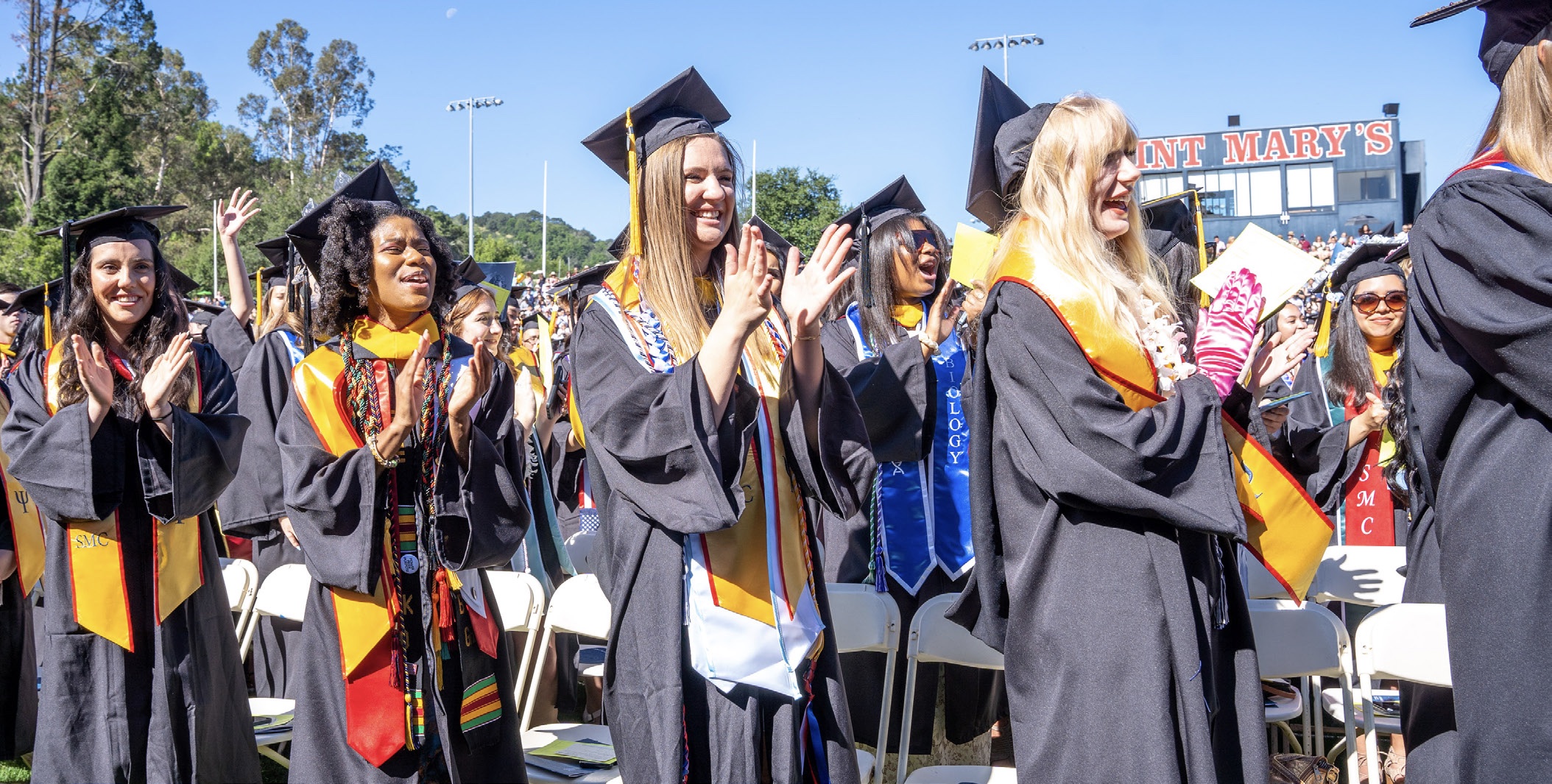 ---
"Saint Mary's College of California," from COLLEGES THAT CHANGES LIVES-REVISED EDITION by Loren Pope, copyright (c) 1996, 2000, 2006 by Loren Pope, (c) 2012 by The Estate of Loren Pope. Used by permission of Penguin, a division of Penguin Group (USA) Inc.