Saluting the Gael Student Scholars from the Class of '23 for Academic Achievement
Meet the winner of the De La Salle Award and the Class Valedictorian. And see the list of graduate and undergraduate students honored for their studies and service as part of Spring Commencement.
ABOVE, from left: Saint Mary's student-athletes Sofía Cuevas Dorador and Isabella Santavicca are two of the top-achieving Gaels students of 2023. 
The month of May gives friends, family members, and other supporters of Saint Mary's College an opportunity to celebrate with graduating students, showering them with tributes and appreciation for all they've achieved.
At the same time, it also shines a special spotlight on nearly three dozen top academic achievers. Two awards in particular—the De La Salle Award winner and the Class Valedictorian—illustrate the high-caliber, service-oriented nature of Saint Mary's student scholars. 
Those two award-winners and other undergraduate and graduate students were celebrated for their exceptional academic and service achievements at Commencement Award Ceremony events on May 3 and 4.
De La Salle Award Winner: Sofía Cuevas Dorador
An annual award named in honor of the founder of the Brothers of the Christian Schools, the De La Salle Award is presented to the student in the senior class holding the highest record for scholarship and general excellence.
The 2023 winner of the De La Salle Award is Sofía Cuevas Dorador. A Politics and Economics major, she is also the winner of the Adam Smith Award (given to the top Economics student) and the Thurgood Marshall Award (given to the top Politics major). She has raced Track and served as co-captain of the Cross Country program.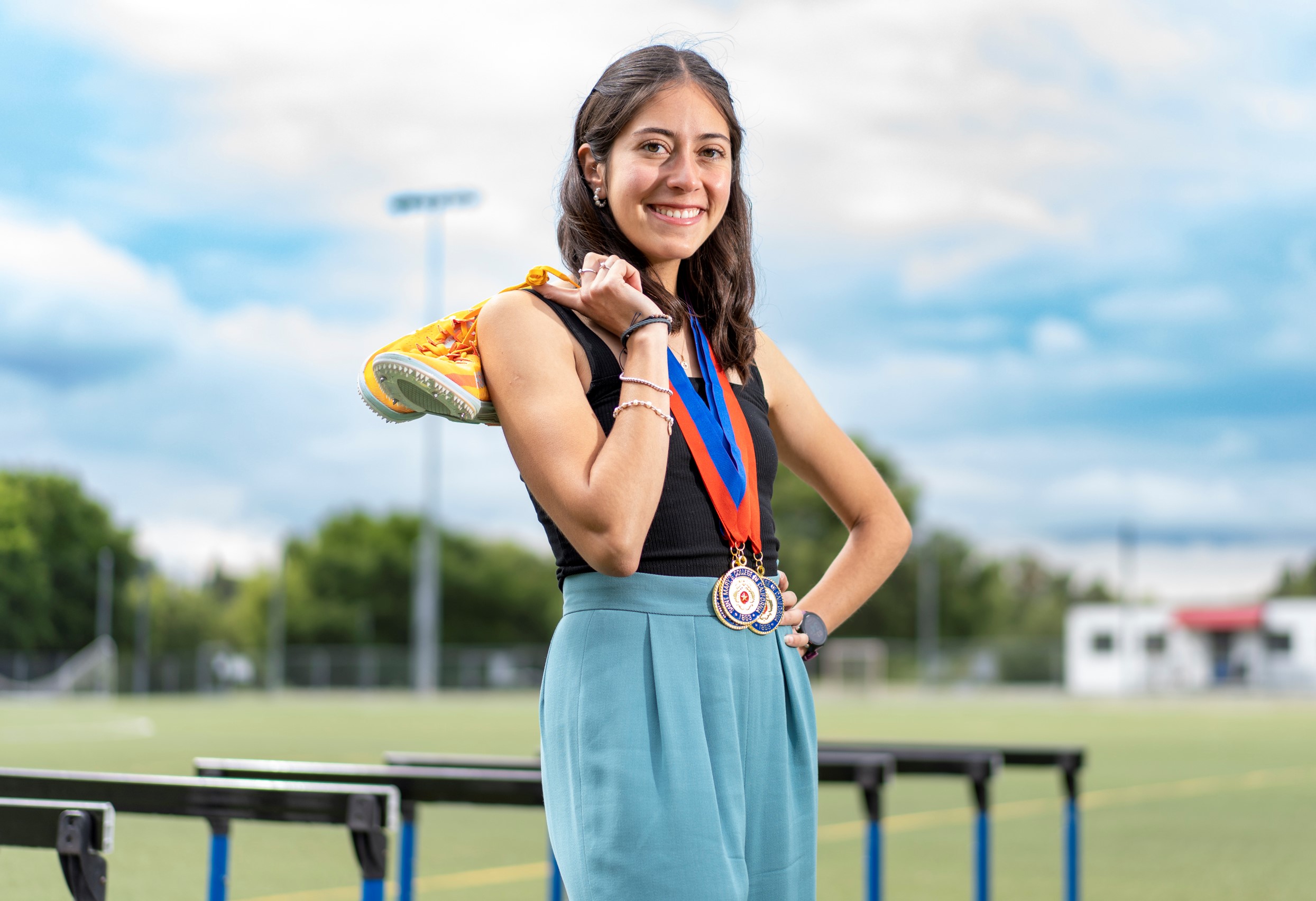 The Undergraduate Educational Policies Committee, charged with choosing the winner of the De La Salle Award, wrote that Dorador's selection was unanimous. 
"In addition to being impressed by Dorador's outstanding record of achievement at Saint Mary's, we were amazed that she earned an outstanding GPA while completing two majors—in separate schools—and a minor, all while fulfilling the rigorous demands placed upon Division I athletes," they wrote.
Beyond the classroom, the committee wrote that it valued Dorador's contributions as a Peer Mentor, LAB Ambassador, and Sustainability Intern, and that they appreciated her work organizing a campus shoe drive. They also enjoyed an essay she wrote connecting her work with off-campus immigration organizations to her path toward becoming an immigration and asylum attorney.
"I've been inspired by the College's mission to find ways to give back to the community and to use my education for the greater good," explains Dorador. Her introduction as a first-year student to the Lasallian core principle of concern for the poor and social justice, as well as the school's guiding mission of "Enter to Learn, Leave to Serve," had a profound impact on how she carried herself throughout her time at Saint Mary's, she said.
Classes in politics and Jan Term led Dorador to an internship in the International Rescue Committee's immigration department, where she was able to expand upon her classroom knowledge and gain a deeper understanding of immigration law and policy. She also interned full-time at the Immigration Institute of the Bay Area (IIBA) as a casework intern. 
"I've been inspired by the College's mission to find ways to give back to the community and to use my education for the greater good."
"I've come to acknowledge the many systemic barriers that people face in the United States and have learned how legislation is drafted and passed," she says. Through Saint Mary's classes such as Public Policy, Political Thought, and Environmental Law, she says she has learned how advocates gather support for certain policies and what it means to be an ally to marginalized communities. 
Starting in the fall, Dorador will attend Cornell Law School to pursue a J.D. in Public Interest Law. 
"I am motivated by the Lasallian mission and will bring those core principles with me in my future endeavors," she says.
2023 Valedictorian: Isabella Santavicca
Saint Mary's 2023 Valedictorian—an award recognizing an individual student with the highest academic achievements of the graduating class—is Isabella Santavicca.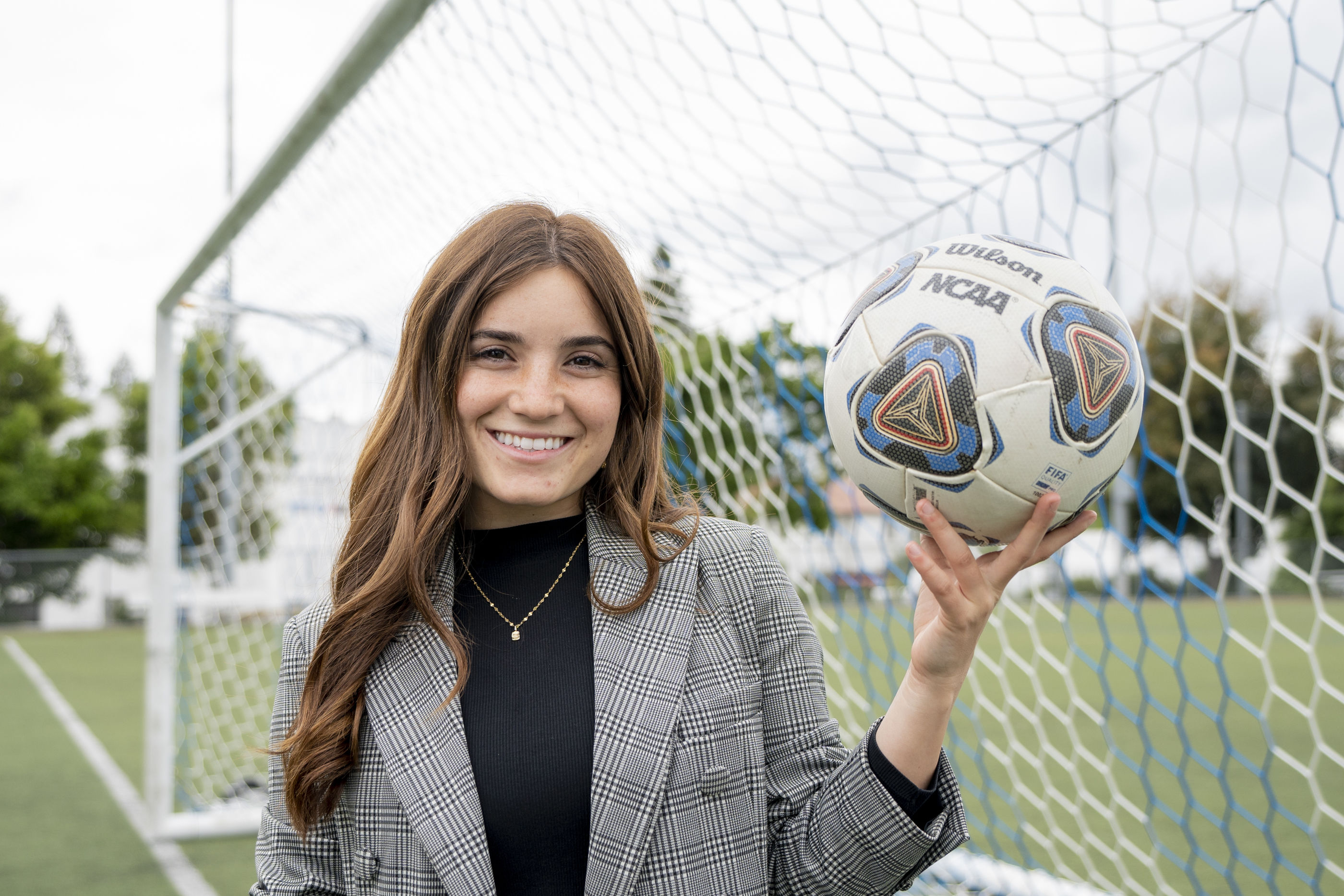 Throughout her time at Saint Mary's, Santavicca has been involved in a variety of activities and organizations that she says allowed her to contribute to her fellow students' experiences. 
"I hope to inspire my fellow graduates to continue to engage with the world around them and to find ways to make a positive impact on their communities, whether that is through volunteering, pursuing a career in a helping profession, or simply being an engaged citizen," says Santavicca. 
One search committee member noted that during Santavicca's Valedictorian interview, her passion, love, and appreciation for Saint Mary's were evident. 
"The committee was not only impressed by her stellar GPA and her willingness to challenge herself academically, but her ability to balance a rigorous course load with Division I soccer each and every semester," the committee member wrote. "What also impressed us was all of the meaningful relationships she formed with fellow students, staff, and faculty. These attributes and accomplishments are all emblematic of what we hope for with every one of our students."
"I hope to inspire my fellow graduates to continue to engage with the world around them and to find ways to make a positive impact on their communities."
Among her many service-oriented endeavors, she served as co-president of the Psychology Club and as captain of the Saint Mary's Women's Soccer team, which she says gave her the chance to lead by example and help her teammates with their goals. 
She has often been reminded, too, that competing as a student-athlete at Saint Mary's means you're representing the school, and she understands how that privilege brings with it the opportunity to play a meaningful role in the College's growth.
"I've been able to use this platform on social media, NCAA reporting, and most proudly, at the Saint Mary's Board of Trustees meeting," Santavicca says. She points out that she spoke to Trustees as both an athlete and as a STEM student and advocated for better disability accommodations around campus, action in the #MeToo movement, student life betterment, and as a conduit to help bridge the gap of communication between the board and the student population.
She also serves as an executive team member of the Honors Society, as a STEM tutor, as a Veterans Affairs volunteer, and in a number of other roles. All of the roles,  she says, are bound by a common thread: community. 
"I believe that Saint Mary's has provided us with the tools and experiences we need to be successful in whatever path we choose," Santavicca says. "I'm excited to see the many ways that my fellow graduates will use their talents and skills to make the world a better place." 
---
READ MORE: See the full list of undergraduate and graduate Commencement award-winners. 
AWARD-WINNING STUDENT-ATHLETES: Both Sofía Cuevas Dorador and Isabella Santavicca are student-athletes. Read more about all of the Class of '23 student-athletes honored for their academic achievement and service.
LEARN MORE about Spring Commencement at Saint Mary's at the SMC Commencement website.