Body
2022-23 Kaler Family Rugby Scholarships Recipient: Sosaia Pongi
For Sosaia Pongi, rugby is a lifeline, "Rugby helped me out so much in my life. Not only keeping me out of the streets, but whenever I was sad or mad, playing rugby, or even just playing around with the rugby ball, was my happy spot. I feel like that's where I get to truly be myself and just having fun," said Pongi.  Read More here
Image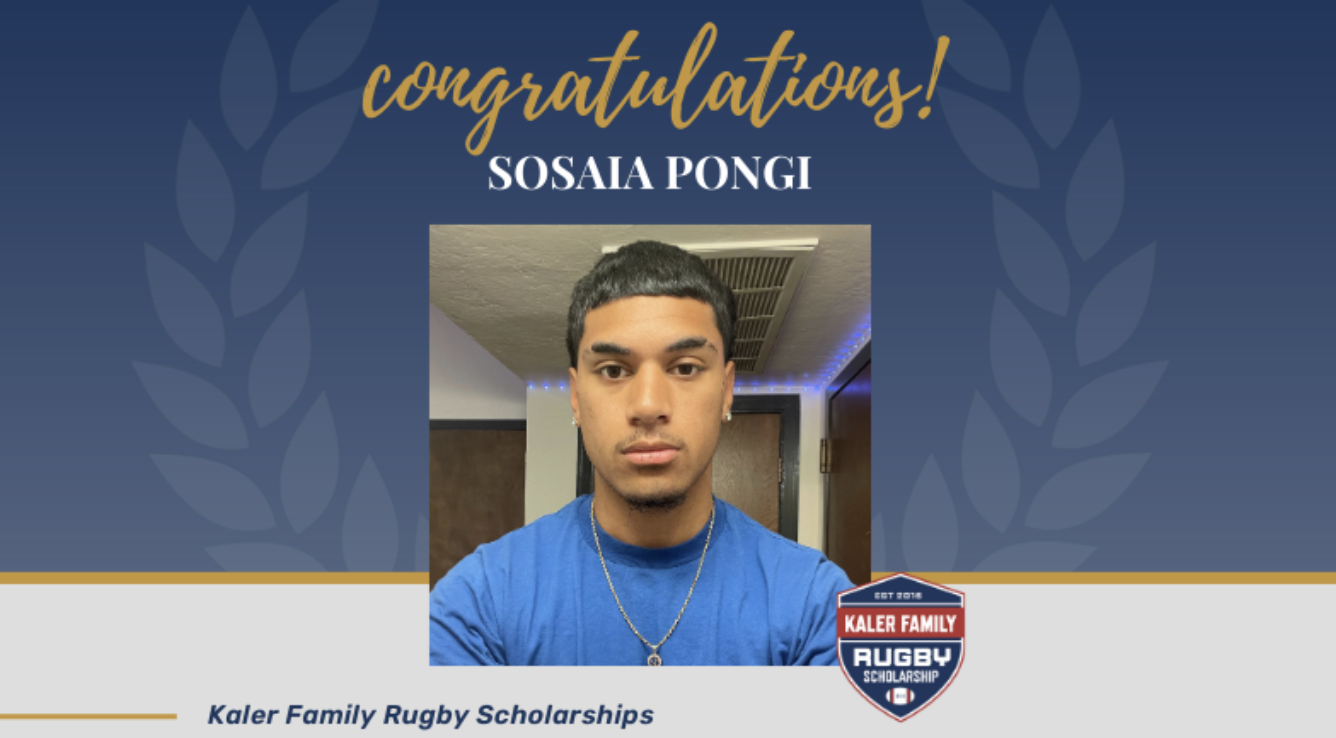 ---
Alex Goff | Goff Rugby Report
The All-American list has been a long standing honor for any college rugby player. This award signifies the best College Rugby player for each of their respective positions. The College Rugby Association of America (CRAA) announced their All-American list for the 2021-2022 Season. 13 different Gaels made the list this year. This is the most out of any other college rugby program! Congratulations to our players for their hard work and determination of the past year!
---
Coach Tim O'Brien - Craig Sweeney 2022 Award
This award is given to those U.S.A Eagles who have exemplified great character on and off the rugby pitch. This award is named in honor of Craig Sweeney who earned four caps and was named captain in the very first test matches for the United States Eagles. Soon after, Mr. Sweeney passed away suddenly due to a fatal heart attack. 
Head Coach Tim O'Brien once again had a very successful year leading the Saint Mary's Gaels to the USA Rugby National Championship, falling just short to Army. Tim, who was inducted into the USA Rugby Hall of Fame in 2017 was named the recipient of the 2022 Craig Sweeney Award. Tim was recognized, along with the 2022 Hall of Fame class, on July 18th at the Infinity Park Event Center in Glendale, Colorado.  Tim O'Brien continues to have a long and successful rugby career, winning numerous awards and recognitions for his amazing efforts in growing the sport of rugby in the United States of America. After earning his USA Eagle caps in 1980-1983 he was inducted into the USA Rugby Hall of Fame in 2017. In 2001, Tim O'Brien brought a fun, open and fast paced playing style of rugby to Saint Mary's College. O'Brien landed the Gaels to the USA National Championship in 2013-2016 and again in 2022, winning the 15's National Title in 2014, 2015, and 2017 along with the 7's National title in 2016. Under Coach Tim O'Brien, we have had great success and honorability within our program in his 20+ years as Head Coach. We are forever grateful that he is a Gael! Congratulations, Coach Tim O'Brien!
---
Ronan Murphy scored the winning try in bonus time to cement the one-point victory over the All-Canadians
St. Mary's players shone bright on the big stage, scoring all of the All-American tries in the game. All four players from St. Mary's - Payton Telea-ilalio, Tavite Lopeti, Sean Yacoubian and Ronan Murphy - found the try zone. 
Image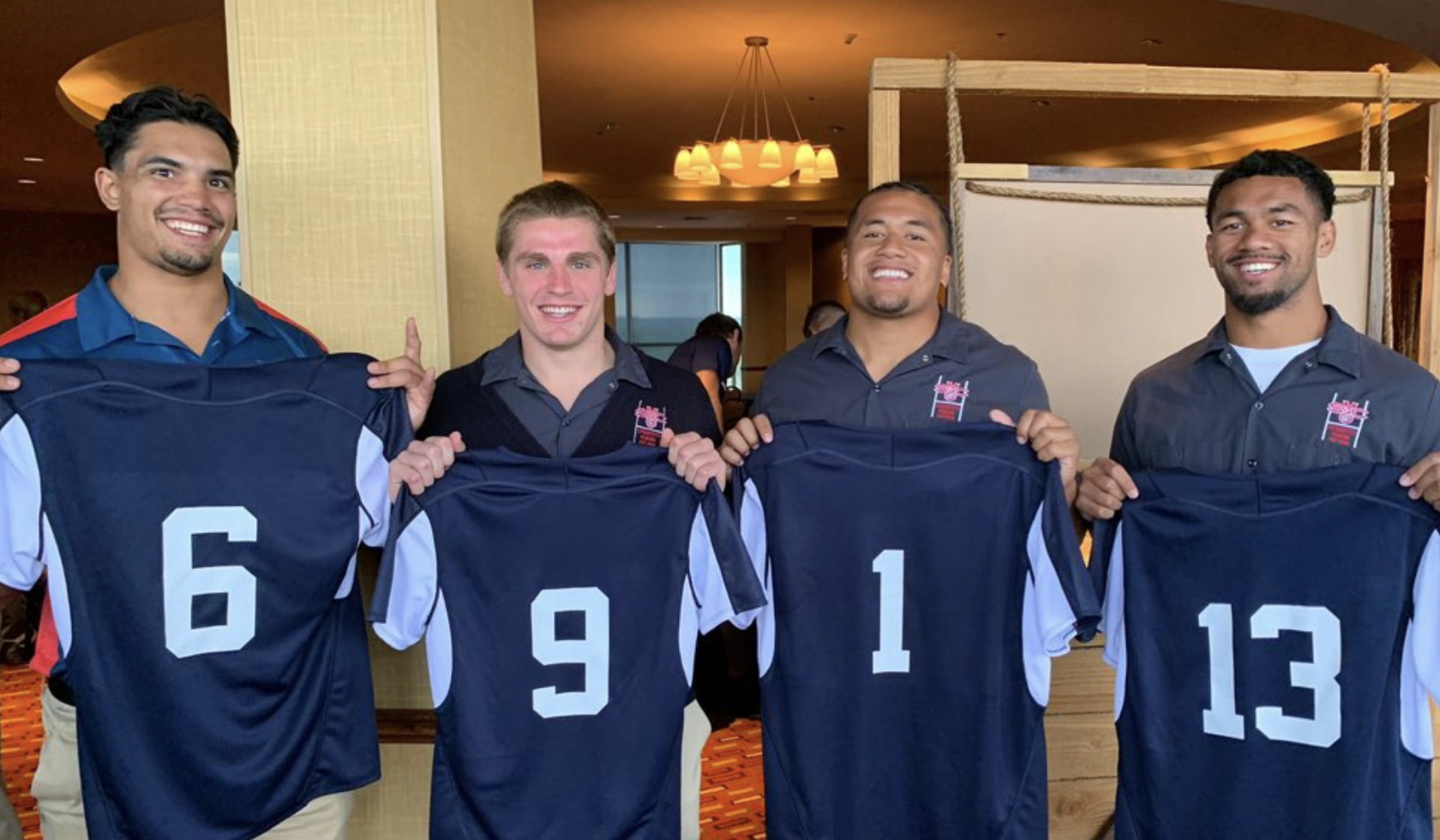 ---
Joe Marchant, Saint Mary's
Arriving on the Moraga, CA campus of Saint Mary's College in August, Marchant was stepping into a program with a rich legacy of top-notch front rowers. Furthermore, he was joining a team already loaded with talent all across the board, with the front row being no exception. 
However, his hard work earned him a consistent place in the starting pack for the Gaels, and his seven tries in eleven games are a testament to his abilities as not only a great scrummager, but also a valuable asset in open play. 
---
Jonathon Hackett | 2017 Kevin Higgins College Scholarship Grant Recipient
Year: Freshman  Height: 5'9"  Weight: 195lbs
High School: De La Salle High School    Hometown: Concord, CA 
Grit and determination led 2017 Kevin Higgins College Scholarship recipient, Jonathon Hackett, to receive a rugby scholarship to one of the top programs in the nation. Hackett had always dreamed of competing at the highest level for football and wrestling, but when scholarship options drew short, he turned to rugby. His football and wrestling background allowed for an easy transition into rugby and molded him into a noteworthy player. Although his rugby experience might be limited, his opportunities are endless. Jonathon will be the first in his family to attend a four-year university, all thanks to rugby. 
---
USA Rugby Names All Americans for 2016 - 2017
Collegiate All-American First XV 
#6 Alec Barton - Saint Mary's College
#7 Kevin O'Connor - Saint Mary's College
#9 Holden Yungert - Saint Mary's College
Collegiate All-American Second XV 
#8 Vili Helu - Saint Mary's College
#15 Dylan Audsley - Saint Mary's College
Collegiate All-American Honorable Mention 
#12 Aaron Matthews - Saint Mary's College
Collegiate All-American First Team-Sevens
Dylan Audsley, Saint Mary's College
---
Coach Tim O'Brien Named to USA Rugby Hall of Fame 
MORAGA, CALIF. - Saint Mary's Men's Rugby Head Coach Tim O'Brien has been inducted as part of the Class of 2017 into the U.S. Rugby Hall of Fame. O'Brien, along with nine other members, will be formally introduced as a member of the Hall of Fame at an upcoming induction dinner.
Although he is not one that does things for recognition, his accomplishments as both a player and coach deserve to be honored. O'Brien's career started with the Palo Alto Rugby Club as a 17-year-old. When he moved onto the collegiate level, he took his talents to and excelled at Cal Berkeley. As team captain, he led the Golden Bears to consecutive national championships in 1980 and 1981. 
---
2017 D1A Rugby National Champions SMC 30 vs. Life 24 
Saint Mary's Defeats Life University 30-24 for Third National Championship in Four Years 
MORAGA, CALIF. - A year after Saint Mary's lost in the D1A National Championship to Life University 24-20 in front of their home crowd, they had the opportunity to avenge themselves on Saturday at Saint Mary's Stadium. Not only was it a chance to make up for last year's heartbreak, it was a chance to break the tie between the Gaels and Running Eagles over the past four title matches. Life won the championship in 2013 and 2016 while Saint Mary's repeated in 2014 and 2015.
In order to beat Life, Saint Mary's knew that they had to improve on their sloppy 43-7 semifinal win over Arizona. Cutting down both turnovers and penalties was a focal point in practice over the past week and defense, as always, was also heavily emphasized. With this in mind, the Gaels were aware that they would have to play close to a perfect game to overcome the undefeated Running Eagles.
---
Saint Mary's wins D1A | Alex Goff, Goff Rugby Report
Dylan Audsley scored 25 points, Holden Yungert was MVP, the ground in Moraga, Calif. shook with the vibrations of the tackles between Life and Saint Mary's, and Kevin O'Connor was superb as the Gaels held of an excellent Life team 30-24 Saturday.
The lead changed multiple times, and we attempted to describe the activities in this report (click here).
But sometimes it's about the pictures. Read full article here