Image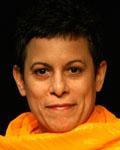 Catherine Marie Davalos
Image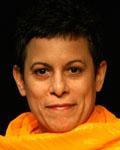 Department:
Performing Arts: Dance, Music & Theatre
Office Location:
Brother Cornelius Art Center 2B
Mailing Address:
Saint Mary's College Performing Arts Box 4268 Moraga, CA 94575
Professional Overview
Modern Dance, Choreography, Dance History, Dance Criticism and Analysis
Catherine Marie Davalos is a Chicana choreographer. Her work emerges from her Mexican voice and the constant rediscovery of identity. Davalos makes dances that question heteronormativity using a feminist, Latina, and Chicana perspective. Her dances are often multilayered crossing many borders while delving into the coalescence and contradictions of being a Chicana and what she calls a "Mexican American Princess." Even though her family is educated and born in the USA, growing up in California with brown skin makes you both invisible and the target.
Davalos seeks collaborative artists who have an interest in the same aesthetic arena. She is interested in diversity rather than uniformity. Her company consists of nonconforming bodies, races, and sexual identities. These people inform her work. Davalos continues to serve the Latino community by making dances that speak from a different voice and move through a different lens. Due to her art and activism, Davalos was named one of ten international artists in Artist OF NOTE: The Immigrant Issue, Spring 2014.
The Davalos Dance Company has been presented at various venues across the country since its inception in 1994. Recently the Davalos Dance Company created a partnership with the City of Panicale in Italy. They performed their site-specific work Oh the MOON! in July 2016 and will return in 2018 to perform and curate a dance festival for the region titled Radical Acts of Love. The Davalos Dance Company has been presented at the Festival of Latin American Contemporary Choreographers and is a founding member of the organization. Davalos has also created work for the Latin Ballet of Virginia under the direction of Ana Ines King. Her full-evening work Volver received numerous grants including one from the National Endowment for the Arts. CatherineMarie Davalos and the Davalos Dance Company have also been presented at various Bay Area venues and festivals including CounterPulse, ODC, the San Francisco International Arts Festival and Dance Mission for Women on the Way. They have been honored with the generous support of the Zellerbach Family Foundation, the William and Flora Hewlett Foundation, and the Faculty Development Office of Saint Mary's College of California. Their work has been praised in the Richmond Times-Dispatch, DanceViewTimes.com, the Los Angeles Times, and The Washington Post.
Professor Davalos is the Director of Dance at Saint Mary's College of California which includes a traditional undergraduate program for young dancers, an undergraduate program for professional dancers known as LEAP, and a graduate division which offers an MFA in Dance: Creative Practice, and an MFA in Dance: Design and Production.
She has been at Saint Mary's since 1997 when she was hired to develop the dance program. In 2010, the Saint Mary's College Dance Company received national recognition when they were invited through adjudication to perform at the Kennedy Center for the National College Dance Festival. Ms. Davalos received a BA in Philosophy and Dance and an MFA in Dance from CSU, Long Beach, where she was honored with the title "Most Outstanding Graduate for the College of the Arts."
Department:
School of Liberal Arts » Master of Fine Arts in Dance
School of Liberal Arts » Performing Arts: Music, Dance and Theatre
School of Liberal Arts » Performing Arts: Dance
School of Liberal Arts » Women's and Gender Studies