The Artist at Work: Sam Reider on His Latin GRAMMY-Nominated Album, 'Brooklyn-Cumaná'
The eclectic record also scored Reider and longtime collaborator Jorge Glem a coveted Tiny Desk Concert. Reider, an accomplished jazz pianist, accordionist, and composer, feels like he's just getting started.
"At Work" is a new series that highlights Saint Mary's faculty and staff at work in the world. Artists, writers, scholars, scientists—we sit down and dive deep into their latest projects.
---
For Sam Reider, music-making is daredevilry. Stepping onstage without sheet music offers him the same thrill as, say, leaping off a cliff does for a base jumper. Granted, the stakes are a tad lower for Reider. "What I do is not physically dangerous," he says. "Usually."
A recent addition to the Music Department faculty, Reider is an accomplished pianist, accordionist, and composer who specializes in jazz and improvisation. He began taking piano lessons in kindergarten; by his senior year of high school, he was performing at premier jazz festivals throughout the country. While attending Columbia University, however, Reider became enamored with American roots music. He started to see how folk music and jazz shared a similar origin story, one of intermingling between European, Latin, African, and Afro-Caribbean music traditions. "Folk music is cultural fusion," he argues.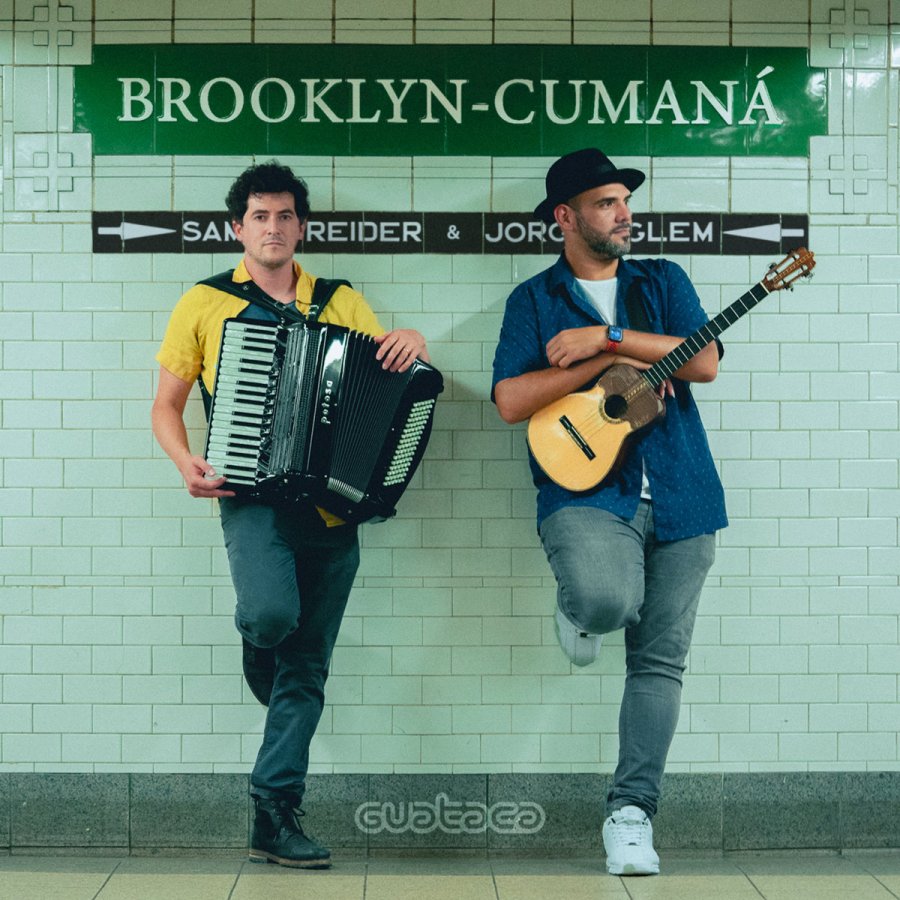 Enter, accordion: The instrument has taken him around the globe, to house parties, dive bars, concert halls, and soon, the Latin GRAMMY Awards in Seville, Spain. In September of this year, Reider and Jorge Glem, the Venezuelan cuatro virtuoso Jorge Glem, were nominated for a Latin GRAMMY for their groundbreaking 2022 record, Brooklyn-Cumaná. And it is genuinely groundbreaking, Reider says. The largely improvised album is likely the first time the accordion and the cuatro—Venezuela's answer to the ukelele—have ever been recorded together. 
The nomination was both surprising and gratifying for Reider, and in keeping with a lifetime of musical risk-taking. But, as he explained to me, he's come to expect the unexpected.
Walk us through your musical origin story. 
My dad's family were all musicians and artists. My grandfather was a doctor and pianist, my uncle was a saxophonist, and my dad started out as a classical pianist before transitioning into classical guitar and eventually composing. At home, we listened to everything—jazz, Beethoven, the Beatles. 
Like most kids who learn piano, I started with classical, which didn't really jibe with me. It was hard for me to focus on playing exactly what was written. So when I was about 11, my parents decided to give me jazz lessons instead of classical, and that was an immediate fit. I had a great teacher who really helped me foster my own relationship with music. That's crucial for kids, I think. Music went from being something I did because that's what you do in my family to being my chosen path.
Can you talk a bit about the accordion?
It was definitely something I never dreamt of. When I moved to New York City for college, I was pretty dead set on playing jazz piano. But I was suddenly exposed to a lot of different genres and cultures, and I became really interested in folk music. It was a whole different world of instrumentation than jazz: fiddles, violins, mandolins, guitars. Something about it felt much more inclusive and accessible. Jazz concerts can be pretty alienating for people who aren't "in the know."
For me, then, the accordion became a vehicle that allowed me to travel, metaphorically and physically. A piano is huge and heavy, obviously, and you can't take it with you. But the accordion fit in my backpack. So I got to drive all over the country and play at jam sessions in the Blue Ridge Mountains and venues in Colorado, Texas, and Louisiana, and all over the West Coast. I've traveled extensively overseas, too, and everywhere I go, people have some association with the instrument, usually positive. It's a huge part of pop music in Latin America and the Middle East and all over Europe. The accordion has opened a lot of doors for me.
One of the doors it opened was your friendship with Jorge Glem, your collaborator on this latest album. How did you meet? 
We met at a party in New York City. A friend of mine invited me, saying, "Have you ever checked out Venezuelan folk music?" I hadn't, and I didn't know what to expect. But I showed up at this little apartment on the Upper West Side, and it was full of Venezuelan people. They were passing around food and drinks and bottles of rum and playing instruments and singing. And Jorge was there, playing the cuatro, and he was just astounding. His virtuosity on the instrument was incredible. 
At the time, he didn't speak any English; he had moved only recently to the United States. And I studied French, so I didn't have any Spanish to help me out either. But we started hanging out. I'd take my accordion up to his apartment in the Bronx, and we'd sit in his kitchen and play. I loved it because what he did was so musically challenging to me. That's part of what drives me: the feeling of being in deep water and not knowing what's going on. It's like being the only English speaker, trying to make sense of what people are saying. In this case, it was both! 
We started to play gigs, and after several years together, a Venezuelan record label reached out to us about doing an album. That took a couple of years to come to fruition. We recorded in January 2020, but then it was the pandemic, so it took two more years to produce. But it was finally released in November 2022. At this point, Jorge and I have been working together for almost seven years. But in many ways, it still feels like it's the beginning.
At the most basic level, Brooklyn-Cumaná is 11 tracks, 47 minutes of music. For people who have never made an album (most people!), what goes into making 47 minutes of music?
I think it's different every time. Typically, in a project like this—which is collaborative and improvisational at its core—you decide on a set of arrangements that have been developed over time, through practice and at gigs. Or sometimes it happens the other way around: You record first and then learn to perform what you recorded. In this case, it was both. It was a very organic process. We were working things out on the fly, with limited shared vocabulary and very limited time. Jorge was actually flying to the GRAMMYs that week. 
That kind of pressure would stress out a lot of normal people. 
Oh, yeah.
But I also wonder, as an improviser, if there's some glee in it. 
There's definitely an addiction to it. Leading up to a performance, I'm often very nervous. And then—usually after it's over—I have this massive feeling of release and excitement and joy, which propels me toward the next, bigger musical challenge. 
I'm sort of learning to embrace that engine, to accept that improvising is a scary thing to do. But that's the power of it. It wouldn't be what it is without the fear. And it's a beautiful thing when you can get on stage with someone like Jorge and improvise together.
I know you and Jorge recently performed a Tiny Desk Concert, which is a big deal. What was it like to be in that space?
I was psyched. It was something I'd wanted to do for years and years. Tiny Desk started when I was in college, and so for my generation, it was a part of the musical fabric. And I couldn't imagine a more perfect project to get to share, because Jorge and I thrive in small spaces. Our music is very fast and intricate. It translates well, I think, to that environment. 
"Every time you play, you're not just recreating the past, you're also forging a new, musical future."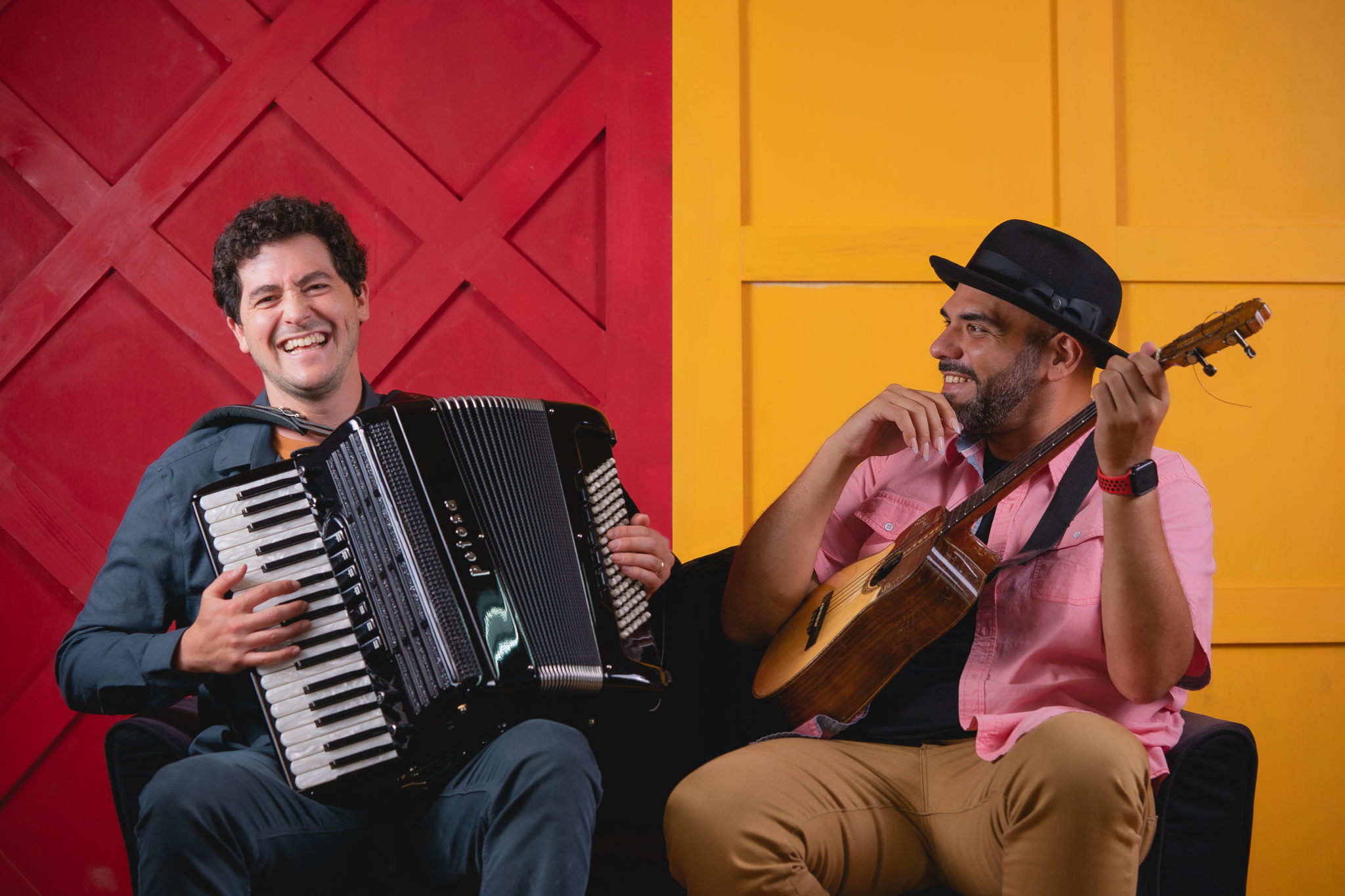 Speaking of milestones: Can you talk about what it means for you to have the Latin GRAMMY nomination?
It's really exciting. I guess it's a little funny, too, because I'm obviously not a Latin person. But it's also great, because I am obviously in love with music from the Latin and Afro-Caribbean diaspora. You don't have American roots music without Cuban or Brazilian music or the vast myriad of traditional African styles. Folk music is cultural fusion, and I'm just happy to be included in that.
Jorge, who has won GRAMMYs before, keeps telling me we've already won simply by getting recognition. Brooklyn-Cumaná is a pretty esoteric, strange project with two instruments that have never been recorded together. The fact that it's getting this kind of attention at all is really cool, and I think it sets us up well for continuing the adventure.
You teach improvisation and jazz here to Saint Mary's students. What are some lessons that anyone could appreciate, whether they're a musician or not?
Improvised folk music from all over the world is my passion, because when you participate in it, you are part of an unbroken continuity with the past and the future. You are in conversation with people who are no longer here, with songs, melodies, and rhythms that go back thousands of years. 
And yet, you're also creating something new. Every time you play, you're not just recreating the past; you're also forging a new, musical future. And that, for me, is a very meaningful way of living my life.
​
LEARN MORE about Saint Mary's award-winning Music Program. APPLY TODAY.
Want to experience Sam Reider's music in person? ATTEND "Once Upon A Time: Music of Fairy Tales" on December 7: Saint Mary's Concert Ensemble and Chamber Players will perform Reider's arrangements and original compositions.
Or catch Reider with the San Francisco Girls Chorus on December 11.
The Latin GRAMMY Awards take place November 16 in Seville, Spain—the first time the ceremony has been hosted outside the United States. U.S. audiences can watch on Univision, UniMás, and Galavisión at 5 p.m. Pacific. See the full list of nominees. 
---
Hayden Royster is Staff Writer at the Office of Marketing and Communications for Saint Mary's College. Write him.
Story updated November 16, 2023, to include where to watch the Latin GRAMMY Awards.