With an Eye on the National Championship, for Saint Mary's Rugby There's Always More to Do
This winter, the team traveled to Europe to take on Cambridge, Oxford, and Trinity College, Dublin, on their home pitch. And they accomplished something no US team has ever done before.
When the Gaels Men's Rugby team took on the Oxford University Blues on their home pitch in January, there was a moment the match could have gone either way. With some ten minutes left, Oxford was down by one. They had a chance to make a penalty kick, right in the middle of the field—a gimme that would have been worth three points. Instead, Oxford decided they were going to take the ball and score against the Gaels.
Bob Lenz '86, a rugby alum, was along for the European road trip. Saint Mary's took on Cambridge, Oxford, and Trinity College in Dublin in less than a week. What Lenz saw playing out on the pitch was informed by a touch of Oxford arrogance, perhaps. "Well, this is our sport, we're the English, we created it, and we're going to show you… We might be down, but we're actually going to kick your …"
The Gaels had something else in store. 
"We stopped them," Lenz says.
SMC dominated the following run of play and converted a penalty kick of their own to win by four. Final score: Saint Mary's 16, Oxford Blues 12.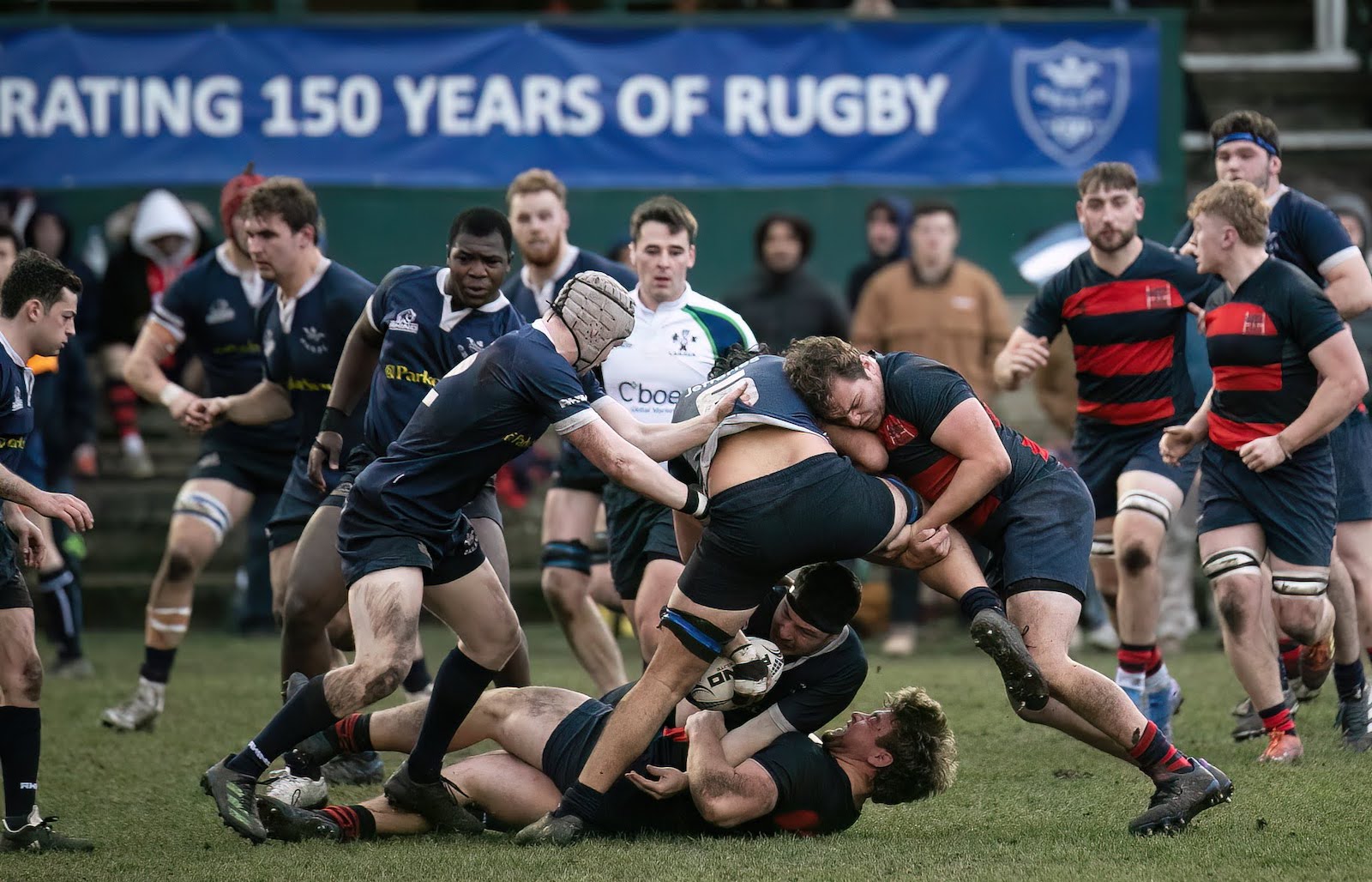 As far as the players and coach and fans of SMC Rugby know, no other team from the United States has ever beaten the Oxford Blues on their own pitch.
The truth is, Oxford had been warned—by one of their players who had gone to UC Berkeley. As Lenz recounts: "He was telling his Oxford teammates, 'These guys are good. They know how to play rugby well. They're gonna give you a match.'" Saint Mary's is a small school, the former Cal player advised. "'They always go into every match against somebody like us with something to prove.' He said they kind of laughed him off. When the game started against the Saint Mary's Gaels, they found out right away they weren't going to be able to mail this one in." 
A Month of Rugby in One Week
The match against Oxford was the second stop on a three-leg tour of England and Ireland at the end of January and beginning of February. First stop was Cambridge on January 29, where things didn't go quite as well as hoped for the Gaels.
The morning was gray, the grass muddy, and the Gaels played their hearts out against a team known for their rugby prowess. At the end of the first half, Saint Mary's was up 12–10. But the  second half belonged to Cambridge, who opened up by scoring twice. And while the Gaels made a late push, they came up short. Final score: 24 Cambridge, 17 Gaels.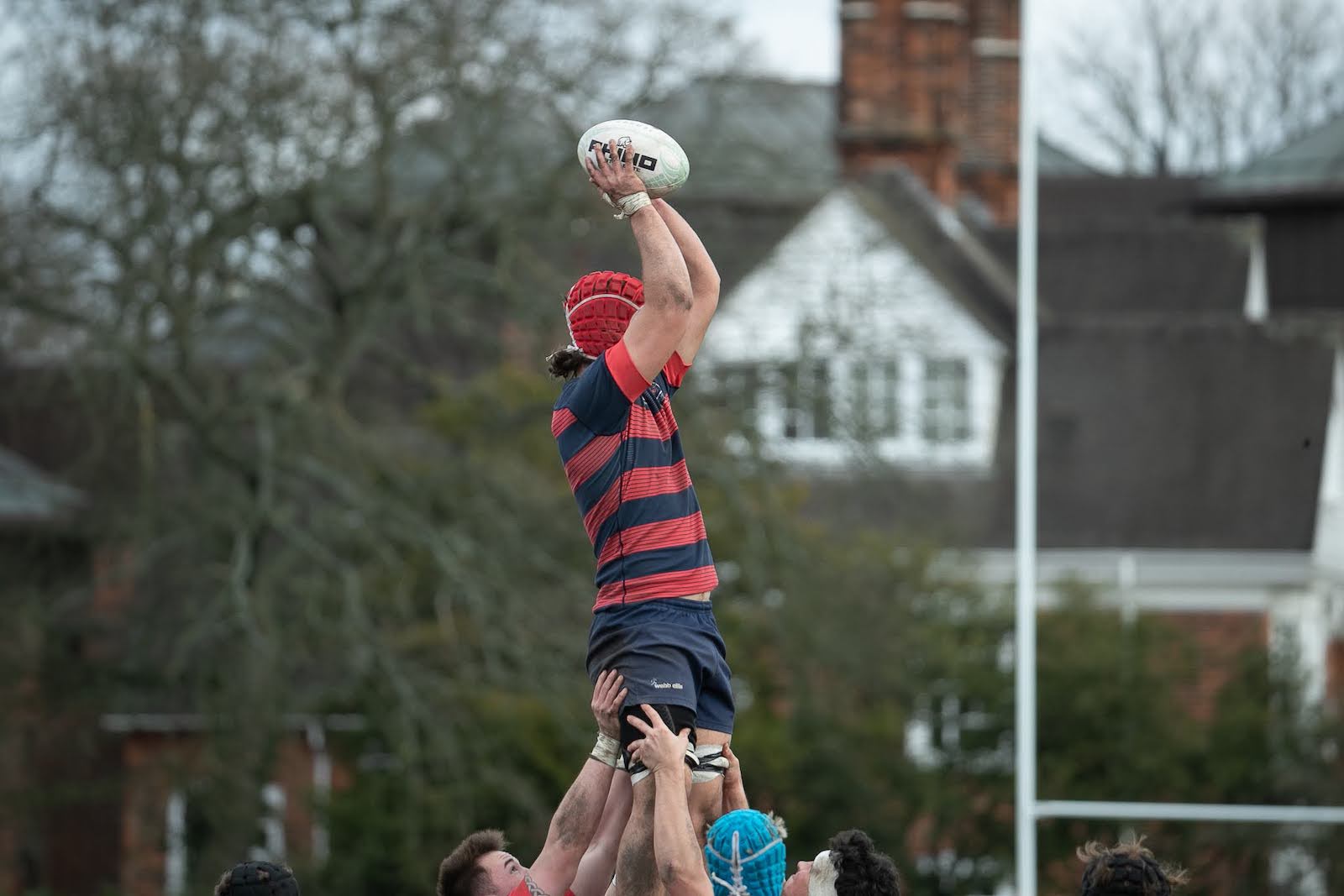 However, a loss for the Saint Mary's rugby team—especially at this high a level of play—is nothing but a good experience. Team captain Joseph Marchant a fifth year of play at Saint Mary's and is finishing his master's in teacher education. "Trips like that are very much a learning experience," he says.
Meet Marchant and you get a sense of his calm and confident leadership; he's weathered, built to handle any difficulties that may come at him on or off of the rugby pitch. In 2022, he made the first team of Division 1A All-American team for Major League Rugby. As for the Gaels, he says, "At the end of the day, what we're trying to do is win a national championship." 
That goal—national championship—dovetails with why the Gaels would spend their Jan Term trip facing some of the highest highest level teams in the world. Those teams are, for the most part, made up of ex-professional players. And a tour like this is an undertaking that no US team has undertaken before. One thing that makes it remarkable: They played a month's worth of rugby—three full matches—in just six days. They also did it without having the time they would normally have to review film, strategize, and plan for how to face these teams.
After the loss to Cambridge and the win over Oxford, the Gaels took on Trinity College, Dublin. The A and B teams proved victorious at both fields. Road trip record: two and one.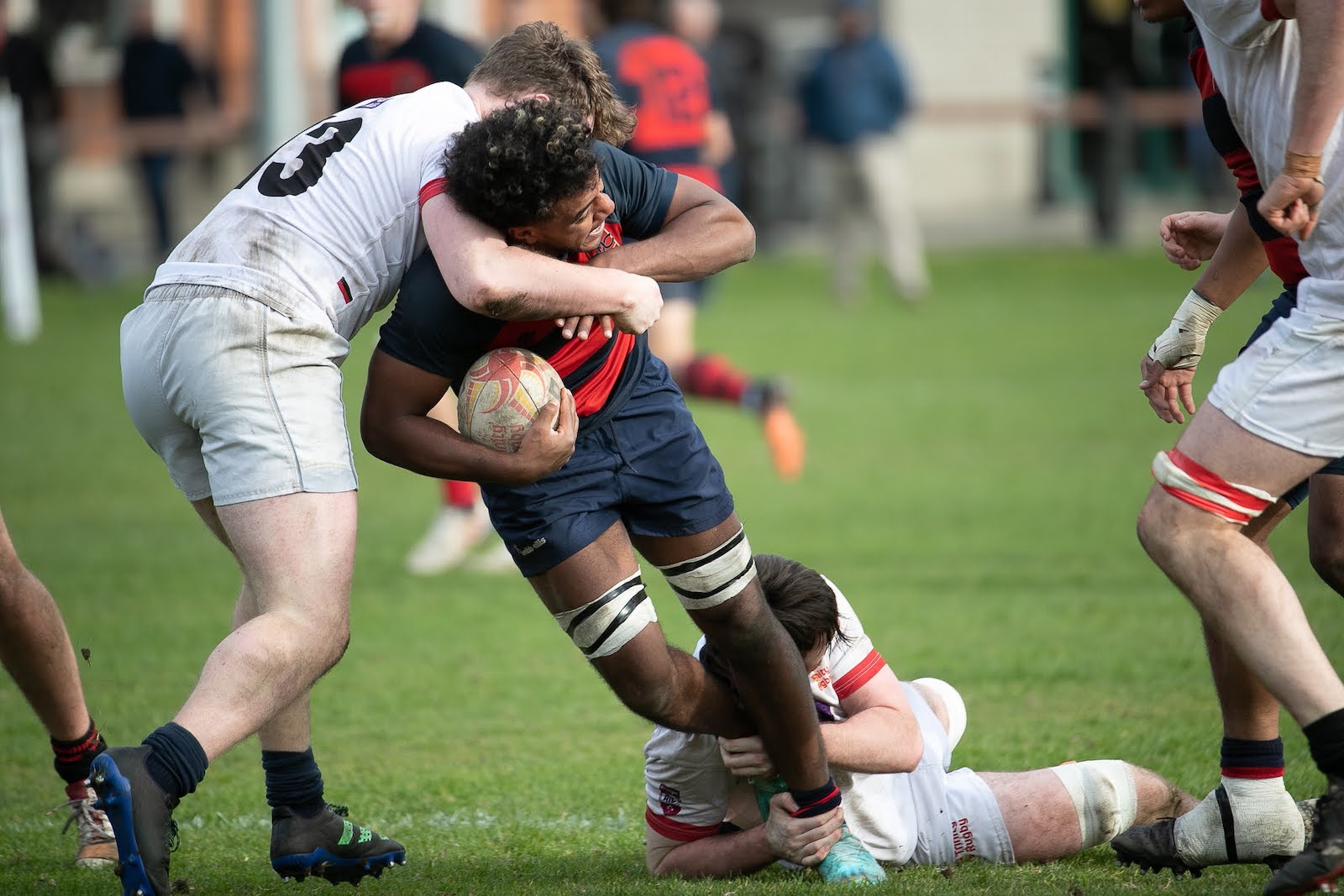 Joshua Allan is president of the team and is completing an MBA in Finance at SMC. He stands 6'1" but with his breadth presents himself as a formidable opponent on the pitch. He also speaks with a feeling of joy when it comes to the game. "It was kind of like a celebration of rugby traditions," he says of the trip. "You get to go overseas, play against the best teams in another country. We're already a tight unit, but the tour definitely made us even closer than before."
For some members of the team, this was their first time traveling internationally since COVID-19 shut down travel in 2020. For others, such as starting-line freshman Iosefa Toia'ivao '26 (known by his teammates as JT), it was their first time traveling outside of the country. JT is majoring in sports management. And the road trip to England and Ireland drove home one thing for him: "Shoot, it's the brotherhood that you make with the boys, you know?" he says. "It's just the relationship we have. It's different from anybody else. We got each other like that. These are boys you can truly call your family."
One of the Top Universities to Send Players to the Major Leagues
Rugby has been an integral part of the Gael community for more than half a century; the Gaels have fielded a team every season for the past 67 years. And Saint Mary's is one of the top U.S. universities to send players to the major leagues.
Guided by the seasoned hand of Coach Timothy O'Brien, it is no wonder the team fosters a sense of family and respect. They play hard. They also are willing to welcome anybody with the tenacity and desire to play, learn, and grow. 
"It's the rugby that gets you here," O'Brien says of the team. "But it's the people that keep you here."
O'Brien speaks from experience. He is a volunteer coach who has devoted 21 years to SMC Rugby. That means spending more than 600 hours every year working with the team in practice—and taking them all the way to national championships. In the past decade, the Gaels have claimed the cup numerous times: in 2014, 2015, and 2017. In 2016, the Gaels won the national championship in rugby sevens—seven players playing seven-minute halves, versus the usual 15-person teams playing 40-minute halves. In 2022, Saint Mary's made it to the championship match but suffered a heart-wrenching 20–8 loss to Army.
Take that past as prologue: When asked about realistic goals for the Gaels this season, O'Brien is clear: "We're going for national championships. No ifs, ands, or buts about it."
One of the highlights of every season is the game that pits Saint Mary's against UC Berkeley. This year the Gaels host Cal on March 25. There might easily be 5,000 fans in the stadium when the players take the pitch.
"To me, rugby is a game of truth," Coach Tim O'Brien says. "There's no hiding on a rugby field."
Given the intensity of the competition, many people don't realize that the rivalry has only existed for the past decade. Prior to 2012, Cal dominated competition against Saint Mary's. Rack up the point totals from matches pre-2012, and it was 150 for SMC to 450 for Cal. Since 2012, Saint Mary's has played Cal a dozen times. Each team has won six. The point totals for the past decade are 309 for Saint Mary's, 291 for Cal. 
Take stock of the resources and the size of the two schools, and there's a clear metaphor at hand. "It's a David and Goliath story," O'Brien says. 
How have the Gaels gone from underdogs to perennial contenders for the national championship? Along with the tight-knit brotherhood, one factor is brutal honesty. O'Brien gives an example through the film reviews the team does after most matches. "It can be pretty ruthless. There's a lot of honesty, right?" he says. "To me, rugby is a game of truth. There's no hiding on a rugby field."
Remembering and Honoring the Legacy of Pat Vincent
The roots of Rugby at Saint Mary's actually go back to the 19th century. The Gaels fielded their first team in 1888. And O'Brien's approach to coaching builds on Saint Mary's Rugby traditions as well, especially those nurtured by legendary rugby player and former Saint Mary's coach Pat Vincent. 
Beginning in 1967, Vincent coached rugby at SCM for more than 15 years. A native of New Zealand, Vincent captained the Canterbury Province team before moving to the US to complete a master's in history and then to begin coaching at Saint Mary's. Vincent is honored in the US Rugby foundation as one of the sport's greatest athletes and individuals. He brought Gaels Rugby teams on international tours every season—including, in 1980, to New Zealand. After coaching rugby at Saint Mary's for more than 15 years, Vincent passed away in 1983, suffering from an asthma attack while returning from an SMC Easter trip with the team. 
O'Brien and the team pay homage to those who have sustained SMC Rugby with the annual Pat Vincent Dinner, an event O'Brien started at the College over a decade ago. It's a way to both raise money for the team and recognized the ideals and commitment Vincent brought to the sport at Saint Mary's. This year the dinner takes place the evening of February 25 at the Soda Center on the Saint Mary's campus. As O'Brien notes, it's a special occasion for the community, with many alumni—some in their 50s, 60s and 70s—coming out to share words of wisdom and encouragement with the current players. "We wouldn't be here without the alumni," O'Brien says. "And we wouldn't be here without the guys who played for Pat Vincent."
A Game Loaded with Heartbreak
Ask Coach O'Brien about what prospective student-athletes hoping to play with the team should expect, and you'll get a taste of his trademark honesty: "First thing that I tell them is that rugby is a huge pain in the ass," he says. "The ask is enormous."
The practices are rigorous, he warns, the games unforgiving. And the sport itself is, in O'Brien's words, intrinsically "loaded with heartbreak." A shared struggle fosters an undying desire on the team to become better. Above all, he says, playing rugby is about becoming a better version of yourself. 
Kaipono Kayoshi, a graduate student completing a masters in Kinesiology, understands this. "We put in hard work where people don't see," he says. But when the players take the pitch before the fans, they see grit, determination, and skill—and they see that hard work pay off. For Kayoshi personally, that has also earned him a spot on the U18 and U20 national teams—and, last year, a place on the D1A All-American team for Major League Rugby.
What's also important to recognize: The work and success of the team doesn't stop at the edge of the field. During O'Brien's tenure, the players have had a 97 percent graduation rate. 
Bob Lenz, the 1980s alum for whom rugby has exerted a gravitational pull for decades, also underscores that there are lessons the players learn that will be with them the rest of their lives. "Tim O'Brien is probably much more of a leadership teacher and coach than he is a rugby coach," Lenz says. "And he's probably the best rugby coach in the country."
Story updated February 25, 2023 at 9 a.m.
---
CATCH THE GAELS in an upcoming match, including against Grand Canyon University on February 25, followed by the 13th Annual Pat Vincent Dinner.
LEARN MORE about SMC Rugby.