Five Hundred Wins: For Saint Mary's Randy Bennett, It's More Than Just a Number
In 22 seasons as Saint Mary's men's basketball coach, Randy Bennett's impact on Saint Mary's College goes well beyond 500 on-court victories.
It isn't in Saint Mary's men's basketball coach Randy Bennett's character to sing his own praises.
Asking him to reflect on the magnitude of reaching 500 wins as a head coach elicits the same humble and unassuming answers Bennett has given throughout his entire 22-year career at Saint Mary's. When the Gaels defeated San Francisco on Thursday night, Bennett officially achieved a coaching milestone that few ever have. 
But, for as humble as Bennett remains, it isn't a stretch to suggest that perhaps no single person has done more to influence the public persona of Saint Mary's College on a national level over the last two-plus decades. Whether through the revival of a moribund program, a legendary Sweet 16 run that introduced Gaels basketball to a national audience, or the consistency that has now established Saint Mary's as one of college basketball's household names, Bennett's impact has transcended wins and losses.
How has he done it? And, how has basketball success influenced Saint Mary's beyond the hardwood? 
First, we want to hear from the Gael community. If you'd like to share a story or say congratulations to Coach Bennett, post that message here. We encourage all members of the Saint Mary's community to log on and share their appreciation. Your notes will be shared with Coach Bennett.
We also asked a number of people across campus—and those who over the years have known and worked with and played for Randy Bennett—to share their thoughts on the impact that Bennett has had on the College as a whole. The result is a collection of personal stories that demonstrate not just how influential Bennett has been on the court, but also the unmistakable mark he has made in showing the world how special Saint Mary's College truly is.
Extraordinary Impact
Randy's impact on Saint Mary's has been extraordinary. What strikes me most about his imprint and legacy is the culture he has created. He's beloved by fans, alumni, supporters, and players alike, and he has helped make Saint Mary's basketball a signature and enduring part of our school's identity. We're lucky to have him.
—Richard Plumb, President of Saint Mary's College of California
Personal Relationships and Loyalty—and International Attention for Saint Mary's
I think if you were to ask Randy, he would say he has stayed at Saint Mary's because of the personal relationships he has built and the stability it has allowed him to have with his family. He is all about relationships, which is what makes his program so special. He has adjusted with the times while keeping to his core philosophy of coaching and leading by example with hard work and dedication to his program. 
RB is the most loyal person I know—and that also includes his loyalty to Saint Mary's. He focuses on what he needs to do, not on what he doesn't have. He has had a lot of opportunities to leave for much bigger jobs, but at the end of the day it comes down to the fact that Saint Mary's is just a great fit for him. 
He has brought not only national but international attention to Saint Mary's. I can be walking through an airport in New York wearing an SMC polo and I will get a 'Go Gaels!' That brand is because of the program he has built and in many ways his program directly reflects the Lasallian values of the College.
—Mike Matoso, SMC Vice President for Intercollegiate Athletics
Profound Influence as a Teacher and Mentor
During the season, I occasionally watch the basketball team practice and I come away energized and encouraged. The players are fully focused and competitive, and yet there is an obvious sense of unity and support for each other. The players are engaged and enjoy their time together. What I witness is an experience of community among players and coaches.
Randy has the ability to create an environment that builds bonds of loyalty and appreciation, all focused on being a team. The players flourish in this atmosphere. Individuals are transformed, growing in self-confidence but also realizing the value of teamwork. 
The experience of unity and affection continues beyond their years on campus. It was demonstrated last summer during the alumni weekend. Nearly 100 former players returned to campus for the alumni game. What a demonstration of appreciation for who Randy is and for how he has touched their lives. Randy's influence as teacher and mentor extends far beyond the athlete's college career.
What Randy has built spreads beyond the basketball court. What he has created in his program is something I believe our entire campus sees and shares. The program gives witness to the Lasallian Mission.
Thank you, Randy. You are making a difference in the lives of those under your care and for making Saint Mary's one of the most successful men's basketball programs in the entire country.
—Brother Bernard LoCoco, FSC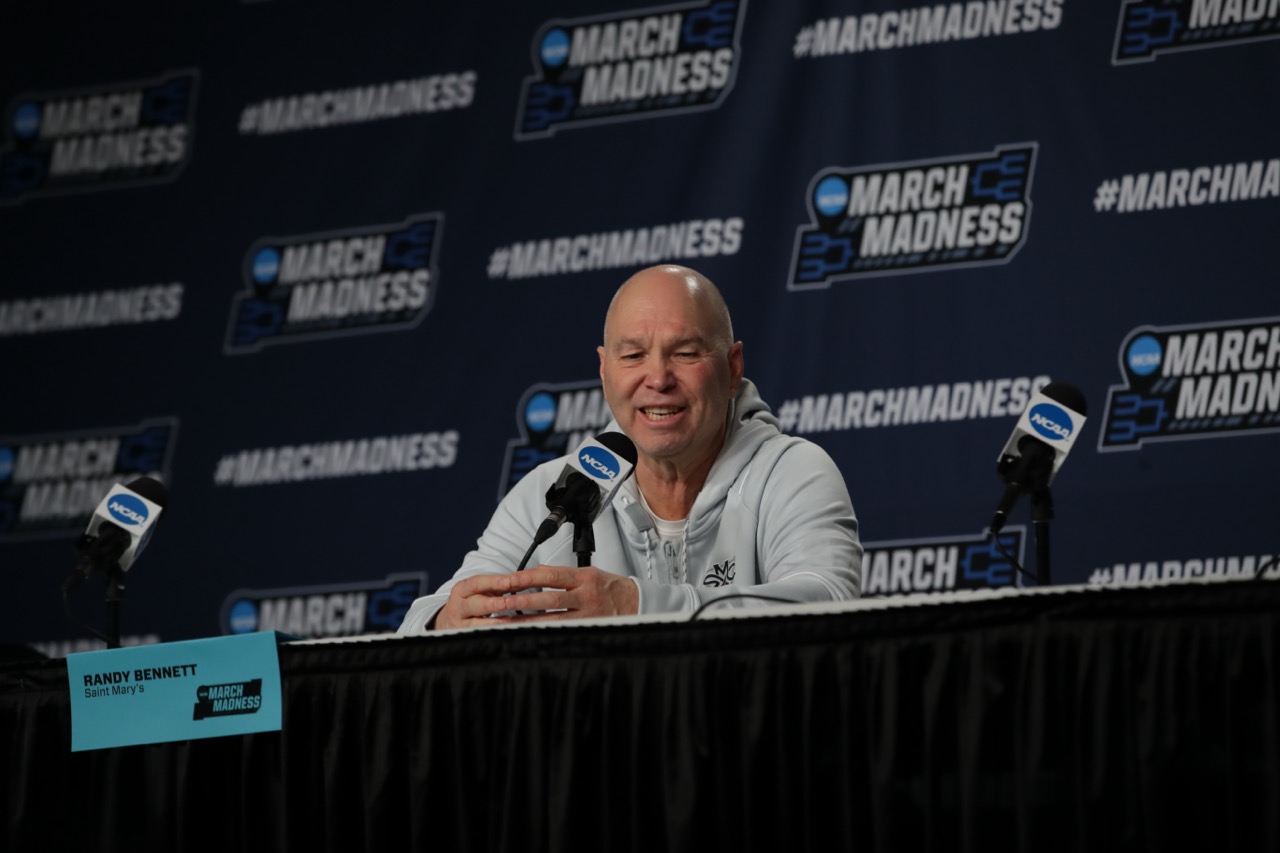 Commitment to the College
Coach Bennett models the virtues of a Lasallian educator. He focuses on actualizing the potential not just of each player (student) but for the team (community). His commitment to the College should be appreciated because he has raised the visibility of Saint Mary's and not used it to advance his career and his wealth. I can testify that he is equally comfortable in UCU Pavilion as he is in the College Chapel. I fully support Randy Bennett becoming an honorary alumni of the College.
—Ted Tsukahara, AFSC, Professor Emeritus and basketball enthusiast
A Man of Steady Faith
Most people don't know that there's another building on campus that Coach Bennett frequents, besides the gym. Walk into the Chapel on any given day, usually in the morning, and you'll find him sitting quietly, head down, in a pew. We've all seen Randy stalking the sidelines. We've all celebrated the success of his teams (our teams), on the court. But the truth is, Coach Bennett's unobtrusive and steady faith can be felt each day throughout the campus.
—Mary Volmer MFA '05, Writer and English Department adjunct faculty
A National Spotlight—with Athletics and Academics Going Hand-in-Hand
I think one of his biggest things that he's done for the program is kind of put it on the national map a little bit. I know when I first was coming to Saint Mary's, I didn't know a whole lot about it—and now it seems like everywhere you go, people are a little bit more familiar with Saint Mary's and they recognize the program and the school and there's a little bit more familiarity with it. 
So, I think it's just being able to put the basketball program in a national spotlight. It probably was not really a highly thought of program, and I think athletics and academics can kind of go hand-in-hand when all sports do well. It brings more attention to the College and I know (that happened) when I was in school and basketball was doing well. Baseball is doing well—golf, soccer, all those sports. I think it just helps the College as a whole. 
I think kind of looking back to the Sweet 16, I want to say that the next year enrollment was way up—and those little things that you don't really think about until they actually happen, just like his blue collar attitude and his work ethic, is something that has really kind of been ingrained in the College, and it's kind of become part of what the College is all about. And, I think it's how we can still get players because a lot of guys that we recruit are like that and I think it's a good selling point for students and athletes.
—Mickey McConnell '11, SMC Associate Head Coach and former Gaels point guard
A Commitment to Excellence—and Doing the Work Every Day
I would say he has provided an example of what a commitment to excellence and doing the work every day can do. A lot of things have changed but he has been the one consistent thing. It really has been incredible.
—Matthew Dellavedova '13, Sacramento Kings guard
I Can Travel Anywhere and Receive a "Go Gaels!" Because I Am Wearing the SMC Logo.
Fortunately, I have timed both my education and entire professional career with Randy Bennett's tenure at SMC. I am so fortunate to have the opportunity to work with and witness the greatness of Randy firsthand. He's a great, loyal man and a tremendous leader for our student-athletes. 
Winning 500 games is a tremendous achievement and it takes a special coach to accomplish this, especially at one institution. 
SMC has grown and developed in so many ways during his time here. The simple fact that I can be traveling anywhere in the world or at any airport and I will receive a "Go Gaels!" because I am wearing the SMC logo truly because of what Randy has done with our basketball program. Saint Mary's College is a true global brand, and the basketball program has become an immense source of pride for Gael Nation.
—Tom Carroll '04, MA '07, Assistant Vice President for Advancement and Athletics
His Coaching and Success Have Put Saint Mary's on the Map.
RB has built a program at Saint Mary's that has alumni all throughout the world beaming with pride. His program, coaching, and overall success has put Saint Mary's on the map in such a tangible way—bringing the College to our fans wherever they are when they turn on the TV to watch his team play on the national stage, season after season. We're so proud that Randy is a Gael.
—Courtney Carmignani '05, MA '07, Assistant Vice President of Alumni Engagement and Events
CELEBRATE THE MOMENT: Share a story or say congratulations to Coach Bennett, 
READ MORE: Randy Bennett Gets 500th Win as Gaels Take Down USF
Ben Enos is Director of Media Relations at Saint Mary's. Write him.