Good as Red and Gold
Max Molz '18 joins the San Francisco 49ers as coaching operations assistant
He does a little bit of anything and everything for the San Francisco 49ers, except the X's and O's.
In fact, it's more like two other letters: "I help people get from A to B."
Max Molz '18 is a new coaching operations assistant with the San Francisco 49ers. His duties include all the behind-the-scenes work essential to a sports organization. Often that means he's managing the calendars, locations, and logistics for players and coaching staff.
"I'm a sponge right now," Molz said. "A lot will be new to me considering I'm joining a new team, but I'm prepared to serve where I can. That's my mindset, and I carry that with me daily. I'm motivated every day to do my job at a high level and help everyone around me reach our unified goals."
During the season it's usually 12- to 14-hour days, arriving at 49ers headquarters around 6 a.m. On gamedays, he's on the sidelines amidst the cavalry of staff, coaches, and towering athletes.
"It's been a great experience, I feel fortunate. The group here has been here for quite some time and I'm a new face in the building. The organization is run extremely well and there are a lot of really good people here. I've got to elevate who I am. Make sure I'm on point everyday."
Baseball student manager
Before he was a new face at Levi's Stadium in Santa Clara, he was the same do-it-all type at Louis Guisto Field in Moraga.
Molz was a student manager for the Saint Mary's baseball team for four years. He managed relationships and operational duties with external stakeholders on behalf of the baseball team while facilitating gameday event operations and coordinating with opposing teams. 
"It was one of the best decisions I ever made. I learned a lot about how to be a coach and what an operations coordinator needs to be doing."
He admits it involved a lot of mundane, unseen work—setting up batting cages, preparing the field, making sure equipment was in the right place. Ordering catering for 45 ravenous athletes. Doing the opposing team's laundry.
You know, the real glamorous stuff.
He absorbed the culture set by head coach Eric Valenzuela, who returned this summer to lead the Gaels baseball program.
Coach V turned around SMC's baseball fortune, leading the team to a WCC Championship and its first-ever NCAA Regional appearance in 2016 when Molz was a sophomore.
"For me, Coach V is an influential person in my life. I'm grateful for the chance he gave me. My role as manager was a foundation for how I see the way I am. I was raised to help and serve others. It goes with how I go about my life. I enjoy helping people realize their potential and experience success."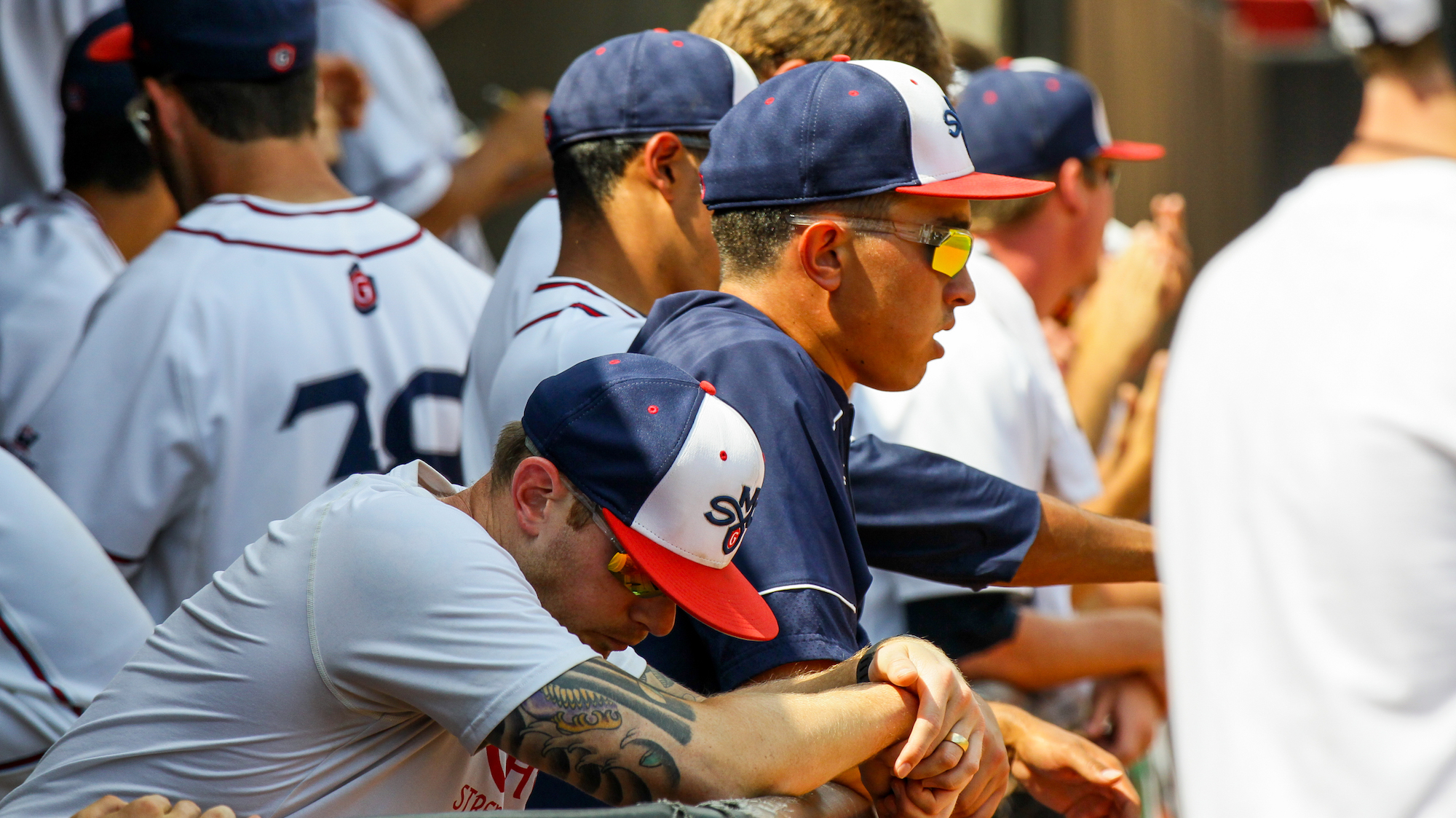 Wisdom from the start
Let's go back a little earlier. In his first semester, Molz, like all freshmen, was enrolled in First Year Advising Cohort. His professor was Frances Sweeney '86, PhD who is proving to be a lifelong mentor.
"The guidance she provided on day one. She gave me a lot of great wisdom and things to consider. And she introduced me to the pride the love the Gael Alumni community has. I still feel it to this day."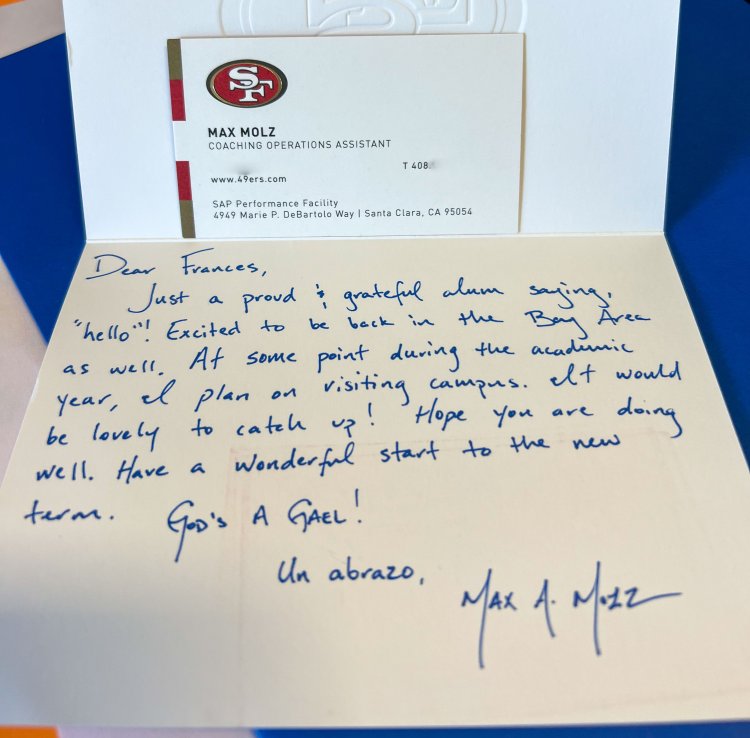 True to that sentiment, Molz mailed Sweeney a handwritten note along with his new red and gold business card when he started his role with the 49ers.
"Max cares about relationships and gratitude," said Sweeney. "I think his time here and all that he did across areas not just in one category, and his ability to reach out and try new things—that is what we want Gaels to do! And to do it with respect, quality, and class. And he pursued his dream!"
"I think what makes Saint Mary's a special place," said Molz, "is what you hear going into the experience as an undergrad ends up being true. The alumni bond is strong—they look to take care of you. You build connections that last a long time."
Family in athletics
Go back even further and find even deeper career connections.
Molz and his three younger brothers were always playing sports year-round. "Our exposure to sports made me love competing and team environments. Those pressurized, high-intensity moments—I love those situations."
Professional examples were right at home, too. Molz's father coached football at Foothill High School in Pleasanton. His mother assisted with event management at Ballistic United Soccer Club.
He knew he wanted to be around athletics, but he didn't consider the world of operations and logistics as a career until later on.
"I'm prepared to serve where I can. That's my mindset, and I carry that with me daily. I'm motivated every day to do my job at a high level and help everyone around me reach our unified goals."
Tigers and Niners
After graduating from Saint Mary's with a degree in Political Science and double-minoring in English and Spanish studies, Molz attended graduate school at the University of Missouri-Columbia, earning a master's degree in positive coaching and athletic administration. He joined the Tigers football program as a graduate assistant, eventually becoming their full-time associate director of football operations.
This March, he accepted the role with the 49ers, just before the NFL draft.
Now at a team that's a top contender to win the Super Bowl and a top-notch sports organization, it's been an entirely different game.
"I love it because everyone around me operates at a very high level. I'm developing skills that I can keep building upon and take with me in a lot of ways. I love this career path, and I am enjoying the process.
"I'm embracing the now, and the current goal and focus: have the best season we can in 2023."
---
Let Saint Mary's alumni and community know about your new job, life update, or other professional or personal news in a Gael Glimpse. Submit a Gael Glimpse