Greg Smith Recognized with International Award for Decades of Scholarship and Teaching
His teaching in clinical anatomy and his devotion to Gael students has opened futures for anatomists, health care providers, and health educators. Now that work has brought gratitude and accolades from his peers.
The American Association of Clinical Anatomists (AACA) showed its appreciation for decades of exemplary service by presenting the R. Benton Adkins, Jr. Distinguished Service Award to Saint Mary's Professor Gregory R. Smith, MS. Initiated in 2003, the award was created to honor the memory of Adkins, a founding member of the AACA who worked to promote the Association and its aims. The award was officially presented to Smith at the 40th annual meeting of the AACA on July 12 in Orlando.
"It's a tremendous honor to be recognized by such a distinguished group of clinicians, academicians, and educators, and other anatomists from around the world," Smith says.
Smith also notes that his association with AACA over the years has been valuable in his own professional success. "I continue to benefit from this group, so giving back to them has been easy to do," he says. Among other AACA activities he's led or co-led, Smith hosted the 2004 annual meeting at Saint Mary's, welcoming representatives fromh 18 countries. He also co-hosted AACA meetings in Oakland and San Francisco, reviewing abstracts and overseeing other aspects of the meetings. "Although it's been a lot of work over the years, I see it as a way of paying things forward to an organization that's been so good to me."
The award from the AACA is the latest professional and academic accolade Smith has received. He was awarded Teacher of the Year twice—by Saint Mary's Class of 1996 and 1997—and the Teaching Excellence Award in 2020. He is also the founder of the Northern California Society of Anatomists and served as its president 1983–91. His professional appointments include the California State Anatomical Advisory Board—which oversees the state's Willed-Body Program—where he has been a member since 2010.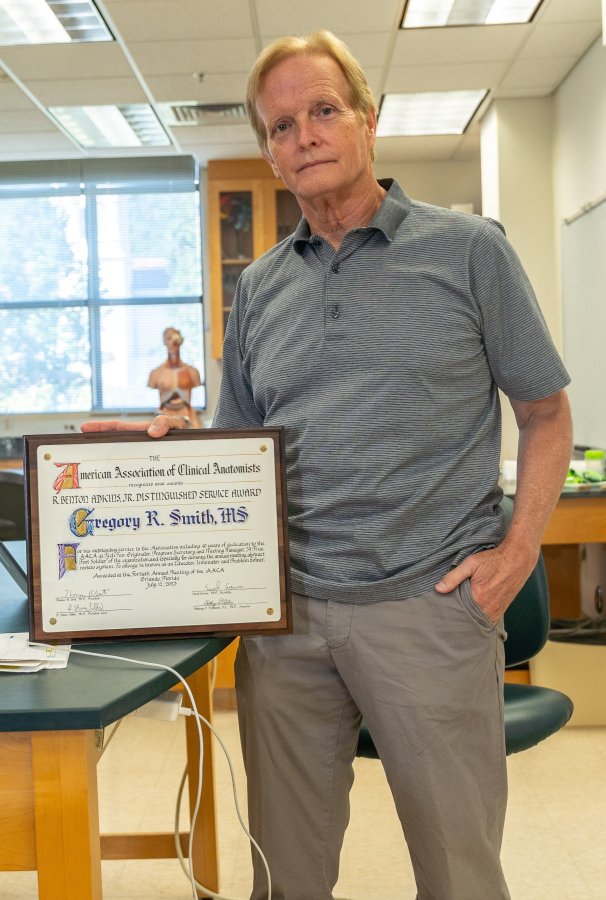 Smith has given numerous invited lectures across the world on various topics relating to human adaptation, anatomical variation, and biological function. He holds a BS in Zoology from the University of California – Davis and an MS in Human Anatomy from California Polytechnic State University, San Luis Obispo.
A Close-Knit, Supportive Gaels Community
As a scholar deeply committed to teaching, Smith says one of the most satisfying aspects of his decades-long tenure at Saint Mary's has been keeping in touch with so many former students. Many, he notes with pride, have become "incredible healthcare providers and educators," including a current Bay Area radiologist who still returns to campus to assist with Smith's Advanced Anatomy course.
Not surprisingly, Smith has seen SMC change and evolve over the years. Originally hired to create the anatomy and physiology courses for the College's bachelor of science in nursing degree program—discontinued some years back—he now has offered to assist the task force working to reestablish and reinvent nursing as an academic program at Saint Mary's. "I've seen it come full circle, and I'd love to help in any way I can," he says.
Despite the changes, Smith said that small class sizes and the bonds instructors are able to forge with students remain among the unique characteristics that set Saint Mary's apart from other institutions. "Our labs are not taught by teacher's assistants, but by faculty," he points out, "so we get to know our students really well."
One story he tells is of former student Kacey Hansen '90, MBA '08—currently the director of trauma and transfer services at John Muir Health. The first time she took a course with Smith, Hansen expressed shock and delight as when she asked a question in class and realized her professor actually knew her name—as well as that of everyone else in the class. After earning her Bachelor of Applied Science degree from Saint Mary's, she returned to earn her Master's in Business Administration and Management in 2008. She and Smith remain in touch.
Many of Smith's former students, he notes with pride, have become "incredible healthcare providers and educators," including a current Bay Area radiologist who still returns to campus to assist with his Advanced Anatomy course.
Smith also credits the unwavering support of his department chairs and school deans for his success at Saint Mary's. "They've always given me the freedom to create the kinds of courses I want to teach, and I never want to take that for granted," he says.
Today, Smith teaches two undergraduate courses at Saint Mary's: a lower-division class for health science majors hoping to become physical and occupational therapists, and an upper-division class for potential medical students that focuses on hands-on dissection of human cadavers. He says there are "only a handful" of colleges around the country that offer such a course.
"I truly believe that my students should have experiences here at Saint Mary's that would be difficult to find at other institutions," Smith says. "Whether it's the time they're able to spend with instructors, the personal nature of their education, or the individualized help and attention they can get, they should leave here feeling that their experience as a Gael was special and worthwhile." 
---
LEARN MORE about the Biology Department and other academic programs in Saint Mary's School of Science.