Honoring the 'Beautiful and Unstoppable' Black Graduates of 2023
An evening steeped in tradition, the 27th Black Graduate Celebration gave students a time to acknowledge obstacles overcome and to celebrate accomplishments.
To attend the 27th Black Graduate Celebration was to encounter millennia of musical traditions in a single hour.
As the event got underway, beaming students took their seats onstage, underscored by the propulsive groove of Jill Scott's 2004 hit "Golden." A few moments later, everyone in the Soda Center rose to sing James Weldon Johnson's "Lift Every Voice and Sing," a turn-of-the-century spiritual often referred to as the Black National Anthem. And to close out the event, graduates participated in the Rain Stick Tradition. One by one, students took hold of the instrument and turned it over, speaking aloud the West African phrase "NEA ONNIM NO SU," translating roughly to the quest for lifelong learning.
As the longest-running cultural graduation celebration hosted by the Intercultural Center, this event has long marked the accomplishments—and traditions—of Black Gaels and their allies. But for the class of 2023, this moment is freighted with added meaning. These students have lived through a pandemic, the effects of the climate crisis, and regular violence against people of color.  Yet "in spite and because of this," noted Zahra Ahmed, this remains a time to celebrate. 
"Each of these former students has remained committed to their education, despite all these challenges," the assistant professor of Politics said in her opening remarks. "Now they're seeing the fruits of their labor."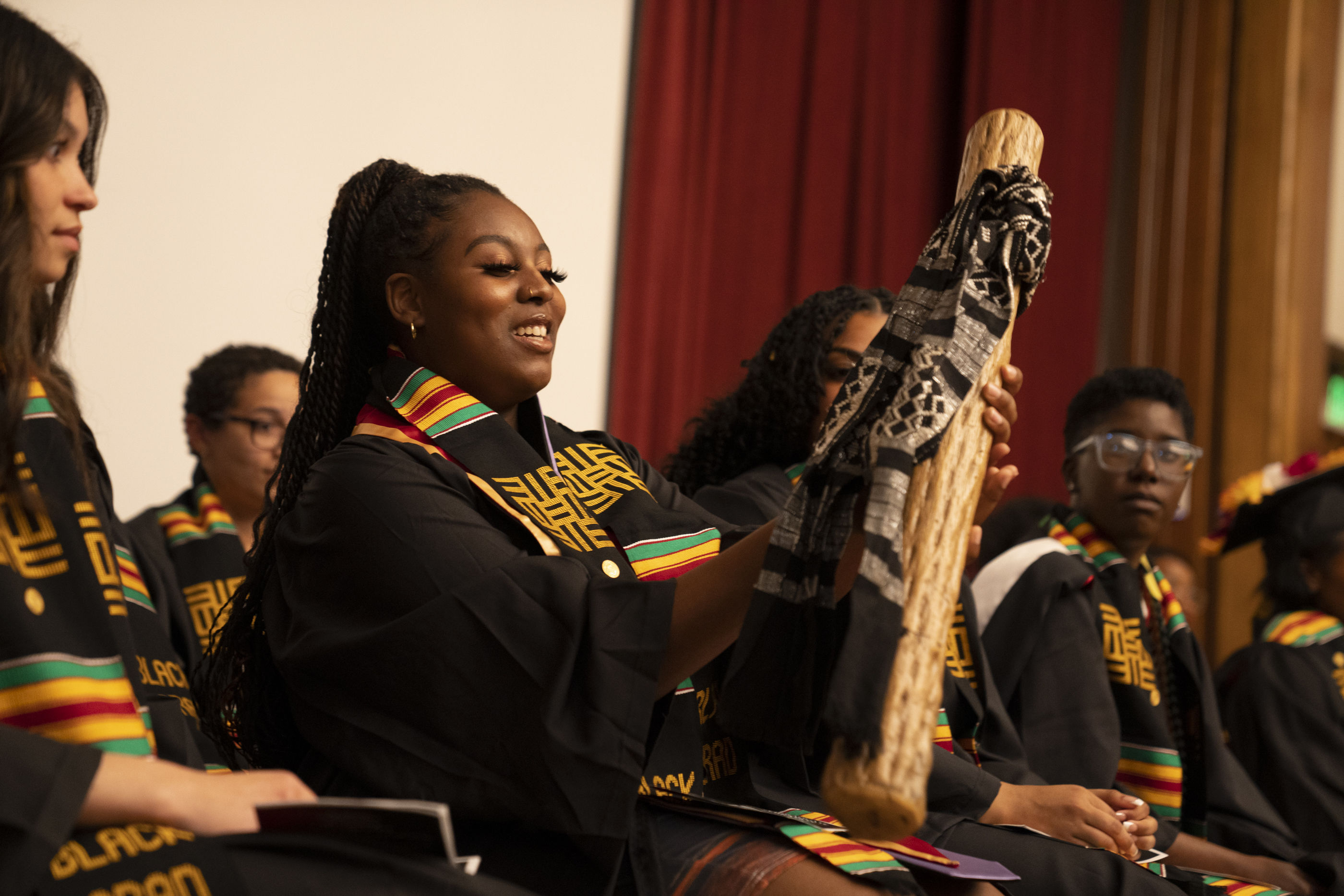 "As we move on to the next phase in our journeys, we must remember that we are part of a legacy," said Jasmin Hill '23.
Twenty graduates accepted their stoles, decorated with a traditional red, yellow, and green kente pattern. In addition to receiving her stole, one student was singled out for the Corliss Watkins Student Leadership Award: Jasmin Hill '23, the now former president of the Black Student Union. Other award recipients included Legacy Lee, Director of the Delphine Intercultural Center, recipient of this year's Pamela Y. George Award, presented annually to one staff member who provided exceptional service to Saint Mary's Black community. In addition, Calvin Monroe, the Assistant Dean of Students, received the Dean Thomas Earl Brown Faculty Award for his outstanding commitment to Black students. 
In her acceptance speech, Hill encouraged her fellow Black graduates to acknowledge the struggles of those who came before them. "As we move on to the next phase in our journeys, we must remember that we are part of a legacy…We must use our education and skills to uplift and empower our communities to make a difference.
"And let us always remember," Hill added, "that we are beautiful and we are unstoppable."
Check out more photos below:
READ MORE about Jasmin Hill and the summer fellowship that changed her trajectory.
Want to support Saint Mary's Intercultural Center and events like the Black Graduate Celebration? CONSIDER GIVING. 
---
Hayden Royster is the Staff Writer at the Office of Marketing and Communications. Write him.