Image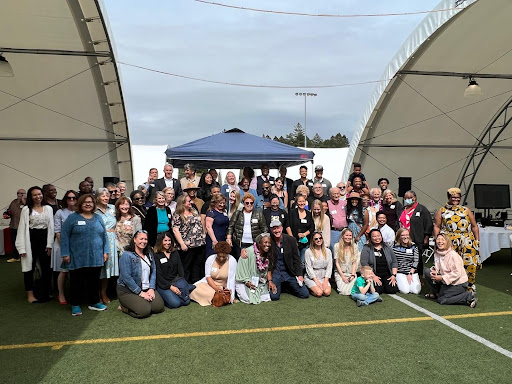 The Leadership Department's 20 Year Anniversary
On June 4, 2022, over 100 alumni and faculty came together to celebrate 20 years of Saint Mary's groundbreaking MA in Leadership program.  Dean Carol Ann Gittens and Provost Corey Cook welcomed everyone, and a superb alumni panel headlined the event.  One remarkable feature of the gathering was how many different leadership "cohorts" were represented, from nearly every graduating year since 2003!  What did these alums experience in their education that brought them enthusiastically home to Saint Mary's to celebrate?
The Saint Mary's College Master of Arts in Leadership established in 2001 was one of the first stand-alone leadership master's programs in the country.  There is something special about the people who are drawn to study and enact the concept of leadership.  Over two decades, we have seen three common themes in the folks who show up for an MA in Leadership at Saint Mary's:
Passion for Change: Whether they are in their twenties or in their seventies, or from the public, private, or nonprofit sectors, they have a shared passion for making a difference in the world.
 
Feeling the Pain and Limitations of Current Organizational Culture:  Our learners come to the MA in Leadership program because they know there has to be a better way for human beings to work together to innovate, collaborate and be successful.  They have felt the challenges of the public, private, and nonprofit sectors in the 21st Century and want more tools for navigating and transforming those organizational cultures.
 
Self as Instrument of Leadership: People seeking a degree in leadership know that they have more gifts to share with the world, even when they aren't exactly sure yet about their untapped potential.  They are grateful for the opportunity to make a difference and are dedicated to learning how to bring their best to their families, organizations, and communities. 
Dr. Cheryl Getz, Department Chair for Leadership Studies at the University of San Diego (a competitor from the south), opened her external review of our MA in Leadership program with the following observation:
There is a great need for professional leadership education that responds to the complex challenges of the 21st century, and an increasing number of graduate Leadership Programs around the country have attempted to meet this need.  The MA Leadership program at SMC is distinctive in its curriculum, approach and delivery, providing a unique and tailored learning experience for working adults that would be difficult to find in any single MA program in the U.S.
May we see you at the 25th reunion in 2027!  We invite you to join the ranks of our amazing alums, who are bringing a new consciousness to leadership.  In the words of poet Mary Oliver, what skills do you need to make the most of "your one wild and precious life?"