Making Family History: Mat Escalante Wants to Talk to You about Acceptance and Gratitude
A first-generation college student and the child of immigrants, Escalante has found the world opening up to him in new ways through studying Anthropology. Language and food are part of the mix. So is a sense of connection across cultures.
When Saint Mary's was established in 1863, its founder had first-generation students in mind. Joseph Alemany, San Francisco's first archbishop, envisioned a college for the "children of Miners, Mechanics, and Agriculturists," the working people of the fledgling state. 
According to the most recent data, around one in three Saint Mary's students today are trailblazers, the first in their family to pursue a college degree. For many first-generation students—"First-Gens," as they often refer to themselves—the journey to and through college brings unique struggles—and surprises. We regularly ask First-Gen Gaels to share, in their own words, their history, hopes, and advice for the next generation.
Today, we're highlighting Mat Escalante '25, an Anthropology major. His parents emigrated from El Salvador, and Oakland is where he calls home. He sees language and food as opening up valuable ways of understanding the world. The words he calls his touchstones: acceptance and gratitude.
First-Generation in More than One Way
I'm a first-generation citizen and college student. Both of my parents came from El Salvador, but when they were growing up it was a place of civil war. It was enough to make my parents leave the country because they couldn't raise a family there. I've only been there three times myself, and I plan to go back after college. Whatever they went through is something I'm going to incorporate into my own personality. I believe that generational stress is something that is passed down, so that's a burden we need to carry. But so are generational intuitions based on your background. I love telling the story of how my parents came here. I want to show that you can express your identity freely and comfortably. I would foremost say I'm from Oakland, California, though. That place is home. 
Why Saint Mary's?
After senior year, I applied to four schools before I knew about Saint Mary's. My mother worked as a nanny in Moraga for more than 30 years and knew some people who had gone here. I can't tell you how grateful and lucky I am to be here. When I told my favorite teacher in high school, Dr. Nejad-Duong, that I wanted to go to Saint Mary's, he helped me out immediately—partly because I was one of only 11 people applying to college out of our 120-person class. He put in a strong letter of recommendation for me and I got the scholarship I needed to go here. Without him, I might've never gone to college at all.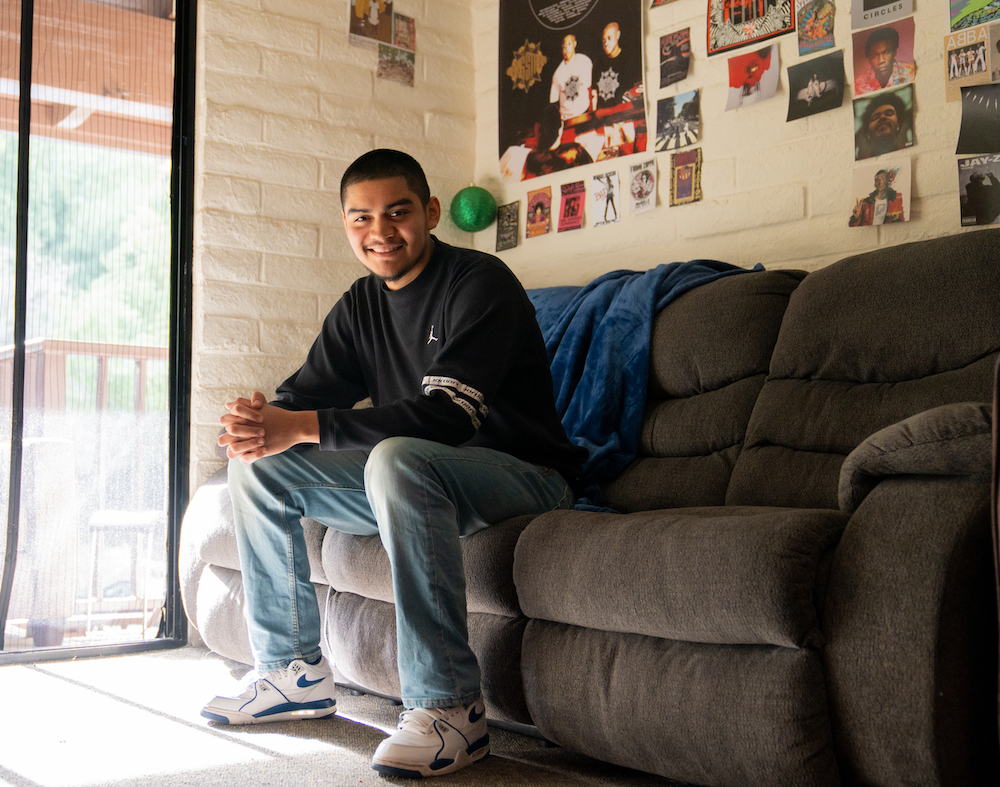 What drew him to Anthropology
Writing in anthropology is all about understanding ethnography and perspective. When I understand many different perspectives, it helps me see the parallels in my life with other people. The act of going to school isn't necessarily the most important thing. What matters is your drive to become educated and incorporate that knowledge into your life. I want to be a teacher, but not so much for a job as it would be a general trait of my identity. With every person I learn about and become friends with will help me in the future to connect with others who are similar to them. Culture is shared and learned patterns of behavior, and while there isn't anybody exactly like me, we're all connected even if we don't realize it. 
How SMC fosters friendship
Saint Mary's is really peaceful. You feel like you don't stand out, that you belong here. What I love about this campus is that you could look at somebody and say, "Oh, you're my friend." I also like that at Saint Mary's, nobody's pressuring me to be here. I'm here on my own volition. Saint Mary's has really helped me gain a notion of dreaming for a better future, because a lot of people back home didn't necessarily think that way.
"The act of going to school isn't necessarily the most important thing. What matters is your drive to become educated and incorporate that knowledge into your life."
I look at college as a place that gives you the chance to follow your interests deeper than you would otherwise. Of course, you have to be consistent about your work, but anybody in the workforce is going to look for that. I'm trying to invest these years into my life to become a better me. If you want things to be better you have to do things that help you grow.
What does college mean to you?
These are words I live by: acceptance and gratitude. Firstly, you have to accept where you are, and who you are. You have to accept that you have limitations, and that it's your responsibility to know who you are and what you need. I also say gratitude because you should be grateful that you have the ability to spend time figuring out who you are. There's a lot of power that comes from having been to college, and you have to recognize that privilege. Dreams and opportunities are like the sun. They are fated to rise and fall everyday, so I try to be grateful for the good ones.
I want to try and open peoples' hearts, and get rid of the idea that there are people who are higher or lower than us. I think there's an idea that the United States is the place to be because it's known as the land of opportunity. What about that worldly dream? What about the dream where everybody's included? A dream where you don't have to be an American to go out and explore, or be a certain kind of person from a particular place. I want my presence to bring people out of their comfort zone, using my light to make other lights shine brighter. I don't think there's anything wise in shrinking yourself, and there's nothing enlightening about acting smarter than you are—we live in such a big world that whatever size you want to be is still going to be small compared to everyone else, so you might as well focus on being the best version of yourself. 
Looking towards the future
Right now, I work at a deli in Rockridge, helping serve food to customers. After school, I would love to mix traveling and food together. Language is deeply mixed into food, and you have to be thoughtful to fully understand everything about it. The way you say it, the way you cook it, the way you eat it, or where it originated—that history enriches and informs the experience of eating it.
(This interview has been edited and condensed for clarity.)
READ MORE about first-generation students studying and teaching at Saint Mary's: 
Making Family History: Rebecca Carranza '26 Sees Humanity in the Work of the Law
In Their Own Words: Mathematician Anastasia Chavez on the PRIMES Grant, Her First-Gen Journey, and the Joy of 'Unknowing'
WATCH: Theatre Major Ka'Nayah Landers-Daniels on How the LAB Program Made Her Summer Possible
LEARN MORE about the High Potential Program, which is celebrating 50 years of serving first-generation and low-income students.
CELEBRATE WITH US! Whether it's the First-Generation College Celebration on November 8 or the High Potential Alumni Brunch on November 11, find all the details on the High Potential homepage. 
---
Sam Nobile '25 is studying English at Saint Mary's and serves as a student writer with the Office of Marketing and Communications.