Meet Brianna Bibel '16, 'The Bumbling Biochemist' on a Mission
It was a Saint Mary's professor who helped Bibel fall in love with research. Today, she wants to inspire others to do the same — in the classroom and through social media that reaches tens of thousands around the world.
As a postdoctoral researcher in biochemistry at UC San Francisco, Brianna Bibel '16, PhD spends her days working with things invisible to the naked eye. Her most frequent collaborators are proteins—the "molecular workers" of the cell, as she puts it. By stripping away cell matter to study the proteins, Bibel can better understand how they can work in tandem with antibiotics. That is, of course, when she's not mentoring grad students, attending courses, or posting high-energy, de-jargoned videos and blogs as "The Bumbling Biochemist," her online alter-ego.
"It's been a very busy day," she admits on a Friday afternoon. But she's still bright-eyed and expressive, describing with an infectious zeal processes like RNA purification. It's easy to see why she's earned tens of thousands of followers on Instagram, Facebook, and elsewhere. "One thing I love about science," she says, "is that every day is just totally different."
Bibel was recently honored with Saint Mary's Emerging Leader Award, presented annually to an alum who has made a significant impact in ten years or less. She was humbled by the award, she says, especially because this isn't the path she thought she would follow. Up until her second year at Saint Mary's, she was planning to become a medical doctor. But her experience with the College's Summer Research Program cracked open her world, propelling her down the path she's on today. She is passionate about using science communication to make STEM a more inclusive space and hopes to someday teach at a primarily-undergraduate college. 
Before attending Saint Mary's, Bibel says, "I didn't realize that being a scientist was actually a thing you could just do." Now, she's on a mission to bring others on the same journey. 
Lab at First Sight
When Bibel applied for Saint Mary's Summer Research Program in 2014, she knew the experience would look great on paper: "I did it namely to have something good to put on my med school applications." What she didn't count on was falling in love with the lab. 
Since 1986, the Summer Research Program has offered undergraduates the unprecedented opportunity—and a considerable stipend—to work alongside School of Science faculty as they tackle real-world problems. Bibel was one of 14 students selected that year; she worked with Jeffrey Sigman, a professor of Chemistry and Biochemistry, to study the enzyme neurolysin. Day after day, Bibel subcloned, expressed—in other words, synthesized—and purified the enzyme, studying how it helps send chemical messages in the brain and throughout the body. 
Bibel found the whole experience invigorating. "I began to realize I could still help people without becoming a medical doctor," she says. 
"I got the best science education I could have hoped for at Saint Mary's. You have the small class sizes, the one-on-one instruction—I got so many more experiences there than I would have at a larger institution." 
Seeing Bibel's potential, Sigman encouraged her to apply to outside fellowships the following summer. She scored a prestigious 10-week fellowship at the Gladstone Institute of Neurological Design, based at UCSF, where she conducted research funded by the Huntington's Disease Society of America. This exposure to "the broader scientific environment," she says, solidified her trajectory. After graduating from Saint Mary's in 2016, she stepped right into a PhD program at Cold Spring Harbor Laboratory in Long Island, New York, where she studied the protein family Argonaute. Named after the genus of octopus its mutated form resembles, Argonaute proteins are involved in gene regulation and RNA silencing, and, as Bibel's thesis research suggested, could be used to mute cancer-causing genes.
Since completing her doctorate and postdoctoral work in the spring of 2022, Bibel has returned to the Bay Area. She's currently a postdoc in Danica Fujimorii's lab at UCSF, continuing to investigate how proteins inhibit and manipulate genes. And while she's grateful to work at one of the biggest research institutions in the world, she sees Saint Mary's as the reason she's there at all. "I got the best science education I could have hoped for at Saint Mary's. You have the small class sizes, the one-on-one instruction—I got so many more experiences there than I would have at a larger institution." 
She credits Sigman and other professors, too, with urging her to continue on beyond Saint Mary's. "​​I was encouraged and supported every step of the way. And now, I just want to do that for other people and students."
Pushing Electrons, Not People
One way Bibel is encouraging the next generation of scientists? She's meeting them where they're at—on social media.
It all happened by accident. The summer after graduating from Saint Mary's in 2016, Bibel was helping out Sigman, explaining some technical procedure to his student researchers, when she noticed their eyes glaze over. She realized: "It was all gobbledygook to them. But that wasn't their fault." Bibel saw an opportunity to share her passion for science, to make biochemistry accessible and fun.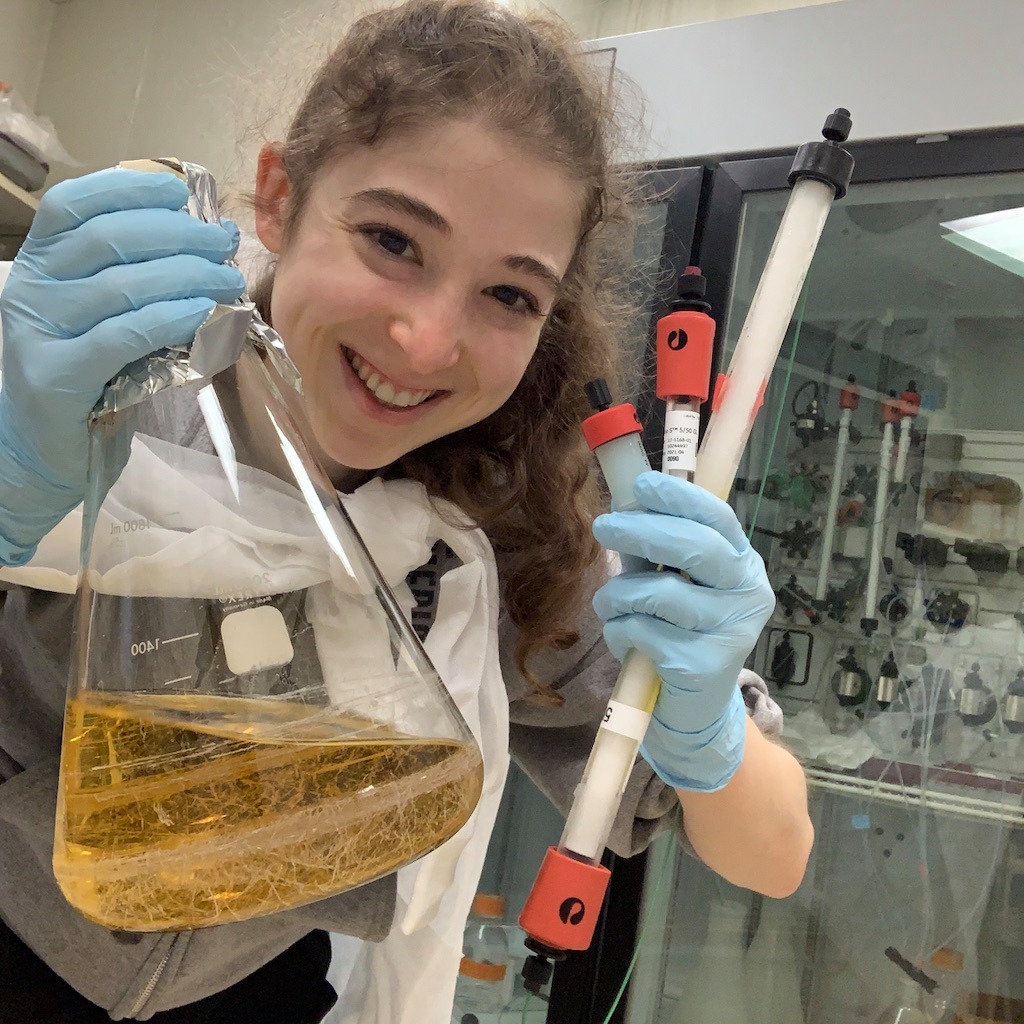 Bibel started out by creating a Facebook challenge for herself—#365DaysofScience—where she shared one science-related photo a day, accompanied by an explanation. Then she started posting on Instagram, too, followed by Twitter and then a blog. And now, five years later, she's never really stopped. In 2018 she began producing videos: selfie-camera vlogs chock-full of terminology and puns; in most, she wears a labcoat tied around her neck like a cape. In any given post, Bibel could be giving a tour of her lab, explaining bacterial transformation using handmade props, or sharing the life stories of groundbreaking female scientists. 
At the moment, The Bumbling Biochemist Instagram page has more than 55,000 followers, a number that's still growing. And Bibel's impact continues to be felt at Saint Mary's, too, sometimes in surprising ways. In a recent video celebrating Bibel's Emerging Leader Award,  Sigman shared that one of his current students was actually pursuing science because of Bibel's blog. "I don't think she knew that Bri was a graduate of Saint Mary's," he said. "I mentioned it, and she was amazed by that."
Bibel is buoyed by the fact that her posts are reaching and inspiring others, at her alma mater and far beyond. "I get messages almost daily from students and professors who find the content really helpful," she tells me. "It just makes it all worth it."
 "So many people didn't have the sorts of opportunities I had, and that I'm still having. The least I can do is pay it forward."
For her, it's all about offering the same generosity and support that was offered to her. Speaking in her sixth-floor lab in downtown San Francisco, she recalls a younger version of herself, sitting in the office of Professor of Biochemistry Vidya Chandrasekaran, terrified at the prospect of asking Sigman to be her Summer Research Program supervisor. "I remember crying, saying, 'No one's gonna want to work with me.' But Dr. Chandrasekaran was super duper sweet and encouraging. She put me into touch with Dr. Sigman."
"I'm just so grateful that they gave me that opportunity," she tells me, smiling. "That they didn't just see this crying little teenager who has no confidence, but they saw someone who had potential." She hopes to do the same for her future students. "So many people didn't have the sorts of opportunities I had, and that I'm still having. The least I can do is pay it forward."
Learn more about Saint Mary's School of Science and opportunities through the Summer Research Program.
---
Hayden Royster is Staff Writer at the Office of Marketing and Communications. Write him.