Michael Ohioze MA '20 Sprints His Way to the Tokyo Olympics
After graduation, Michael Ohioze MA '20 knew he wanted to continue his education in the United States—and continue to train as a track athlete. Meticulous research and a short trip to the Bay Area led him to the SMC Graduate Kinesiology program.
SMC's small class setting and college community favorably reminded him of his undergraduate experience. Michael highlights his experience in two classes as particularly relevant to his professional and personal pursuits today: Philosophical Basis of Kinesiology, taught by Dr. Craig Johnson, and Psychological Analysis of Sport and Exercise, then taught by Dr. Steve Miller.
Ohioze says Johnson's course "pushes us to think deeply about how you are going to approach your career, if your philosophy is aligned with the organization you work for, and also how one merges their philosophy with the company's." Miller's course introduced similar concepts but in the context of coaching.
"I learned so much about the overall mental and psychological coping aspects of athletes," Ohioze says, "particularly with respect to how you motivate your athletes. In addition, I could also relate it to my practices which was very enriching. I have used this knowledge, especially in the last year, where athletes such as myself struggle more than usual to see the light at the end of the tunnel." 
Ohioze has always taken opportunities to put himself in a position to learn about the sports industry. As an undergraduate student he worked as a volunteer assistant coach for the Beyond Sports Foundation whose mission is to empower Chicagoland student-athletes to succeed in life, earning a number of associated licenses and certifications along the way. Then, while in the Graduate Kinesiology program, he took advantage of various connections and interned at the COPA Soccer Training Center and the Saint Mary's Athletic Development office.
"Michael was a dream to have on our Athletic Development team at Saint Mary's," says Desiree Wilson '10, Associate Athletic Director for Development. "He was professional, hard working, and always ready to learn more and push himself. We are proud of his running career and can't wait to see what he accomplishes!"
Ohioze currently is the women's soccer assistant coach at Merritt College, located in Oakland, and is the Business & Partnerships Development Officer for United Soccer Coaching.
Training for Tokyo
While the current positions Ohioze holds are in his first sport of soccer, his biggest job right now is training for the Olympics! Although he only started running when he was an 18-year-old college freshman, he recorded the fifth fastest time in NAIA history his junior year in the 400-meter dash. As a result he was invited to the British Olympic trials in the summer of 2016.
"It was clearly an eye-opening experience for me, being invited to such a big stage, and was only the second or third time my family had seen me run track," Ohioze says. "I did not know how to prepare and train for this type of trial event, but I most definitely took a lot from the experience! Since then, track has taken first place over soccer where my focus is centered most as an athlete."
Image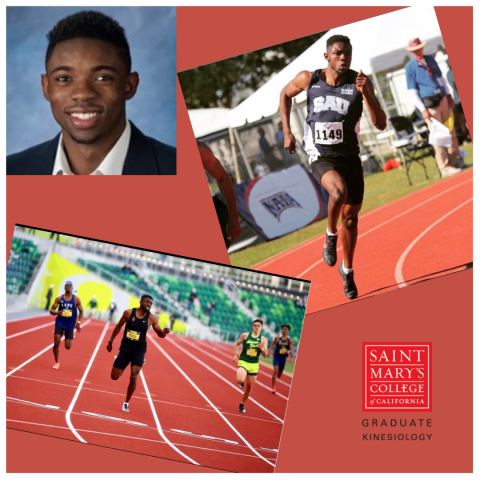 Although there are many barriers Ohioze has to navigate—due to the fact he is an amateur and has to find funds to pay for track meets, traveling expenses, and more—he is striving to become an accomplished Olympian for the UK. He recently ran his personal best of 46.3 seconds for the 400-meter dash at the Bryan Clay Invitational in Los Angeles.
In June, he will travel to Manchester to participate in England's Olympic trials! Good luck Michael!
Update: Michael Ohioze qualified for the Tokyo Olympics
He will represent Team Great Britain in the 4x400 relay! Read here for more information. Good luck Michael!
On June 26, Ohioze was named one of five members of the relay team after finishing third (46.42 seconds) in the 400 meters of his country's Track and Field Olympic trials, the Müller British Championships in Manchester, England. See all U.K. Track and Field results.
The men's 4×400 meter relay event at the 2020 Summer Olympics is scheduled to take place on August 6 & 7. Good luck Michael! Go Gaels!