Remembering the Remarkable Life of Brother Camillus Chavez
For nearly half a century he was a beloved presence on campus—as a professor, colleague, counselor, mentor, and friend. 
This morning the Saint Mary's community learned the sad news of the passing of Brother Camillus Chavez '51, FSC. For nearly half a century Brother Camillus was a beloved presence on our campus—as a professor, colleague, mentor, counselor, and friend. For generations of students, his spiritual, emotional, and academic impact has been profound. 
From his return to campus in 1975, Brother Camillus quickly endeared himself to the Saint Mary's Community. He greeted longtime colleagues, new acquaintances, and passers-by alike with a blessing or a joyful fist bump. For nearly 30 years, he led individual meditation sessions and weekend workshops and retreats for students, faculty, alumni, and even parents. With every interaction, he welcomed others in a space of peace, tranquility, and belonging. 
Scholar, Teacher, Friend
Brother Camillus entered the Brothers' novitiate at Mont La Salle when he was 18 years old. It was there, he said, that he truly experienced the peace that is attainable through meditation and deep prayer.
After completing his BA in philosophy at Saint Mary's he went on to earn master's degrees in Spanish language and literature as well as theology. He taught in the Brothers' high schools for 17 years. It was attending a workshop by José Silva—a leading meditation teacher who explained how to enter an altered state of consciousness using very simple techniques—that inspired Brother Camillus to set up his first meditation program at the high school in 1973.
"Meditation helps you find out a deeper dimension to yourself," he would say. "You're able to understand yourself and say, 'I am who I am; I am a son of God.'"
In 1975, Brother Camillus arrived at Saint Mary's College as the Assistant Dean of Special Programs, working under Dean Thomas Brown, with the special charge to help increase the staying power of Latino students. In those early years he also taught English Composition and Spanish and led Seminar. He also brought his meditation classes to the College.
In 1980, he enrolled at the Wright Institute in Berkeley, where he succeeded in completing his doctorate in social and clinical psychology after five years of research, study, and writing. His dissertation was a study of the life stories of ten Latina nuns. While other scholars had carried out personal development studies about men in religious orders, Brother Camillus recognized how important and necessary it was to bring scholarly understanding to the stories of women religious.
"Learning meditation is one of the most important things we can do to heal ourselves, to touch people's hearts," Brother Camillus said, "but we only can do it if we're spiritual people." 
In his teaching, he turned his focus to transpersonal psychology—a school of psychology that studies the spiritual aspects of the human experience. In the Multicultural Psychology Department, Brother Camillus taught introductory Psychology and resurrected a course in Chicano Psychology which was on the books but not taught. For a decade he taught the course as part of Jan Term.
Brother's Meditations
Within the Saint Mary's community, everyone today knows of Brother Camillus's meditation courses. "Learning meditation is one of the most important things we can do to heal ourselves, to touch people's hearts," he said, "but we only can do it if we're spiritual people."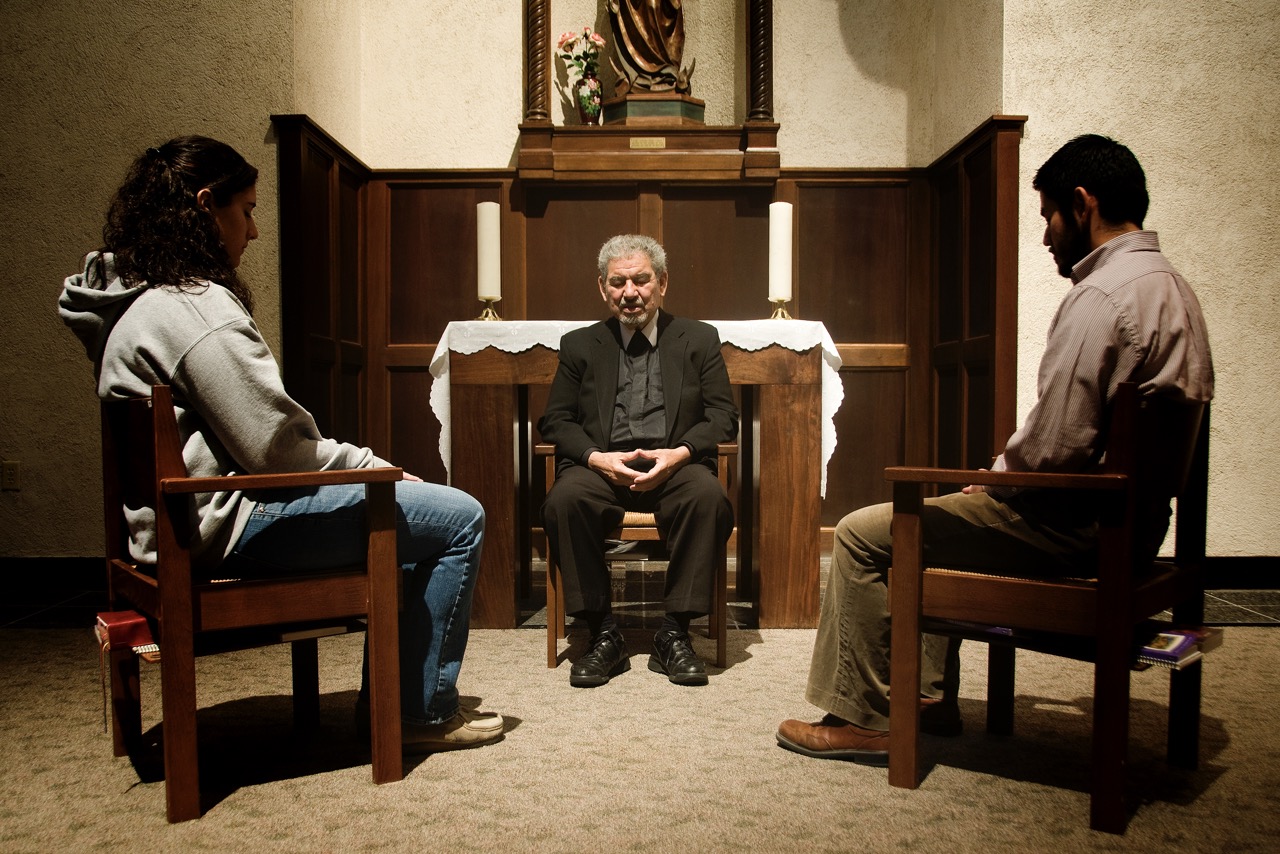 Starting in 1995, Brother Camillus began to lead meditation workshops on weekends. He taught prayer and meditation together, exploring meditation as an avenue to religious experiences. His meditation ministry over these decades gave him another home as a member of the Mission and Ministry Team at Saint Mary's. With a sense of our wider educational mission, he also offered workshops at parishes, schools, and universities in Mexico and the Philippines. The workshops in California and around the world also inspired a website project, brothercamillus.com, with many of Brother's meditations.
In 2000, the Saint Mary's College Alumni Association honored Brother Camillus with the Saint John Baptist de La Salle Award—presented to a faculty member who has demonstrated concern for students, availability to them beyond the classroom, and commitment to professional excellence. In 2019, the Institute of Latino and Latin American Studies established a scholarship named for him, providing support for students who are studying Latin America or Latinx diasporas. And earlier this year, the Alumni Association recognized Brother Camillus with the Golden Gael Award, presented to a member of the Saint Mary's community who has demonstrated a lifetime commitment to the College through loyalty, connection, and philanthropy.
For Brother Camillus, also add humility to that litany. Some years back, Saint Mary's alumna Raquel Cagigas '00 said of him: "If you tell Brother Camillus that he's great, he shakes his head and says 'God is great.' His surrender to God is inspiring."
Fist Bumps and "El Calmo"
As part of the 2023 Alumni Awards celebration, a number of former students recorded tributes to Brother Camillus. For all of us, it's important to recognize that Brother Camillus's efforts beginning in 1975 to help ensure the College created a true sense of belonging for Latinx students, Saint Mary's has blossomed into an Hispanic-serving institution. Brother Camillus has been here through it all as a multi-generational mentor and guide.
For staff and faculty, Brother Camillus's midday meditations in the Chapel have been a source of spiritual renewal and nourishment helping those who serve our students bring the best of themselves to their various campus ministries. And, as so many have noted, Brother Camillus's genial presence on campus made students feel recognized and welcomed. Many a student and graduate will remember fondly the Brother Camillus fist-bump.
We Brothers sometimes called Brother Camillus "El Calmo," and deservedly so. In 30 years of living with him, I never heard him utter a critical word about another person. He stored up much in his heart; he fought for and advocated for students most in need; he was in the forefront making the College a community that recognizes and celebrates people who might otherwise feel unseen, and he did so with kindness, faith, and blessings for all.
Brother Camillus completed his on-campus teaching with two courses in Jan Term this year before retiring at age 93 and moving to Mont La Salle, in Napa, to join the Holy Family Community of Christian Brothers.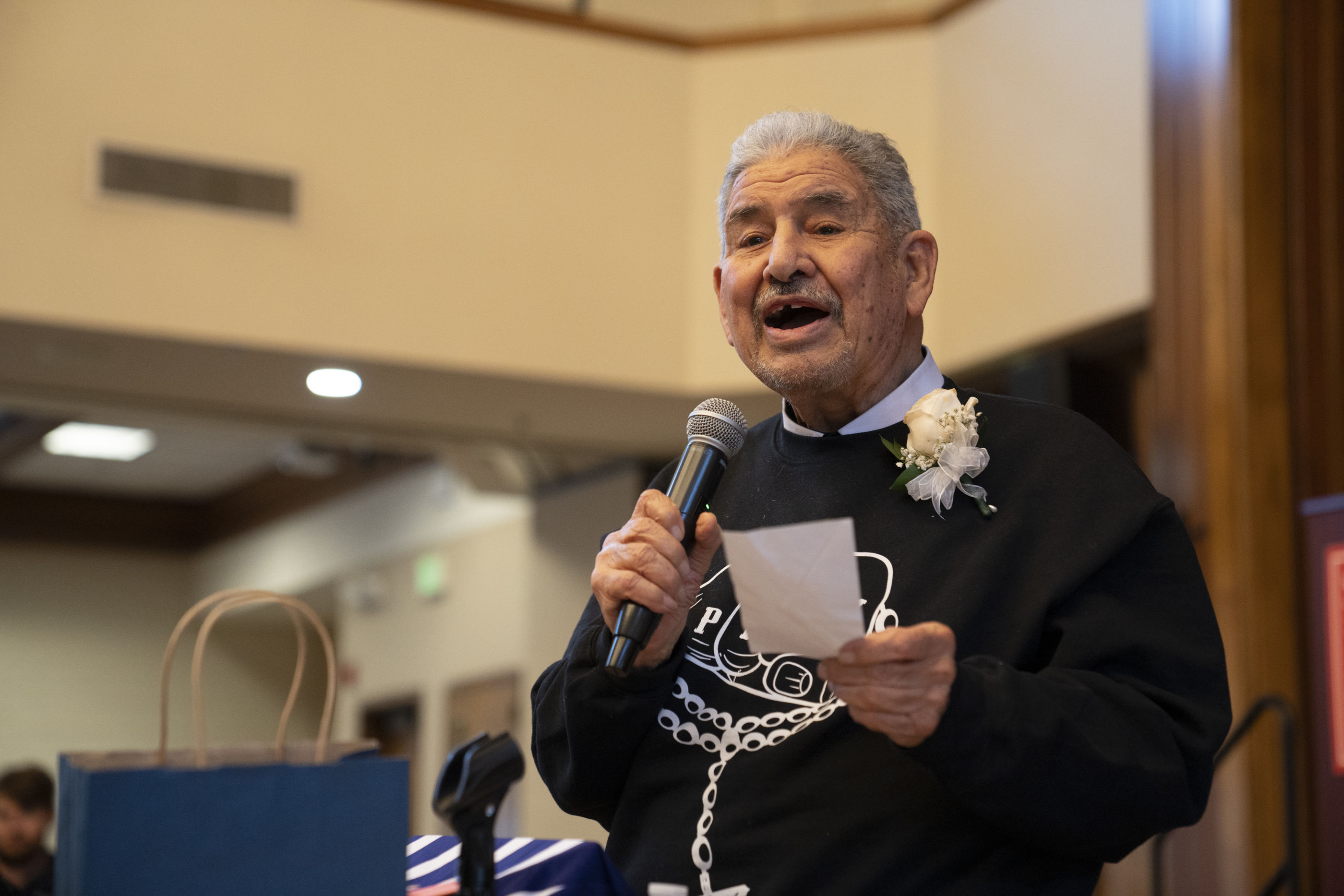 Farewell with a Song
At his retirement celebration in November 2022, Brother Camillus closed out his decades at Saint Mary's perhaps surprisingly, yet appropriately, with song. "I've been asked to be very profound," he said drily, addressing a Soda Center packed with friends and well-wishers. "So I figured we'd do something different."
He sang a number of "goodbye songs," including the chorus of "El Quelite," the classic ranchero ballad first popularized by Lucha Villa:
Mañana me voy mañana
Mañana me voy de aquí
Y el consuelo que me queda
Que se han de acordar de mí
And of course, Brother Camillus, ever gracious and always wanting to welcome all those present, proceeded to translate for the non-Spanish speakers in the room. "Tomorrow I leave you, tomorrow," he sang, his voice clear and strong. "Tomorrow I leave from here. And my only consolation is that you will hold me dear."
In this moment of farewell, may the Saint Mary's community take the same consolation. May we always hold our Brother Camillus dear. We're forever grateful for the ways he has touched so many lives, here and around the globe.
---
DETAILS FOR A MASS OF THE RESURRECTION ON JUNE 9: All are welcome to join the Brothers in the Mass of Resurrection at Saint Mary's College Chapel on Friday, June 9, at 10 a.m.
Viewing begins at 8 a.m. 
A reception in the Soda Center on the Saint Mary's campus will follow the Mass from 11:30 a.m. to 1:30 p.m.
Burial will take place at Mont La Salle, 4401 Redwood Road, Napa, at 3 p.m.
For those unable to attend in person, the Mass will also be livestreamed via Zoom beginning at 10 a.m. Pacific on Friday, June 9. You can pre-register at the link provided, after which you will receive a confirmation email containing information about joining the livestream.
CONSIDER GIVING to the award named in his honor. The Brother Camillus Chavez ILaLS Student Award is meant to provide financial support for students studying Latinx diasporas or Latin America. Learn more here.