Saint Mary's Earns Top 10 National Recognition for Sustainable Food and Dining
Just one year into a partnership with Good Eating Company, SMC initiatives focus on locally-sourced healthy food in a way that's good for the planet.
Saint Mary's College has earned a top 10 ranking nationally for its sustainable food and dining practices in the 2023 Sustainable Campus Index, an annual publication produced by the Association for the Advancement of Sustainability in Higher Education (AASHE). The award is a nod toward increasingly robust sustainability initiatives at SMC, including important strides made in the past year.
The new index was released on September 14 and highlights top-performing colleges and universities overall and in 17 categories, as measured by the AASHE STARS (the Sustainability Tracking, Assessment and Rating System) program, a self-reporting framework for institutions to measure, report, and strengthen their contributions to global sustainability. With more than 900 participants in 40 countries, AASHE's STARS program is the most widely recognized framework in the world for publicly reporting comprehensive information related to a college or university's sustainability performance.
"It's a great boost for all of us at Saint Mary's to receive this recognition," says Ann Drevno, PhD, who is Director of Sustainability at SMC. "It's taken a real community commitment, and Gaels and Good Eating Company should be proud of what we've accomplished together."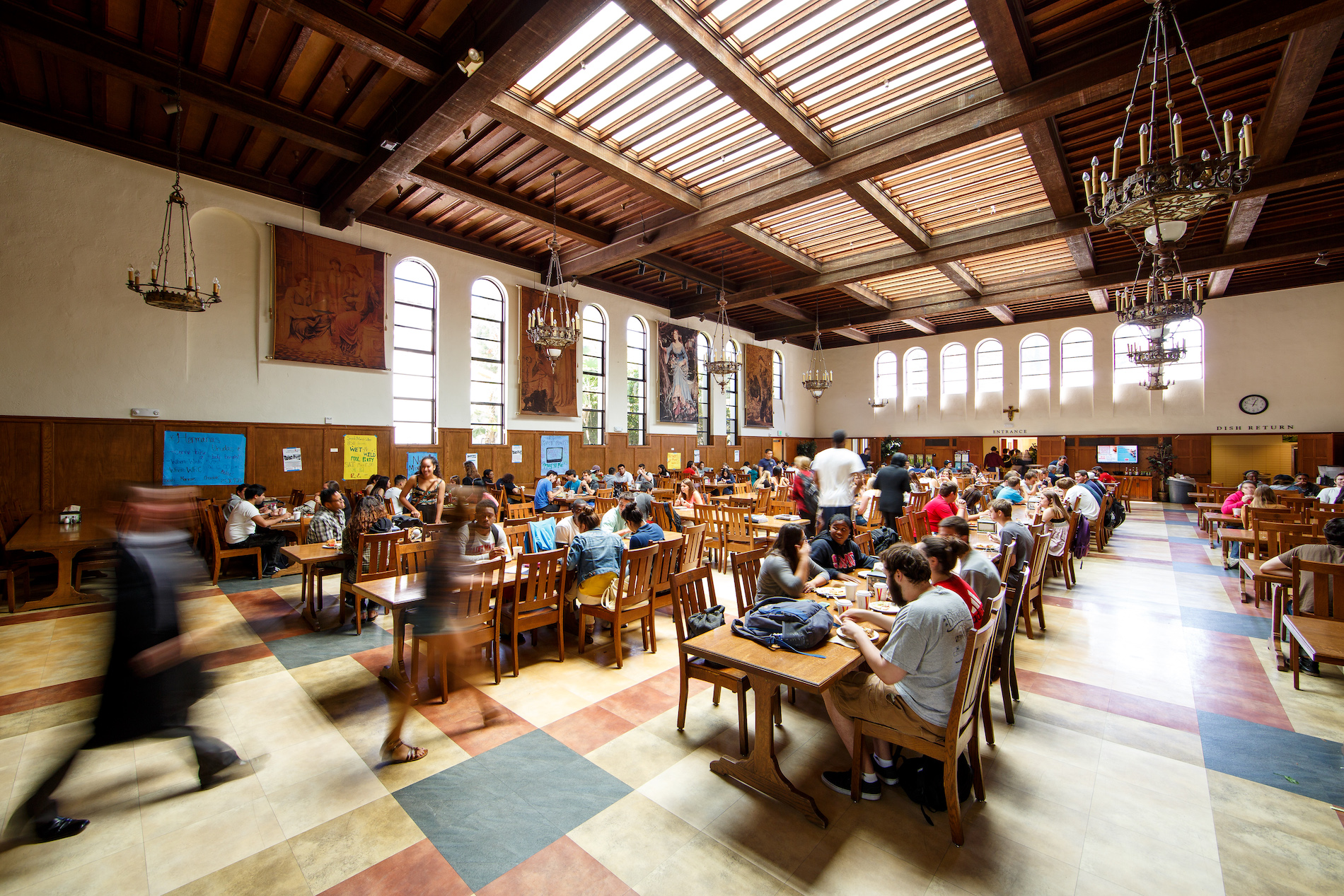 A Partnership for the Planet
This latest national honor comes just a year after Saint Mary's launched a new dining services partnership with The Good Eating Company, known for its chef-driven culinary practices, sustainable ingredients, and farm-to-fork ethos. The College has staked out strategic sustainability and climate action objectives for the next several years, and this partnership was formed to prioritize those goals regarding food and dining practices. 
"It's taken a real community commitment, and Gaels and Good Eating Company should be proud of what we've accomplished together."
When the new partnership was announced in Fall 2022, Good Eating Company's Western Culinary Director Amy Lee described their commitment to sustainable food systems: "Partnering and fostering relationships with local farms and suppliers sustains our culture and respect for where our food comes from, and we aim to regenerate the environment with these practices." 
Good Numbers
When students and campus patrons sit down to eat in Oliver Hall or Café Louis or take food to go in their reusable clamshell containers, 39% of the food on their plate is now locally sourced and/or third-party verified to be ecologically sound, fair and/or humane. This is up from just 3% three years ago. 
The staggering increase in sustainable food sourcing is tracked through a program called Leanpath, which chefs and kitchen staff use to monitor and categorize the food coming in—if it's local, plant-based, or third-party certified, for example. They also use the software to track what's trimmed and composted during prep—peels, pulp, cores, rinds, and stems. Plans are in the works for more robust tracking of excess edible food, which is then donated. The company has an ambitious goal to reach 50% reduction in food waste by 2025.
Good Eats, Good Coffee, and More
Saint Mary's students have noted the delicious difference in taste, quality, and variety over the past year. One of the most popular draws to the new dining partnership is the increased hands-on culinary explorations.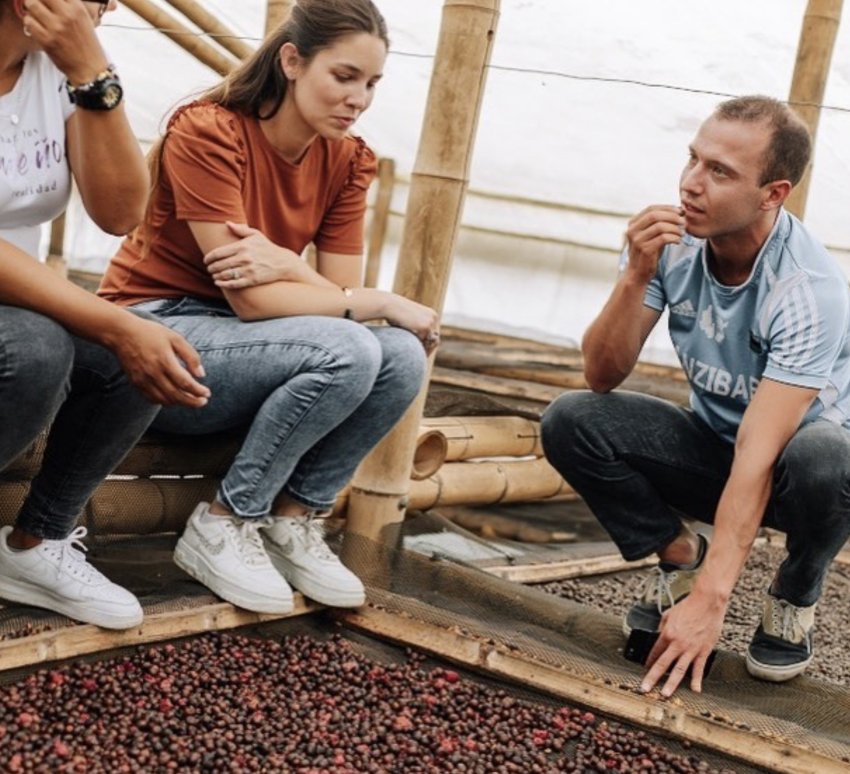 In September 2022, the Good Eating Company hosted internationally recognized "modern soul food" chef Tanya Holland for a sold-out cooking demonstration and cookbook signing. This past January, Saint Mary's Office of Sustainability teamed up to bring Maria Palacio—a fifth-generation coffee farmer, founder, and owner of Progeny Coffee Company—to campus for a dynamic talk in a Jan Term class on Eco Feminism. Palacio described growing up on a Colombian coffee farm and her "beyond fair trade" business philosophy. Students lined up afterward for questions and conversations, including at least one request for an internship with her company. 
In May of this year, for National Bee Day, the dining hall buzzed with activity during a beekeeping demonstration by Senior Executive Chef and Beekeeper Joseph Marx. Special guests for the day included bees from one of the three hives in the half-acre Legacy Garden on campus.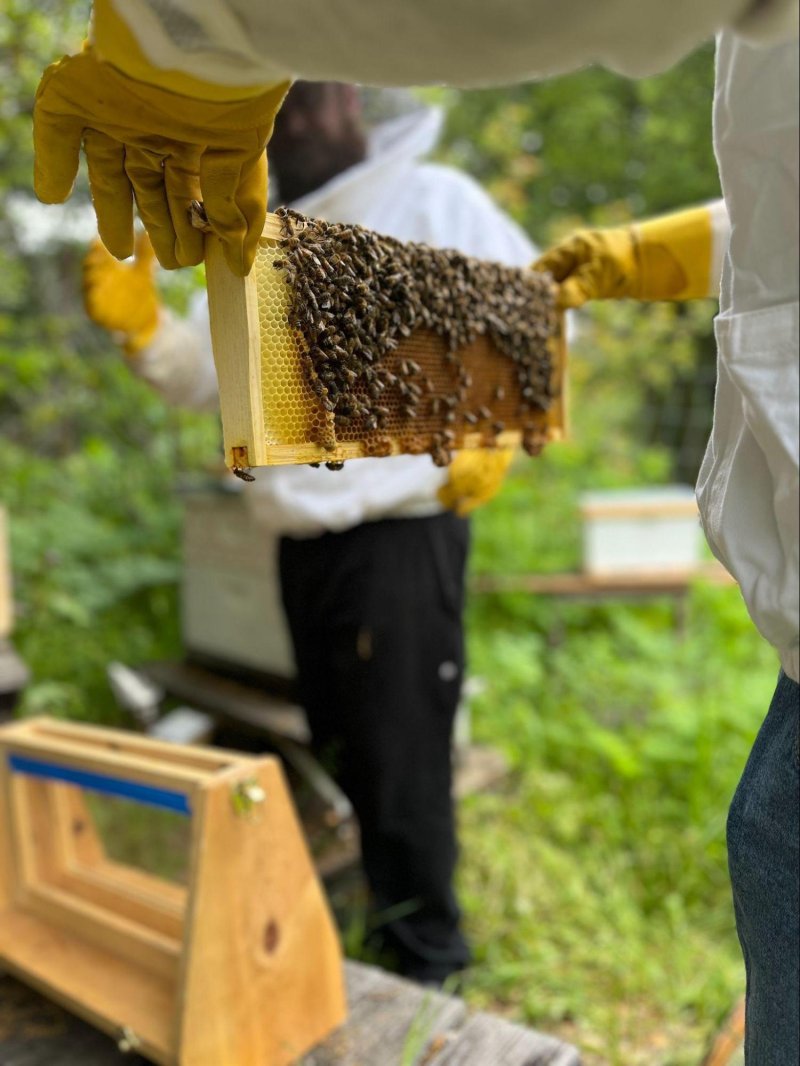 Additional sustainable dining practices include the greener-by-default initiative, which makes plant-based food the default while giving diners the choice to opt into meat and dairy. The Good Eating Company is also an active partner in Menus of Change, which pairs a commitment to tasty dining options with optimal nutrition, public health, environmental stewardship and restoration, and social responsibility concerns within the foodservice industry and the culinary profession. And a new partnership with Topanga will help scale up Saint Mary's reusable container program. 
Alongside the latest recognition, Saint Mary's has been a certified Fair Trade campus for the past nine years. During that period, the College has also earned increasingly higher marks from AASHE for sustainability accomplishments overall, going from Bronze to Silver to Gold since 2020. SMC has also been recognized by The Princeton Review in its guide to green colleges and included on a "Cool Schools" list in Sierra magazine, published by the Sierra Club. And in spring 2023, the College led a conversation for Lasallian universities around the world on how to leverage the global community to advance sustainability initiatives.
"We are thrilled about the progress we've made in such a short time," says Sustainability Director Ann Drevno. "And we are excited to launch new programs that will take our commitment a step further in fostering a more just and sustainable agrifood system."
---
READ MORE: Explore the full 2023 Sustainable Campus Index.
Saint Mary's Achieves a Second Gold STARS Rating for Sustainability Achievements 
Saint Mary's Commitment to Sustainability Earns a Nod in The Princeton Review Guide to Green Colleges
Lasallian Values, Global Connections: Saint Mary's Leads Conversation on Sustainability