Saint Mary's January Dance Intensive: A Window into Artistic Reinvention
For four weeks in January, students in the MFA in Dance program challenge themselves, physically, emotionally, and intellectually. The result? Rigorous personal exploration and lifelong friendships. 
One morning in January, twelve MFA in Dance students line the back wall of a Syufy Hall practice room, watching Professor Rogelio Lopez as he casually rebels against gravity. Rolling onto his shoulder, kicking his legs up, he lingers there, upended, before easing himself back to earth. He repeats the move a few times; some dancers join him. Others hang back, brows furrowed, as if mulling some complex geometric calculation. In a way, they are.
Eventually, Lopez rises and presses his shoulder against the wall-length mirror. "Let's say you're trying to move furniture," he says. "You're pushing. That's what we're trying to do: push off the floor." That seems to unlock something for the class. Shoulders relax; heads nod. Lopez cues up the music, and students begin trying out the sequence in groups of three. After each round, the class erupts in cheers of support.
The annual January Dance Intensives can be, as their name suggests, intense—physically, emotionally, and intellectually. With the MFA program's low-residency schedule and hybrid curriculum, MFA students only come to a campus a few times during their two years: twice for the Jan Term Intensives; twice for the four-week June Term Intensives; and at the very end, for their thesis performance. During those two weeks in January, students attend three courses a day, every day, immersing themselves in theory, choreography, and practice. The final two weeks are asynchronous but no less full; students spend their days completing various projects and assignments, culminating in a virtual presentation at the end of the month.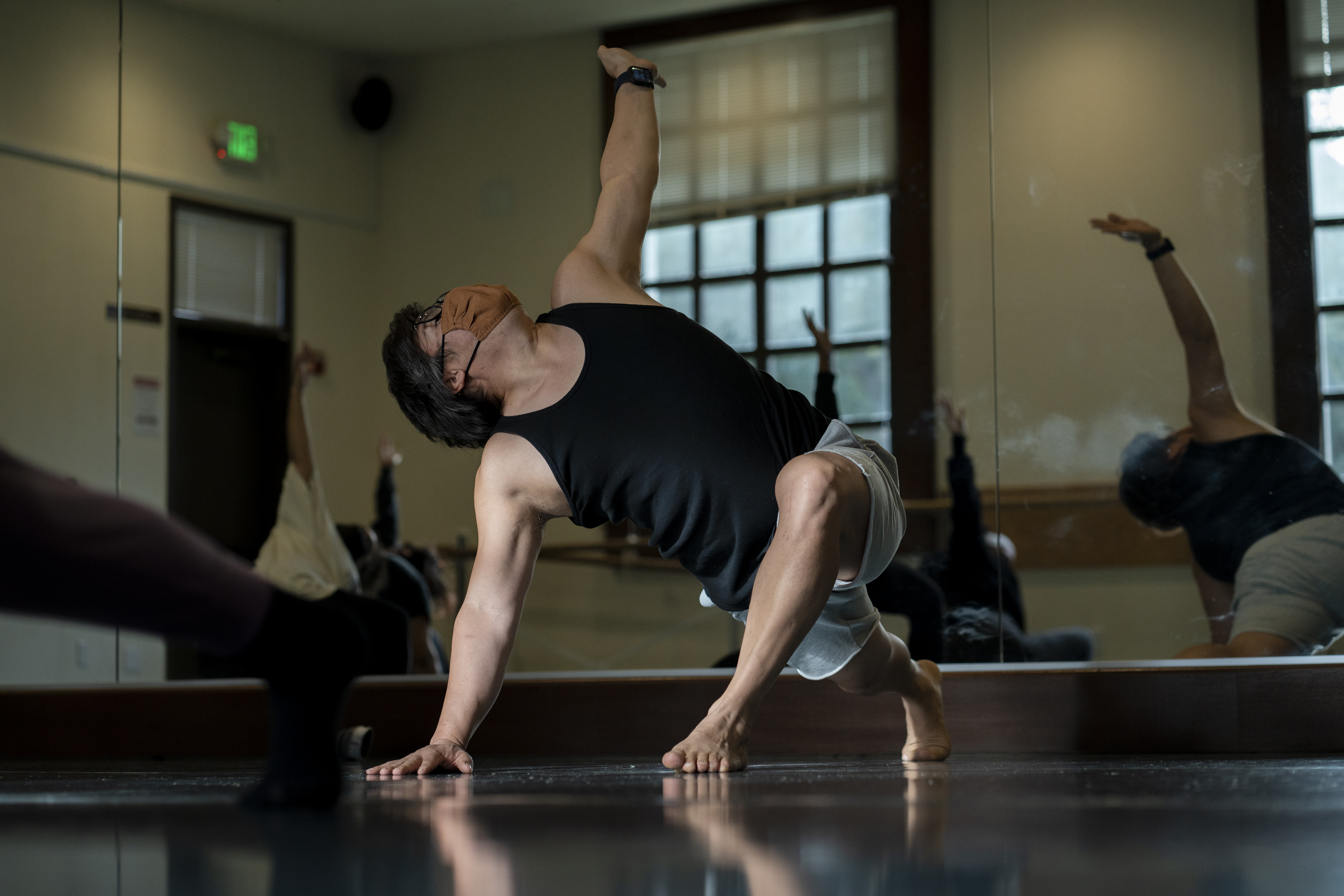 It all may sound daunting. But for those who choose to pursue an MFA in Dance at Saint Mary's, that kind of rigorous personal exploration and concentrated creative community is exactly what they are seeking. "The program is definitely challenging, in the sense of pushing students to go beyond everything they've learned in dance," Lopez tells me later, during the mid-morning break. "It pushes them to consider who they are and the positionality they're placed in." 
At the same time, because the low-residency MFA program is primarily online, the Jan Term Intensive offers dancers the chance to bond, forming a network of support in real time. It's gratifying to watch, Lopez says. "They begin to congeal as a cohort because they're together the whole time. By the time they leave, they've made lasting connections."
"You're Never Gonna Walk Away Empty-Handed"
At the end of the morning choreography class, as dancers stretch and snack before their next session, I meet Mikayla Davis, a second-year MFA student. For most of her life, Davis has been a dancer; she recently celebrated her eighteenth year of dancing. This was her first in-person January Intensive; in 2021 and 2022, both January and June Intensives were virtual due to the pandemic. "It's been an emotional but really refreshing journey," she tells me.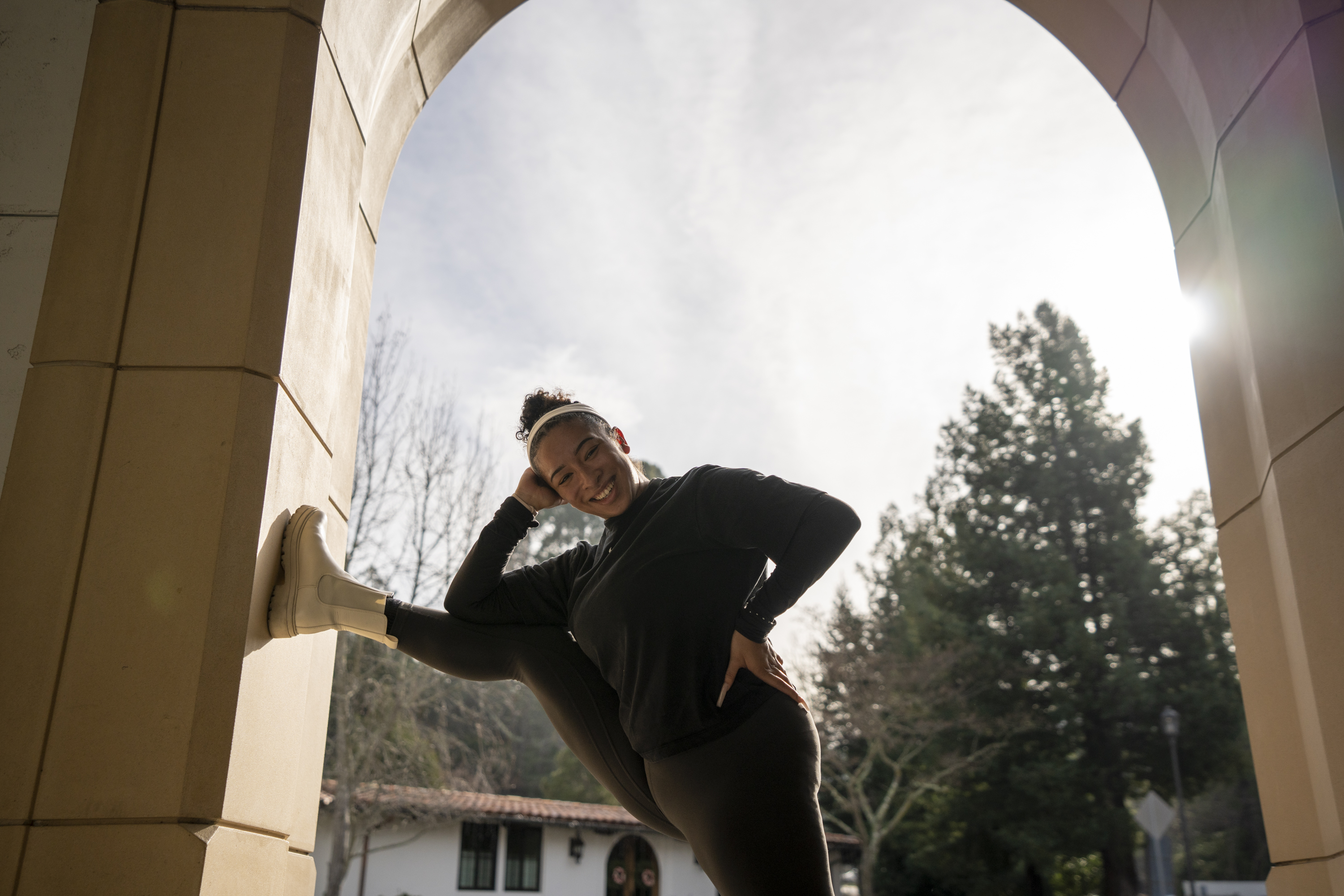 For her, much of the emotion came from Dance and Social Justice, a theory course taught by Shaunna Vella. "That class challenges you to think in different ways or see through a different lens," Davis says. Davis has also found that she has to be intentional about creating pockets of rest throughout the day. "And then, after class, you need to finish up homework, and then you redo it all over again for two weeks at a time."   
"You're reinventing yourself, your artistry, your identity."
Is it all worth it? Davis says yes. "You're never gonna walk away empty-handed. You're always learning, and that may be from the class context or just hearing the stories of other people in your cohort. I've made life-long friendships here."
What Saint Mary's MFA in Dance ultimately offers, Davis says, is personal revelation. "You're reinventing yourself, your artistry, your identity. You're examining how you view the world and how you could bring that knowledge into your choreographic practice."
And with that, Davis excuses herself, off to the next class of the day.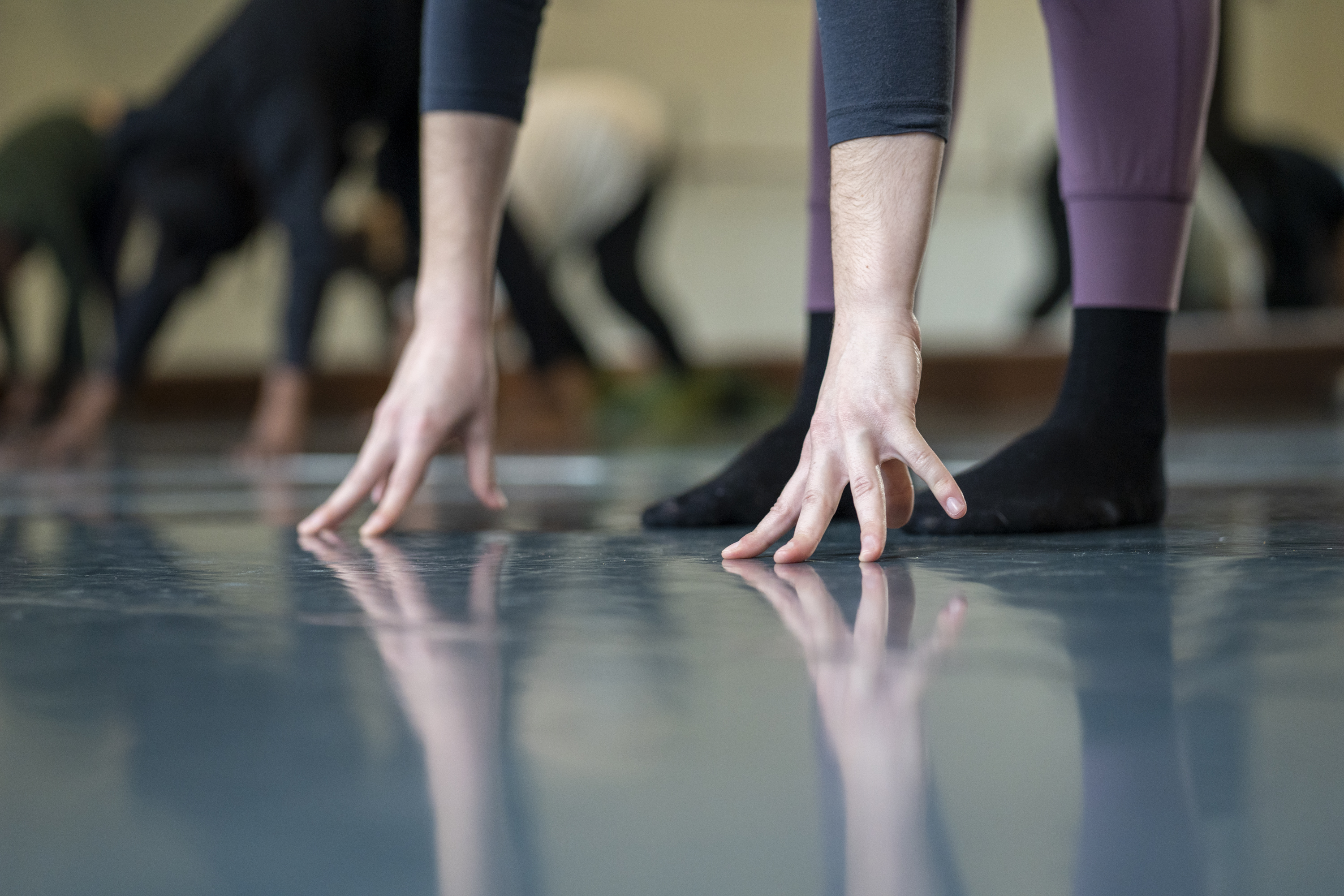 A Better Model
For Lopez, the Director of Saint Mary's MFA in Dance, the program represents the culmination of everything he would have wanted as a young, queer, Latinx dancer. As an undergraduate and later while pursuing an MFA himself, he was repeatedly told he was too short, his knees were bowed, or there was no place for his Ballet Folklorico training. But at Saint Mary's, he and his colleagues are working to make sure students of all ages, sizes, and backgrounds feel valued and welcome. "Everyone is important," he says. "Their story is important. Their genre is important. Their body is important."
Shaunna Vella earned her MFA at Saint Mary's. In her two decades learning and teaching as an Associate Adjunct Professor at the College, she has worked to make sure that the academic institution reflects the larger creative community. Those are too often separate, she says. "As an established queer art maker in the Bay Area, I want to make sure that students who come here also reflect what we have in our communities outside of this Moraga-based institution."
The message seems to be getting through; the program consistently draws people from around the world, bringing in Folklorico dancers from Texas and Bharatanatyam dancers from India. Vella sees the wide appeal as one of the assets of the low-residency program. "It's accessible because you don't have to leave your career and your teaching job and family behind," she says. "That wasn't always the case with the MFA. With our model, you don't have to uproot your life."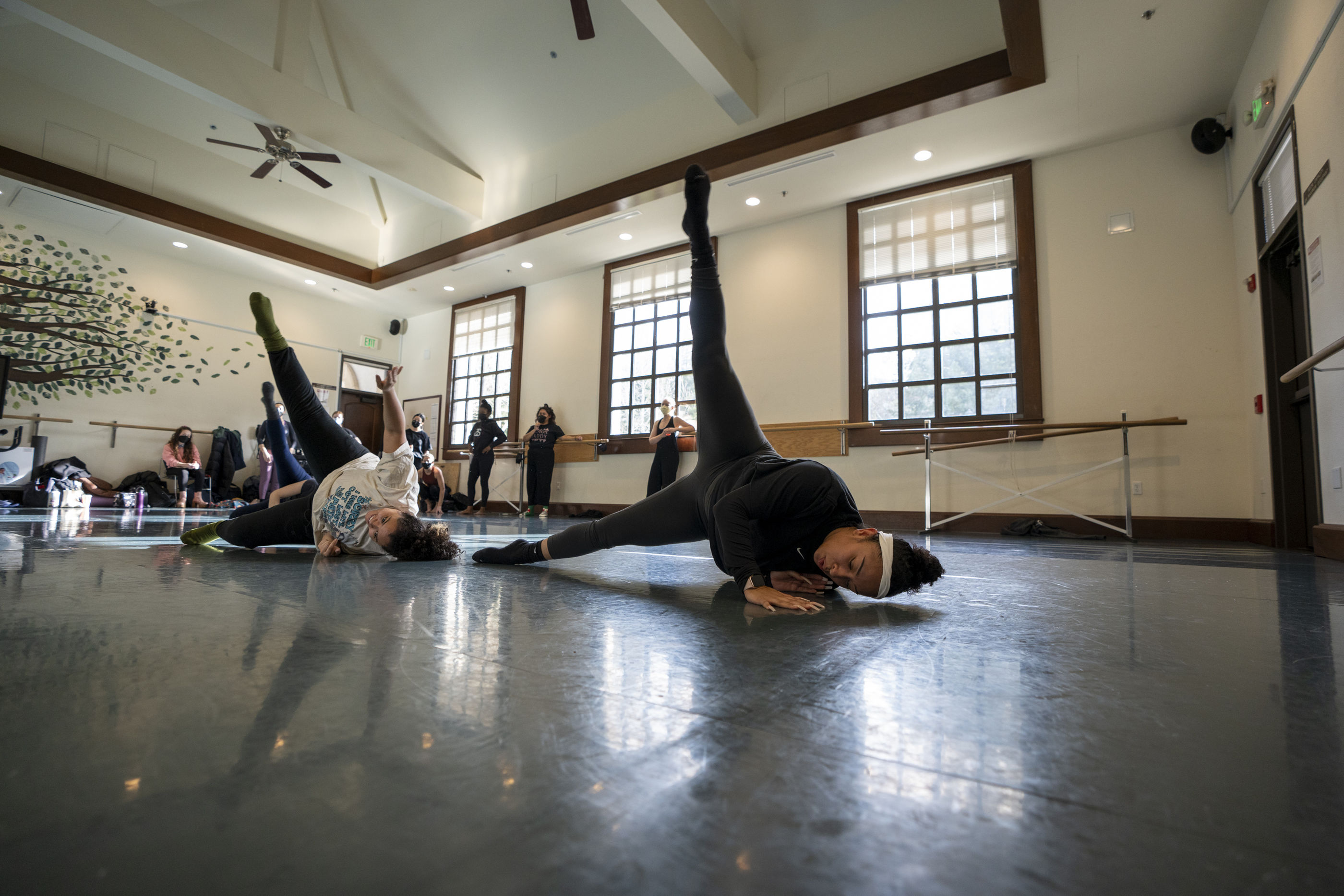 Many current MFA students are attending because of friends who went through the program and recommended it. Lopez believes that's a testament to Saint Mary's commitment to small class sizes and student-centered learning. Particularly during the January and June Intensives, Lopez and his faculty go above and beyond to check in with students: "'How do you feel, emotionally, mentally, physically? How can I support you, and what do you need?' I think that's what stands out to students, that we actually listen to them." 
"With our model, you don't have to uproot your life." 
Ultimately, Lopez says, the MFA in Dance is for all ages and genres. "It's for the student who is ready to challenge themselves."
A central piece of that challenge is the January Intensive—which is, Vella admits, hard to describe while in the thick of it. "We create a really robust space in a few weeks that can facilitate deep conversations, deep reflections, deep ideas around artistry…It's a kind of unfolding, and then a reconstruction."
Perhaps the best way to understand it—as with all dance—is through doing.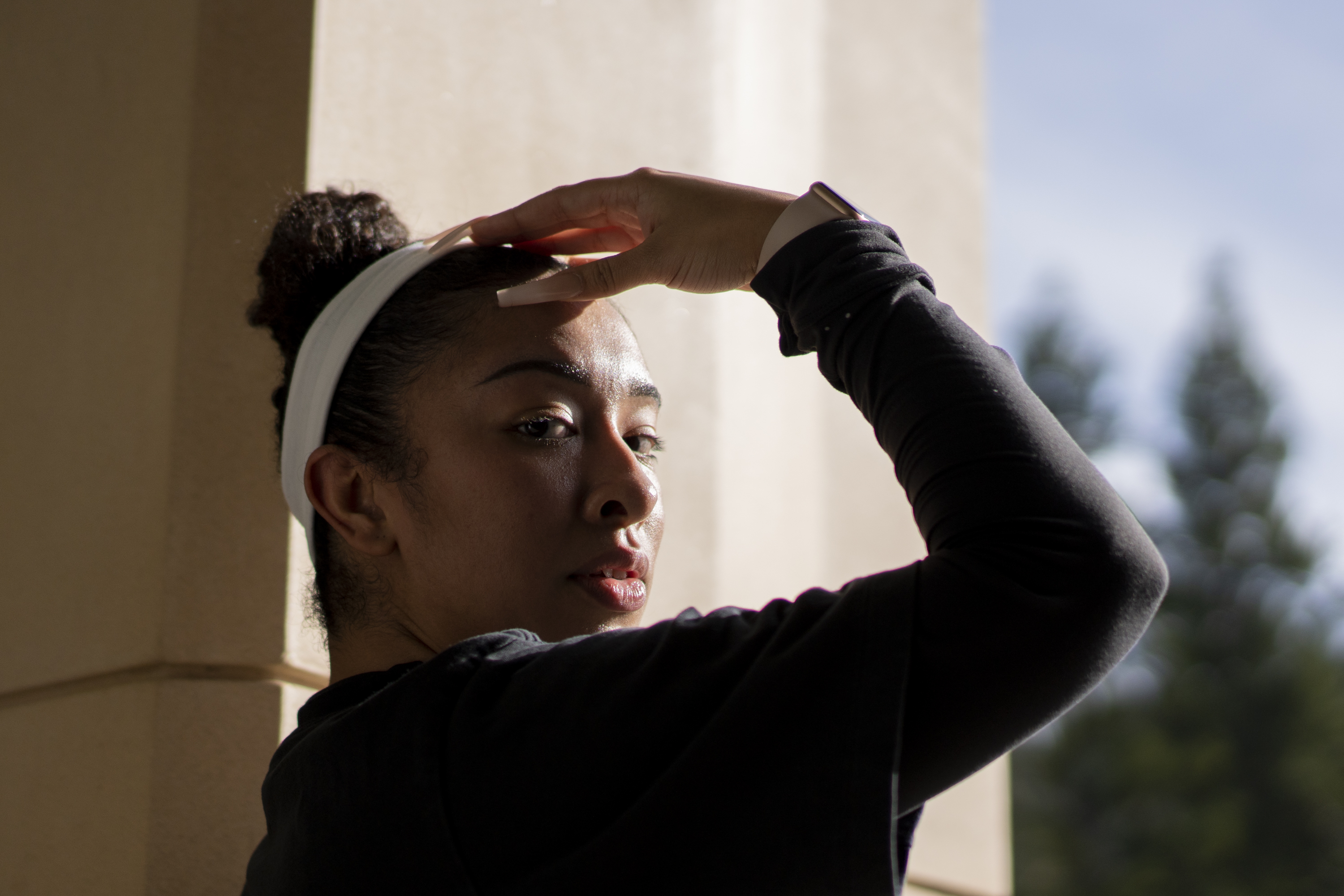 Learn more about Saint Mary's low-residency MFA program—and apply today.
Want to help the arts continue to thrive at Saint Mary's? Consider giving. 
---
Hayden Royster is a staff writer in the Office of Marketing and Communications. Write him.