Through 1 a.m. Zooms and 17-Hour Flights, the 'Guamies' Cross the Finish Line
Kobe Onedera, Isabellaskye Bargfrede, Angelica Cabot, and Brandon Soriano had a college experience like no other. What kept them going? "We wanted to make people back home proud," Onedera says.
When Kobe Onedera '23, the Associated Student Body President at Saint Mary's, bounded up to the podium to give his Commencement Day speech, he carried with him a few emblems of Guamanian pride. 
He waited for the cheering to die down, adjusting the traditional leaf crown, a mwarmwar, encircling his mortarboard. Around his neck, he wore a braided necklace of red, blue, and white, a cultural symbol of the native Chamorro people, and a graduation stole depicting a tableau from his homeland: a palm tree, a sandy beach, a lone sailboat on a placid sea. 
The crowd finally settled and Onedera leaned into the microphone. "Good morning, everyone. Or as we say it on Guam, 'Hafa Adai!'" He looked out at nearly 500 of his graduating peers. Three of them were his closest friends in the world—Isabellaskye "Bella" Bargfrede '23, Angelica Cabot '23, and Brandon Soriano '23. Also from Guam, they had been his life since he was 14 years old.
Today was a stark contrast to how the foursome experienced a fair chunk of their time at Saint Mary's: back home, under COVID lockdown, taking classes over Zoom. That was the case for many college students who graduated this year. But in Guam, English major Onedera noted in his speech, remote learning had an added challenge—a 17-hour time difference. "Our Monday, Wednesday, and Friday classes quickly became Tuesday, Thursday, and Saturday classes, and our 8 a.m.'s quickly became 1 a.m.'s." 
Still, Onedera added, if he had to relive those experiences, he would. "Through trials and tribulations, hardship after hardship, and stacking challenges…we have grown so much in these last few years, individually and collectively."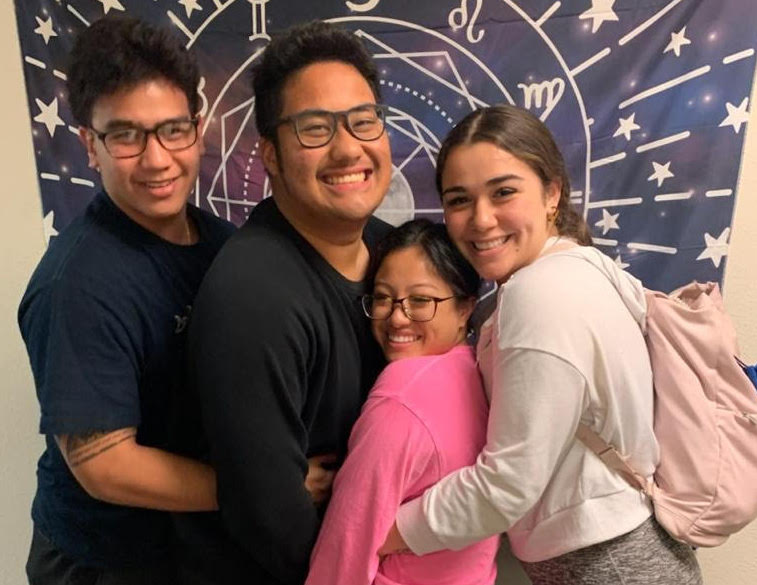 Out in the crowd, Bella Bargfrede felt tears on her face. "I was like, 'You know, he's right,'" she tells me later. If it weren't for the consistent support of "the Guamies"—an affectionate nickname the group of friends have embraced—she might not have made it to Commencement. "We started together and we graduated together," she says. "That's all that mattered to me."
Footing-Finding, Interrupted
Bargfrede fell for Saint Mary's the moment she caught a glimpse of campus. It was 2018, the summer before her senior year of high school. "I remember driving in, and seeing the Chapel and the trees in the middle of summer," she says. "It was just beautiful, and I knew this is where I wanted to be."
Saint Mary's also felt a world away from Guam—and that's speaking more than metaphorically. To fly from the 212-square-mile Pacific island to San Francisco requires traversing more than 6,000 miles, takes the better part of a day, and requires crossing the international date line. So knowing others applying to the college was also a deciding factor, Bargfrede says. She and Angelica Cabot had been schoolmates since kindergarten; they were both on track to graduate from the same Catholic all-girls high school in Guam's capital village of Hagåtña. They also knew Kobe Onedera and Brandon Soriano from their brother school across the island. 
When the four arrived in Moraga in August 2019, still groggy from a day's worth of flights, they gravitated to one another. Bargfede roomed with Cabot, and Onedera roomed with Soriano. Soon, they connected with some upper-level students from Guam who took the first-years underwing, inviting them to their on-campus apartments and regularly cooking traditional homemade meals for them like tinaktak, a rich coconut milk beef stew, and Kådu, a warm beef soup ideal for winter days. For the Guamies, it was a time of finding their footing, Onedera recalls fondly. "We were still working out what it's like to be on campus: going to classes, meeting people in the dining hall."
All of that footing-finding came to an abrupt halt in February 2020, when it became clear that COVID-19 had taken hold in San Francisco. It was a chaotic time for the friend group, Onedera says, compounded by the fact that their families were thousands of miles away. "We didn't have a parental support system readily available to us. Ours were constantly texting us, checking to see if we were okay."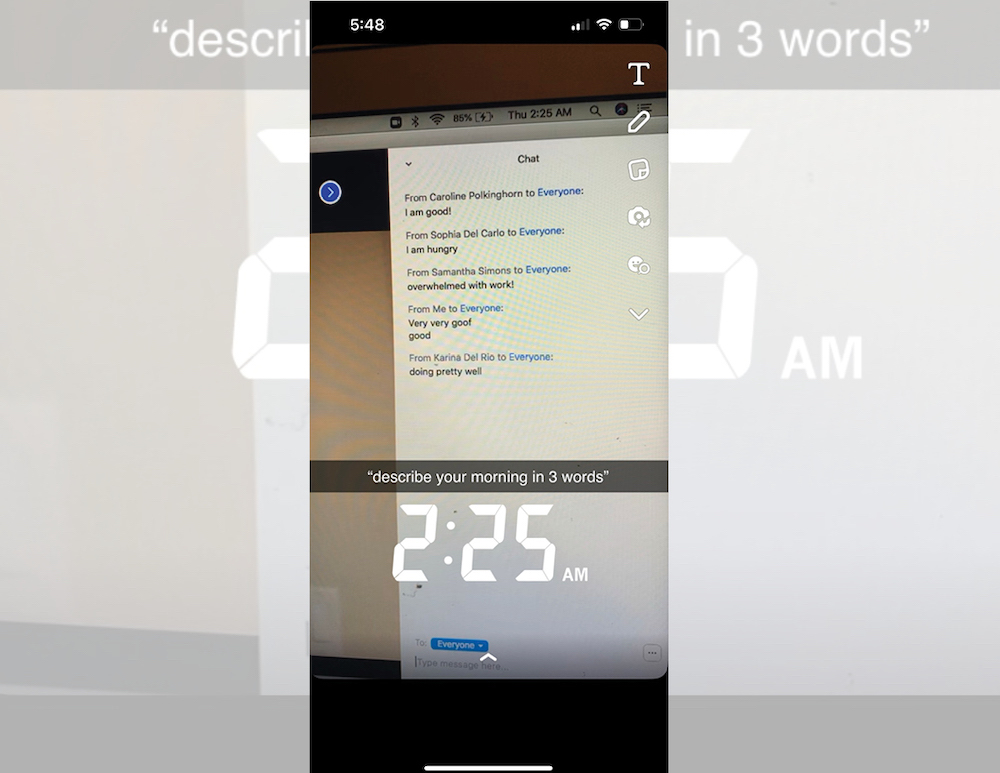 Eventually, as case numbers rose, the Guamies' families decided: They were coming home. "I think we were the only group at the time moving out early," Onedera says.
As they scrambled to sort out where to store their belongings and how to square things away with the College, the four first-years found themselves racing against time; their window for legally flying back to Guam was rapidly closing. "At first we had four days to get all our stuff together, and then it became three, and then two," Bargfrede says. "It was wild."
Soon, Onedera, Bargfrede, Cabot, and Soriano boarded the same plane back to Guam. They said their goodbyes to one another at the airport in Guam, not sure when they would see each other or their other college friends again. They would not reunite in person for six months.
The Guam Legacy
Onedera is honest about the challenge of abruptly transitioning to online learning. "We went from college to a hectic moving out to staying at home for months on end." Add to that, of course, the dramatic time zone difference, which had the four of them signing into Zoom in the wee hours of the morning. "It was a tough time for all of us."
Onedera: "Committing to Saint Mary's, then, was our way of committing to our families and the people of Guam....We wanted to make people back home proud."
Yet one of the few bright spots, he says, was the support of his fellow Guamies. Only they knew the unique circumstances they were dealing with. The foursome was constantly texting, Snapchatting, and FaceTiming one another, checking in or helping out with homework. They were able to find some humor in it all, too; in one session, Onedera and Bargfrede's seasoned philosophy professor began a Zoom class with his mic on mute…and remained so for the duration, seemingly unable to hear his students. 
"So we just sat there in silence, watching him essentially mime an entire lesson," Onedera recalls, laughing.
The Guamies would also set up regular Zoom calls of their own, just to be together. In one especially emotional session, the friends had a heart-to-heart: Should they continue with Saint Mary's? Wouldn't it be easier to go to a college in Guam?
"Eventually, we came to the decision that we wanted to continue the Guam legacy at Saint Mary's," says Bargfrede. "There's a pretty strong community of students who come from Guam. That was the main factor, I think, for us going back."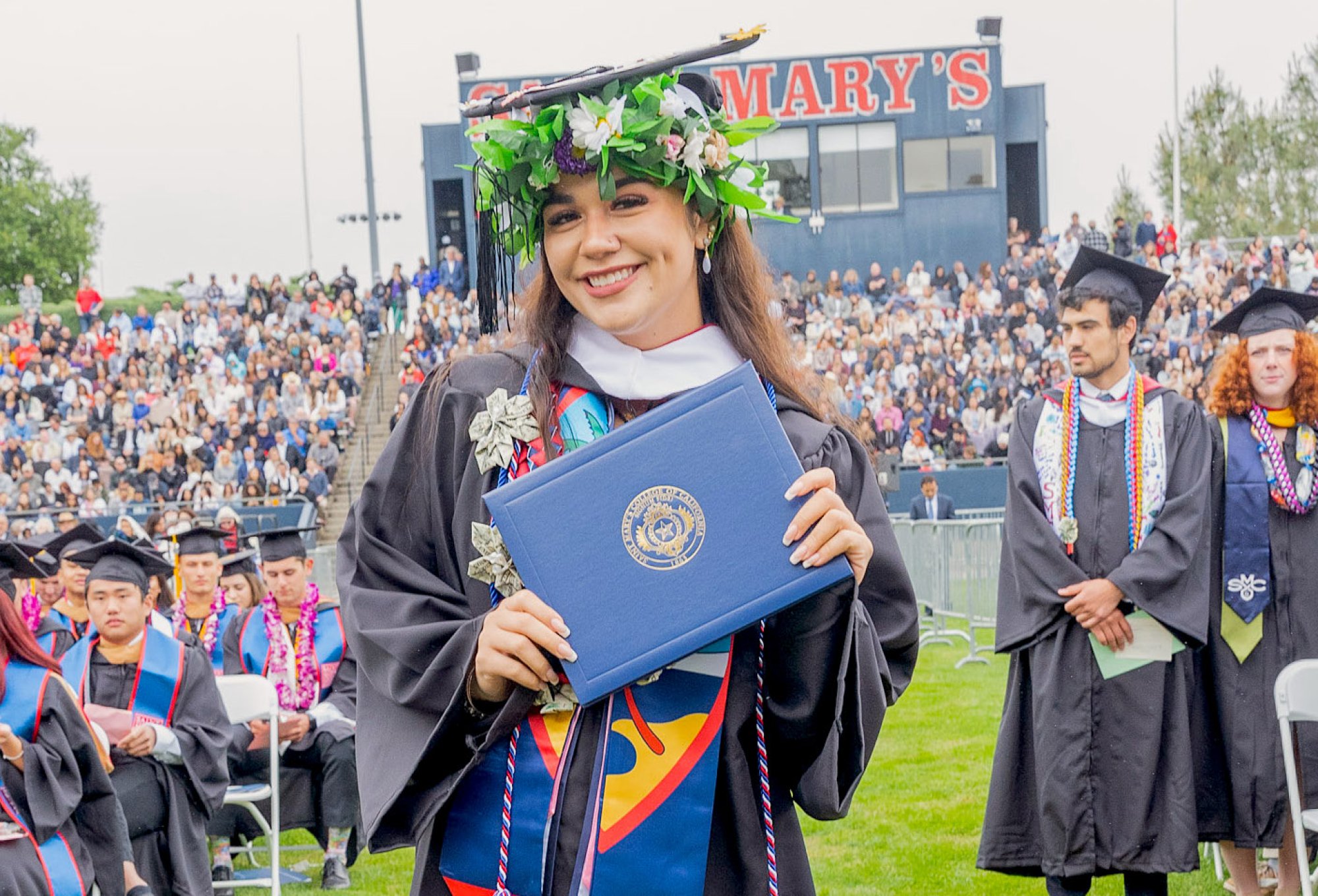 Onedera says he felt a responsibility to the Guamanian upper-level students who had urged him to return, as well as to his own family. "It means a lot for people on Guam to travel away from home and pursue bigger things. Committing to Saint Mary's, then, was our way of committing to our families and the people of Guam.
"We wanted to make people back home proud."
The Home Stretch
Kobe Onedera, Isabellaskye Bargfrede, Angelica Cabot, and Brandon Soriano returned to the Saint Mary's campus with the rest of their classmates in the Fall of 2021. There was trepidation as they eased back into campus life, reconnecting with old friends and making new ones. "It felt like we were going into freshman year again," Onedera says. 
Fortunately, they still had each other to rely on, in the classroom and at home. One tradition they developed: Because the men didn't have a kitchen in their suite Ageno A Residence Hall, every night they trekked across campus to cook dinner with the women. Their final year, the foursome lived across the hall from each other with other roommates, and "that's when it became really chaotic," Bargfrede says. "We had like nine people in our room almost every single night."
Through all the chaos, fun and not so fun, the Guamies kept Commencement Day in mind. "We didn't go through online learning at 1 a.m. to 8 a.m. for nothing," Bargfrede says. She recalls telling herself: "All of our families are coming out in May of 2023, and they're going to watch us walk across that stage." The four friends spurred each other on: "If we weren't doing it for ourselves, we were doing it for each other."
Bargfrede: "I know I wouldn't have had the time I had at Saint Mary's if I hadn't shared it with my people."
In his Commencement speech, Onedera exhorted his peers to use their college years to propel them forward. "Let's use these experiences to take us far in life and to dream big. I cannot wait to see where you all end up." 
Now, with Commencement Day come and gone, Bargfrede and Onedera have their sights turned toward the future. Bargfrede is returning to Guam this summer before starting a master's in International Policy at the University of San Francisco. Onedera has plans to work back home and apply for master's programs.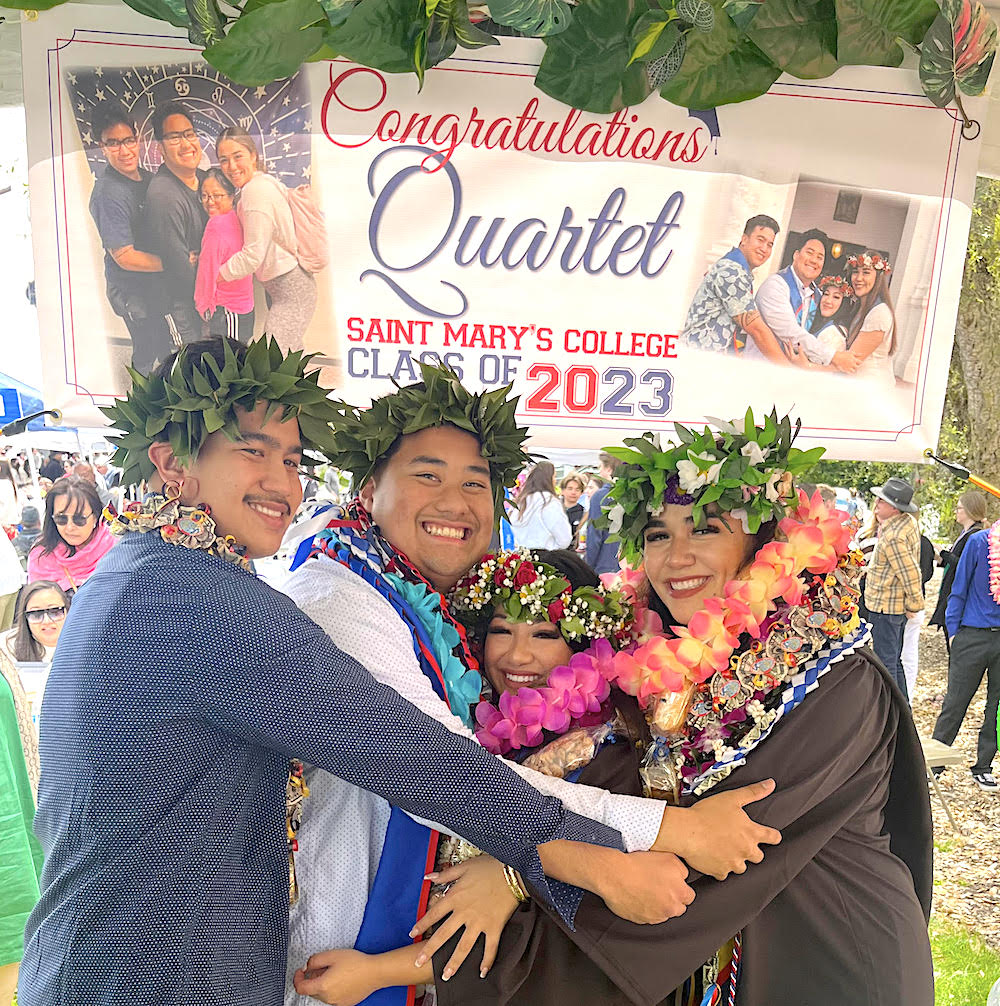 Since Bargfrede will be back in the Bay Area, she will also be working to keep the Guam legacy thriving. Every year, "the Guam kids," as she calls both current Gaels and alums, return to campus for an annual kickball tournament. It's tradition for upper-level students to hold onto the bases and then pass them on to first or second-year students. Bargfrede is supposed to bestow hers when she gets back to San Francisco.
She pauses. She's currently in Boston with extended family, waiting for flights to resume after Typhoon Mawar. "I just hope the students that come from Guam stick together." 
Soriano and Cabot didn't have the chance to chat with me about their future plans; they were dealing with derailed flight plans in the wake of the typhoon as well.
No one, of course, will have the exact time these students did—on campus, then online for early morning classes, then back to campus again. Not only that, Bargfrede says, "I know I wouldn't have had the time I had at Saint Mary's if I hadn't shared it with my people."
LEARN MORE about Saint Mary's Intercultural Center and CONSIDER GIVING to support its decades-long commitment to diversity and inclusive community.
Want to support communities in Guam following Typhoon Mawar? FIND RESOURCES HERE. 
---
Hayden Royster is Staff Writer at the Office of Marketing and Communications. Write him.