Corita Kent: heroes & sheroes
Body
On view September 13 through December
10, 2023. 
Printed between 1968 and 1969, heroes and sheroes represents a body of bold colorful graphic words and images created by the artist, educator, and advocate for social justice, Corita Kent (1918-1986). Adapting the visual language of pop art in the midst of social and political justice, Kent's work conveys messages of faith, acceptance, and love supporting civil rights, labor, anti-war movements, nuclear disarmament, and the political assassinations that would define the 1960s. The series of 29 prints highlights Kent's momentum and belief in the power of collective action to revolutionize systems and evoke necessary change.
This exhibition is organized in collaboration with the Corita Art Center of Los Angeles.
---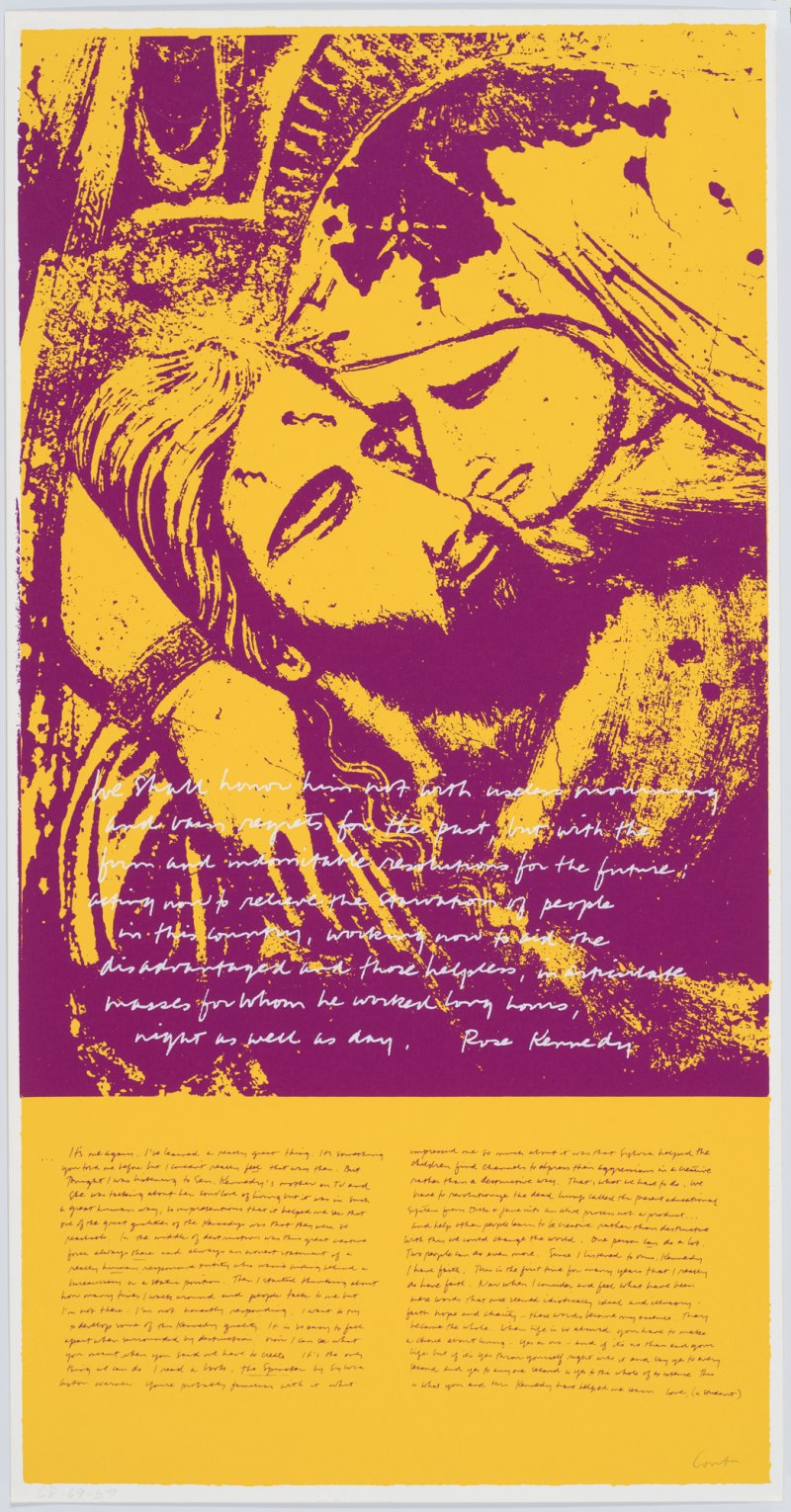 ---
Corita Kent 
Corita Kent (1918-1986) was an artist, educator, and advocate for social justice. Born Frances Elizabeth Kent on November 20, 1918, in Fort Dodge, Iowa, Corita and her family moved to Los Angeles while she was still a toddler. At age 18, she entered the Immaculate Heart of Mary religious order in Hollywood. After teaching secondary school in Los Angeles and briefly in the Pacific Northwest, Corita was called back to teach art at Immaculate Heart College. Under the direction of Corita and her mentor Sister Magdalen Mary, the art department became a well-known center of creativity and liberal thinking with a recognizable aesthetic style. In the early '50s, Corita began printmaking, focusing primarily on serigraphy, or silkscreen printing. Influenced by the medieval art she was studying while obtaining her master's degree at the University of Southern California, her early work was figurative and religious.
Until 1967, Corita was producing prints in the college studio during the short period between teaching summer school and the start of the fall semester, averaging 20 different prints in editions ranging from 25 to 200. In1967, she would start working with printer Harry Hambly in Santa Clara, sending him collages and working materials by mail. Moving away from figurative and explicitly religious imagery, her prints began to incorporate advertising images and slogans, popular song lyrics, and literature as well as biblical verses. While her vibrant artwork became enormously popular and would soon be aligned with the Pop Art movement, throughout the '60s, her work also grew increasingly political, urging viewers to consider poverty, racism, and injustice. By 1968, she had shown in over 230 exhibitions and her work was collected in public and private collections around the world.
In 1968, exhausted from conflict with the archdiocese and a frenetic schedule of exhibiting, teaching, and lecturing around the country, Corita sought dispensation from her vows and moved to Boston. She continued to work in serigraphy and developed a plein air watercolor practice. After 1970, Corita's work evolved into a sparser, introspective style, influenced by living in a new environment, a secular life, and her battles with cancer. Always resistant to the line between fine and commercial work, Corita took commissions large and small during her career, everything from greeting cards to book jackets and illustrations, posters, billboards and even a US postage stamp. She remained active in social causes and at the time of her death, she had created approximately 800 serigraph editions, hundreds of watercolors,
and innumerable public and private commissions.
Corita bequeathed her copyrights and unsold art to the Immaculate Heart Community. Recognizing the continuing relevance and importance of Corita's art and teaching, the Community created the Corita Art Center to keep her legacy alive for generations to come. With thousands of original serigraphs, watercolors and ephemera, the Corita Art Center is the largest and most comprehensive archive of Corita's life and work.
Source: Corita Art Center, Los Angeles, corita.org
---
Teaching Corita
Explore insights to a professor's integration of Corita's art practice in the classroom.