Gaels Battle Their Way Into Second Round of NCAA Tournament Before Falling to UConn
This wasn't the year that they toppled the Huskies. But there's no question this team has brought the Men's Basketball program to where it hasn't been before.
ABOVE: Logan Johnson drives against UConn / Photo by AP 
For the second time in as many seasons, Saint Mary's Men's Basketball reached the second round of the NCAA Tournament. Like last season, they did so as a five seed while taking on a four seed in the second round. Their opponent on Sunday in Albany was UConn. The Gaels were right in the game through halftime and led four minutes into the second half, but they couldn't hold off the Huskies in a 70–55 defeat. The Gaels season comes to a close with a record of 27–8 and a second round exit for the second consecutive season.
Quieting the Crowd
The NCAA Tournament is always on a neutral floor, but in certain games it can feel like a home game. That's how Sunday's round two game felt, with a large contingency of Huskies fans packing into MVP Arena. 
After both teams traded buckets early, the Gaels flexed their muscle and silenced the crowd thanks to a 13–2 run that turned a 7–4 deficit into a 17–9 lead. They did so mostly in transition, with Alex Ducas knocking down a pair of quick threes and the run beginning on a three-point play from Logan Johnson. They needed just 2:36 to make that happen, and it flipped the game script early on.
Despite the eight-point lead, the Gaels couldn't quite put away UConn in the first half. The Huskies continued to claw their way back into the game, using a 7–0 run to make it a one-point game. For the final 9:24 of the half, it was a one-possession game. 
But the game changed with under five minutes to go when Ducas tweaked his back and had to exit the game. That's when UConn started taking advantage from the three-point arc. Their final three makes of the half were threes, including one with less than three seconds left from Tristen Newton, to make it 31–30 Huskies at the break.
Second Half Shift
Saint Mary's still led at the first timeout of the second half, but then UConn got out on the run and started catching fire. They hit multiple three-pointers in a three-minute stretch and turned a one-point game into a 51–40 Huskies lead. 
Augustas Marciulionis was one of the better players during that run for Saint Mary's, scoring four early points for SMC in the half. Jordan Hawkins came alive for UConn, knocking down four three-pointers after going scoreless in the first half.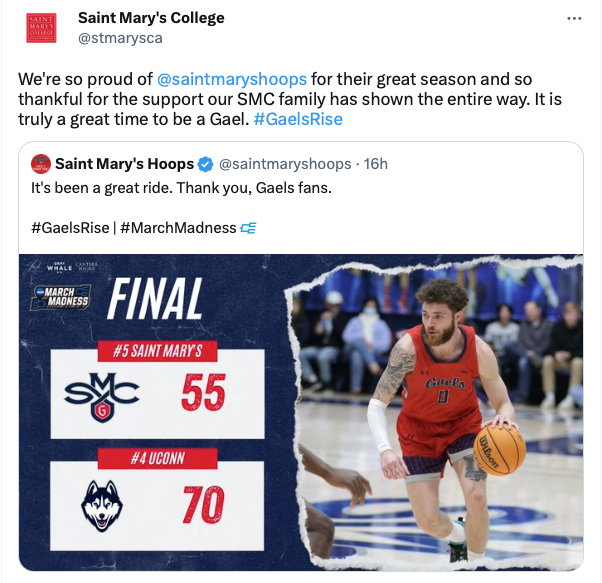 Johnson and Mahaney Lead the Way 
Johnson and Aidan Mahaney led the way for SMC offensively with nine points, but the Gaels didn't have a scorer reach double digits.
Saint Mary's usually holds an advantage over other teams in three-point shooting, but that was not the case on Sunday. UConn went 10 for 22 and SMC was just 4 for 14.
The Gaels also typically win the assist battle, but lost that 15–9. Despite having a tough battle in the paint against UConn, the Gaels hung in there well, scoring 30 to UConn's 34. Saint Mary's also had just nine turnovers versus 14 for the Huskies.
"They put our program where we haven't been before."
After the game, senior Kyle Bowen captured the sentiment of the team when he said, "Obviously a lot of raw emotion right now. I give props to Randy and this program for everything they've given me and us." 
Bowen is one of the three seniors on the team who played Sunday—along with Alex Ducas and Logan Johnson.
"I feel like me, Logan, and Alex as the three-man senior leadership have put this program in a great place moving forward," Bowen said, "and we have the talent moving forward."
This was Johnson's last year of eligibility, and no question he was instrumental in bringing the team to the second round of the tournament.  "It's an honor to be here. It's a privilege," he said. "Never took a day for granted, being a part of this college. Thankful for [coach Bennett], and thankful for everybody that's the supporting cast behind the scenes that don't get the credit they deserve…it's a blessing to be a part of them and Saint Mary's. I felt like we left this place in a better place than when we got here, and that's a tough thing to do."
"I felt like we left this place in a better place than when we got here, and that's a tough thing to do."
—Logan Johnson
Head Coach Randy Bennett underscored just how much a role the elder statesmen on the team have  played. "They put our program where we haven't been before," Bennett said. "I mean, it's hard to go back-to-back NCAA Tournaments, much less five seed. We're the only other school that's gotten a five-seed since they went to 64 teams out of our conference."
During the seniors' playing careers, the COVID pandemic upended the season—as it did so much.  
"These guys, had it not been for the COVID year when they canceled the tournament…would have gone three out of four and probably an eight seed and two fives," Bennett surmised. "They had everything to do with that."
---
READ MORE:
This story as it originally appears at SMCGaels.com.
March Madness Confidential Features Saint Mary's.
Washington Post columnist John Feinstein takes a deep dive with SMC guard Augustas Marciulionis: With a rapping Australian and a Hall of Famer's son, Saint Mary's marches on