Jared Ralleta '24 Built a Tool Astronauts Can Use on the Moon, Mars, and Beyond. So Where's He Headed Next?
A first-gen college student, Ralleta was the sole undergrad researcher at RISE2, a NASA-funded expedition in the New Mexico desert that tests out tech for future space exploration. "I could only have had this opportunity at Saint Mary's," he says.
The crater: A geological rarity in this desolate corner of the planet, like one massive footprint in a sprawling sandbox.
A yellow dwarf star sits overhead, its rays beating down on the basin. Kilbourne Hole, as it's known, is two miles long, 1.7 miles wide, and nearly 300 feet deep. Its rim is littered with dark hunks of rock called mantle xenoliths, the result of volcanic explosions more than 24,000 years ago. If it feels otherworldly, for NASA, that's precisely the point. 
Located in the Portillo volcanic field—an 1,800 square mile stretch of New Mexico desert an hour west of El Paso, Texas and about 20 miles north of the Mexican border—Kilbourne Hole's terrain has striking similarities to that found on the moon. NASA astronauts and researchers have trekked out here since the space program's early days. Back in April 1970, Apollo 13 may not have landed on the Frau Maurer crater as intended, but before that mission launched, Jim Lovell and his team did get their boots dusty tromping around Kilbourne.
More than half a century later—in April 2023—I'm with a dozen field researchers as they descend on Kilbourne as part of a project called RISE2. That stands for Remote, In Situ, and Synchrotron Studies for Science and Exploration 2 team, and it is funded by a $5.5 million grant from NASA's Solar System Exploration Research Virtual Institute. For more than a decade, RISE2 and the previous RISE team have used Kilbourne as a testing ground, trying out the technology and procedures NASA will employ in the upcoming Artemis missions to the moon and, eventually, to Mars. The team consists primarily of NASA scientists, professors, and their graduate students from across the continent. Among them are two Gaels: Interim Dean of the School of Science Alice Baldridge, an astrogeologist by training and a co-investigator on RISE2, as well as her student researcher, Jared Ralleta '24.

For Ralleta, this is all worlds away from anything he's ever known. Born and raised in Concord, California, he is the first in his family to attend a four-year college. He's also the only undergraduate researcher on RISE2. "I don't think I could have ever dreamed of being here," he says. "It's surreal." If Ralleta feels out of place, though, he doesn't show it. With his wide-brimmed straw sunhat, red Gaels lacrosse jacket (he's a captain on the team), and laidback grin, he makes the research expedition to the Chihuahuan Desert feel like a day at the public pool. 
We're currently standing at the sloping edge of Kilbourne Hole, watching three of his RISE2 colleagues run through a field simulation—a mock moon landing, essentially. In a few minutes, they'll ask for the Gameboy-sized device in Ralleta's hand: an XRISE, which stands for X-ray Fluorescence Real-time Interpretation System for Exploration. It is paired with an X-ray fluorescence spectrometer (XRF), about the size and shape of a cordless drill. 
Researchers point the XRF at a rock and use it something like a supermarket checkout device: What the XRF scans is transmitted to XRISE, which rapidly categorizes and displays on its screen the rock's mineral make-up. Together these devices—XRISE paired with XRF—do for geology what the app Shazam does for music: Just give it a sample, and it will identify what you're listening to—or, in this case, what's in front of you. 
Ralleta can explain the process better than most; he wrote the XRISE's code. Because of him, the device converts the data into a plottable, easy-to-read graph. It's the kind of instant analysis Artemis astronauts will need to tackle NASA's ambitious goals, from understanding how the moon originally formed to establishing a long-term base on the surface. "Having the ability to determine what you're looking at when you're looking at it is huge," Ralleta says. 
In 2025, NASA is scheduled to launch Artemis III—its first mission since 1972 to return humans to the surface of the moon. For that lunar mission, a tool like Ralleta's XRISE will likely be on board. He doesn't presume that it will be his exact device or code. What he does know, though, is that his experience in the desert has completely altered his personal flight path. He entered Saint Mary's intent on completing the 3+2 program in Engineering.  Now he has switched to Physics, and he's starting to see work with NASA as something to reach for. "The more I've learned about the people and the journey, the more I can see myself following a similar path," he says.
Actually Living It
Astrogeologists often spend more time exploring the ground underfoot than gazing heavenward, which suits Alice Baldridge just fine. Her happy place is the field: a Sahara sun hat cinched around her chin, a 3-liter Camelbak strapped to her shoulders. She's also not all that into the distant reaches of space. "Very early on," she says, "I realized I was interested in planets, things that were closer to home than, like, black holes and baby universes."
Baldridge's path to astrogeology began when she was a junior at UC Santa Cruz. Not long after switching her major to Earth Science, she got the chance to research with mineral physicist Quentin Williams, studying frozen, highly-pressurized saltwater—an analog for the interiors of Jupiter's moons. "I got to use lasers and high-pressure diamond anvil cells and all these things I didn't think undergrads got to do," she recalls. Invigorated, she went on to pursue her master's and PhD in Geological Sciences at Arizona State University, where she helped develop THEMIS, the thermal imaging system for the Mars Exploration Rovers. "I spent quite a bit of time at NASA's Jet Propulsion Lab, working with engineers and scientists to tell the rover what to do," she says. "It was really freaking cool."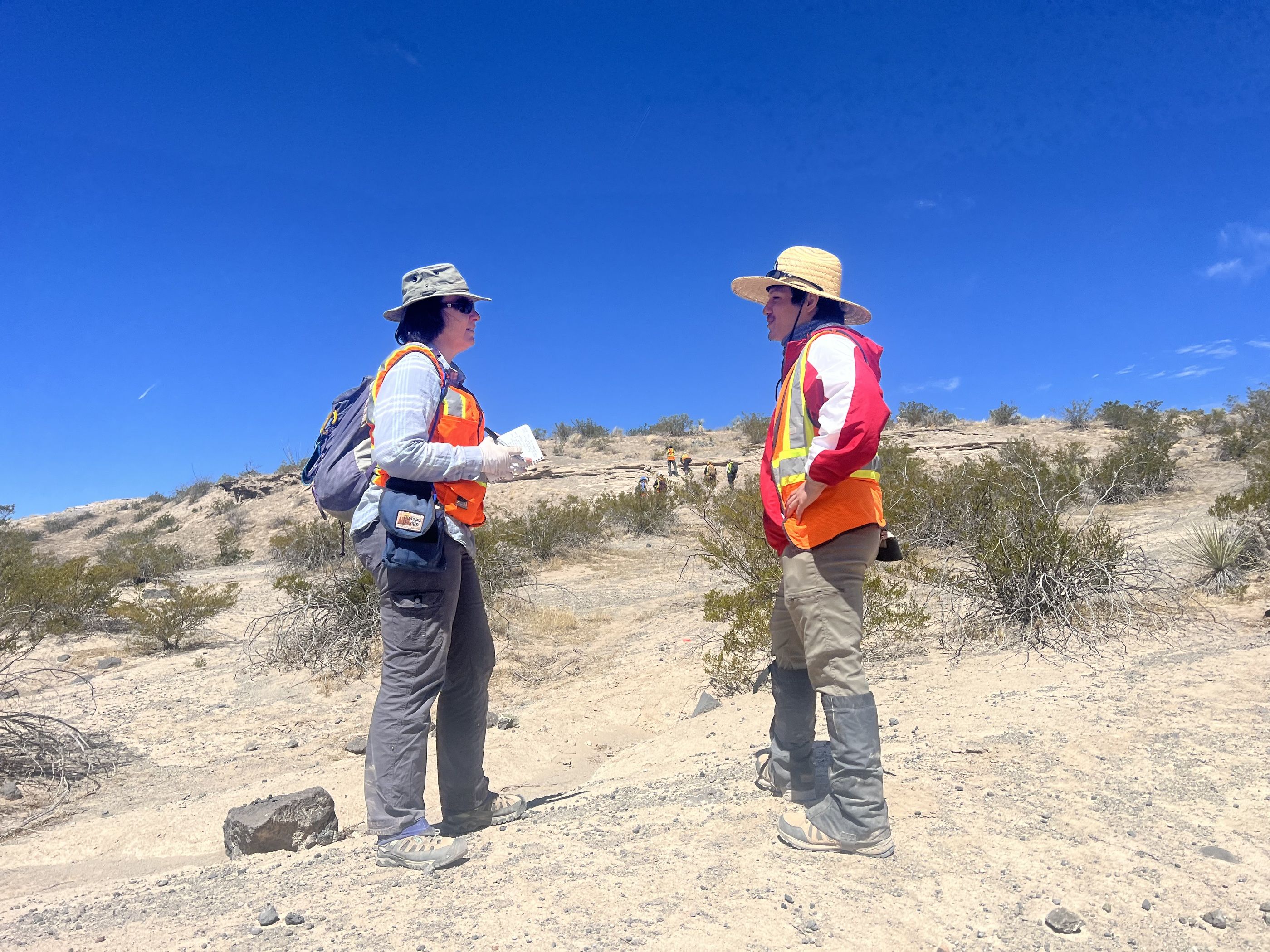 Baldridge completed her postdoctoral work with JPL, traveling to Yellowstone, Iceland, and Western Australia to conduct infrared scans of terrestrial environments—"similar to what we think Mars might have been like in the past," she says. Then, in 2012, she accepted a position as associate professor of Geology at Saint Mary's, where she has been ever since. In June, following longtime Dean Roy Wensley's retirement, she also took on responsibilities as Interim Dean of the School of Science.
What drew her to Saint Mary's, Baldridge says, is the opportunity to give students the kind of hands-on experiences that altered her own life. When she teaches her national parks class, for instance, she takes students to Yosemite and Point Reyes National Seashore. "Seeing it firsthand, not just a bunch of slides in a Powerpoint, but actually living it—I think all of that's really important. And I can do that, because Saint Mary's encourages experiential learning."
Even so, RISE2 is unique, she notes. "This grant is the first real opportunity I've had to involve students in my research." When Baldridge applied for RISE2, she made sure to request funds to support undergraduate research assistants. After being selected, she immediately thought of Ben Harte '22, a Physics major whom she had worked with on a Summer Research Project in 2020, planning a simulated mission to Mars. The following year, Harte went on to win a NASA award for a rover prototype he helped design. 
Baldridge is committed to giving her students field experience: "Seeing it firsthand, not just a bunch of slides in a Powerpoint, but actually living it—I think all of that's really important. And I can do that, because Saint Mary's encourages experiential learning."
Harte joined her at Kilbourne in the spring of 2021. To carry on the work the following year, Baldridge reached out to colleagues in Physics, Chemistry, and Engineering to recommend promising students. In February 2022, she received an email from Professor of Physics Jessica Kintner with a hardworking student's name: Jared Ralleta.
Building Blocks
"I'm the kid who spent five hours trying to build Lego sets without the instructions."
Whereas others may have moved on from building X-Wings and ATs-ATs in their middle school years, Ralleta never really did. Even now, he says, he regularly acquires Lego sets, although he often resells them. In addition to being a full-time student and working part-time as a Student Ambassador for the Office of Admissions, he runs a successful side hustle buying and flipping rare toys on eBay. But he still builds, too. When we chat before RISE2, in mid-March, he has a recently-assembled Star Wars ensemble sitting on this desk: a Razor Crest assault ship from the Disney+ show The Mandalorian, complete with a miniature Mando and Baby Yoda. "Legos have always been cool," he tells me.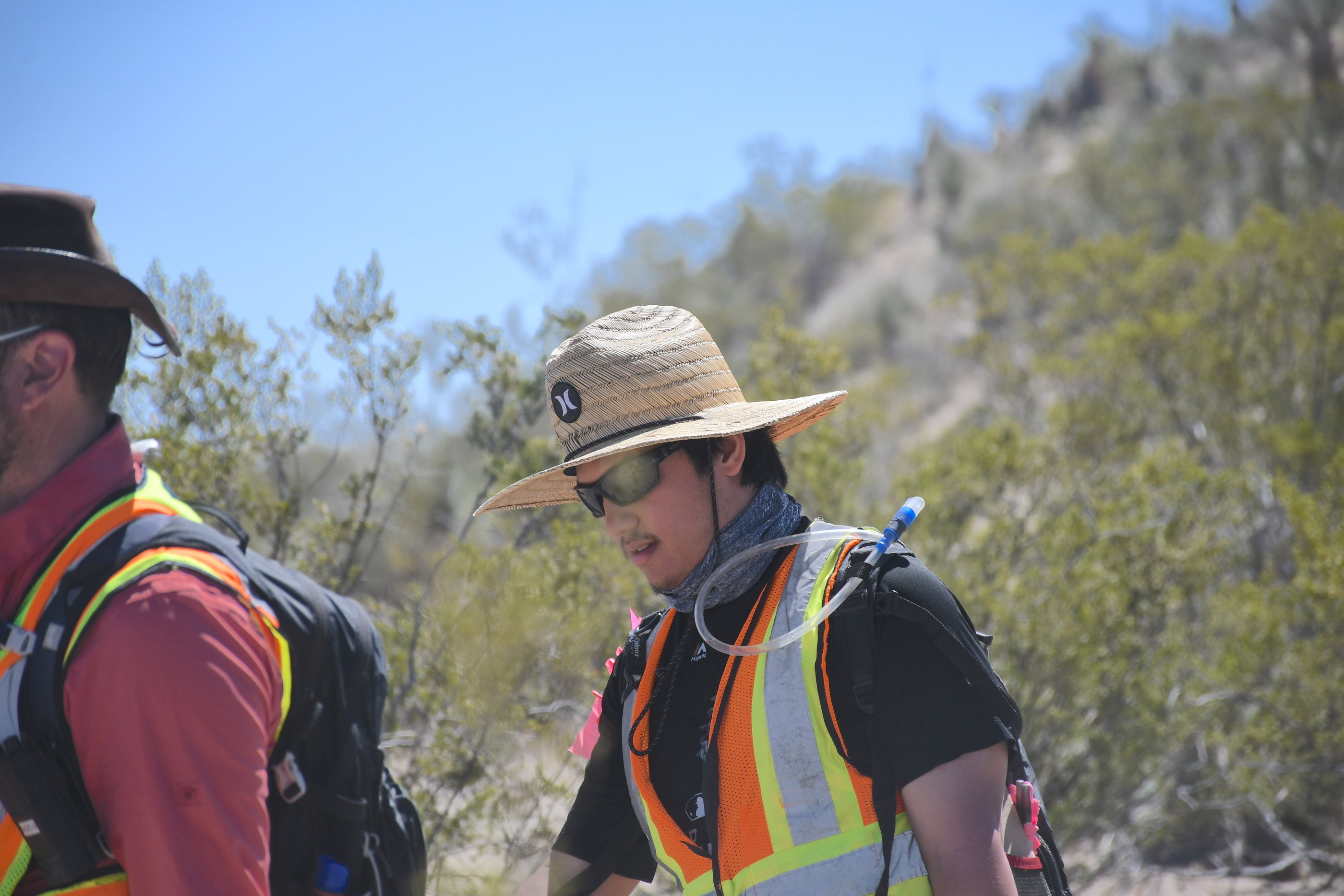 Unsurprisingly, Ralleta gravitated toward engineering in high school—in part because of his systems-inclined brain, but also because of his father. For much of Jared's childhood, his parents were bank employees; they met working at Bank of America. But after being laid off twice, Ralleta's father took an IT position at a Bay Area bus manufacturing company. He gradually worked his way up to management, first in IT, then in engineering. "As I was learning to be an engineer, he was too," Ralleta says. 
When college felt unattainable, "Saint Mary's felt a little different," Ralleta says. "It was easy to get a grasp of what the college, the community, and the professors are all about."
As Ralleta was growing up, college was never a question. While neither of his parents earned degrees, he felt a responsibility to honor the work ethic they modeled for him. "My family, we've never been a bunch of CEOs and VPs," he says. "We've always worked our way up to where we got." In high school, he was putting in the effort, earning good grades. But then the pandemic hit and took its toll on Ralleta, mentally and academically. By senior year, the notion of college seemed intimidating. 
That year, Ralleta went on his first campus tour—it happened to be Saint Mary's—expecting it to feel "massive" and "unattainable," he says. "But Saint Mary's felt a little different." It was a small, tight-knit community; for the first time, he could picture himself somewhere. "It was easy to get a grasp of what the college, the community, and the professors are all about."
When he arrived on campus in 2021, intent on studying engineering, he found Saint Mary's offered an ideal learning situation, a place where he could meet one-on-one with professors and work through problems until he got them right. Still, there were things he felt were out of reach for him. The Summer Research Program was one. He never applied. "It was daunting to me to sign up for this thing that I thought only highly qualified students got into," he admits. "I was scared."
Eventually, opportunity came knocking. In February 2022, he received an email from a professor he had never met. "It was from Professor Baldrige, and she wrote, 'Hey, do you want to come work on this NASA grant?"
Ralleta wrote back immediately: YES. "What was I gonna do? Say no?"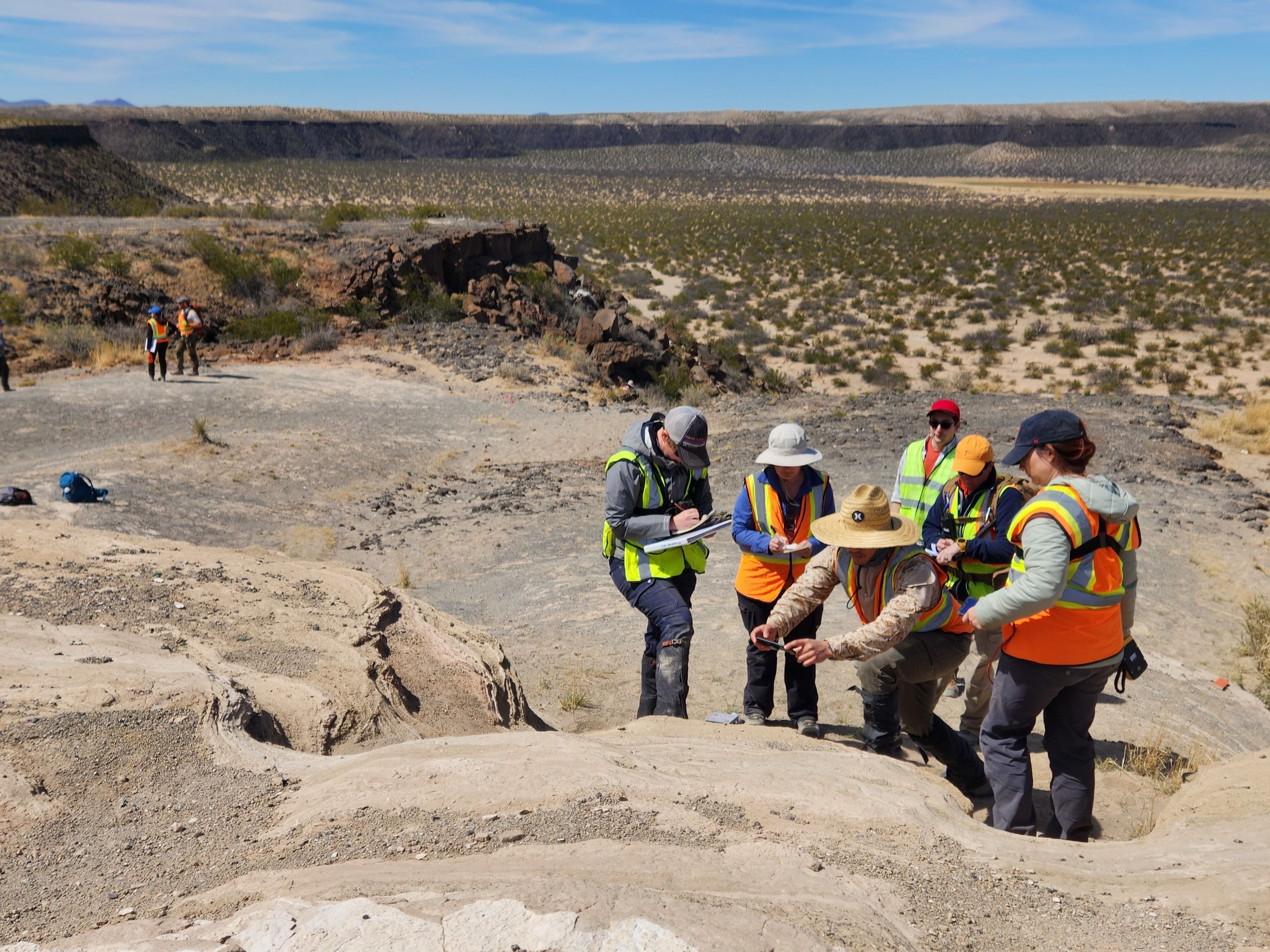 Liftoff
Back at Kilbourne, the astronaut stand-ins are gathered around a jumble of mantle xenoliths at the crater's edge. Other RISE2 researchers cluster around them, quietly observing and scribbling in their notebooks. It all feels a bit like a movie set. Ralleta and I have fallen silent. 
Then, it's Ralleta's moment—the astronauts call for the XRISE. Gripping his device, he saunters over and hands it off. One astronaut hovers the XRF gun over a grapefruit-sized xenolith embedded with green, pea-sized crystals. As she scans it, another astronaut holds the XRISE, waiting for the results to display. Ralleta stands by to troubleshoot. 
But no need: A few seconds later, the screen displays its graph, its paper-like E ink display easily visible in the mid-morning sun. The xenolith is basalt—the same rock that makes up the lunar maria, the expansive plains on the moon early astronomers mistook for seas. 
Ralleta gives a satisfied nod. Is it exciting to see it work? I ask him. "One hundred percent," he whispers. "That's my archetype. It's like Tiger Woods when he makes a nice putt."
It's thrilling for Baldridge, too. "We're directly impacting how the Artemis astronauts are going to be doing science on the surface of the moon," she says. "For Jared to see how his work is going to influence the space program is really big."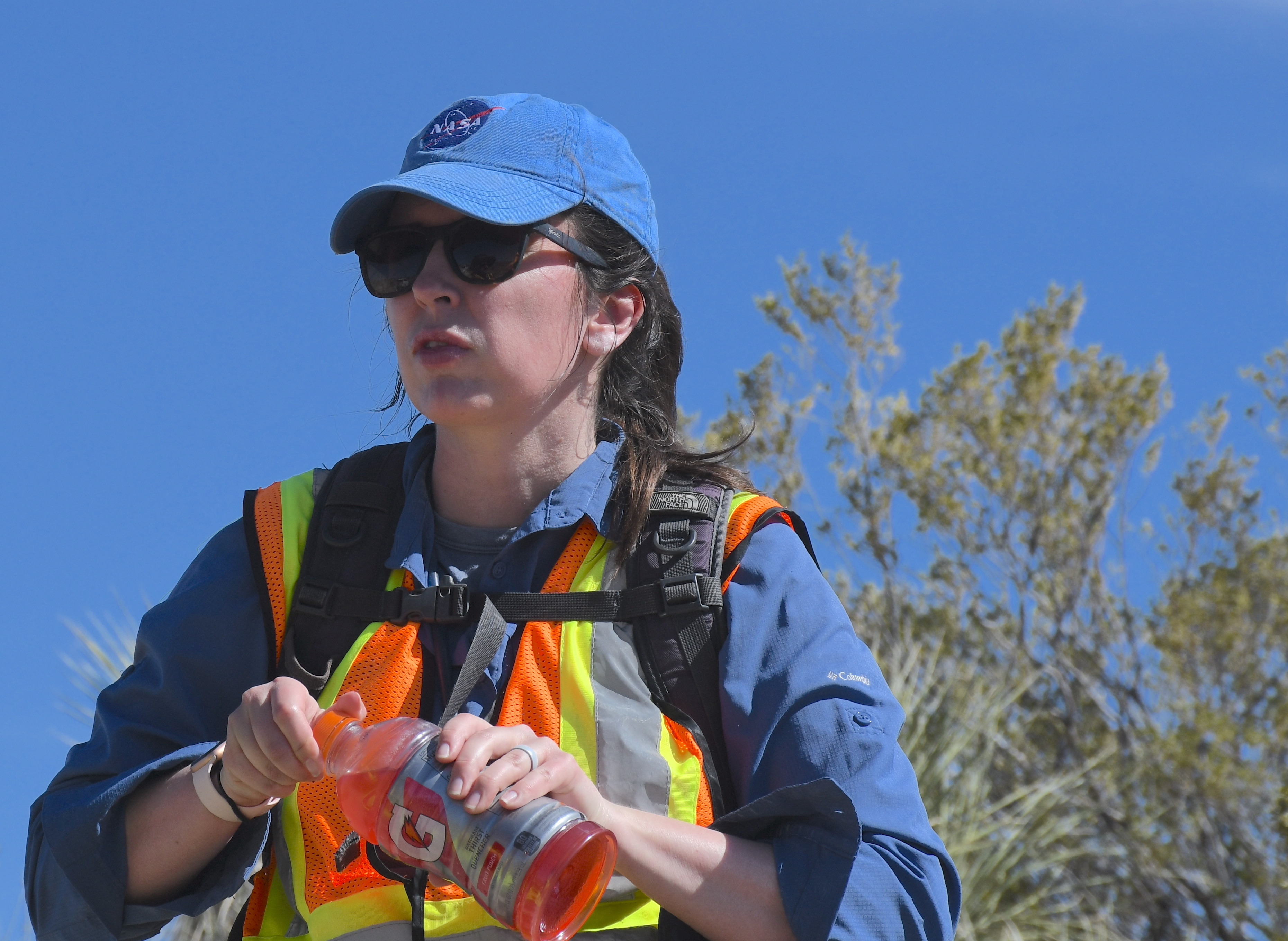 Later, after the RISE2 team have all piled into their respective vehicles and driven the bumpy backroads to another section of the crater, I talk to the astronaut who operated Ralleta's XRISE: Kelsey Young, a research scientist in planetary studies from NASA Goddard Space Flight Center. She won't be flying to the moon in 2025, but she'll be as close as one can get. Young will be among a select group of NASA scientists in the Artemis control room. 
Young is in her mid-30s, sporting a NASA baseball cap and a pair of polarized sunglasses from REI. She fiddles with a bottle of Gatorade as we speak; electrolytes are crucial out here. The crater stretches out behind us, and beyond it, the distant West Portillo Mountains, rearing up like a stegosaurus spine. It certainly feels like we're millions of miles from home. But then a hawk arcs over our head, screeching, yanking us back to Earth.
"We're directly impacting how the Artemis astronauts are going to be doing science on the surface of the moon," says Alice Baldridge. "For Jared to see how his work is going to influence the space program is really big."
Young can't confirm whether Ralleta's XRISE will reach the lunar surface. "The payloads that will actually fly on the Artemis missions have not been selected yet," she says. What Young can speak to, however, are nonlinear trajectories to NASA. Like Ralleta, she took part in a NASA expedition that changed everything. She was a first-year PhD student at Arizona State then, unsure of where she was headed. "The people on that expedition inspired me, letting me know there was this path that I had no idea about." 
All it takes is a moment of inspiration, Young says. "Even if it's some side comment somebody says on the car ride back to dinner, it can spark a thought of, 'Okay.' You can start to extrapolate and put yourself in that space.'"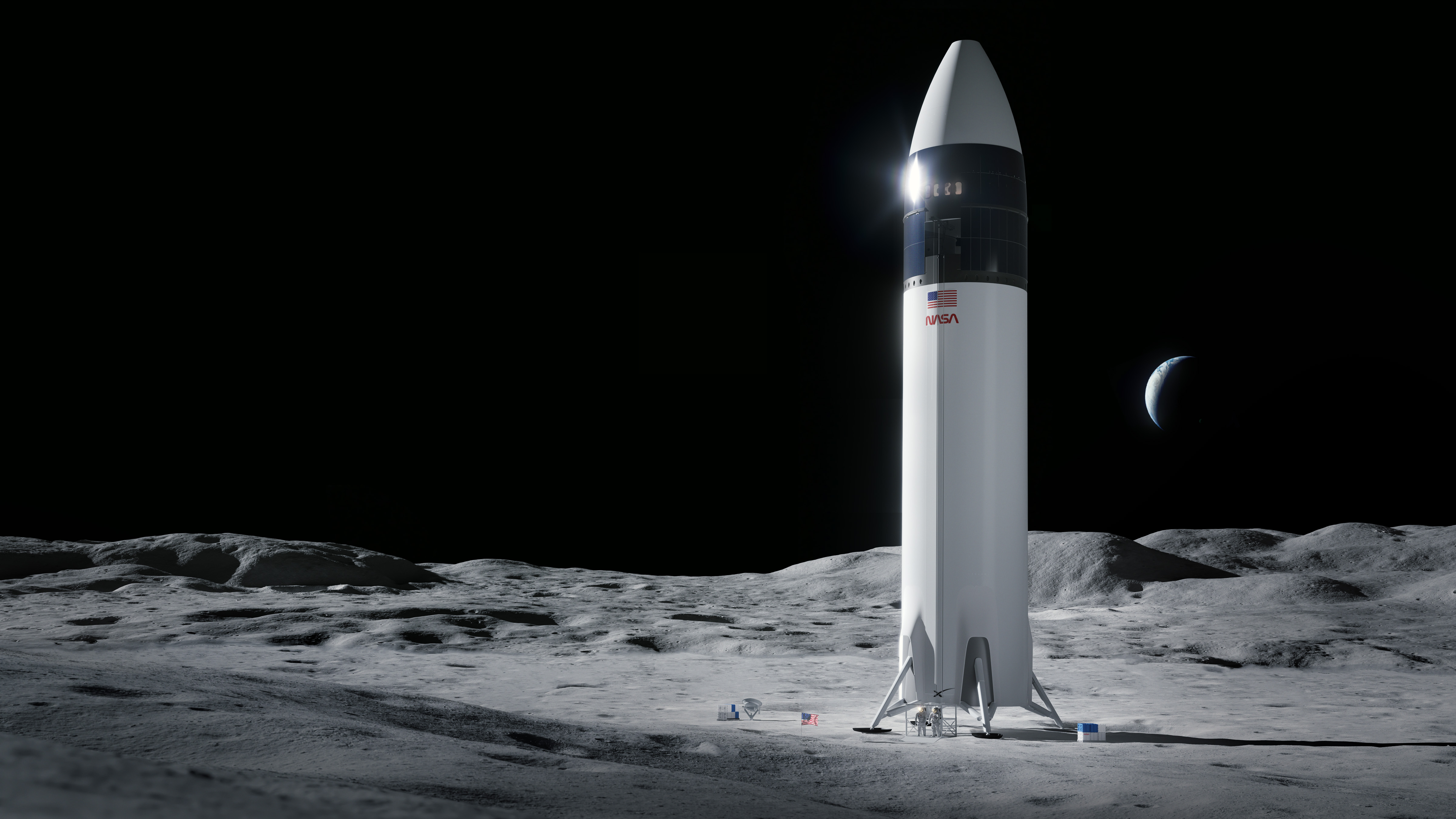 Young's words prove a bit prophetic. Hours later, as the sun dips behind the Portillo Mountains and tangerine light spills out across the volcanic field, Ralleta sits in the backseat of a car en route to our hotel, head pressed against the window. He looks thoroughly exhausted. In addition to assisting with the XRISE, he has spent much of his day getting RISE2 cars unstuck. Even for all-terrain vehicles like these, parking in the desert can be treacherous; one wrong turn and your tires can be swallowed up by the sand. At least four times today, Ralleta has had to retrieve the plastic traction pads, lodge them under the wheels, and guide bewildered drivers out of the dunes and back onto the hardpacked road. It's a skill he picked up during the previous year's expedition, he tells me later.
In the front seat, Baldridge and another NASA Goddard scientist are toying around with a nickname for Ralleta. "Car Captain?" Baldridge ventures. "How about Car Captain?"
"Yes!" the NASA scientist exclaims. "We can put that on his Goddard nameplate—'Jared Ralleta, Car Captain.'"
There's that nonchalant grin again. "I mean," Ralleta says, "I wouldn't say no to that…"
He leans his head back against the window, still smiling. Outside, the Chihuahuan Desert whizzes by, not quite at the speed of light. But it's not hard to imagine.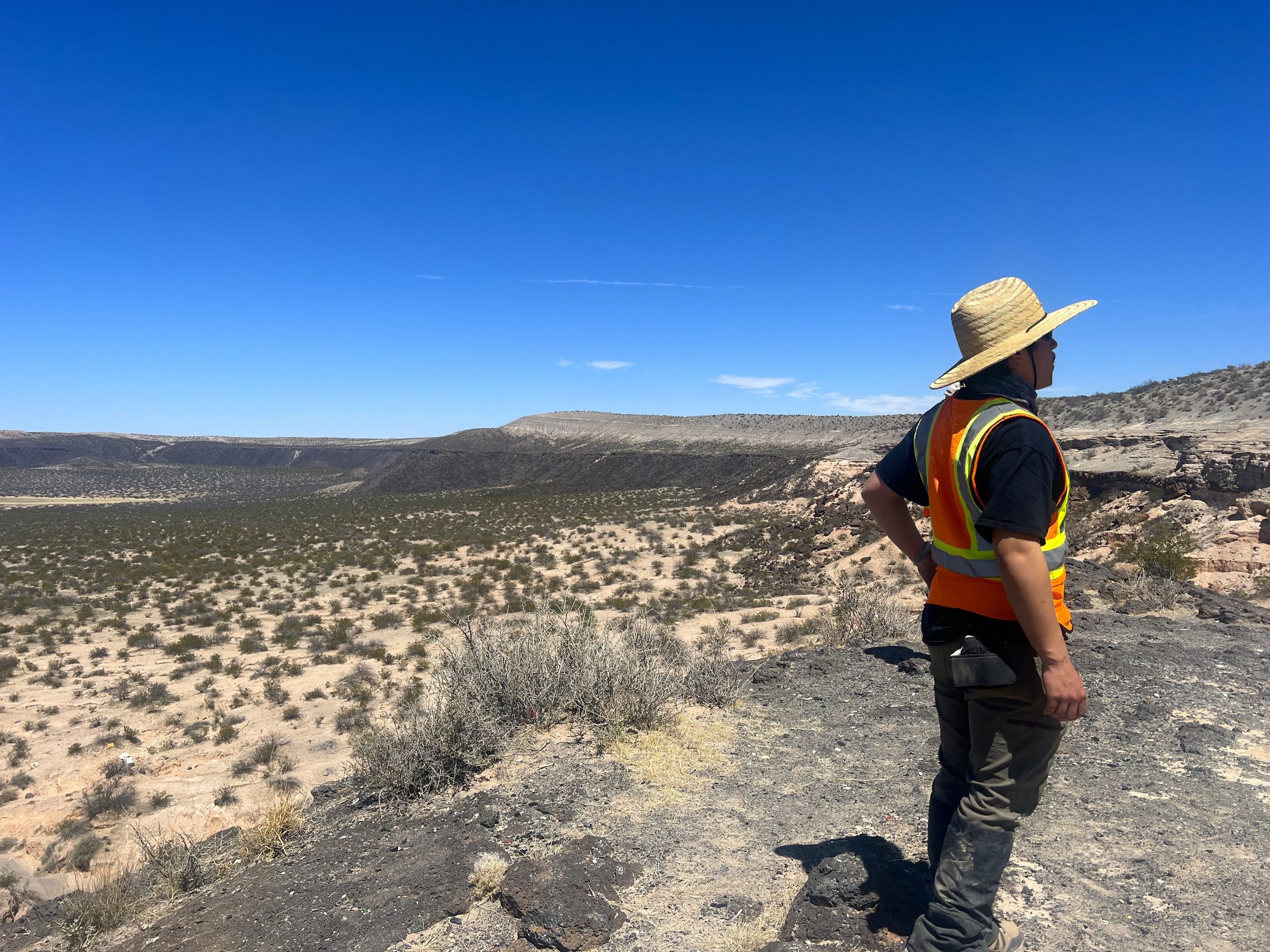 Steps
In July, Ralleta takes one giant leap toward that potential future. He attends NASA Exploration Science Forum 2023, for which thousands of scientists and scholars converge on the University of Maryland. Alongside dozens of other presenters, he steps up to the podium and gives a lightning talk on the XRISE and his findings. Later in the week, he wins second place at the Student Presentation Competition for his research poster.
Presenting onstage was the most nerve-wracking, he tells me later. "I was almost panicking." But Ralleta took some advice from RISE2 colleague Ben Feist, a NASA software engineer who also attended the conference. "He told me to just stand up there, look around the room and get used to being the front of it, because that's where I was going to be." He did just that, scanning the crowd as he waited to speak, and felt his panic subside.
I point out that he's been doing a similar kind of immersion therapy with NASA, spending his days with field scientists in the desert. Is that ultimately where you want to be? I ask.
He doesn't hesitate. "I think NASA is definitely the place for me." 
Has Ralleta found his place in the universe? Perhaps. If nothing else, he's definitely getting used to being where he wants to be: building tools that help reveal more of this corner of the galaxy. 
LEARN MORE about Saint Mary's School of Science and its award-winning alumni. APPLY TODAY.
READ MORE about Saint Mary's one-of-a-kind Summer Research Program.
---
Hayden Royster is the Staff Writer at the Office of Marketing and Communication for Saint Mary's College. Write him.