Room to Breathe: Environmental Research Is Just Part of Desiree Sturrock's Journey
Through the 2023 Summer Research Program, Sturrock has been studying the impact of port pollution on nearby communities. For her, the research is also one of many ways SMC allows her to "combine everything and make a place for myself."
Desiree Sturrock '25 has plenty of fond memories of her seaside home near Long Beach, from perusing vintage shops on Retro Row to attending violin lessons at her teacher's home near the Cal State campus. Looking back, though—especially now that she's pursuing a BA in Environmental Studies and is one of Saint Mary's Sustainability Interns—pollution looms large. "I love Long Beach, and I have so many special ties to it," Sturrock says. "But from an air quality standpoint, it's just sad."
The Port of Long Beach is the second largest in America, seeing more than 9 million cargo containers each year; as a result, the city has the worst air pollution in the country. On a summer afternoon, Sturrock and I are standing on the fringes of another, smaller port on the San Francisco Bay—Oakland International Container Terminal, about a fourth of the size of Long Beach's port. Sturrock has spent the last few weeks poring over air quality data from both ports. It's part of her work in the Summer Research Program, through which Saint Mary's undergrads conduct research alongside a faculty mentor. Specifically, she's studying how port pollution disproportionately affects impoverished communities of color in Long Beach and Oakland.
It's a bright, breezy afternoon in Middle Shoreline Park. Out across the bay, a line of San Francisco skyscrapers seem to be restraining the oncoming fog. Behind us: stacks and stacks of shipping containers, and towering above, the tallest container cranes in the nation, looking like a row of steampunk brontosauruses.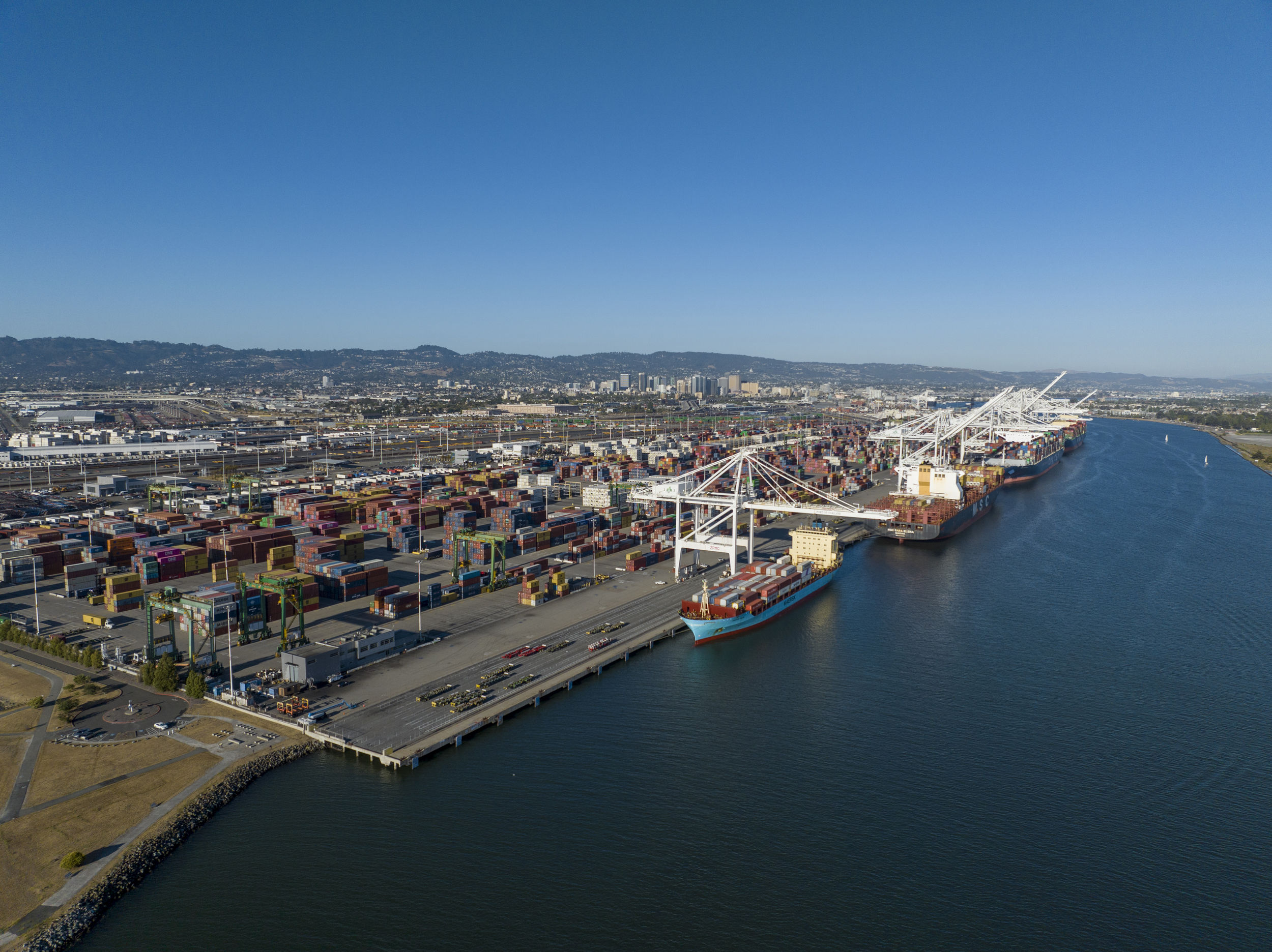 Out on the water itself, more than a dozen cargo ships wait to dock and unload. These ships are a massive source of pollution, Sturrock explains. "They're just sitting here like cars stuck in traffic, but on an even larger scale." Most cargo ships burn bunker fuel—low in cost, high in sulfur and soot—releasing toxic fumes that offshore winds blow inland. That, combined with diesel exhaust from trucks, trains, and other equipment, creates a staggering amount of ozone pollution. 
Steps to reduce that pollution are being taken: California ramped up its "at berth" rule this January, requiring ships to plug into onshore power when docked. The state is also working to replace diesel-powered equipment with zero-emission alternatives. Still, there's a long way to go. As one recent report revealed, a single day at the twin ports of Long Beach and Los Angeles produces more pollution than that region's 6 million cars combined. 
"Learn a Lot and Change the World"
A week before visiting the Port of Oakland, Sturrock and I meet up at a picnic table in Saint Mary's Legacy Garden—her favorite place on campus. It's July, so there's no one here aside from us and the bees. "The garden's pretty gnarly right now, but it's doing well," she tells me. "Plenty of strawberries and tomatoes and zucchini." In a few months, she'll probably find herself trimming the overgrowth; she's starting up a gardening club in the fall.
It's the kind of extracurricular experience Sturrock wouldn't have found time for before arriving at Saint Mary's. Prior to college, Sturrock lived and breathed cello, attending a highly competitive arts academy from 9th to 12th grade. "After six hours of classes, I'd have orchestra practice, which was two to three hours a day, every day," she says. " I sometimes had chamber music on top of that, and cello ensemble. Then I'd go home and practice for an hour at least." 
As she neared graduation, Sturrock had to make a choice: Did she actually want to become a professional cellist? It would require years of singular focus. By the time she began visiting colleges, she was nearing burnout. 
Ultimately, what she wanted was variety. "The main thing I was looking for in a college was a small school where I could pursue all of my interests," she says. In her senior year of high school, she sought out Colleges That Change Lives, a seminal educational guide that describes SMC as "a down-to-earth college [where] students make the connection between learning and life."
This resonated with Sturrock. As she was growing up, her father had always impressed upon her, "Learn a lot and change the world." Saint Mary's sounded like a place she could do both. A few months later, she visited the leafy, quiet campus. After meeting with faculty in the Music Department—including Sixto F. Montesinos Jr., head of instrumental studies—Sturrock knew this is where she wanted to be.
Desiree Sturrock on why she chose Saint Mary's: "The main thing I was looking for in a college was a small school where I could pursue all of my interests."
Master of Her Fate
Sturrock was drawn to major in Environmental Studies for the same reason she gravitated to Saint Mary's: her fondness for the outdoors, desire to do good, and intellectual curiosity. "It ties in so many disciplines," she says. "My favorite thing is combining everything and making a place for myself." She's certainly doing plenty of that: In addition to her major classes, serving as a Sustainability Intern, and starting up the gardening club, Sturrock is minoring in English and Music, works part-time in the Center for Writing Across Curriculum, and gives regular tours in the Museum of Art. With the college's new curricular changes, too, she's now exploring the possibility of pursuing a split major between Environmental Studies and Music. "Coming here, I've really been able to dedicate myself to a lot more things than I used to," she says. "It's been incredible."
She considers herself a humanities person at heart, a lover of big ideas and big books. Case in point: On her right forearm, she has a tattoo of a gate, a reference to a line from her favorite poem, William Ernest Henley's "Invictus." (If asked, she will, bashfully, recite all 16 lines from memory.) But after doing some general air pollution research for an Environmental Politics course in Spring 2023, she wanted to dig deeper into data. So she applied for a Summer Research Program with Joel Burley, a Chemistry professor who has conducted extensive research on ozone levels in California's national and state parks. Burley accepted her alongside two other students, Biology majors Angelina Fleming '24 and Connor Trebbien '24, who are pursuing their own projects on air pollution. 
"The Summer Research Program provides talented students like Desiree hands-on access and engagement in opportunities they otherwise probably wouldn't have," says Professor Joel Burley.
Using publicly available data on air quality, vessel traffic, and wind direction, Sturrock has been mapping the neighborhoods in Oakland and Long Beach that experience the brunt of port pollution. In addition to warming the climate through carbon emissions, she notes, the particulate pollution impacts poor communities of color the most—areas that were profoundly shaped by discriminatory redlining and freeway construction. "Housing is always cheaper in these areas because they're less desirable." In port-side West Oakland, where 8 out of 10 residents are Black, cancer rates are higher, life expectancy is lower, and there are 88% more asthma hospitalizations than in the rest of the region. In the Latinx, Asian American, and Black communities living near the Port of Long Beach, health data paints a similarly grim picture.
Compared to cars, planes, and other major polluters, cargo ships have been understudied and underemphasized, Sturrock says. She recognizes the responsibility there—and the opportunity. 
Joel Burley has been involving students in his research at Saint Mary's for going on two decades. "The Summer Research Program provides talented students like Desiree hands-on access and engagement in opportunities they otherwise probably wouldn't have," he says. Having that time to explore is tremendously valuable.  "You try a lot of stuff, you find out what you like or what you're good at, and you refine or narrow down your preferences."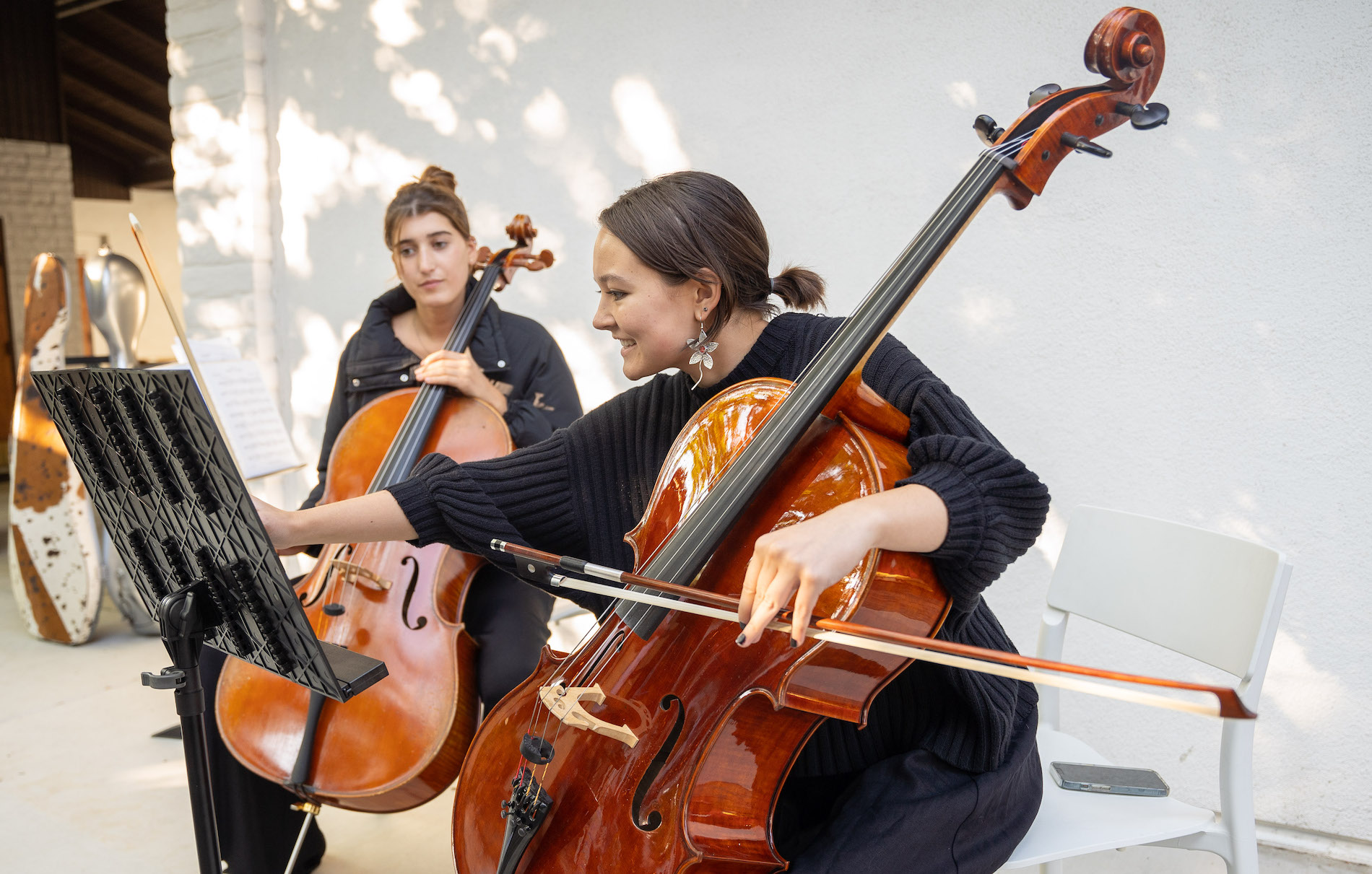 As Sturrock looks toward the future, she's considering a career in sustainable farming practices. She's already begun exploring internship possibilities for next summer, potentially with the Contra Costa Resource Conservation District. She has also picked up the cello again; stop by the Museum of Art and you might find her performing a Bach suite or even an original composition. There isn't the same pressure there once was, she says. Now, she can just play to play. 
Saint Mary's has offered Sturrock the space to ask the big questions, she says. "Do I make myself happy? Do I love people and do they love me?" At the same time, she's mindful of the fact that there are those who don't have the same opportunity for self-discovery, who can't pluck fresh strawberries from their college garden or breathe unpolluted air. 
Making life more liveable for others is what drew her to Environmental Studies in the first place. Her father charged her with "changing the world," and Sturrock has taken it to heart. "Ever since I was young, I've wanted to find a way to do something I love and also makes a difference," she tells me. "This path seems like the most viable way to get there."
LEARN MORE about Saint Mary's School of Science and opportunities through the Summer Research Program.
READ MORE about student Jared Ralleta '24, who built a tool astronauts can use on the Moon, Mars, and beyond.
APPLY to Saint Mary's today.
---
Hayden Royster is Staff Writer at the Office of Marketing and Communication for Saint Mary's College. Write him.