In Their Own Words: Autumn Adeyan on the Jackie Robinson Fellowship, STEM, and Planting a Legacy
She's a Biology major, has volunteered in the Legacy Garden, and she has undertaken community work outside of campus. She also recognizes the importance of making sure others understand the work she's doing.
In Their Own Words is a series in which we introduce you to the Gaels you need to meet—students, alums, faculty, and staff—and let them tell their own stories, in their own words. 
Meet Autumn Adeyan: a senior at Saint Mary's and a Jackie Robinson Scholar. As a Biology major, Autumn is passionate about science, skincare, and representing Black women in STEM fields. She brings this passion to everything she does, whether she's conducting experiments in lab class or planting seeds in the Legacy Garden.
On becoming a Jackie Robinson Scholar
I was in my senior year of high school and looking for scholarships, because I knew that in order for me to go to college, I would have to get some extra help. For the foundation, the questions were oriented around: Who was Jackie Robinson? What did he really do for his community? And why is he prominent? It's important to understand how he has an identity that goes beyond being a baseball player: He really cared about the education of young Black Americans and people who didn't have great opportunities. 
One of the main essays that I wrote was about how I wanted to go into dermatology. When I moved to Castro Valley from Hayward, I faced a lot of different pressures that made me feel not so connected to myself. I believed that becoming a dermatologist would help me help others instill some type of familiarity with themselves. If you don't feel comfortable with how you look, or you feel like who you are and how you look don't combine, that can create a disconnect and hurt your overall sense of self-comfort. It's not necessarily, You gotta be beautiful. No, it's just whatever you need to do to make yourself feel comfortable.
So I applied and then waited. Then the pandemic hit in March 2020. In May, I got an email saying I would receive the scholarship. At that moment, it kind of put into perspective how much work I had to do to get that scholarship. You have to have a high GPA and do a lot of community events. They're looking for leaders who care about what they're doing and making a greater impact.
Major league opportunities
Thanks to JRF, I was able to obtain an internship with the San Francisco Giants last summer in their Community Relations department! Now, as an East Bay resident, I would have to say that the Oakland A's are my favorite. But as an intern, I worked to strengthen the relationships between the SF Giants and the Bay Area community. Additionally, JRF celebrates each JRF scholar every year for Jackie Robinson Day at their nearest stadium, so they each get mentioned on the big screen, receive a jersey, and can invite family along. Last year, I was invited to the SF Giants game, and this year, I was able to attend the Oakland A's game. It was a very cool experience.
"I try to make my presence known and let people know that I am here to learn and I care about what I'm doing."
Why Saint Mary's
Saint Mary's was actually the first school that offered me admittance, and they gave me the Gaels Scholar's Award. That made a big difference. I was also accepted to a college in Los Angeles but without financial aid. SMC is closer to home, and I wanted to kind of stick by my parents. With the pandemic in 2020, I was telling myself, You don't know how things are gonna turn out in the next couple years. 
Expectations and opportunities for JRF Scholars 
You have to make sure you volunteer in the community, and you have to maintain a GPA over 2.6. But if you get to a 2.6 and start going lower, they don't just take away the scholarship, they start having meetings with you to make sure you're on track. So there's a buffer. And I was really grateful for that. Because my first year here, over Zoom, I really struggled; it was a hard transition. My GPA did drop, and I had to take a semester off, but then I came back. And I'm still gonna graduate on time.
We have to attend at least two events that are hosted by JRF, which are sponsored by the foundation's partners, and the Mentor Leadership Conference, which is held yearly in New York. The conference is meant to empower JRF scholars by introducing them to industries they are interested in, connecting them with fellow scholars, and instilling confidence in their futures. We flew out to New York and stayed at a Marriott right on Times Square. We got to meet people at the foundation, alumni, and people who are prominent in their fields. I got to meet Spike Lee, which was pretty cool.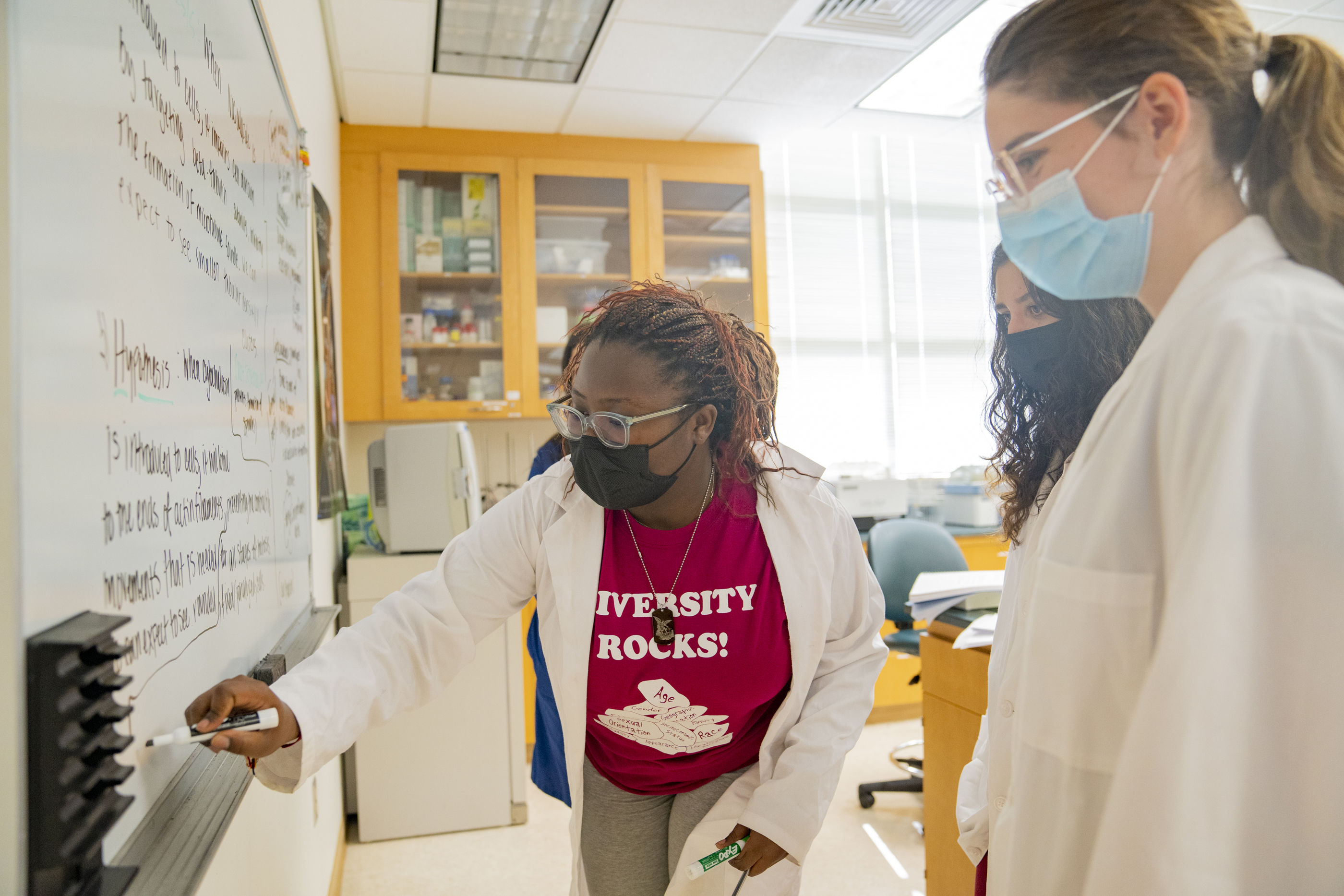 STEM and making her presence known
My whole life has been kind of STEM-oriented. I went to a lot of different STEM camps in middle school and high school. I took AP Bio my junior year of high school, which was a very difficult class, but I liked that biology explained the sub-components of life—how it all fits together. 
When I'm in my current science courses at Saint Mary's, I try to ask questions and really be present. There are so few Black people—at least, Black women—in my classes. I try to make my presence known and let people know that I am here to learn and I care about what I'm doing. Maybe I'm not thinking about it the same way this person's thinking about it, but this is my interpretation. 
Looking past college, I'm still very interested in dermatology. But on my path there, I want to give myself the chance to explore different careers. I would love to go into bioengineering; when I was working at the Legacy Garden, I applied for some ecological internships. I'm also looking at internships in the biomedical field and engineering.
Growing her roots on Saint Mary's campus
As a JRF scholar, we have to make sure we're involved with a school community or outside community in some way. Last semester, I volunteered at the Legacy Garden at Saint Mary's. We replanted some of the plant boxes, we did a lot of weeding, and we were trying to renovate some sections of the garden.
I also did a debate team my sophomore year. Being a part of debate helped me realize how much I actually knew about the world and better understand my existence within it. I was also exposed to a lot of other people who possessed different knowledge than I had: the United States government, international laws, and different happenings on a close level.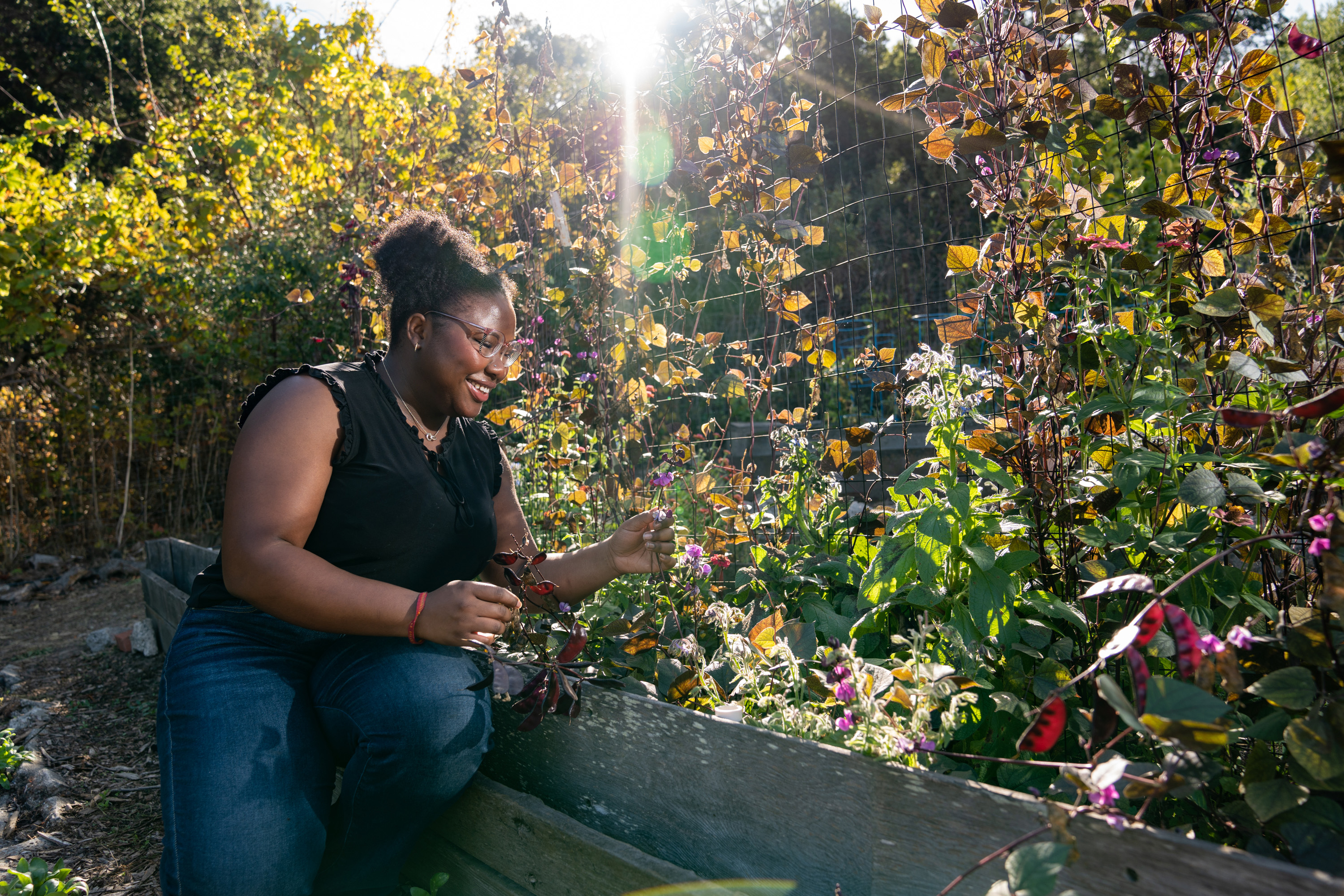 Expressions of Blackness: Wayward Caring
I was invited to present at an event last year, in spring 2022, called Expressions of Blackness, where I did a presentation about an affirmative argument I made for a debate tournament. It was about "Wayward Caring," inspired by the author Saidiya Hartman. 
Wayward Caring is about creating community with people around you and honoring your natural ways of expressing yourself. While we're in the debate space, we're so often evaluating people off a Eurocentric metric based on what and who debate was originally created for. Debate frames itself on three things: ontology, ways of being; epistemology, ways of knowing; and pedagogy, ways of teaching. These concepts affect the type of conversations we are able to have, and as a result, I don't always experience respect for my own natural ways of being and knowing as a Black woman. Wayward Caring, on the other hand, is about creating a space that is safe. It's about connecting with other people who care about us and accept our unique ways of being. 
When I was speaking at the event, I just felt so alive. That night inspired me to instill who I am into everything I do. 
(This interview has been condensed and edited for clarity.)
ATTEND the next Expressions of Blackness Event at the 2024 Cultural Night Showcase: "Beyond Our Silhouettes."
LEARN HANDS ON by volunteering at the LEGACY GARDEN today.
Interested in Debate? JOIN Saint Mary's nationally ranked Macken Debate and Speech Team 
---
Jordan Sapp is a Graduate Editorial Fellow in the Office of Marketing and Communications. Write her.