Orientation Leader Application
Body
Image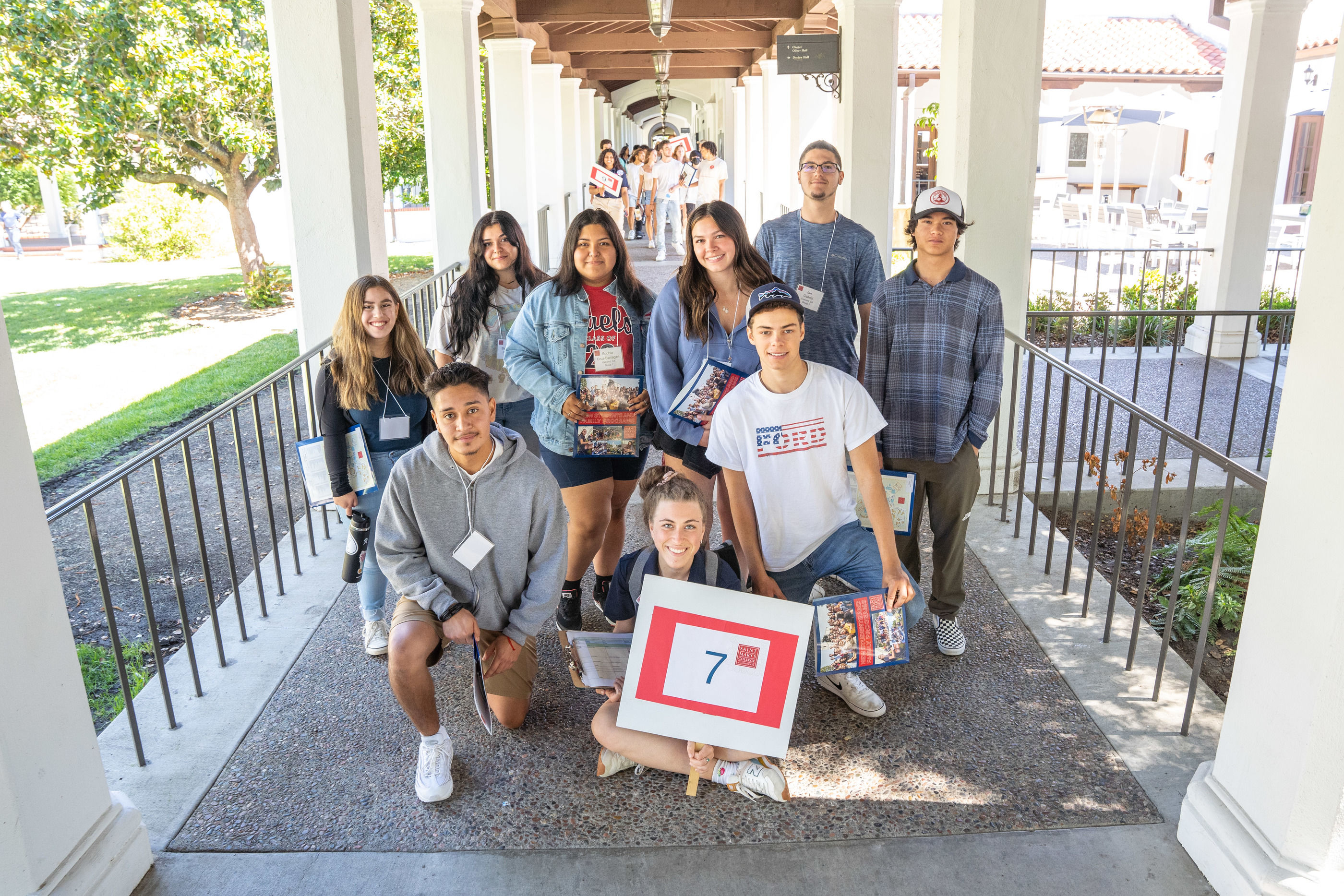 ORIENTATION LEADER INFORMATION SESSIONS
Attend ONE of the following Information Sessions to learn more:
Feb. 13, 6pm - Zoom
Feb. 14, 3pm - Dante 204
Feb. 15, 12-2pm - De La Salle Quad
Feb. 17, 12-2pm - Food Truck Friday
Feb. 21, 8pm - Ageno C, 2nd Floor Lounge
Feb. 22, 6pm - Zoom
Feb. 27, 9:30am - Outside Oliver Hall
PROGRAM
An Orientation Leader is an undergraduate who, along with student coordinators, assists the Office of New Student and Family Programs with the planning and implementation of Orientation and Weekend of Welcome programs at Saint Mary's College. Orientation Leaders facilitate various aspects of student and family programs, manage events, and serve as student representatives of the College. Orientation Leaders assist first year students with their adjustment to the college both socially and academically. In order to participate in The Orientation Leader Program, students who are selected must agree to a full time commitment during the month of June and the latter half of August 2023.
RESPONSIBILITIES
Attend all scheduled meetings with the Orientation Leader team.
Must be available to assist with the organization and implementation of Orientation and Weekend of Welcome programs, including sessions in June and Weekend of Welcome from August 24-27;
Facilitate various aspects of Orientation student and guest programs, including workshops, interest sessions, and discussion groups.
Manage the planning and implementation of events during the Weekend of Welcome.
Assist with registration for orientation program participants.
Enforce College, residence hall, and orientation policies during the programs.
Serve as a general resource for new students and families, and campus officials.
Identify and appropriately respond to any academic or co-curricular issue that may arise with student advisee(s).
Work collaboratively with other student staff to promote and/or assist in the planning of programs that promote learning in the First Year Experience areas of interest.
Assist the Office of New Student & Family Programs with other duties as assigned.
TRAINING
There will be a mandatory training in June that will examine the role of the Orientation Leader within the College community and in the recruitment and retention of new students and the support of their family members.  Orientation Leaders assist with all aspects of orientation preparation, event setup, and breakdown.
QUALIFICATIONS
Candidates must be in good academic and disciplinary standing with a minimum 2.5 cumulative GPA. Good communication and public speaking skills, professionalism, teamwork, a prompt and dependable work ethic, and the ability to make new students and their families feel comfortable, are essential for success in the program. Campus involvement and an understanding of Saint Mary's College resources are preferred; bilingual language ability is a plus. CANDIDATES CANNOT BE RESIDENT ADVISERS AND ORIENTATION LEADERS FOR THE 2023-2024 ACADEMIC YEAR.
COMPENSATION
This program offers a $1,000 leadership award gifted in June and August as well as provides on-campus housing during the June commitment. Awards are based upon the completion of tasks and the conduct of the individual.
Thank you for your interest in welcoming our newest Gaels and their guests!