Ethnic Studies Community Advisory Board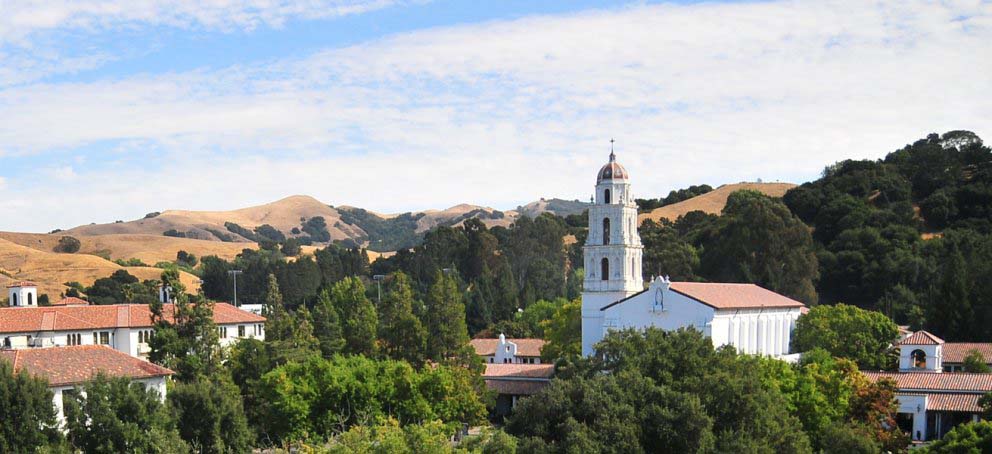 Body
Rebecca Anguiano, Ph.D., P.P.S.
Dr. Rebecca Anguiano is an Associate Professor in the Counseling Department at Saint Mary's College of California, and the Program Director of the School Psychology specialization. She earned her PhD in School Psychology from the University of California, Berkeley and is a credentialed, bilingual (Spanish-English) school psychologist and licensed educational psychologist. As a Brown Chicana woman, Dr. Anguiano's personal experiences have motivated her to focus her research and clinical work on lifting the voices of historically marginalized communities, especially Black and Brown children and their families, as they interface with prek-12 schools. At Saint Mary's she teaches Cognitive, Learning, and Development in the Social Context, Organizational System's Consultation, and School Psychology Seminar and Supervision. 
Dr. Anguiano's research has explored the translating practices of immigrant families, community organizing and popular education as methods for family engagement in schools, and culturally responsive data-based decision making to inform interventions for emergent bilingual students. She has been published in outlets such as the School Community Journal, the Journal of Youth and Adolescence, and Cultural Diversity and Ethnic Minority Psychology. Dr. Anguiano has provided trainings to community agencies and schools on trauma-informed practices, strength-based psychoeducational evaluations of bilingual children and youth, socially just family engagement, and anti-racist self-care for school leaders during the COVID-19 global pandemic.
Rocío Alejandra Ávila
Rocío Alejandra Ávila is the National Domestic Worker Alliance's (NDWA's) State Policy Director, where she is focusing on policy and legal advocacy of domestic workers through state legislative and municipal campaigns.  For the past 10 years, she has been advocating for the rights of low-wage immigrant workers, providing training and technical support to work centers and grass-roots organizing campaigns on issues related to the exploitation of immigrant workers, including immigration worksite enforcement and anti-discrimination laws.
Rocío was a Senior Fellow at the Women's Employment Rights Clinic (WERC), where she litigated domestic workers cases and served as counsel to the California Domestic Worker Coalition, which successfully led a statewide campaign to pass CA's DW Bill of Rights in 2013 and 2016.  Prior to WERC, Rocío co-directed the Workers' Rights Program at La Raza Centro Legal, Inc., in San Francisco (SF), CA. At La Raza, Rocío represented predominately Spanish-speaking immigrant workers in employment matters, with a focus on wage and hour law enforcement, employment discrimination and retaliation issues. She focused her work on impact litigation and administrative advocacy on behalf of domestic worker and day labors. While at La Raza, she developed expertise in combating wage theft using alternative wage collection methods, including community organizing and direct action campaigns to redress wage theft in the immigrant community. She is a graduate of Golden Gate University School of Law and the University of California, Santa Cruz. Prior to law school, she worked as a community organizer in San Francisco's Mission District, where she was born and raised.
Carlo Gómez Arteaga
Carlo Gómez Arteaga is a highly skilled organizer, policy advocate, facilitator, individual donor consultant and trainer focused on LGBTQI+, Immigrant, and Youth Equity. Currently, he is the Development & Communications Coordinator and was the former State End Child Poverty California Program Director for the Dolores Huerta Foundation. He is the co-founder of the first Spanish language support group for Latinx transmens, Grupo de Apoyo Fénix, located in Oakland, California. This is a partnership between The Pacific Center for Human Growth in Berkeley and Somos Familia Bay Area.   
For over 20 years, Carlo has organized for better policies and practices for Immigrant and LGBTQI+ communities through local, regional, and statewide coalitions.  Moreover, he has planned and organized trainings and convenings on various intersectional issues. As a New Voices Fellow through the Academy for Educational Development, funded by the Ford Foundation, he helped develop and consulted on the LGBTQI+ module for the National Network for Immigrant and Refugee Rights' BRIDGE Curriculum, which was used throughout the 2004 Immigrant Freedom Rides.  Furthermore, organizing a national network of immigrant rights coalitions fighting for the legal status of undocumented immigrants post 9/11.  In 2005, as Field Building Coordinator for Partnership for Immigrant Leadership in Action, he led the planning and development and organized the first ever Grassroots Leadership Gathering. This was a gathering of San Francisco Bay Area LGBTQI+, immigrant, low-wage workers, youth, and women's rights organizations, which explored connections to climate change. Carlo worked with interns from Stanford University to develop critical tools and popular education activities to help dispel myths and draw out the critical linkages and intersectionality of the root causes of displacement and impacts of climate change on our movements. Carlo holds a B.A. in Political Science & Spanish from DePaul University and studied Ethnic Studies at San Francisco State University.  He has certifications in: Peer Counseling, Group Facilitation, Youth Development, Harm Reduction, and Family & Community Engagement Practices.
Robert Jackson
Robert Jackson is the founder and Executive Director of Beats Rhymes and Life (BRL), a community organization that provides culturally responsive therapeutic services for youth and BYMOC who are not receptive to traditional therapy. BRL's programs provide culturally-congruent, strength-based, youth-centered approaches to healing, reducing the stigma around seeking therapeutic services in the communities we serve. Rob is a passionate community leader, educator, and multi-faceted artist who is intent on creating a community-based organization that identifies strategies to address socioeconomic injustices and mental health disparities. As a talented hip-hop artist, he brings a unique perspective in integrating the worlds of mental health and urban culture to effectively serve marginalized youth throughout the Bay Area.
Legacy Lee (M.A., M.A.) 
Legacy (he/him/his) holds two M.A. degrees in African-American Studies and American Studies from Boston University, as well as a B.A. from UCLA in American Literature & Cultures.  He is passionate about helping students dissect identity, power and privilege in their own lives, as well as society at large. He enjoys facilitating dialogues on the intersections of social identities as well as building ally-ship one relationship at a time.  As the former Assistant Director of the Intercultural Center (IC), Legacy spent four years training Intercultural Development (ID) Leaders to facilitate intergroup dialogues in the first year residence halls on identity development and also to facilitate campus workshops on hot button issues.  Legacy has enjoyed his return to Saint Mary's, where he began his higher education career in the office of Student Involvement & Leadership.  Currently he lives in San Leandro with his partner Lauren (an '08 SMC alum), their daughter Kamari, son Zavien and their two cats Copper & Coral.  In his precious free time he enjoys watching basketball (Go Warriors and Bruins!) creative writing, movies, cooking, gardening and camping.
Annaliese Martinez ('21)
Annaliese Martinez '21 graduated with a Bachelor of Arts in Ethnic Studies and English. During her time at Saint Mary's, she was a student member and the co-president of La Hermandad; an intercultural development leader and administrative assistant for the Intercultural Center; and the student co-chair of the Afro-Latinx, Latinx, Indigenous People's Action Subcommittee (ALLI-PAS). After graduation, Annaliese spent a year working as a writer for the Office of Marketing and Communications, and served as staff co-chair of ALLI-PAS. Annaliese joined the University of Texas at Austin's Mexican American and Latino Studies PhD program in the fall of 2022. Her research interests include the history of race construction, nationalism, and mestizaje in Mexico and how it shapes racial identity among Mexicans and Mexican Americans in the United States.
Brenda Martinez ('14, Salesforce)
Brenda  is the first Ethnic Studies major graduate of Saint Mary's College in 2014, when she advocated for an individual major in ES. Her advocacy led to the development of the ES major. She acts as a Corporate Philanthropy professional in her role as the Strategic Giving Program Manager for Salesforce. Brenda has a history of leading strong partnerships between companies, non-profits, and schools. Using her experience as a classroom teacher, Brenda excels at building relationships, engaging employees, and organizing complex events that link sectors together in order to benefit students, families, educators, and community members. She is currently a Latinx Community Leader, serving on the advisory board for the Oakland Public Education Fund, Life Goes On Foundation, and is a Hispanic Star Bay Area Hub Leader. 
Cynthia Martinez Psy.D.
Cynthia Martinez has a Psy.D. from The Wright Institute in Berkeley. She was a senior specialist and community support/trauma consultant at Aspire Schools in Oakland, where she provided consultation on trauma-informed and restorative justice practices to K-12 school personnel and mental health services to students. She was previously a post doc fellow scholar at Living in a Non-Violent Community (LINC) at UCSF and psychology intern at Children's Hospital. Martinez's dissertation examined the efficacy of school-based group and individual therapy for at-risk youth, and her scholarship centers on mixed-methods approaches to understanding parental involvement and community organizing in urban educational settings. She has made professional presentations at highly competitive conferences such as the National Association of School Psychologists (NASP) and APA, as well as local and state conferences and events. Martinez has been an invited lecturer and presenter at the University of San Francisco, City of Berkeley Mental Health, The Wright Institute, U.C. Davis, U.C. Berkeley, the San Francisco Boys' and Girls' Club, and Saint Mary's College, on topics ranging from stress and trauma, family engagement, restorative practices and social justice in multi-cultural contexts, intimate partner violence, and child psychopathology. Her theoretical orientation combines Critical Race Theory (CRT), popular education and community organizing, narrative and attachment theories, and a trauma-informed approach using CBT.
Fuifuilupe Niumeitolu Ph.D.
Fuifuilupe Niumeitolu is a Tongan/Pacific Islander scholar, poet and community organizer. Fui received her doctorate from the Comparative Ethnic Studies Department at the University of California, Berkeley in 2019 and is a Lecturer in the Department of Gender and Women's Studies at the University of California, Berkeley. She is currently working on two book manuscripts; The Mana of the Tongan Everyday: Tongan Grief and Mourning, Patriarchal Violence, and Remembering Va and a collection of creative non-fiction titled, Looking For Hine Nui Te Po: Searching for Our Mother. She is on the founding committee of the Moana Nui Pacific Islander Climate Justice Project and Oceania Coalition of Northern California (OCNC), community organizations working for Pacific Islander self-determination through organizing land and climate justice projects, facilitating groups and Ceremony with Pacific Islander prisoners in Northern California as well as creating solidarities with California American Indian tribes to protect Indigenous Sacred spaces in California and in the Pacific. In addition, Fui is part of the Sogorea Te Land Trust and she hosts the Sogorea Te Land Trust "Seeding Hope" speaker series, a monthly program in partnership with Diablo Valley College, that features distinguished Indigenous leaders, artists, scholars and cultural bearers from California and around the globe in conversation about issues of land rematriation, land and climate justice. She is part of the Pacific Islander Studies Initiative petitioning the state of California to include Pacific Islander Studies in the Ethnic Studies curriculum.
Zach Norris J.D.
Executive Director of Ella Baker Center for Human Rights, Author of "We Keep Us Safe", Co-Founder of Restore Oakland
Zach Norris is the Executive Director of the Ella Baker Center for Human Rights, author of "We Keep Us Safe: Building Secure, Just, and Inclusive Communities," and co-founder of Restore Oakland, a community advocacy and training center that will empower Bay Area community members to transform local economic and justice systems and make a safe and secure future possible for themselves and for their families. He is also a co-founder of Justice for Families, a national alliance of family-driven organizations working to end our nation's youth incarceration epidemic.
Norris helped build California's first statewide network for families of incarcerated youth which led the effort to close five youth prisons in the state, passed legislation to enable families to stay in contact with their loved ones, and defeated Prop 6—a destructive and ineffective criminal justice ballot measure.
"We Keep Us Safe," released in 2020, has been praised by Forbes, the San Francisco Chronicle, the Boston Globe, and Kirkus Reviews.
In addition to being a Harvard graduate and NYU-educated attorney, Norris is also a graduate of the Labor Community Strategy Center's National School for Strategic Organizing in Los Angeles, California and was a 2011 Soros Justice Fellow. He is a former board member at Witness for Peace, Just Cause Oakland and Justice for Families. He was a recipient of the American Constitution Society's David Carliner Public Interest Award in 2015, and is a member of the 2016 class of the Levi Strauss Foundation's Pioneers of Justice.
Albert Ponce Ph.D.
Albert Ponce is Professor of Political Science and Co-Director of Social Justice Studies at Diablo Valley College (DVC).  Professor Ponce earned his Ph.D. from the Department of Political Science specializing in race, ethnicity and politics and political theory at the University of California, Los Angeles.  His focus on racial violence situates race as a political technology in producing the 'legal' exclusion and disposability of migrants and vulnerable populations.  At DVC, he mentors students in the PUENTE and UMOJA programs and advises Men of Color Association (MOCA), Social Justice Club and Scholars for Justice club of formerly incarcerated students.  He also teaches Ethnic Studies in LTCC's Incarcerated Student Program at Folsom and High Desert State Prisons.  Professor Ponce is also a member of the Dreamers Alliance, building solidarity and resources for undocumented students beyond the campus as well as a member of DVC's Racial Justice Task Force.
Alvaro Ramirez Ph.D.
Professor Álvaro Ramírez is from Michoacán, México. He has taught at various institutions including the University of Southern California, Occidental College, and California State University, Long Beach. Since 1993, he has taught at Saint Mary's College of California where he is a Professor in the Department of World Languages and Cultures. He teaches courses on Spanish Golden Age and Latin American Literature as well as Mexican and Latino Cultural Studies. He also serves as Resident Director for the Saint Mary's College Spring Semester Program in Cuernavaca, México. Prof. Ramírez has published a collection of short stories, Los norteados (2016) which portrays the transnational experience of Mexican immigrants. In addition, he has edited two online publications of Conference Proceedings: Imágenes de postlatinoamérica, volumen 1 (2018) and Imágenes de postlatinoamérica, volumen 2 (2019). He has also published articles on Don Quixote, Mexican film, and Chicano Studies in several academic journals. His articles have likewise appeared in Cultura Colectiva, a popular Mexican online magazine.
Freedom Siyam
Freedom Siyam is a High School Principal in the Excelsior district of San Francisco.  He comes to the Bay Area by way of the Rainier Valley of Seattle, Washington.  With almost 20 years in education, Freedom has served in Seattle and Los Angeles as a classroom teacher, lead instructor, adjunct faculty, Dean of Students, Assistant Principal and Principal.  In tandem with his professional responsibilities as an educator, Freedom has been entrenched in the Filipino people's struggle for human rights and genuine democracy.  Today, Freedom is a member of the Filipino American Educators Association of California, the President of Kababayan-SF (Filipino Educators Organization) and is the Region 5 President of the Association of California State Administrators, representing administrators from San Francisco and San Mateo counties.  His credentials include his Bachelors in Ethnic Studies and a double major in History from Washington State University, Masters in Teaching from Whitworth University, and his administrative credential from the University of Washington's Danforth Educational Leadership Program. 
Valentina Velasquez
Valentina Velasquez class of 2020 graduated with a B.A. in Ethnic Studies and Spanish with a minor in Sociology. After graduation, Valentina spent a year as a AmeriCorps VIP CalSERVES Fellow at a non-profit called the Digital NEST, located in her hometown of Watsonville, CA. Valentina recently completed her fellowship and is fortunate to have been hired as full time employee of the Digital NEST. She leads a community based research program where high school students practice researching social issues prevalent within their community then create and implement a plan of action. Valentina is excited join CAB and continue her journey with the Ethnic Studies Department! 
Updated 1.31.22