Graduate Commencement 2023: A Look Across Generations
In a stirring Commencement Address, Dr. Karina Walters of the National Institutes of Health draws on connections between Saint Mary's Lasallian heritage and "the wisdom of the Native Peoples who continue to nurture the land on which we stand."
Many of the graduate and professional studies students striding across the Commencement stage on May 21 to receive their diplomas had made a similar stroll in years past, at the completion of their undergraduate journey.
For others—educators receiving a doctor of education or business leaders completing an executive MBA—it was a new milestone in their career. And for dozens of working dancers and artists with years of experience, this marked the achievement of a bachelor's degree through the LEAP Program in the School of Liberal Arts.
For all of those gathered, excitement and pride were the emotions of the day. The overarching message of the ceremony was one of connection—and gratitude—for the family members, faculty, staff, friends, and other supporters who were with these students along the way.  
"Let us lift up the gifts of our ancestors and our families," said Kaiyun Chen MA '23, who delivered the invocation. "We walk this journey knowing that we are never alone, that we carry the hopes and dreams of those before us. We give thanks to the people who made sacrifices, searched for hope, and supported our steps forward."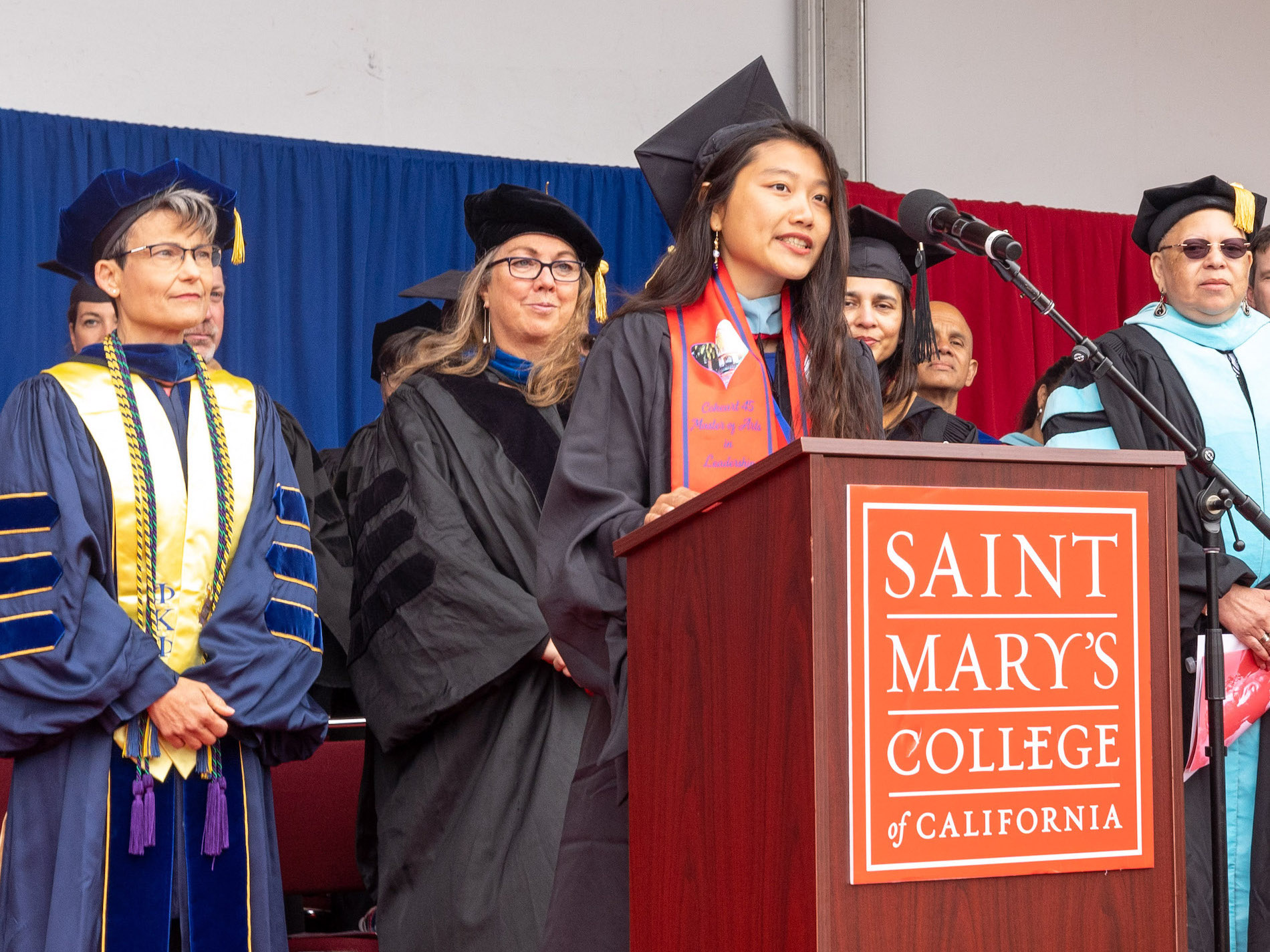 Chen received her degree in Leadership from the Kalmanovitz School of Education, attending Saint Mary's through the Lasallian Educator Fellowship Program. As a student, she has also been an active participant in the campus Mission and Ministry Program.
Jim Sauerberg, Chair of the Academic Senate, opened the proceedings before turning master of ceremonies duties over to Provost Corey Cook. Graduates beamed with pride and exuberance as, crossing the stage, they shook hands with their school dean and President Richard Plumb—and the audience showered them with congratulatory whoops and hollers.
Time and again, these Gaels of the hour raised their diplomas to the sky. Those were master's and bachelor's degrees, certificates and credentials from the Kalmanovitz School of Education. They were master's of arts and MFAs and bachelor's degrees from the School of Liberal Arts. And they were doctor of business administration, MBAs, and master's of science degrees from the School of Economics and Business Administration. School deans, part of the academic procession gathered onstage, introduced each graduate, and dissertation titles and advisors were also read as doctoral graduates were honored with a ceremonial hooding. 
Some graduates came to their program directly after their undergraduate studies, including a plus-one master's program offered in the School of Liberal Arts. Others were drawn to Saint Mary's as part of the next step in their professional careers. There were teachers and counselors, accountants and finance experts, sports and fitness practitioners, writers and artists, veterans and civic leaders and new citizens.  
Many students exhibited their creativity with poignant, personal messages atop their mortarboards. Some teachers had theirs signed by a whole classroom full of students. One graduate's message read, "All that I am and hope to be, I owe to those who believed in me." Another, with her MFA in Dance: "I am my ancestors' wildest dreams."
One Gael who had just completed his executive MBA carried a Snoopy stuffed animal, with the Peanuts pup clad in his own academic regalia. It was a congratulatory gift from his daughter.
Beneath his academic robes, Glasgow native Joseph Yacoubian MBA '23 wore a kilt—a family tradition. It was the same garment worn by his brothers for their graduations. Sports fans will recognize Yacoubian's name; he was also a part of the formidable Saint Mary's Men's Rugby team during his studies.
Ajmal Sarhadwal MS '23 has already translated his graduate degree in accounting into a role as a comptroller. Born in Afghanistan, he also carried a new sense of opportunity for his family: This year he became a US citizen.
Native Ancestry and Lasallian Heritage
Woven throughout the ceremony was the theme of ancestral connection. Keynote speaker Dr. Karina Walters—Director of the Tribal Health Research Office at the National Institutes of Health—shared a message of commitment and responsibilities, dreams and possibilities that span generations. Indeed, it was a day for generations and extended families to celebrate together.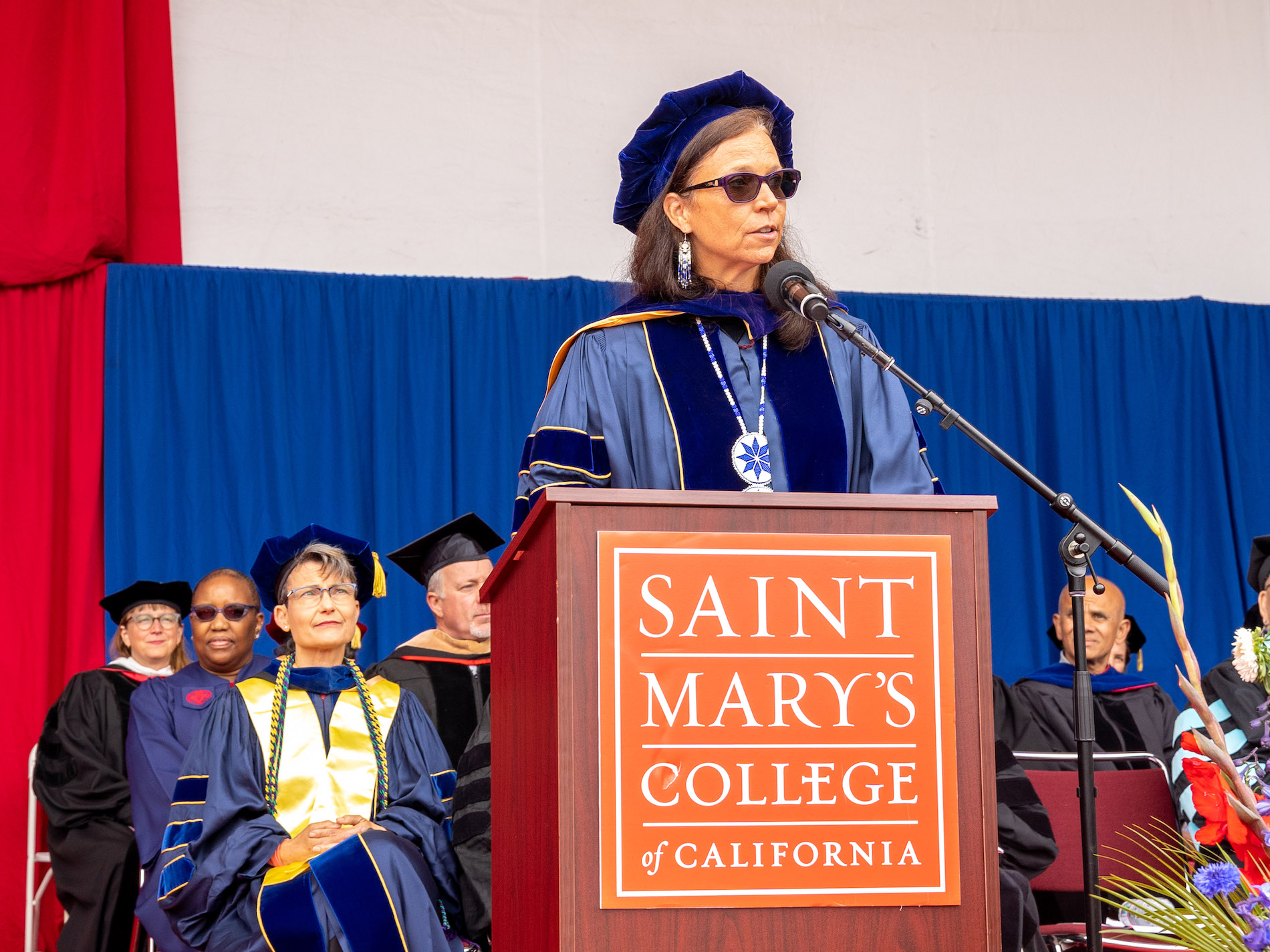 "Halito, sa hvchifo vt hattapushik achaspo achebachi ohoyo, micha Chahta hsia hoke. Yakoke, Okla Miwok, micha Okla Saclan," Walters began.
Delivering her greeting in the Choctaw language, Dr. Walters—an enrolled citizen of the Choctaw Nation of Oklahoma—later translated her welcome for the graduates and audience members.
"In our language, the word 'Halito' means 'hello,' but in actuality it is a shortened version of our word 'Halitopa'—which means 'sacred.' So, as I greeted you today, I was saying I see the sacred in you, between us, and in this place."
With that sense of place in mind, she said, "We stand at the intersection of two powerful traditions—the Lasallian heritage that has shaped this institution, and the wisdom of the Native Peoples who continue to nurture the land on which we stand. I want to acknowledge and honor these two extraordinary legacies, their shared values, and how they can be applied to the next steps in your remarkable journey."
"I want to acknowledge and honor these two extraordinary legacies, their shared values, and how they can be applied to the next steps in your remarkable journey."
Dr. Walters explained that water represents our "first medicine" and serves as a bridge to our past. "When you take a sip of water today, remember that your lips are touching the water your ancestors' lips touched," she said. "In this way, you are connected with your ancestors, and whether we recognize it or not, we carry the resilience as well as the trauma of our ancestors, meaning we carry the strength to heal past that trauma."
She elaborated on three additional elements—earth, "which reminds us of our responsibilities to all beings"; wind, which symbolizes the power of transformation and healing; and fire, representing our obligation to serve. Dr. Walters wove together an exploration of these metaphoric elements with the spiritual Lasallian mission of the College, asking those assembled to think in terms of the past, present, and future.
"What kind of ancestor did your ancestors dream you to be?" she asked the graduates. "What kind of ancestor do you want to be? What kind of ancestor, through your actions today and the next day, are you dreaming future generations to be?"
As she congratulated graduates on their achievements, she urged them to "trust in your abilities, embrace the lessons you have learned, and go forth with the knowledge that you have the power to transform the world. May your futures be filled with boundless opportunities, meaningful connections, and a profound sense of purpose."
The Day in Pictures: GRADUATE AND PROFESSIONAL STUDIES Commencement 2023