Homecoming 2023 to Celebrate Gaels Pride, SMC History, and Lifelong Learning and Connections
Set to take place Nov. 6–12, Homecoming Week at Saint Mary's offers a smorgasbord of activities for alumni, students, faculty, staff, and other Gael supporters.
A newly resurgent—and expanded—Homecoming 🚩 weekend will take over the Saint Mary's campus from November 6–12,  with a wide variety of events planned for alumni, students, family, and friends.
"Homecoming at Saint Mary's is a wonderful opportunity for past and present Gaels to come together and reconnect, forge new friendships, and celebrate our history," says Courtney Carmignani Andrews '05, MA '07, Assistant Vice President of Alumni Engagement & Events. "Whether one chooses to take in an artistic performance, revisit a favorite class, catch up with friends and professors, or enjoy a Gaels basketball doubleheader, there's something for everyone."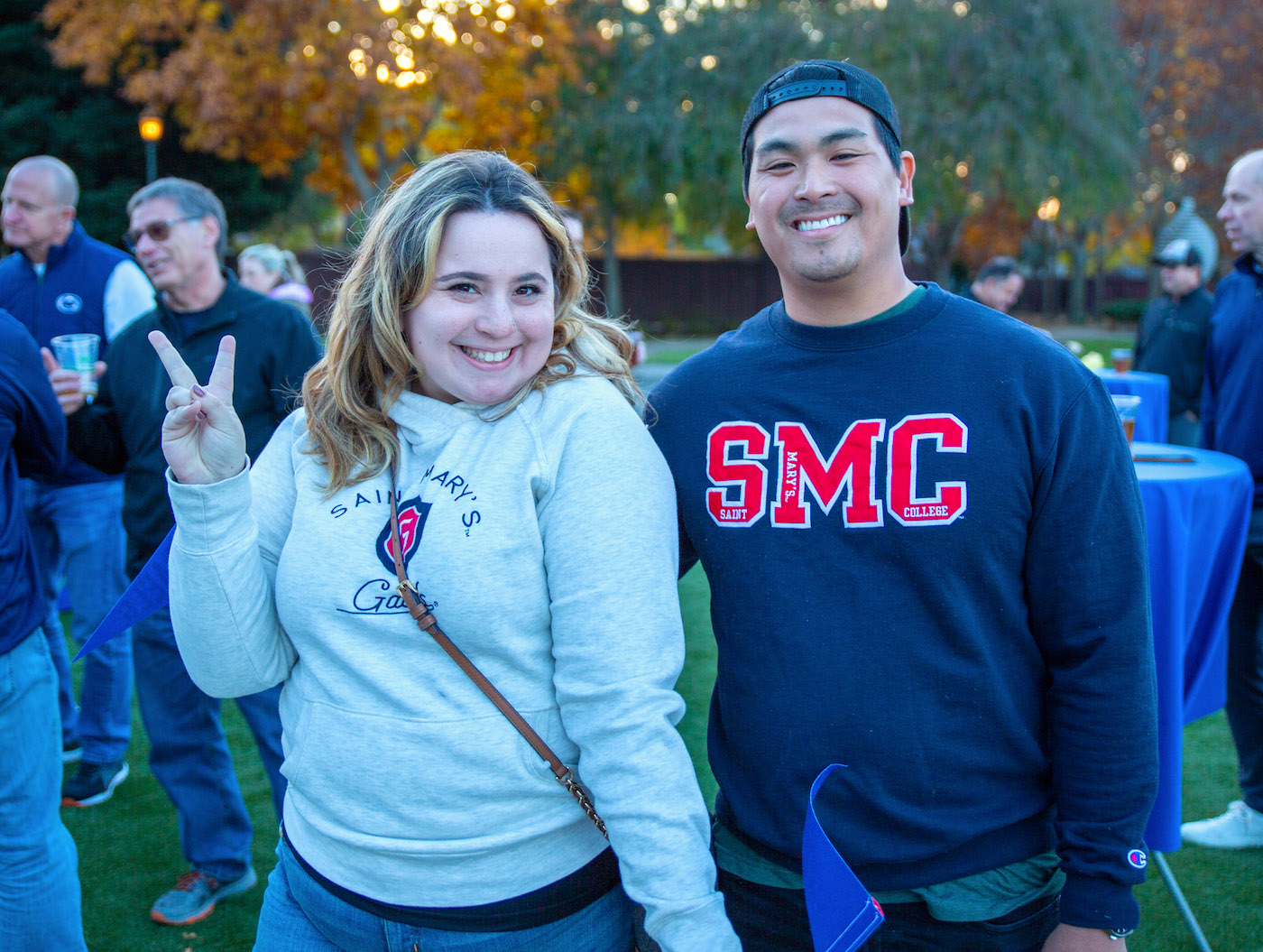 A Student-Centric Kickoff
Beginning on Monday, Nov. 6, current Gael students will get things going with "Blingo" gaming fun at 5:30 p.m. on the Brousseau Lawn. Other student-driven activities leading into the weekend include "Boas & Bagels" at 10 a.m. on Tuesday at Dante Quad and a screening of the popular film Mamma Mia at 7 p.m. Wednesday in Hagerty Lounge.
Then, in anticipation of the weekend's men's and women's basketball games, students will gather in a show of Gael Pride at an always-rowdy Basketball Tailgate at 5 p.m. Thursday at UCU Pavilion.
The weekend gets rolling on Friday with a flag-raising ceremony and BBQ out on De La Salle Lawn to mark Veteran's Day. Students, alumni, and other members of the campus community are all invited to help celebrate the College's veterans while, at the same time, gearing up for the weekend's Homecoming festivities.
Also on Friday, music and theatre fans ready for a night out on the town can take in a concert at Livermore's Bankhead Theater by famed performer Brian Stokes Mitchell, a Tony Award-winning actor with a powerful baritone voice. The evening will include a complimentary reception and viewing of six William Keith paintings currently on loan from SMC's Museum of Art. A 2-for-1 Homecoming discount is available for alums; use code "GaelsAlum" at checkout.
Gael students looking to extend their fun long into the evening hours won't want to miss Casino Night at 9 p.m. in the Soda Activity Center. It's the return of a Saint Mary's classic!
Events Galore on Saturday and Sunday
Homecoming Weekend swings into full gear beginning with a traditional Homecoming Parade at 10:30 Saturday morning, with decorated cars and college groups showing off their Gaels attire while making a circuit of campus.
Another featured event on Saturday will be the High Potential 50th Anniversary Brunch at the Soda Center from 11 a.m.–1 p.m. HP alums, fellow staff, and current students will connect and reconnect while looking back on 50 years of empowering, serving, and supporting students. Preregistration is now available.
Academic Open House and Seminar Session
Throughout the day, alumni and friends can reconnect with fellow Gaels and faculty and staff. Academic-based events for those who want to go "back to school." The School of Science hosts an open house at noon to hear about current student research and most interesting courses and laboratories. Professor Greg Smith opens up the lab for a fascinating look at "3D Imaging and Human Anatomy" where he'll demonstrate MRIs and CT Scans of COVID lungs, vaping lungs, and an aortic aneurysm; and he will touch on the impact AI will have on diagnosis. And if you miss debating and discussing great texts, return to the roundtable for a Homecoming Seminar class at 12:30 p.m. The text will be provided in-class, so there's no guilt in not doing the reading ahead of time! Registration is required for the Seminar class.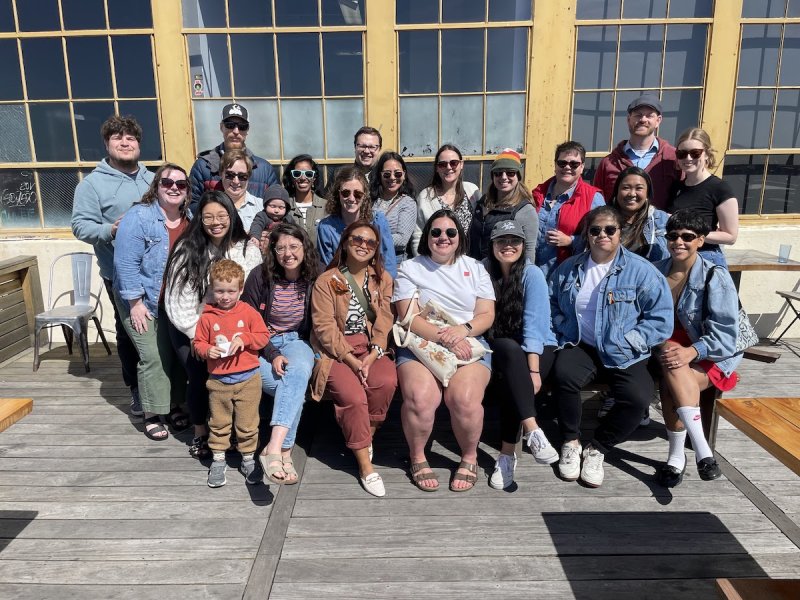 Mini-Reunions
What makes Saint Mary's special is the people, and Homecoming is the perfect time to rekindle shared bonds at a number of mini-reunions popping around campus. The Catholic Institute for Lasallian Social Action, well known as CILSA on campus, will meet in the traditional "fishbowl office" next to the quad at 12:30 p.m.. Graduates from the Honors Program are invited back at 1 p.m. Film-lovers can reminisce about their JanTerm at Sundance with Virginia Saenz McCarthy. Let's call it a matinee with a 1 p.m. start time. Current students interested in the 2024 trip to the film festival are also invited! And former Resident Advisors and Resident Directors can enjoy s'mores made over a campfire in the early evening at 6:30 p.m.
Open Houses
In true spirit of Homecoming, several campus offices are offering open house style events for newcomers to drop in and say hi. Early in the day, the Division 1 Beach Volleyball team is playing an exhibition match on the beach courts between Justin and Mitty. Check out the high-energy and fun game for a little summer in mid-November at 11 a.m.
Homecoming weekend sees the first home game of the season for Women's Basketball and the first for new head coach Jeff Cammon. Meet the coach and team at a Women's Basketball open practice at 2 p.m. If you haven't seen the vibrant, uplifting exhibitions in the Museum of Art, this is your chance. The MoA is open 10 a.m.–4 p.m., with a student cellist playing at 1 p.m. and guided tour at 2 p.m. The museum hosts work from famed social activist Corita Kent and the first solo exhibition featuring an alumna—artist and designer Lisa Congdon '90.
Panels, Talks, and Lectures
For those who want a little more education during their Homecoming weekend, there are opportunities for networking and financial planning. In coordination with Veterans week events on campus, alumni veterans will speak at a panel hosted by SEBA, "Service and Leadership: Insights from veterans in business." This panel starts at 11 a.m. in Brother Urban Gregory (BUG) Hall. University Credit Union, Saint Mary's College's financial partner, is offering personal finance tips at a timely workshop "How to Navigate High Interest Rates" at 1 p.m.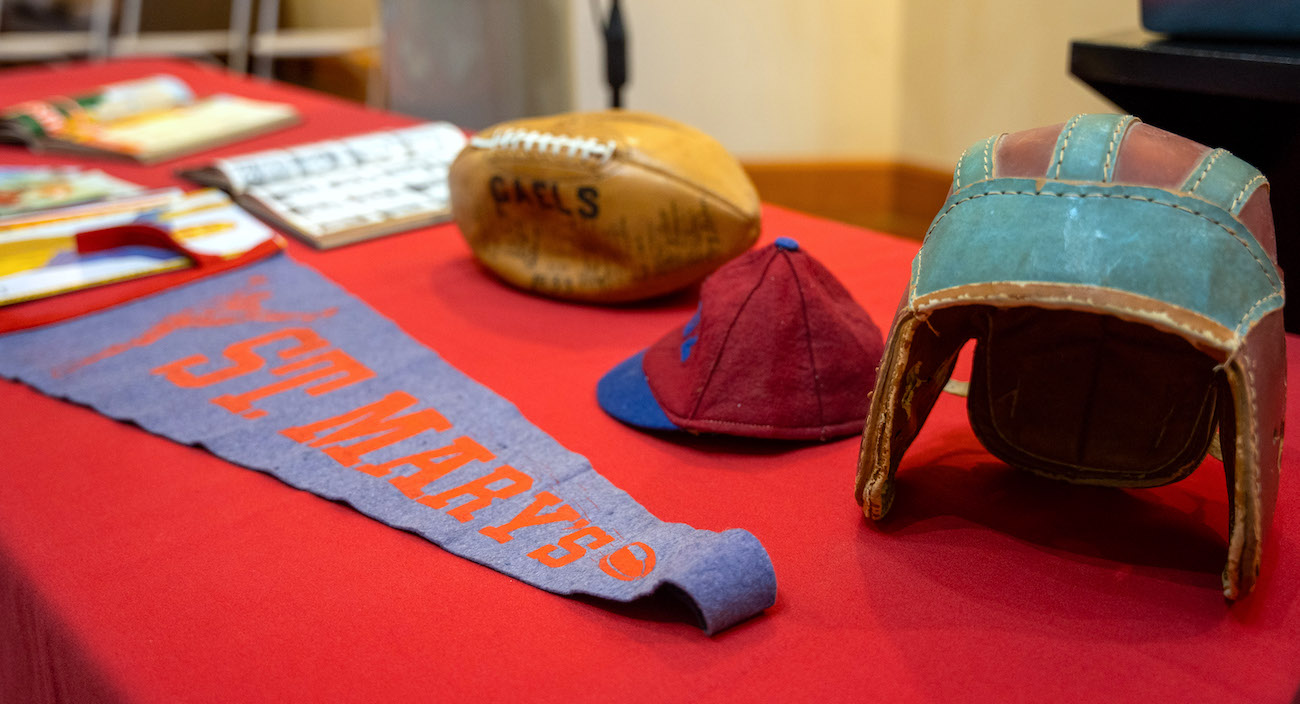 Get Happy
For a little fun and amusement, take part in campus rarity: an escape room game! "The Hunt for Slip Madigan's Flask" puts you and a small group in 1938, searching for clues for the famed football coach's trusty vessel. The SMC Archives is organizing this special game and accepting limited sign-ups for the half hour adventure. Cap off your wonderful Homecoming celebration with Happy Hour while putting your knowledge to the test with Saint Mary's Trivia in The 1928 Pub starting at 5 p.m. Students can keep the party going at the Homecoming Dance inside the Soda Center at 8 p.m.
Brother Martin Memorial Concert
In the late afternoon, head to the chapel to hear a moving and beautiful musical concert tribute to Brother Martin Yribarren, FSC at 3 p.m. The choir will feature Integral students, tutors, Brothers, friends, and members of Brother Martin's Sacred Music Choir. A reception featuring his favorite eggplant dishes will follow the concert.
The Saint Mary's Bookstore will be open with special giveaways and a 10% discount in-store. The Bookstore is open until 4 p.m. on Friday and Saturday.→
Here's a full schedule of Saturday's events. // Registration is free and strongly encouraged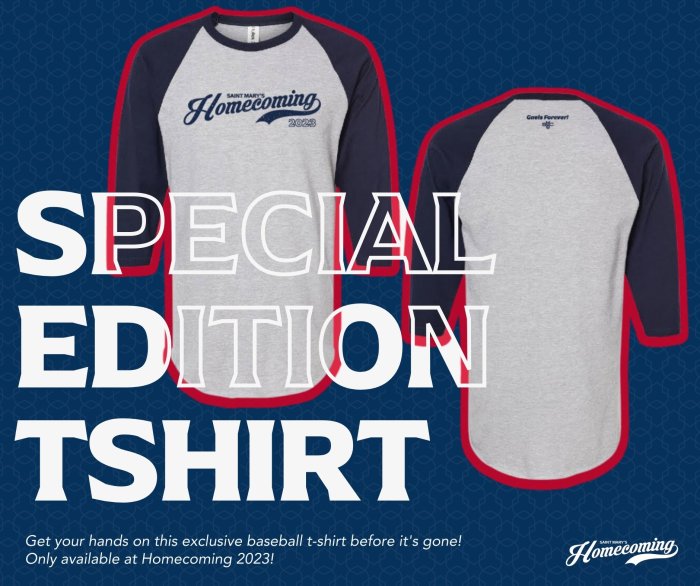 Sunday: Reflections, History, and Basketball FanFest
Sunday will begin with Mass in the Saint Mary's Chapel at 11 a.m., followed by Brunch with the Brothers in Oliver Hall. Those who are of age can enjoy a mimosa! While over at the library, SMC Archivist Kate Wilson will present a history of the College that looks at milestone celebrations since the institution's founding in 1893. Historic trophies, flags, and game day ephemera will be on display, and a behind-the-scenes tour will be available after the presentation. 
Then basketball extravaganza gets underway after lunch time. The Women's Basketball team plays their first home game of the season at 1 p.m. vs. UC San Diego. The Men's Basketball team, currently ranked No. 23 in the preseason AP poll, completes the doubleheader at 5 p.m. vs. Weber State. Game tickets are on sale for both games; use code "HC23" for a discount.
Fans can arrive early and enjoy a family-friendly FanFest in front of UCU Pavilion beginning at 2 p.m. Yard games, giveaways, food and drink sales, a photo booth, and live DJ will keep the spirits high. You might even see some friendly competition between current students and alumni out there. Future Gaels will enjoy a bounce house and face-painting. GaelForce will bring the energy with a rousing rendition of the college fight song.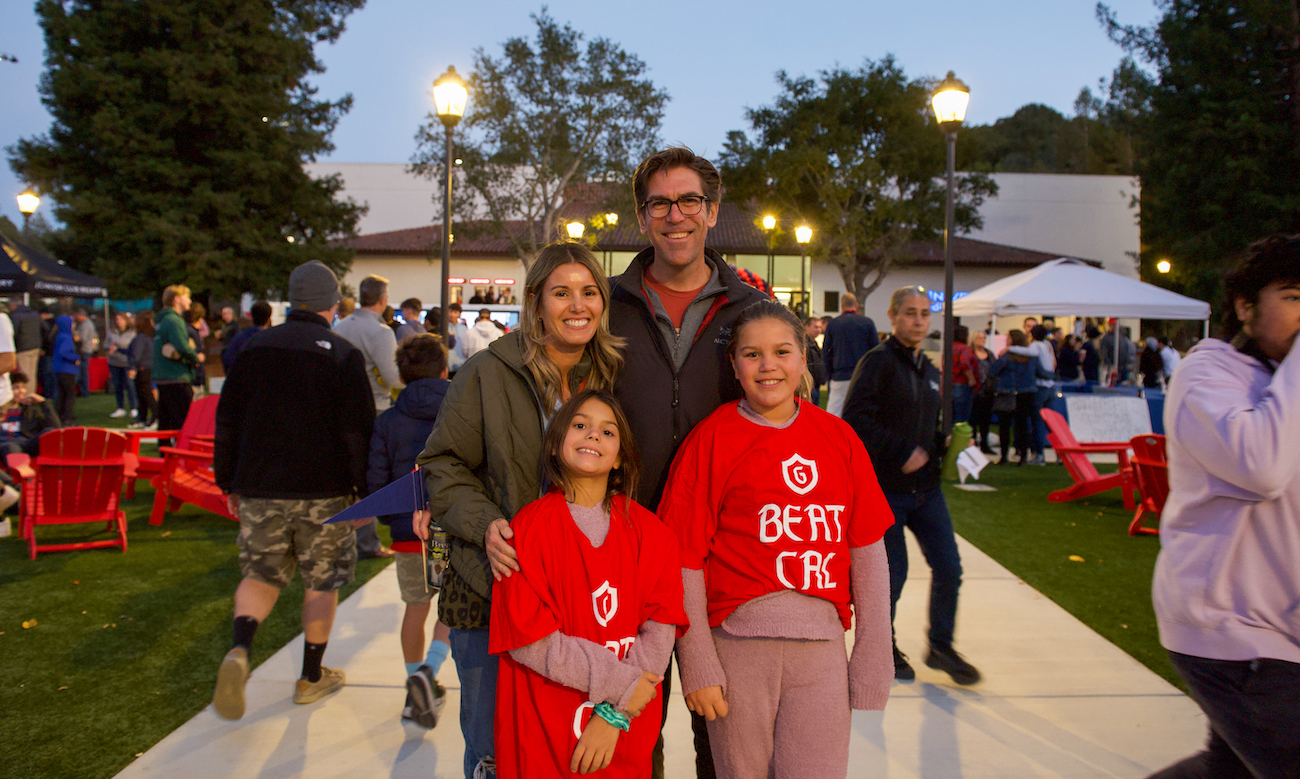 See you November 6–12 at Homecoming!
This year's Homecoming is only possible thanks to commitment from many campus partners and individual staff and faculty members. We look forward to seeing many Gaels out and about on Saint Mary's campus! 
---
VIEW the full schedule of Homecoming 🚩 activities for alumni, students, friends, and faculty and staff. 
REGISTER in advance so we can plan for your attendance.