Global and Regional Studies Alumni
Body
Called to Teaching 
Isabel Alvarez (Jeronimo) Guzman '20 GRS Graduate
We spoke to Isabel Alvarez (formerly Jeronimo) '20, who majored in Global and Regional Studies, about her dedication to teaching and how Saint Mary's helped her develop her passion.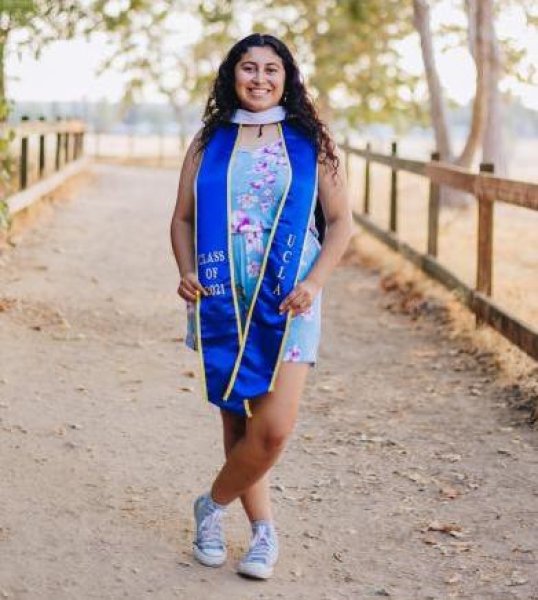 Briefly, what do you do?
I finished my master's degree in Latinx Studies at UCLA this year in June, and now I am working at McLane High School in Fresno, California. I teach Dual Immersion Chicano Studies and Leadership, as well as World History to high schoolers of all grade levels. Our Dual Immersion program in Spanish is the first high school–level program of its sort in the district, so it is doubly amazing to be able to be a part of it. My school has about 90 percent Chicanx students, so it feels important to see them learn about their history and identity. This is what I wished I had access to as a high schooler. Other than that, I am also in the process of founding the Speech and Debate program.
What do you love most about your job?
I love working with my students and watching them grow, both in their language skills and as humans. Working with different grade levels means that my students are all learning and growing in different ways, making it rewarding to provide them with whatever support they need to succeed. Being a teacher is absolutely my calling. The fact that I am giving back to and serving my community is extremely important to me. I have always wanted to contribute to my community, and what better way than to teach the next generation? It makes everything feel minuscule in comparison. Just about 4 percent of Latina women get an opportunity to get a graduate degree by the time they are 29, and I am honestly proud to be in that 4 percent every day.
Did a course or professor at Saint Mary's inspire you to get into this field?
Being a Global and Regional Studies major, I found my passion for learning about culture at Saint Mary's, thanks to courses taught by Professor María Luisa Ruiz, Professor Myrna Santiago, Professor Lori Spicher, and Professor Alvaro Ramirez (Profe). I have always had really great teachers in my life, where I have felt like I could rely on and count on them. Being a teacher is about mentorship and making sure your students get access to everything they need to be successful. All this led me to teaching, a profession that lets me do the same for others. I even emulate some of my professors' teaching styles in my classes.
How did Saint Mary's help prepare you for your career or otherwise affect who you are today?
Without the support from teachers in the World Languages and Cultures, Spanish, and Latin American Studies (SaLAs) Department like Professors Ruiz, Spicher, and Ramirez, as well as Professor Santiago in History and Professor Patrizia Longo in Politics, I would have never been capable of finding an area of study I love so much or been given the words to talk about it. They all taught me that being a teacher is so much more than just giving out information, as we have the power to influence our student's lives in ways we may never realize. Longo and Santiago's teaching methods helped me a lot throughout graduate school—I could turn in high-quality work consistently because I had been prepared to do just that. I am glad I had teachers at Saint Mary's who were strict in their expectations; the briefs needed in Longo's upper-division classes are a norm in graduate school. Santiago's assignments on transcribing oral histories and making them presentable for a general readership also really helped me decipher texts I was required to read. There are not a lot of institutions that offer global politics degrees, and I might not have gotten into UCLA if it were not for the amazing letters of recommendation my professors wrote. I really owe a lot to them.
Anything else you'd like to add about your time at Saint Mary's, particular programs that affected you, or discoveries you made while here?
I would love to give the biggest shoutout to the Macken Debate Team for being my family and support system. Without the Debate Team and our wonderful coach, Andrea Brown, there is no way I would have graduated from SMC or become who I am today. I also need to thank the Intercultural Center for providing space for me to grow with my community through dialogue and events like Latinx Cultural Night. A big factor in my growth can also be attributed to the SMC Athletics Department, specifically Jimmy and Hank in ticketing, for allowing me the space to work creatively and trusting me to help with important things throughout the sports seasons. Working with them really taught me accountability and a strong work ethic I carry to this day. I would also like to thank Sam Alberto, Jim Sciutto, Amaury Avalos, and the Resident Advisor (RA) program for helping me grow as a student leader, and as a mentor to my peers. I learned a lot about myself as a person and a leader with their help and guidance.
Ghanna: Image Credit Lidet Alemu
Ghanna: Image Credit Lidet Alemu
Ghanna: Image Credit Lidet Alemu
Morocco: Image Credit Lidet Alemu
Morocco: Image Credit Lidet Alemu
Morocco: Image Credit Lidet Alemu