Body
Image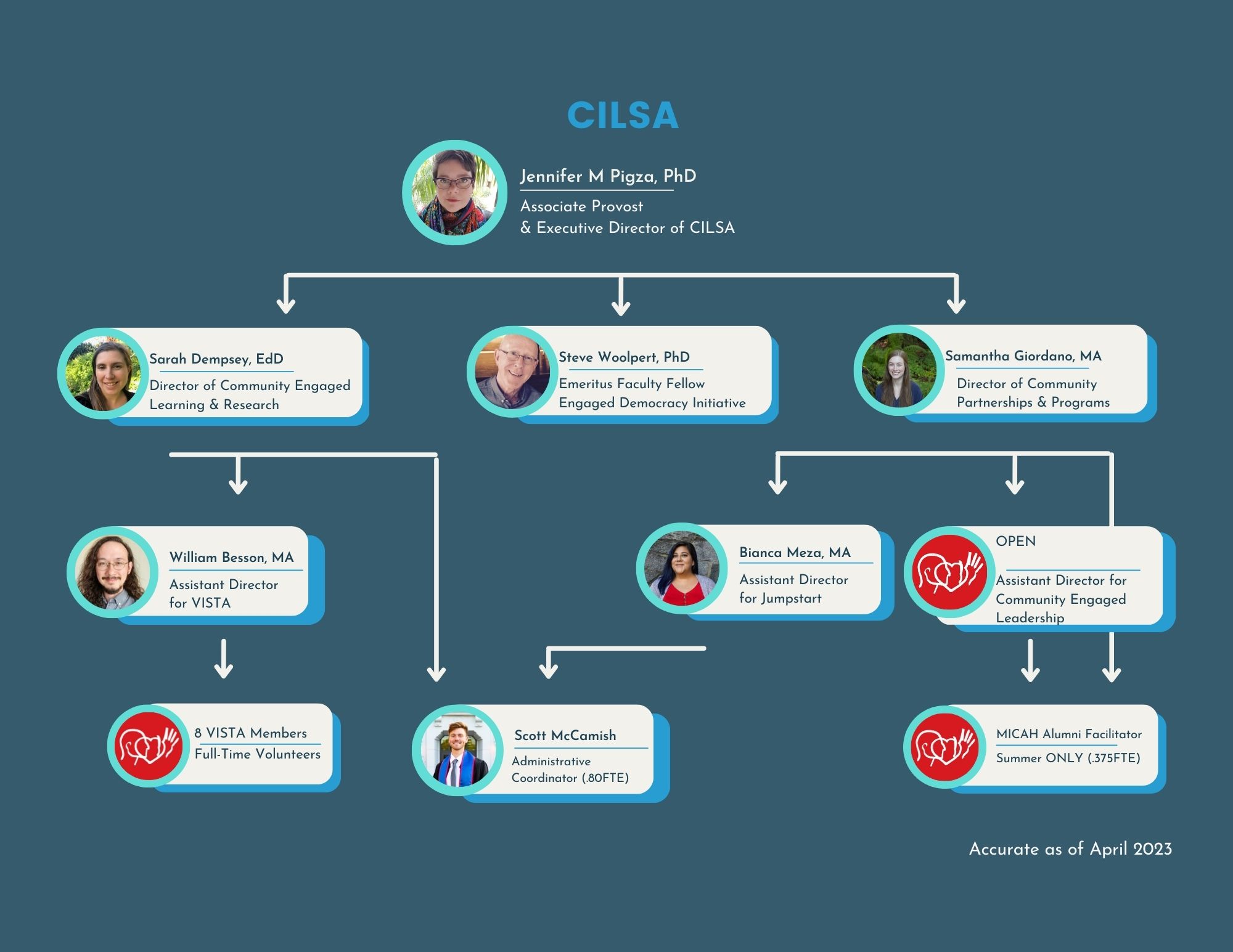 Jennifer Pigza, Ph.D. (she/her)
Associate Provost and Executive Director of CILSA
jpigza@stmarys-ca.edu
Contact Jennifer about collaborations, fund development, strategic planning and growing an institutional culture of equity.
Jennifer Pigza joined CILSA in 2005 after completing her doctoral studies at the University of Maryland in the social foundations of education. With a life-long dedication to understanding justice and its practices, Jennifer is a seeker, a learner and a builder.
In addition to her work in CILSA, Jennifer co-chairs the College's strategic planning team and chairs the College Committee on Inclusive Excellence. She is also an adjunct assistant professor in Leadership and in Communication. She was the inaugural director of the Lasallian Institute for Diversity, Equity, Inclusion and Belonging, and founding academic chair in the MA in Leadership for Social Justice. Externally, Jennifer currently serves on the Editorial Board for the Michigan Journal for Community Service Learning and is a member of the consulting corps for the Carnegie Community Engagement Classification. From 2018-2022, Jennifer served on the national leadership team for the Place-Based Justice Network.
She writes about critical pedagogy, leadership, teaching for social justice, and institutionalizing equity. Her most recent publication is Women & Leadership Development in College: A Facilitation Resource (Pigza, Owen & Associates).
---
Sarah Beth Dempsey, Ed.D. (she/her)
Director of Engaged Learning and Research
sdd4@stmarys-ca.edu
Contact Sarah about faculty development, community partner relationships, and community engagement courses for the core curriculum.
Sarah Dempsey is a practitioner-scholar with nearly 20 years of experience in higher education.  Since 2013, she has worked in CILSA to train and support faculty and nonprofit partners who collaborate to be co-educators for community engagement courses.  Additionally, she is an assistant adjunct professor and teaches social justice courses in Ethnic Studies, January Term, and Core Curriculum.  Sarah is a Carnegie Community Engagement Classification consulting corps member and a University of California Berkeley Executive Leadership Academy Fellow.  Her research focuses on community engagement courses and participant engagement.
Her dedication to higher education administration started when she was a student leader at Sacramento State University where she earned her Bachelor of Arts degree.  She earned her Doctorate in Educational Leadership from Saint Mary's College, Master of Science degree in Student Counseling and Personnel Services at Kansas State University, and continued her counseling training in sexual assault counseling and alcohol and drug counseling in Santa Barbara.  Prior to working at SMC, she worked in the University of California (UC) system for 10 years in academic affairs roles committed to diversity and academic success.  Currently, Sarah serves on numerous educational nonprofit boards in her community.
---
Adeline Diaz, M.A. (she/her)
Assistant Director for Community Engaged Leadership
apd4@stmarys-ca.edu
Contact Adeline about the MICAH Summer Fellowship, BAY Collaborative, and the Community Based Internship Program.
Adeline Diaz was initially introduced to the transformational impact of community engagement work as an undergraduate student at Saint Mary's College, where she received her B.S. in Psychology and B.A. in Theology and Religious Studies. Prior to joining CILSA, she explored various avenues of equity and justice work through non-profit organizations, social impact investing, cultural centers, and international education. Through the completion of her M.A. in Higher Education and Student Affairs at the University of San Francisco and her identity as a first-generation college graduate, she is committed to liberatory practices that challenge and disrupt the exclusionary history of higher education. 
---
Samantha Giordano, M.A. (she/her)
Director of Community Partnerships and Programs
smc6@stmarys-ca.edu
Contact Samantha about the MICAH Summer Fellowship, co-curricular programming, and alumni engagement.
Samantha Giordano developed a serious interest for community engagement and social justice during her high school years at a small Catholic school in southern California.  With its strong sense of community and Lasallian foundation, Samantha found St. Mary's College to be the perfect institution for her studies, where she completed her B.A in Kinesiology and M.A. in Leadership.  Samantha has over ten years of professional experience collaborating with others to foster more dignity, equity, and justice in local/global communities. She supports the coordination of curricular and co-curricular programs through CILSA that provide students with opportunities to develop a deeper understanding of justice, leadership, and spirituality.
---
Scott McCamish (he/him)
Engaged Learning and Jumpstart Administrative and Compliance Coordinator
sdm6@stmarys-ca.edu
Contact Scott about community engagement travel logistics, reimbursement questions, and GaelsEngage.
Scott McCamish steps into a staff position within the CILSA department after having spent the last four years as a student at Saint Mary's pursuing his bachelor's degree with a double major in JCL and Communication. Through a deep engagement with his coursework, and motivated to think reflectively and critically by professors, Scott began developing an awareness of the racial, gender, and economic privileges that have informed his life experiences. Seeking knowledge and perspectives that would expand his socio-cultural frame of reference, Scott intently absorbed information from liberation theorists and critical scholars while exploring wisdom offered by the practices of world religions and spiritual philosophers. At the intersection of his social justice education and an emerging dedication towards a faith based career, Scott enters CILSA grateful to be able to serve the Saint Mary's community and inspired by the wealth of knowledge and social justice experience found within each member of this department.
---
Bianca Meza, M.Ed. (she/her)
Assistant Director for Jumpstart
bmm11@stmarys-ca.edu
Contact Bianca about Jumpstart in Oakland and early childhood education co-curricular community service projects.
Bianca Meza's journey through the field of education began during her undergraduate studies at Washington State University where she completed a Bachelor of Arts in Human Development with an ECE focus. She continued on to serve as an AmeriCorps College Coach & College Access Coordinator for two years before earning her M.Ed in Student Development at Seattle University. These experiences shaped her commitment to community, education and justice. As the Jumpstart Site Manager, she is committed to establishing intentional partnerships with Oakland Child Development partners/teachers and developing opportunities for students to explore the ways in which they create welcoming classroom spaces that embrace children as individuals, celebrate culture, and promote early literacy.