Body
Each year during and around Earth Month, the Office of Sustainability and the Sustainability Committee in collaboration with departments and groups across campus, encourage action and engagement through events, initiatives, and projects that focus on the urgent need for sustainable solutions. The groups have put together a number of Earth Month events, including a Global Lasallian Sustainability Dialogue, Music in the Garden, a Regenerative Fashion Show, Beekeeping and Vermiculture workshops.  More details below:
Vermiculture workshop
Wednesday, April 12th, 3pm, Legacy Garden 
Vermicomposting (worm composting) turns food and "green manure" (plants) into rich, nutrient dense compost that can improve soil structure and enhance crops.  This workshop led by master composter, Marian Woodard, will cover the basics of worm composting, including how to take care of a worm bin and the many benefits of vermicomposting.
 Beekeeping workshop
Tuesday, April 18th, 3pm, Legacy Garden 
This 1.5 hour curated workshop will be guided by James Frankenfield and Rosalind Bassett, active members of the Mount Diablo Beekeepers Association and Lamorinda Bee Project.  The workshop will cover an introduction to bees, including history and bee biology, as well as a general beekeeping overview – the handling and care for bees and a short demonstration. We'll end with some Legacy Garden honey tasting - guaranteed to be a super sweet workshop! 
Music in the Legacy Garden
April 18th, 11am -  hosted by Sustainability Students Leaders.

Come de-stress, enjoy refreshments, jam out to music and get your hands dirty in honor of Earth Month. 
One LaSalle ~ Global Inspirations: A Shared Dialogue on Lasallian Commitments to Sustainability
April 20th, 6:00 PST  | 9:00 EST | 15:00 Rome | 21:00 Philippines, 

As part of this year's Lasallian Heritage Days, Saint Mary's is proud to host a panel of Lasallian Institutions throughout the world who will share their unique and innovative sustainability initiatives. We will end with a conversation around possible priorities for global collaboration. We hope you will join us! Register here.
Healthy Lands, Healthy People Panel Discussion
April 21st, 1pm, In-person & Zoom. The Contra Costa Resource Conservation District (RCD), the County's Office of Sustainability and UCCE recently finished a feasibility study – Healthy Lands, Healthy People - to identify innovative strategies of storing carbon dioxide in our many different land uses.  Join us for a panel presentation and discussion about opportunities and barriers for utilizing gardens, farms, parks, and open space to sequester carbon, produce revenue and conserve natural resources.
Image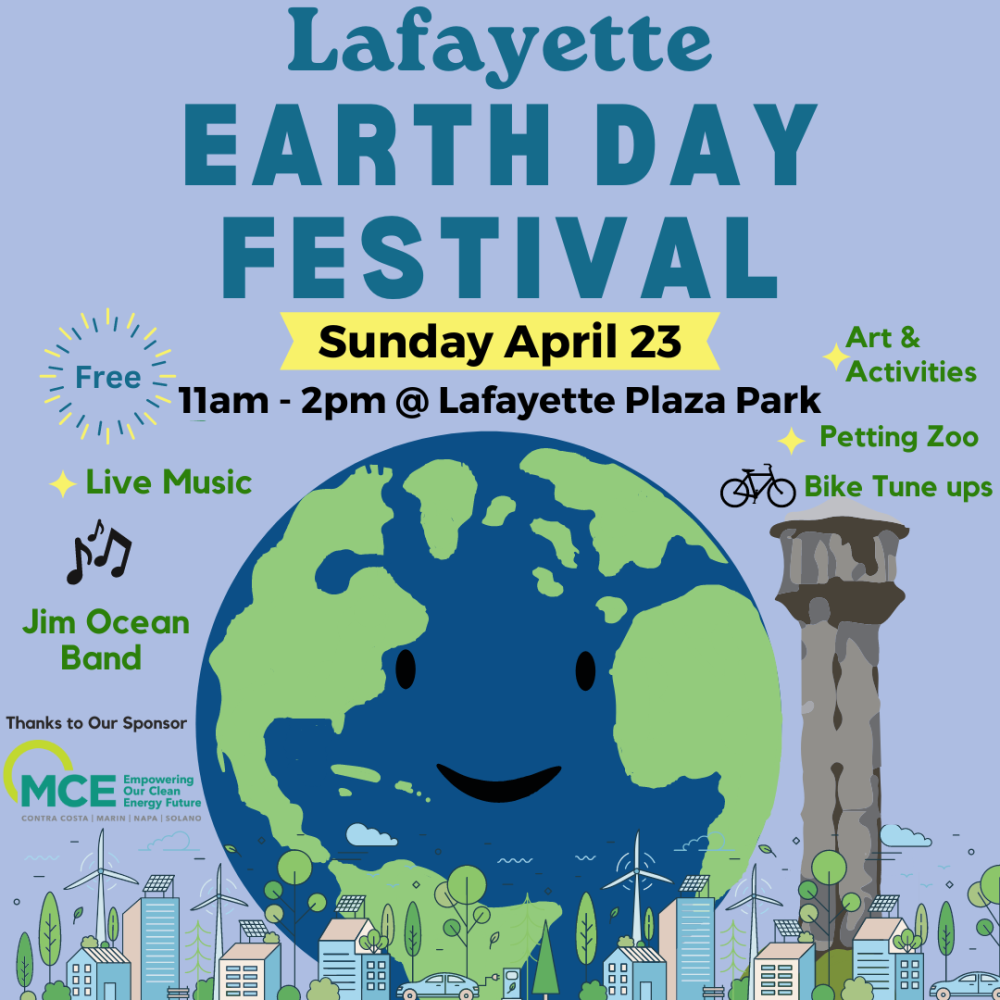 Lafayette Earth Day Festival
April 23rd 2023, 11 am - 2 pm
The Lafayette Plaza Park
The Free Store Hours & Pop Up Shop
Swing by the student-run Free Store during Spring Semester hours in De La Salle 105. 

Back by popular demand, The Free Store in collaboration with the Women's Cross-Country Team and One World is hosting an Earth Month Running Shoe Drive. Please donate your old running shoes to the Free Store on or before April 26th.
Spring Semester Legacy Garden Volunteer Hours

   Tuesdays  2:30-4:30pm 
   Wednesdays  2:30-4:30pm 
Image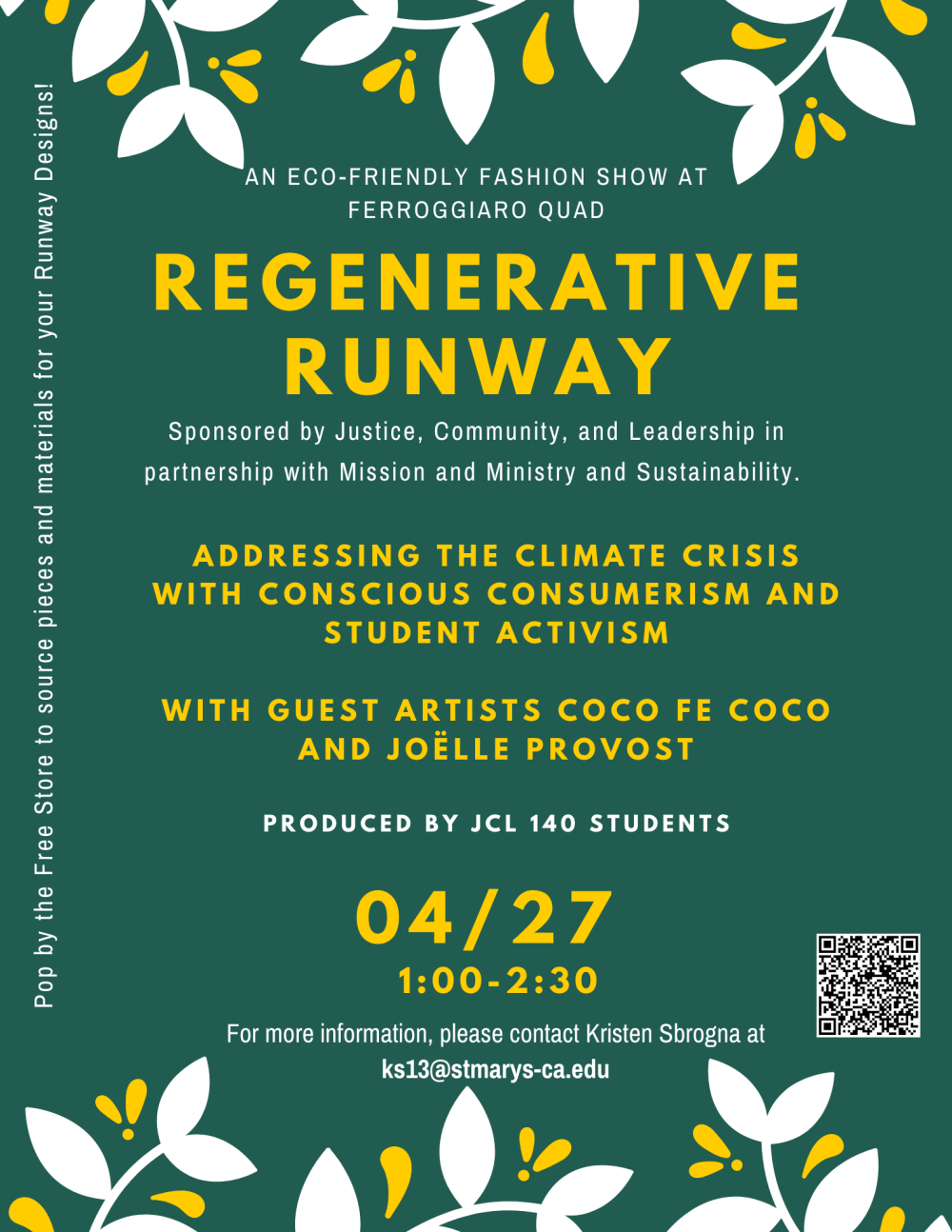 Regenerative Fashion Week and Runway
Thursday, April 27 at 1pm.
Addressing the climate crisis with conscious consumerism and student activism
With guest artists Coco fe Coco and Joelle Provost
Saint Mary's students will showcase pieces they have created based on a sustainable framework for fashion. The week will include a Maker Workshop with the artists and a public
Regenerative Runway
to feature the pieces. Coco and Joelle will host and narrate the runway. Students from JCL140 Global Justice will co-host and organize the event including creative designs, marketing and outreach, and event production.
Sponsored by JCL, Mission and Ministry, and SMC Sustainability
Also, right around the corner....May events:
Swing by Saint Mary's Energizer Station for free goodies and giveaways
Save the Date: Bay Area Bike to Work/School/Wherever Day is on Thursday, May 18, 2023. This year, Saint Mary's is proud to host an energizer station at the entrance of campus (Saint Mary's Road & De La Salle Drive) with free refreshments (fruit, energy bars), giveaways and the regional BTWD tote bag from 8-10am.

If commuting all the way from home to work/school seems daunting, it's not cheating to make the distance more manageable by adding BART and the County Connection to your commute. The Saint Mary's community enjoys free rides on the local County Connection bus service. Routes originating from the Saint Mary's campus (#6) are free; transfers to other routes are regular fare.  
Tuesday, May 15th - Sunday, May 21st
What is Sustainable Move Out?  Throughout finals week / move out week, the Office of Sustainability in collaboration with EH&S, the Housing Office and RHA collects lightly-used, functional items to donate to local nonprofits.  In an effort to divert as much as possible from the landfill, we also encourage students to recycle and compost while sorting through their move out items.  

This year, we are thrilled to offer new partnerships to expand our capacity and reach! During Move Out week, Recycle Smart, Republic Services and Mount Diablo Resource Recovery will be helping sort and transport all of our donations to local resource organizations, and Goodwill will be on campus helping sort and transport donations from the Townhouses on Sunday. 

Frequently Asked Questions (FAQs)
What can be donated?  Any lightly used, functional items - clothes, small electronics, household items, and small furniture. 
Where should I put my donated items?   Large white donation bins (locations pictured below) will be placed near nine dumpsters during move out week. 
What is the last day I can donate?  The last day to donate for main campus and the canyon residence halls is Friday 5/19, and Sunday 5/21 for the Townhouses.
Where can I recycle used batteries or non-functional small electronics? Saint Mary's has several brown bins on campus to recycle small electronics: in front of the Library, first floor DLS Hall, in front of Galileo Hall, and first floor of the Business Office.
Where can I donate food?  Please place nonperishable, unopened food in the donation bins near your residence hall and we will sort them for you - the food will be donated to our local food bank. 
What can I recycle and compost? Check out Republic Services' guides for what can go in our trash, compost and recycling bins.
This sounds fun! Can I volunteer?  Yes, contact us at smcsustainability@stmarys-ca.edu to help us throughout Move Out week
For an archive of past Earth Month activities click below: