Body
How to Make an Appointment
If your situation is urgent (see list below), we will schedule you for a same day appointment. If this is a life-threatening emergency, please call 911 or go to the nearest Emergency Room. Please review the appointment descriptions below to help you determine what type of appointment you need. 
Types of Appointments 
Initial Appointment: We have two types of initial appointments: Solution Sessions and Initial Consultations: 
Solution Session: During this one time, 45 minute individual session, you'll meet with a therapist to come up with strategies for addressing a specific concern. This type of session is for students who want a "one and done" session to address a very specific issue. 
Schedule a SOLUTION SESSION online. 
 
Initial Consultation: During this 45 minute individual session, you'll meet with a therapist to come up with a treatment plan. This might involve brief, ongoing therapy, group therapy, or a referral to the community.
Schedule an INITIAL CONSULATION online. 
Urgent Appointment: If this is an urgent matter (see red column, below) and you would like to speak to a therapist today, PLEASE CALL our office at 925-631-4364. DO NOT SCHEDULE URGENT SESSIONS ONLINE.
Couples Therapy: A couples therapy appointment can be scheduled for any relationship-focused need when both members of the couple are present. Both members of the couple are required to be SMC students to schedule a couples therapy appointment. 
Group Therapy: Please check our listing of group offerings on our homepage. 
Don't Know/Not Sure: If you are unsure of what type of appointment you need, please call CAPS at 925-631-4364.
All first appointments are in-person, unless you prefer a remote appointment via Zoom.  Please let the front desk know, if you have a preference.
Image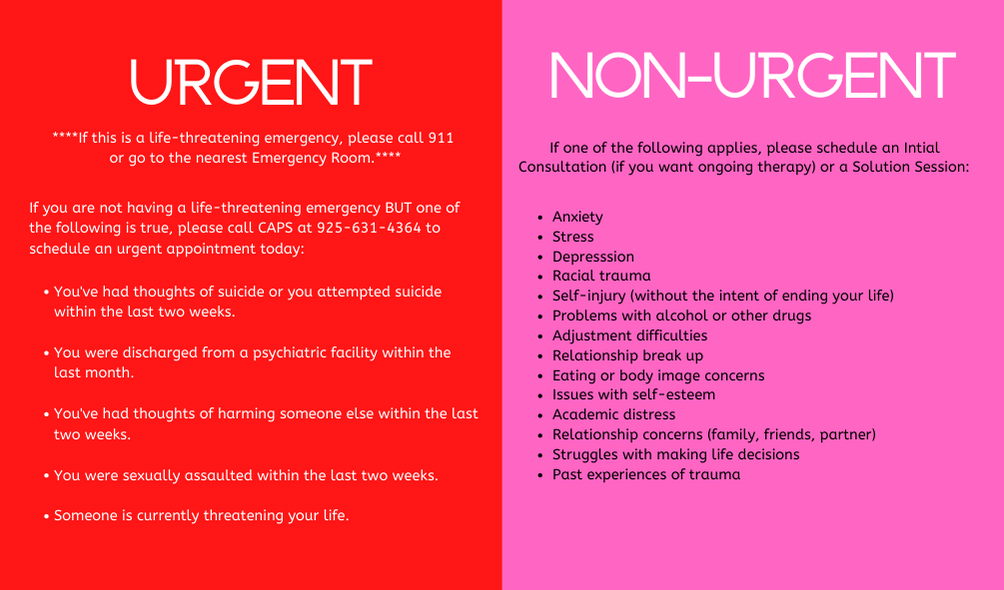 Confidentiality
CAPS staff maintain the highest level of confidentiality in accordance with California Law and ethical guidelines established by the American Psychological Association. CAPS staff cannot confirm or deny that a student is being seen at our center OR release any information about them to anyone without their written permission. CAPS records are completely separate from a student's academic record.
On rare occasion, we are required by law to notify the appropriate parties if: 
a student presents imminent risk of harm to themselves or an identifiable other
a student reports child abuse (including viewing of child pornography) or abuse of a dependent adult
a student is considered "gravely disabled" and unable to meet their most basic needs because of a mental illness
Who qualifies for CAPS?:
CAPS is the primary provider of psychological services for full-time undergraduates and graduate students at Saint Mary's College. Full-time undergraduates and graduate students can receive individual, group, or couples counseling by a psychologist or therapist. Part-time students are seen on a limited basis for evaluation and referral to a community practitioner. Faculty and staff are welcome to use our consultation and referral services.
How to make a referral:
If you are concerned about a student, please encourage them to contact CAPS to make an appointment. Here are some helpful ways to refer a student:
Suggest that the student call CAPS to schedule an appointment. If it's not urgent, they can email us or schedule online.
Call CAPS while you are with the student in order to facilitate contact. 
Please remember that the communication between a counselor and client is confidential. We cannot discuss details of a student's situation or even the fact that counseling is being received without the student's written consent.
FAQ's:
There is no charge for our services, and students cannot pay for additional sessions.
We do not take insurance.
A limited number of sessions are offered to each student during the academic year. Sessions cannot be rolled over to the following academic year.
There is no session limit for group therapy.
Services are limited during the summer due to reduced staffing. 
CAPS staff reserves the right to refer a student to off campus mental health providers should we determine their clinical needs are beyond the scope of our services.
Students who withdraw from the college are ineligible to continue services with CAPS.
Students on disciplinary suspension are generally not allowed on campus and/or access to CAPS.
Students who have been academically dismissed and/or involuntarily withdrawn for academic reasons are not eligible for services.
Students who have completed a medical withdrawal will not be eligible for services until they return to classes.
The following are examples of students for whom CAPS services are not appropriate:
Students with severe physical symptoms (e.g., extreme eating disorder or substance dependence) that require combined medical and psychological treatment.
Students with an extensive history of severe symptoms and/or suicidality.
Students who experience frequent crises, require 24 hour monitoring, or need a number of professionals involved in their care.
An extensive history of past treatment with little indication of symptom resolution.
Clinical indicators suggest intensive outpatient, partial hospitalization or hospitalization would be the most appropriate level of care.
Students who are non-compliant with treatment, as defined by two no-shows for any services, repeated stops and starts to therapy, and/or repeated requests for a different clinician.
Students who want or require an open-ended, potentially long-term treatment relationship.
Students presenting with concerns that fall outside staff expertise and/or CAPS' mission, including but not limited to court ordered assessments (including alcohol and drug assessments).
Students who exhibit inappropriate, harassing, menacing, threatening or violent behaviors toward CAPS staff.
Late cancellation and missed appointment policy:
CAPS has a limited number of counseling appointments available; therefore, we encourage you to keep your scheduled appointments. If you cannot keep an appointment, please cancel by calling our office at (925) 631-4364 at least 24 hours before the appointment. You may leave a message on our voice mail if you call after office hours or on weekends.
Repeated cancellations or missed appointments may result in a loss of eligibility for CAPS services and referral to mental health providers in the community.