World Languages and Cultures Alumni & Current Students Success Stories
Body
Image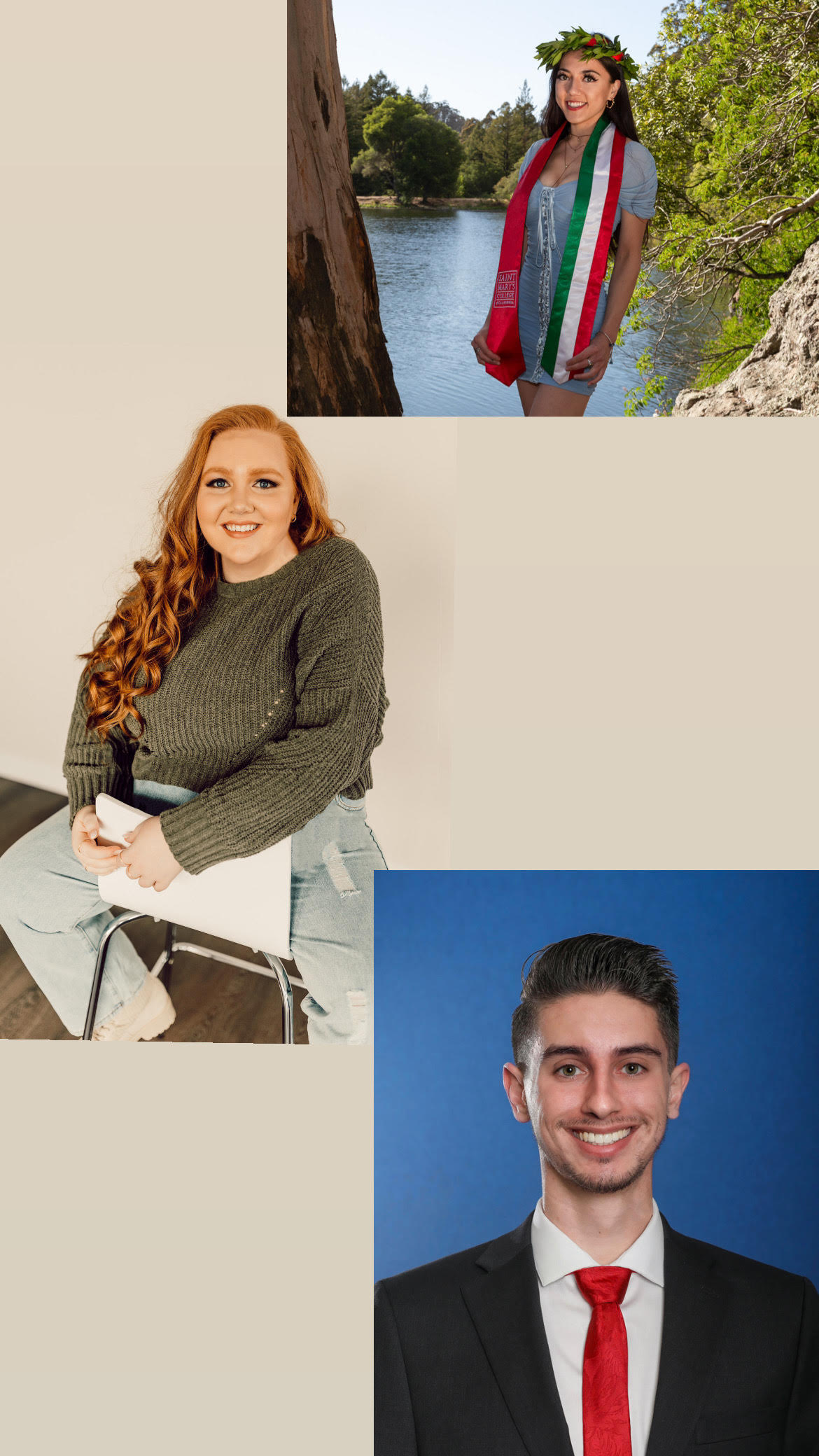 SMC Grads Deepen Connection with Italian Community
Three recent Saint Mary's graduates have spent the pandemic taking what they learned as students in the Italian program at SMC and using that to make connections with the Italian Community Services (ICS) organization in the North Beach neighborhood in San Francisco. Bailey Davidson says she loved languages and knew she wanted to study Italian when she came to Saint Mary's, despite having no Italian heritage personally. While she was still a student, she became an intern with ICS with the help of a reference from Professor Maria Grazia De Angelis. "I fell in love with the organization and its mission," she says, "because they do so much for the community." After she graduated, she started her own business and was able to continue her relationship with the organization, assisting with digital marketing, fundraising campaigns, and even its strategic vision." She says of her experience with ICS, "It has been amazing to be part of such a caring and impactful organization." Eileen Favretto is an Italian minor who loves the Italian language and culture. She knew Italian even before coming to SMC. While she was a student she became an Italian tutor and started volunteering at ICS. She describes them as "a group of beautiful souls with huge hearts who are always doing something to help the Italian-American community." For example, during the pandemic, she helped the organization deliver weekly care packages to Italian American senior citizens. She says about her experience in the Italian Program at Saint Mary's, "I grew and learned so much through the Italian program. Learning Italian at SMC never gets boring!" and says the volunteering was an important part of that experience. Through ICS she made a connection with the owner of a local wine company for whom she works now. Noah Moretti not only took Italian language and culture classes at Saint Mary's but also studied in Rome for a semester. While at Saint Mary's, he was President of the Dante Club, a club that focuses on Italian culture and is one of the largest clubs on campus. In his role, he made connections with Italian organizations across the Bay Area and the U.S, including ICS. He also organized many events, such as the Italian Heritage Day Parade, different Italian-focused events, and an Italian Cars and Culture show that gathered more than 300 people on campus. When he is not enjoying his newfound career in Finance, Noah actively volunteers with ICS, creating relationships with other colleges and high schools. 
Professor Maria Grazia De Angelis in the Italian program at SMC has an ongoing relationship with the Italian Community Services and can help students get internships that can lead to other opportunities, including possible jobs.
Italian Language and Culture program at SMC:
 
"Enter to Learn, Leave to Serve"
Saint Mary's alumna Michelle Batista '02, MA '05, joined Lake Tahoe Community College this summer as the new Vice President of Student Services (VPSS), where she oversees the Student Services division that offers an overarching, multi-pronged set of services and support throughout a student's college experience; and serves as a gateway to the college, providing a safety net and transition to college completion. Batista brings years of experience in education and a deep commitment to the Lasallian tradition to her new role.
"While I may not work at a Lasallian institution, I am still a Lasallian educator. I always thought 'Enter to Learn, Leave to Serve' was a starting point and the ending point, but it is very much cyclical. I entered to learn at Saint Mary's, I left to serve, and as an educational leader, it's my responsibility to continue learning how to best serve the needs of students who are also always changing. I joined Lake Tahoe Community College as a new VPSS excited to learn from students and my new colleagues. I'm really looking forward to building community and accompanying students on their educational journey," shared Batista.
"It's really important to maintain 'Enter to Learn' within our hearts and our minds because that is how we 'every day in every way, get better and better' as Hermano Camilo [Brother Camillus Chavez] would say! That is one of the mantras he taught us in his meditation classes at Saint Mary's. I continue to connect with him and join his practice online and in person to this day."
After earning her Bachelor of Arts in Spanish, Batista began her career in higher education at SMC in Residence Life and served as a resident director for two years in Syufy, while earning her Master of Arts in School Counseling with a Pupil Personnel Services Credential.
In her recent position as director of Student Support at Skyline College in San Bruno, Batista oversaw the Health & Wellness Services and worked with faculty and classified staff to support students in distress and connect them to resources. Prior to that, she served as the director of Student and Family Services at De Marillac Academy (DMA) for 13 years, a tuition-free, Lasallian, Vincentian school in San Francisco's Tenderloin neighborhood.
As a first-generation Latina college graduate, Batista credits her success at Saint Mary's to mentors that she identified with. "Having professors like Brother Camilo Chavez for Chicano Psychology in Jan Term and Profe Álvaro Ramírez definitely served as a huge support to me throughout my time at SMC. Profe encouraged me to study abroad, which easily was one of the highlights of my undergraduate career that I never would have tried without him," said Batista. "The presence and involvement of professors outside of the classroom also served an essential role, like Professor Myrna Santiago in her support of the Latinas on campus as we started Hermanas Unidas."
Batista also thanked Brother Michael Avila for her life-changing experience in the Christian Service Internship Jan Term, now called Lasallian Service Internship. She was placed at DMA when it first opened and fell in love with the school. As she left at the end of Jan Term, she said she would be back once she earned her master's in Counseling. "Little did I know that it would manifest into reality and I would return to the Tenderloin three years later to serve at this little Lasallian school that served a majority of Latinx students."
Similarly, Batista said she was drawn to Lake Tahoe Community College to mentor other first-generation Latinx students. "Thirty-six percent of their population in Lake Tahoe—which many people might not know—is Latinx, and here at the college, a growing population of theirs, which is the Latinx population, is at 31 percent. I'm honored and humbled that I can serve in this way, supporting students and our community in achieving their goals," described Batista.
Batista is also a co-founder of the California Community Colleges Organización de Latinx Empowerment, Guidance, Advocacy for Success (COLEGAS), a group of Latinx professionals dedicated to making systemic change for community college students. After starting in 2018, Batista said the organization continues to grow. "It is so encouraging to connect with colegas statewide and build community, to hear people say, 'I've never been in a room with this many Latinx professionals.' There have been so many powerful moments where I feel honored and privileged to be part of the creation of this experience. We are creating a space, supporting each other, and lifting up our collective sabiduría, for the good of sustaining ourselves and supporting student success. Our shared experiences are so rich and filled with hope for what the future can be," said Batista.
As a member of Saint Mary's Alumni Board of Directors and past president, Batista maintains her connection to the College. "I continue to encourage and support students to attend. I would tell them to not get discouraged by the price tag. Saint Mary's does offer an education and an experience that is priceless that will continue to serve you in your life. My hope is that SMC will also continue to offer students generous financial aid. Receiving financial aid was a game changer—without it, I wouldn't have been able to attend," said Batista.
Batista calls on fellow alumni to stay involved and support current students in any way possible. "It's not just about sharing your treasure; it's about reconnecting to campus and sharing your time and talent as well. If every alumni contributed in at least one of those areas, we can ensure that students today have an experience where they will also feel compelled to enter to learn, and leave to serve for the greater good."
Called to Teaching—Isabel Alvarez (Jeronimo) Guzman '20
We spoke to Isabel Alvarez (formerly Jeronimo) '20, who majored in Global and Regional Studies, about her dedication to teaching and how Saint Mary's helped her develop her passion.
Briefly, what do you do?
I finished my master's degree in Latinx Studies at UCLA this year in June, and now I am working at McLane High School in Fresno, California. I teach Dual Immersion Chicano Studies and Leadership, as well as World History to high schoolers of all grade levels. Our Dual Immersion program in Spanish is the first high school–level program of its sort in the district, so it is doubly amazing to be able to be a part of it. My school has about 90 percent Chicanx students, so it feels important to see them learn about their history and identity. This is what I wished I had access to as a high schooler. Other than that, I am also in the process of founding the Speech and Debate program.
What do you love most about your job?
I love working with my students and watching them grow, both in their language skills and as humans. Working with different grade levels means that my students are all learning and growing in different ways, making it rewarding to provide them with whatever support they need to succeed. Being a teacher is absolutely my calling. The fact that I am giving back to and serving my community is extremely important to me. I have always wanted to contribute to my community, and what better way than to teach the next generation? It makes everything feel miniscule in comparison. Just about 4 percent of Latina women get an opportunity to get a graduate degree by the time they are 29, and I am honestly proud to be in that 4 percent every day.
Did a course or professor at Saint Mary's inspire you to get into this field?
Being a Global and Regional Studies major, I found my passion for learning about culture at Saint Mary's, thanks to courses taught by Professor María Luisa Ruiz, Professor Myrna Santiago, Professor Lori Spicher, and Professor Alvaro Ramirez (Profe). I have always had really great teachers in my life, where I have felt like I could rely and count on them. Being a teacher is about mentorship and making sure your students get access to everything they need to be successful. All this led me to teaching, a profession that lets me do the same for others. I even emulate some of my professors' teaching styles in my classes.
How did Saint Mary's help prepare you for your career or otherwise affect who you are today?
Without the support from teachers in the World Languages and Cultures, Spanish, and Latin American Studies (SaLAs) Department like Professors Ruiz, Spicher, and Ramirez, as well as Professor Santiago in History and Professor Patrizia Longo in Politics, I would have never been capable of finding an area of study I love so much or been given the words to talk about it. They all taught me that being a teacher is so much more than just giving out information, as we have the power to influence our student's lives in ways we may never realize. Longo and Santiago's teaching methods helped me a lot throughout graduate school—I could turn in high-quality work consistently because I had been prepared to do just that. I am glad I had teachers at Saint Mary's who were strict in their expectations; the briefs needed in Longo's upper division classes are a norm in graduate school. Santiago's assignments on transcribing oral histories and making them presentable for a general readership also really helped me decipher texts I was required to read. There are not a lot of institutions that offer global politics degrees, and I might not have gotten into UCLA if it were not for the amazing letters of recommendations my professors wrote. I really owe a lot to them.
Anything else you'd like to add about your time at Saint Mary's, particular programs that affected you, or discoveries you made while here?
I would love to give the biggest shoutout to the Macken Debate Team for being my family and support system. Without the Debate Team and our wonderful coach, Andrea Brown, there is no way I would have graduated from SMC or become who I am today. I also need to thank the Intercultural Center for providing space for me to grow with my community through dialogue and events like Latinx Cultural Night. A big factor in my growth can also be attributed to the SMC Athletics Department, specifically Jimmy and Hank in ticketing, for allowing me the space to work creatively and trusting me to help with important things throughout the sports seasons. Working with them really taught me accountability and a strong work ethic I carry to this day. I would also like to thank Sam Alberto, Jim Sciutto, Amaury Avalos, and the Resident Advisor (RA) program for helping me grow as a student leader, and as a mentor to my peers. I learned a lot about myself as a person and a leader with their help and guidance.