Body
Each year, Saint Mary's College of California recognizes tenure-track faculty members for their excellence in several key areas, including teaching excellence, early career achievement, service, advising excellence, inclusive excellence, justice & liberation, and outstanding scholarship.  
Each award recipient receives a monetary award, certificate, and their name will be displayed on a plaque located in the Academic Affairs Library.
In addition, the Saint Mary's College annual Professor of the Year Award honors an outstanding, full-time member of the Saint Mary's College faculty. Tenured faculty currently on reduced services are also eligible.
The Professor of the Year award is designed to recognize distinguished achievement in teaching and/or scholarship by a faculty member of the College. The recipient receives an honorarium and delivers a formal presentation on a subject of his/her choosing before the faculty and invited guests at a reception in the spring.  
2023 Faculty Award Winners: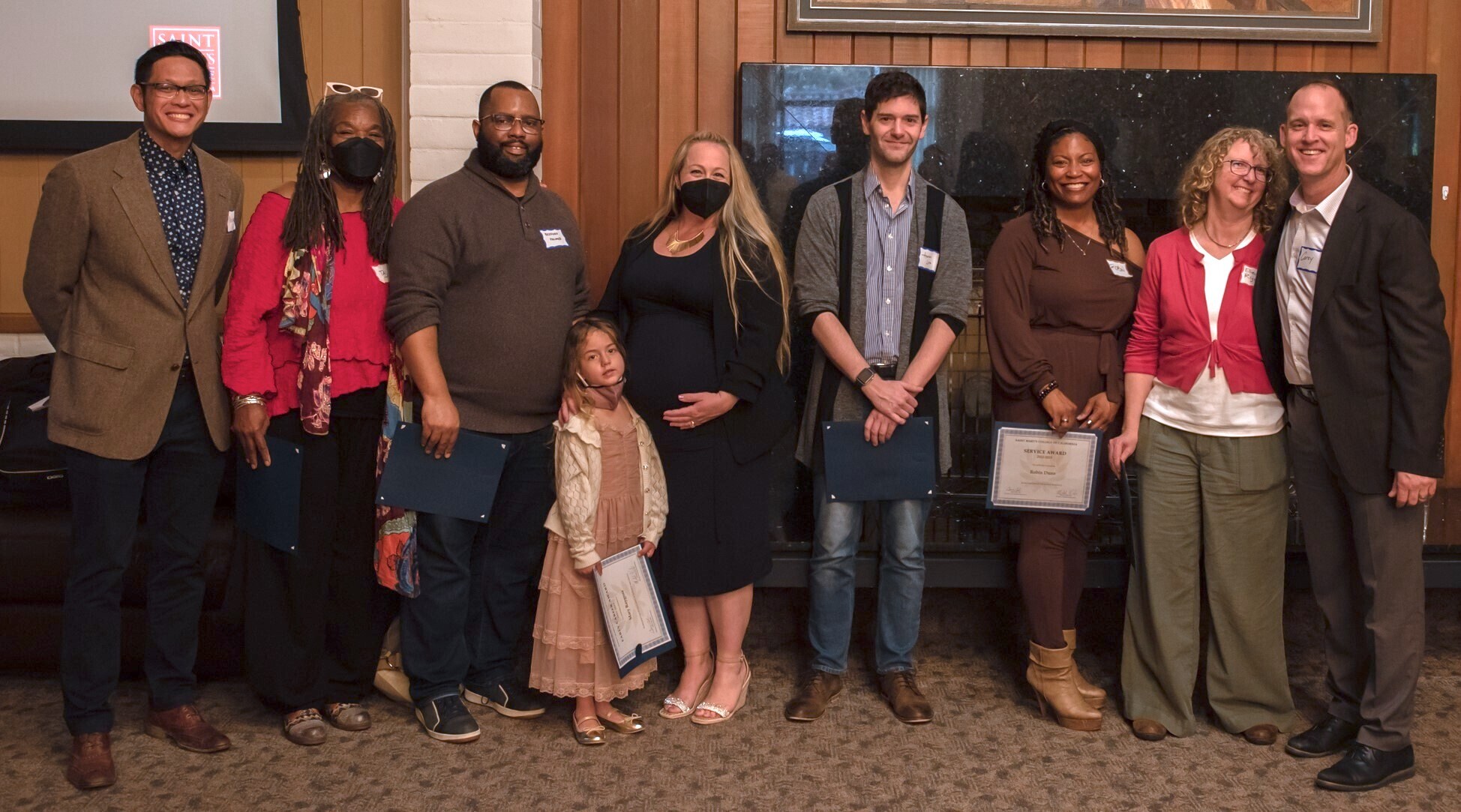 The 2023 Award Recipients
Dr. Taj (Toni) Johns, KSOE – Dr. John Dennis Teaching Excellence Award
Dr. Bedford Palmer II, Counseling Department – Inclusive Excellence, Justice and Liberation Award
Dr. Mary Raygoza, Teacher Education – Early Career Award
Dr. Aaron Lee, Physics & Astronomy – Early Career Award
Dr. Robin Dunn, Kinesiology – Service Award
Dr. Scott Schönfeldt-Aultman, Communication – Teaching Excellence Award
Dr. Manisha Anantharaman, Justice, Community & Leadership – Outstanding Scholar Award
Dr. Ellen Rigsby, Communication – Advising Excellence Award
Provost Research Grant Recipients 2023:
Dr. Jackson Battista | A New Economic History of Deindustrialization
Dr. Amy Chu | Tuning the reactivity of metal carbon dioxide complexes for carbon dioxide recycling to carbon monoxide
Dr. Loan Thi Dao | At 50: Confluences & Changes in Little Saigon since 1975 
Dr. Stephanie D'Costa | Anti-Colonial School Psychology Learning Collaborative
Dr. Robin J. Dunn | Get Sportable: Using Sport to Integrate Students at Risk of Social Exclusion in School
Professor Rogelio Lopez | Folklorico: an exploration of the current dance form in the U.S. and Mexico, emphasizing technique and queer culture
Dr. Myrna Santiago | 'The Day the World Ended:' An Environmental History of the 1931 and 1972 Managua Earthquakes
Dr. Mireille "Mimi" Ukeye and Dr. Kristen Freeman | A School Based Intervention Program for Students Experiencing Stress and Anxiety after School Closure
Professor Jia Wu | A short Dance Film:  美國母女 MEI GUO MU NV (Mothers and Daughters)
Innovative Pedagogy Grant Recipient:
Dr. Costanza Dopfel | AH374 – Art Conservation and Restoration
Image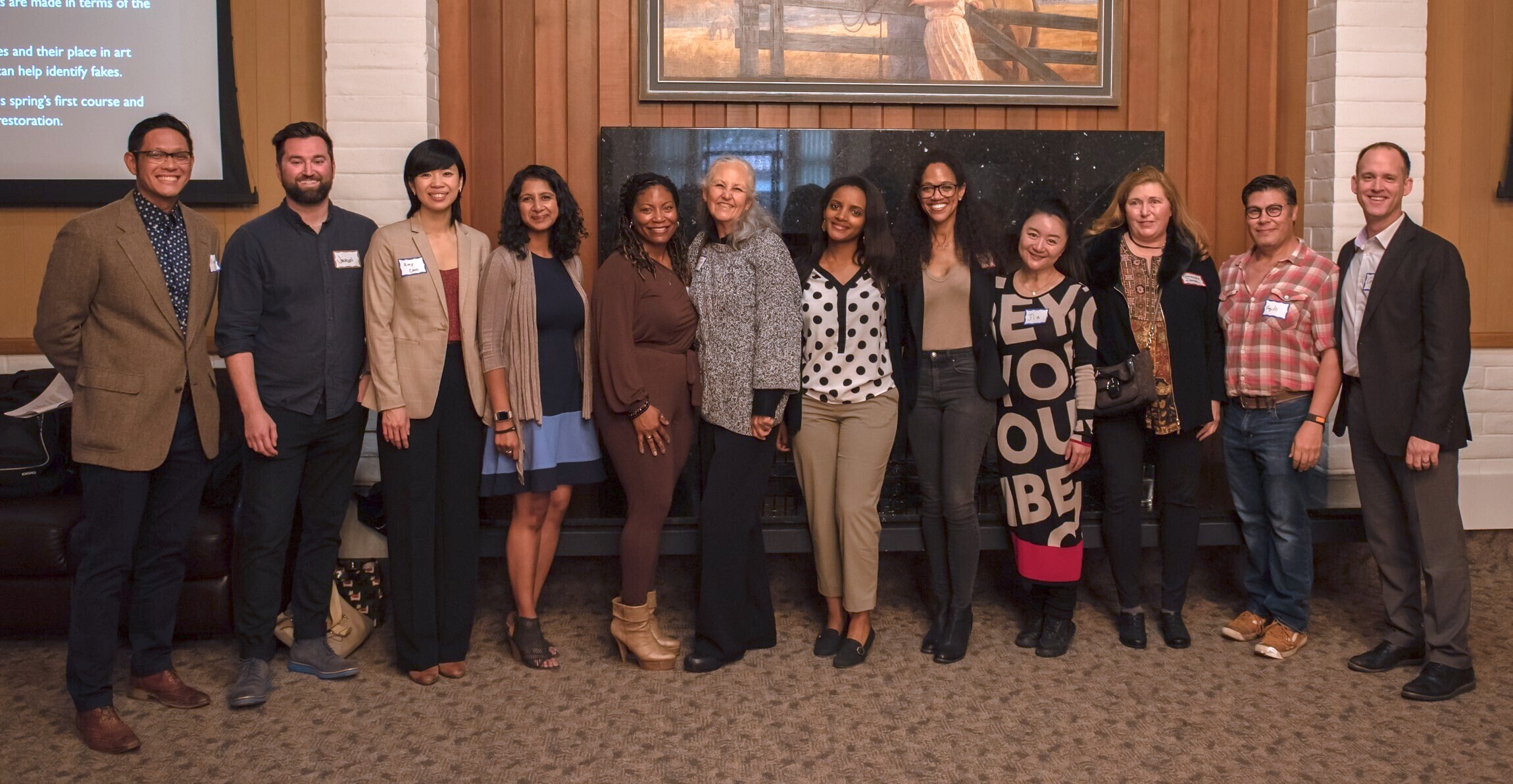 2021–22 Sabbatical Recipients
Dr. Rebecca Anguiano
Dr. Zeynep Atalay
Dr. Michael Barram
Dr. Robert Bulman
Dr. Vidya Chandrasekaran
Dr. Andrew Conner
Dr. Emily Hause Brooks
Dr. Hilda Ma
Dr. Claude-Rheal Malary
Dr. Marie Pagliarini
Dr. Bedford Palmer II
Dr. Michael Viola
Previous winners of the Saint Mary's College Professor of the Year Award:
Brenda Hillman (2022-23)
Ted Tsukahara (2021-22)
Rosemary Graham (2020-21)
Ken Brown (2019-20)
Joan Peterson (2018-19)
Denise Witzig (2017-18)    
Steven Cortwright (2016-17)
Carla Bossard (2015-16)
David Bowen (2014-15)
Myrna Santiago (2013-14)
Rebecca Proehl (2012-13)
Barry Eckhouse (2011-12)
Stephen Sloane (2010-11)
Sandra Grayson (2009-10)
Roy Wensley (2008-09)
Ronald Olowin (2007-08)
Lawrence Cory (2006-07)
Nancy Struthers (2005-06)
Brother John O'Neill (2004-05)
Steve Woolpert (2003-04)
Scenes from the Scholars Reception
Dozens of Saint Mary's faculty, staff, and supporters attended the 2023 Scholars Reception to honor and pay tribute to their colleagues.