Body
How to Apply for a J-1 Visa
Applying for a J-1 visa can take a few weeks or months.  For this reason, it is recommended that you begin the visa application process as soon as possible to ensure that you have all the necessary documents to arrive in the U.S. before the beginning of your classes.
Image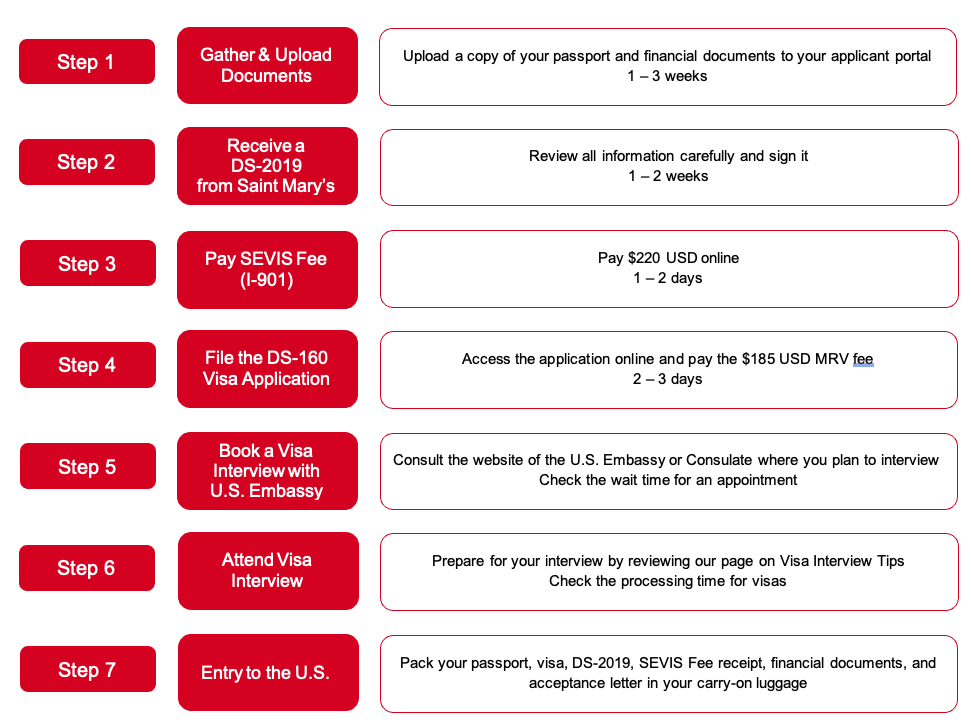 Getting a DS-2019 from Saint Mary's College
In order to apply for a J-1 visitor visa for exchange students, you will need to first get a Certificate of Eligibility for Exchange Visitor Status Form DS-2019.  The DS-2019 proves that you were officially admitted to Saint Mary's and that you can financially cover the cost of your exchange program.  You must have a DS-2019 in order to apply for the J-1 visa.
Exchange students who are nominated by their home institution and who are accepted to study abroad at Saint Mary's will need to upload the required documents for a DS-2019 to the Saint Mary's College of California Exchange Student Program application.  The Center for International Programs will review all submitted documents and issue a DS-2019.  Detailed instructions on how to apply for the J-1 visa will be sent with the DS-2019 to the home institution's study abroad office to distribute to exchange students.  The Center for International Programs will provide support throughout the visa application process.
Required Documents for a DS-2019
Copy of current, valid passport
Financial documents

Bank statement or letter from a bank
Scholarship information, if applicable
Saint Mary's College of California Exchange Student Program
If you are a current student at one of the following institutions and have been nominated to study at Saint Mary's, please complete the Saint Mary's College of California Exchange Student Program application:
Akita International University
Chung-Ang University
Sophia University
The American College of Greece
University of Galway
University Ramon Llull, Blanquerna
University Ramon Llull, La Salle
University of Technology, Sydney