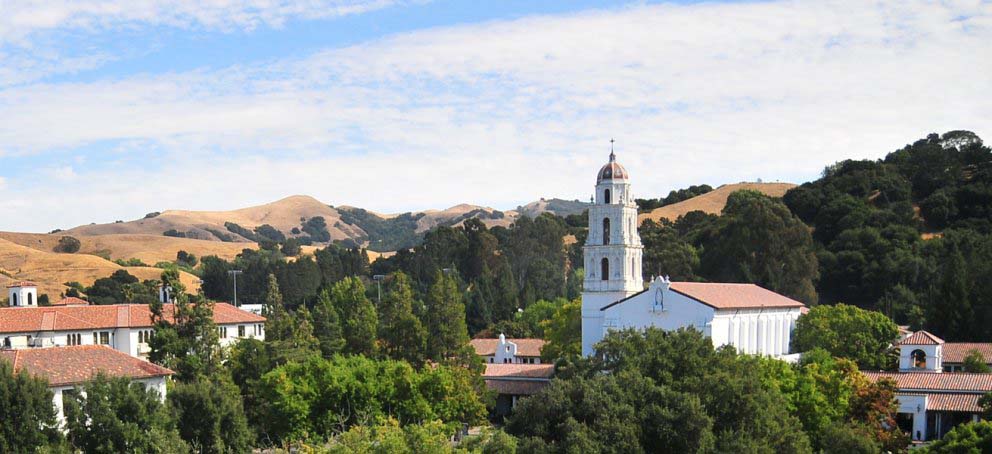 Body
Acquaint yourself with the College's surrounding communities and begin thinking about some serious questions, like how much am I willing to spend and do I need a roommate?
Types of Area Housing
There is a variety of housing options in the LaMorinda (Lafayette, Moraga, Orinda) area available to Saint Mary's College students. As you begin your search for off campus housing, keep in mind the following types of housing and their price estimations.
Apartment Rentals
Apartments are the most common type of rental available to students. In most cases, you will be required to pay the first and last month's rent and a security deposit. Most apartments are unfurnished. Rental costs of apartments will vary depending on location and size.
Single/One Bedroom: $1,500-2,000 per month
Single apartments tend to be higher priced because of their privacy and size. Typically, singles include a separate kitchen and bathroom. (Living room spaces can sometimes be converted into a bedroom to split costs of rent.)
Multiple Bedrooms: $2,100 - $3,500 per month
Rent will depend on size, area and rooms (multiple bathrooms, two or three bedrooms, etc). Typically, multiple bedroom apartments include separate kitchens, bathrooms, and living rooms.
Studio Apartments: $1,500 - $1,300 per month
Studios are typically smaller spaces that only include a living area, kitchen and bathroom, and are meant to be one person occupancies.
Rooms in Private Homes
Rooms in private homes vary in cost, size, style and privileges. Costs will depend on access to kitchen areas, access to private entrances and other amenities like utilities. In lieu of rent, some owners offer rooms in exchange for housework, baby- sitting, or providing transportation. Be sure to discuss use of facilities (including laundry) and expectations with the homeowner prior signing an agreement.
Rooms in Private Homes: $700 - $1,000 per month
House Rentals
Some homeowners rent houses to groups of students. Landlords typically require first and last month's rental fees and a security deposit. (Interested students should be sure that each student living in the household have their name on the lease.) Although renting houses may be more expensive, students can normally enjoy their own kitchen and laundry facilities and have larger living spaces. Be sure to discuss responsibility for costs such as upkeep of premises, utilities and possible homeowner fees.
Rented Houses: $2,950 - $5,500 per person per month
Renting Resources
The following are lists of websites and newspapers to assist you in your search. Always be aware of fraudulent offers or listings. The College accepts no responsibility for any actions arising from these listings. The College has not accepted, approved, or disapproved of these facilities nor investigates, endorses, or guarantees the suitability of those responding to any listing.
Safety Tips for Finding Rentals:
Is the neighborhood well lit at night?
What sorts of neighbors are in the neighborhood? Helpful Hint: Tell a friend or neighbor when you are out of town to keep an eye on your place.
If you do not have a parking space, where will you safely park your car?
Safety Questions for the Landlord:
Have there been any recent crimes (thefts, attacks, etc) in the neighborhood?
Who patrols the area and how frequently?
Who has copies to keys for the building? Who has access to the building? Helpful Hint: Use only initials on your mailbox or name listing.
Things to Look For:
A deadbolt lock at each entry door
Window locks (Windows should also be accessible in case of emergency)
Smoke detectors in each room (check the batteries!)
Fire extinguishers on each floor of the building
Emergency procedures for the building
 
What is your budget?
The following chart contains estimated costs for living off campus (excerpted from "At Home 2007," available in Residence Life):
| | | | | |
| --- | --- | --- | --- | --- |
| Location | On-Campus | Moraga | Lafayette | Walnut Creek |
| Avg Rent/12 months | $9,120 (townhouse double | $24,779 | $31,800 | $25,080 |
| Avg Gas/30 weeks | N/A | $108 | $327 | $435 |
| Phone/TV/Internet/12 months | Included | $1,188 | $1,188 | $1,188 |
| Utilities/12 months | Included | $2,415 | $2,415 | $2,415 |
| Groceries/12 months | $6,660 (carte blanche meal plan) | $2,760 | $2,760 | $2,760 |
| Total Costs | $15,780 | $31,250 | $38,490 | $31,878 |
Be sure to factor in the following utilities:
Electric
Heat
Gas
Water
Cable
Internet
Phone
Trash
Am I going to have a roommate(s)?
Having a roommate can offset expenses. With any prospective roommate, it is important to discuss prior to move in how expenses will be shared and paid. It is also important to come to an agreement about the length of the rental. Finally, keep in mind questions about cleanliness, guests, pets, social life and smoking.
What do I plan on doing for transportation?
If you plan on using your own vehicle, be sure to factor in gas and mileage into your budget. If you plan on using public transportation, be sure that you are near a stop and find a schedule. (Please see our Resources section for bus routes and schedules, taxi information and BART information.)
Surrounding Neighborhoods
Moraga:
Estimated time to Saint Mary's is under five minutes
Located 18 miles east of San Francisco with about 17,000 residents
Scenic trails and amazing views
Residential town known for rolling hills, great weather and being one of the safest communities in the state
Estimated time to BART is ten minutes
Orinda:
Estimated time to Saint Mary's is ten minutes
Northwest of Saint Mary's, located next to Highway 24 and a BART station
Family- oriented community with 17,000 residents
Mainly residential homes, with limited apartments
Lafayette:
Estimated time to Saint Mary's is ten minutes
Northeast of Saint Mary's, located next to Highway 24 and a BART station
Residential areas surround a thriving downtown with entertainment options
Area includes multiple apartments, studios and other housing options
Close proximity to Lafayette Reservoir
Walnut Creek:
Estimated time to Saint Mary's is fifteen to twenty minutes
Located east of Saint Mary's with 68,000 residents
Premier shopping and dining destination in East Bay, including outdoor mall
Variety of housing options available
Pleasant Hill:
Estimated time to Saint Mary's is twenty to twenty-five minutes
Located northeast of Saint Mary's with 33,000 residents
Downtown includes theater square, restaurants and home goods
Berkeley:
Estimated time to Saint Mary's is thirty minutes
West of Saint Mary's and home of UC Berkeley & 100,000 residents
College community brings diverse cultural experiences, housing options & lower costs